Author's take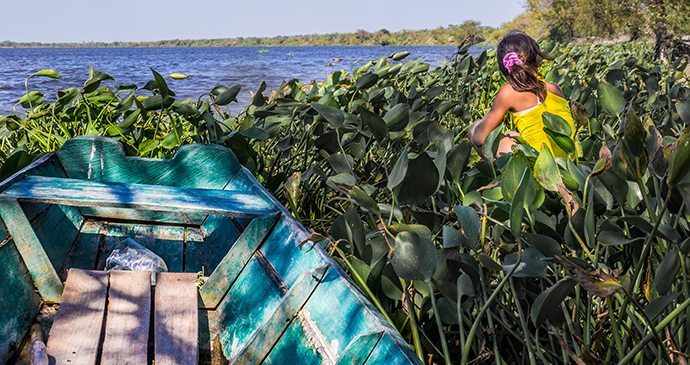 Paraguay is one of the last holiday paradises waiting to be discovered © Julian Peters, Shutterstock
'Paraguay is fabulous. I was deeply taken with the place, the scenery, birds, people, frogs, toads and wood sprites.'
Simon Barnes's comment in The Times of 14 June 2008 may have surprised a lot of people, for whom Paraguay is a blank on the map. It is 'a niche destination', wrote Chris Leadbeater in The Telegraph (10 January 2018) in his article about giant lily pads, known locally as yrupẽ. He explained:
'It is very rare that a travel news story involving Paraguay pops up on the radar. Here, after all, is a country which few tourists ever see. There it sits, tucked between its neighbours Brazil, Argentina and Bolivia – its location on the map overshadowed by all of them. It is, without criticism, one of the South American states you are least likely to visit.'
If you are reading this, you may be going to visit this niche destination. And there are literally a lot of blanks on the map if you search Google, although they are slowly being filled in bit by bit. You go into the heart of Asunción, the capital city, on Google Earth, using the 'street level' function, and you are skating across flat ground with just three or four buildings standing up here and there. You go to Paraguay's major city of Pedro Juan Caballero, and again there is no street view; but cross the border into Brazil's Ponta Porã, which is all the same city but with a country border providing a nominal division, and lo, street view is back again. You go north to look for the road to Vallemí that has been asphalted since at least 2016, and according to the map there is still no road there.One couple tried to use GPS in the region close to Asunción and after three hours they found themselves back where they had started.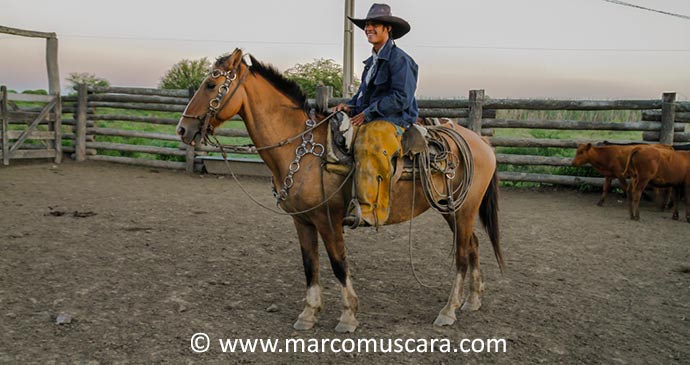 A gaucho in the Estancia Tuiuiu, Gran Chaco © Marco Muscarà
Paraguay is one of the last holiday paradises waiting to be discovered, with 300 days of sun a year. Only two special interest groups have so far discovered Paraguay in a big way: Brazilian fishing folk, who come over in their busloads to the remotest places in the south, on the banks of the Río Paraná; and US pigeon shooters, whocome over in their privately chartered planeloads to the remotest places in the north, buried in the midst of the Paraguayan Chaco. Apart from these people, there is no tourist rush to Paraguay. It is, to a large extent, pure, virgin, undiscovered territory. You do not want to tell other people about it, for fear of spoiling it for yourself. And yet, at the same time, you want to spread the word because you love it so much.
True, Paraguay is a country with a lot of poverty. It has one of the poorest populations in the continent. According to 2016 figures, 29% were living in poverty (less than US$3.10 a day) and 6% in extreme poverty (less than US$1.90 a day). In rural areas, poverty remains at an all-time high of 40%. No-one would want to visit Paraguay who was uncomfortable with this fact. If you only wanted to see gleaming buildings and travel on motorways, you would not go to Paraguay. Yet for some travellers, the poverty is a reason to come, rather than to stay away. They may come out of a desire for solidarity, in the spirit of liberation theology, whereby the poor can teach the rich the message of the gospel. Or they may come out of a curiosity to see the kind of culture you can no longer find in Europe or North America.When Simon Barnes came, he was taken by the wildness of the nature reserves and the richness of the birdlife, one of Paraguay's main attractions. But there are other key characteristics that mark the country. If you ask people who know something about Paraguay, even if only a little, what words they associate with the country, they may well mention poverty, the Guaraní language, the indigenous people, the Jesuit Reductions, the harp, craft, football, tereré and mate.
Author's story
When I decided to emigrate to Paraguay in the year 2000, I never imagined that one day I would be writing a guidebook. On my first visit to the country in 1996 I had fallen in love with Santa María de Fe, a small town in Misiones which had originally been a Jesuit mission (or Reduction) for the Guaraní indigenous people, and I waited four years for my youngest child to grow up before I could realise my dream of moving here.
It was clear what the untapped resource was, what Santa María – and Paraguay as a whole – had to sell to the rest of the world: tourism.
Paraguay was (and is) mercifully free of gringos and I wanted to keep it to myself. But there was a contradiction. I had come here to immerse myself in a poor community, inspired by the thinking of liberation theology. As well as learning from the poor, I had to respond to the needs of the poor. They needed education, and soon the Santa María Education Fund was born. However, education was not enough. People also needed work, and they needed money.
It was clear what the untapped resource was, what Santa María – and Paraguay as a whole – had to sell to the rest of the world: tourism. The contribution I could make was not only to help bring donations into the country, but to help bring in trade and people. I had to stop being selfish about the wonderful place I had discovered. The Santa María Hotel was started; and the Bradt Guide to Paraguay began to be written.