Eating and drinking
Accommodation
Eating and drinking
You can eat very well in Asunción, and even vegetarians will find plenty of good salads to fill their plates, even (indeed, especially) in the churrasquerías (restaurants serving roast meals). But most restaurants and bars in the interior of the country are very basic. Every town will have a bar which serves empanadas (like cornish pasties) and milanesas (escalopes), beer and fizzy drinks, and not much else. Most ordinary restaurants serve a small variety of meat dishes, accompanied by chips, rice salad, potato salad or a mixed salad (lettuce, tomato, onion), and it is usual to skip dessert entirely.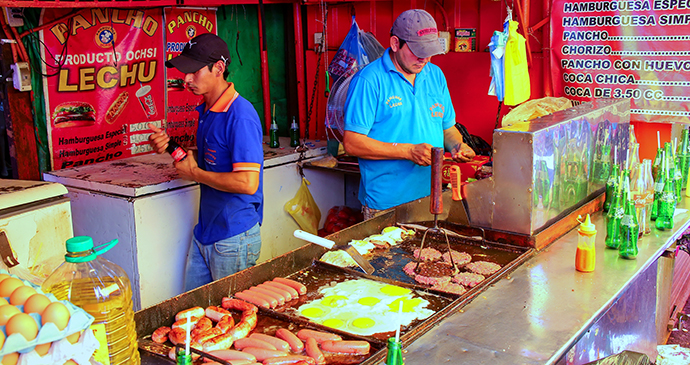 A super pancho is a long hot dog with fillings of onion, sweetcorn and cabbage © Don Mammoser, Shutterstock
Petrol stations are good places to find cheap and readily available food, as many are open 24 hours and serve hot dogs (panchos), croissants (media lunas), capuccinos and other fast foods. A super pancho is a long hot dog with fillings of onion, sweet corn, cabbage, etc. Youths who go out at night in Asunción to bars or night clubs often finish with breakfast in a petrol station.
You can eat very well in Asunción, and even vegetarians will find plenty of good salads to fill their plates.
Many of the European staples are missing in Paraguay. It is not a tea country, or a coffee country, or a wine country; it is not a bread country or a cheese country. You can get good wine readily (imported from Chile and Argentina), and Hornimans do a Classic London Blend of tea. However, it is difficult to get good coffee, bread or cheese outside of good restaurants and specialised shops in Asunción. Instead of tea and coffee, the people drink tereré or cocido. Instead of wine they drink beer or gaseosa (fizzy drinks). They may drink a jugo (fruit juice) with their meals: these delicious mixtures blend fresh fruit with extra water and sugar, to make a longer drink in this thirsty climate. Instead of bread, mandioc or sopa paraguaya or chipa is eaten.
Accommodation
Paraguay was slower than most other Latin American countries at getting modern backpacker hostels. But there are now a number in Asunción,and a growing number all over the country;But there are now a lot in Asunción, and a growing number all over the country; the Spanish hostal is now used interchangeably with the English 'hostel' to mean the same thing.
In the last few years a few towns have begun to advertise posadas. A posada is a family bed and breakfast, and the term posada turística, together with a simple logo of a house with a roof, is used by establishments that have been vetted by Senatur and can be relied upon to offer a good standard of accommodation, tastefully decorated, clean, with comfortable beds, no dodgy electrical fittings, maybe some craft decorations or photos of tourist sites on the walls, perhaps a hammock strung up outside, often a private bathroom, and so on.
In Paraguay, there are plenty of cheap hotels; these may be called hotel or hospedaje or pensión or alojamiento, or (more in Argentina) residencial, or (rarely) hostal (which is also and more often used as a Spanish translation for 'hostel').
They are not necessarily the cheapest places to stay – a price of around Gs80,000 (US$15) per person per night is now normal, rising to Gs100,000 or even more, whereas most small hotels would charge per room, which usually works out cheaper for a couple. But the posadas do offer a welcome degree of reliability as well as (generally) a family welcome.
It is important to know what the word motel means in Paraguay, as there are a very large number of these and they are not motels in the English sense. A motel is a hotel where you can hire a room by the hour to have sex with your companion. They usually have names like amor (love) or bosque (wood) or luna (moon) and have a discreet car park that cannot be seen from the road. Occasionally, a hotel serves both purposes, but if it is called 'hotel' rather than 'motel', you can expect to be quoted a price for the night rather than a price per hour.
Many of the best hotels in Paraguay are run by Germans or have some level of German management, at least in the past. This is true not just in the German towns like Loma Plata, Independencia and Bella Vista, but all over the country. At the other end of the scale from the country hospedajes are a rapidly increasing number of luxury hotels in Asunción. Because Paraguay is a cheap country, it is a good place to hold international conferences, for which many hotels now have ample facilities.
Strictly speaking, an estancia is a large country estate where there is a farm and a farmhouse, but out of these, some have developed their houses to receive paying guests, operating like hotels. A stay in an estancia involves driving into the countryside and spending at least a day enjoying the facilities.