Climate
When to visit
Highlights and itineraries
Climate
The climate in Guyana is equatorial, meaning hot all year round, with an average temperature of 27.5˚C and an average annual rainfall of 91ins. Humidity is generally high all year round but is noticeably more uncomfortable during the rainy seasons when saturation levels are often above 90%. There are, however, distinct climatic differences between the coastal belt and the interior. The coast is cooled by sea breezes and has a temperature range of 18–34˚C. The wet season is from mid-November to mid-January and then May to mid-July.
When to visit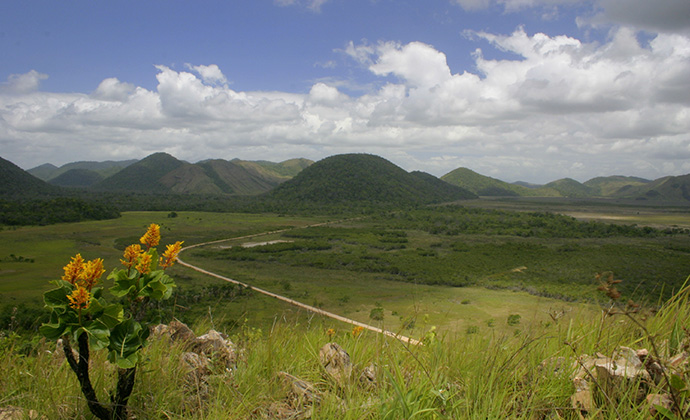 Choosing when to plan your visit – rainy or dry season – depends on personal preference and desired activities © Dwayne Hackette, Guyana Tourism Authority
Thanks to its proximity to the Equator, there are only two seasons in Guyana: rainy and dry. On the coast, the rainy season occurs from May to mid-July and mid-November to mid-January. The rainy season in Guyana's interior, however, is different. The heavy rains come from May to August; during these months huge swathes of the savannas flood and rivers can rise some 30ft above their dry season levels. The interior also experiences a shorter period of lighter showers towards the end of December. The 'cashew rains', as they are called because they occur during cashew harvesting, last two or three weeks and are often seen as more refreshing than anything else. Most of Guyana is tropical rainforest and so even during the dry season there can be showers, although they are often brief and welcomed, as they cool the soaring temperatures of the dry season. During the rainy season, there are days when not a drop falls, and even on the rainiest of days there are often extended periods of sunshine.
Choosing when to plan your visit – rainy or dry season – depends on personal preference and desired activities. The dry season offers little relief from the heat, while rainy season days are cooler (relatively speaking) but more humid. Also, Guyana is in the tropics and insects should be expected year-round, but the wet season can tend to offer a denser population of beloved creatures such as mosquitoes and kaboura flies.
Travel to and around Guyana's interior is much easier during the dry season as the rains can render many roads (including the main unpaved road that runs from Linden to Lethem) impassable without the most reliable 4×4 vehicle. On the other hand, the rainy season in the interior means much more travel by boat, which can make for a peaceful, personal way of exploring the interior, especially when you find yourself nearly level with treetops full of birds and monkeys.
Guyana is still a relatively untapped destination for tourists (while there is a tourist trail of sorts that runs through Guyana, it is still a long way from the well trodden path running through much of South America) but visitor arrivals are increasing. The busiest months for travel to the interior of Guyana are September to November and January to April. However, at any time you may find yourself the only visitor staying at an interior lodge. Currently, most of the traffic that goes through the international airport is either part of Guyana's expatriate community or returning Guyanese. The former occurs throughout the year while the latter experiences surges over the Christmas holidays and during summer breaks, during July and August. Airline tickets to and from Guyana during these times can sometimes drop in availability and rise in costs.
Highlights and itineraries
For many visitors to Guyana, the highlights will revolve around interior locations that offer no crowds, plenty of nature and a lifestyle that is at odds with the coastal populations.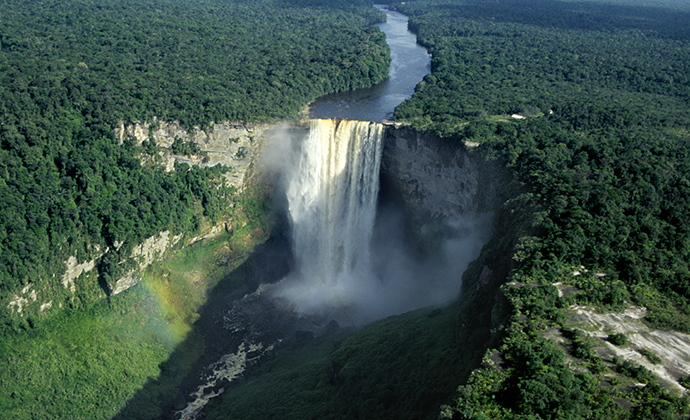 Kaieteur Falls is Guyana's tourism poster child © Fotonatura, Guyana Tourism Authority
Sightseeing
For many visitors to Guyana, trip highlights (and the reason for coming in the first place) will revolve around the interior and its pristine nature, lack of crowds, welcoming locals, traditional villages and the overall sense of stumbling upon an undiscovered secret. The rainforest and savannas will be a highlight as a whole, but there are some gems that will stand out.
Kaieteur Falls is Guyana's tourism poster child; flights aren't cheap but few will leave feeling like they didn't get their money's worth. Those with the time and sense of adventure may want to do an overland trek.
Setting aside one million acres as an experiment on sustainable forest use (everything from ecotourism to scientific research to logging) is a complex endeavour; visitors can see the progress at the Iwokrama International Centre for Rainforest Conservation and Development. Highlights include night-time boat trips along the Essequibo River to view nocturnal wildlife, including giant black caiman, tree boas and capybaras. Another unique look at the jungle is found at the Canopy Walkway, which at 100ft high gives visitors a peek into the lively upper canopy of the jungle.
You also shouldn't leave Guyana without paddling a dugout canoe; it's one of the quietest and most efficient ways to explore the forest. Opportunities abound, but the Burro Burro River trip offered at Surama is particularly good (ask the guides to bring a hand line so you can try fishing for piranha). A trip to Rewa is worth it for a sunset paddle on Grass Pond alone.
At Wowetta, take an easy (but long) hike through pristine primary forest to watch bright orange male Guianan cock-of-the-rocks compete for the females' attention by dancing on the forest floor. For those with less time or endurance, a shorter hike for the same birds is just north along the southern border of Iwokrama.
Some say that life doesn't get any better than a sunset river trip at Karanambu to see Guyana's national flower, Victoria amazonica, open while sipping on owner and otter-aficionado Diane McTurk's famous rum punch. The return trip involves nocturnal wildlife spotting.
Support community tourism; many Amerindian villages throughout Guyana are looking to tourism as a way to generate much-needed income. This entails everything from a participatory black caiman research project and nature hikes to eco-lodges and community tours to locally made products.
Helping the projects become viable can help discourage villagers from finding work in mining, timber or the wildlife trade.
Relive the days of the Wild West on a cattle drive at Dadanawa. Join the Amerindian cowboys as they bring the cows home for branding and castration.
Get extremely intimate with the forest in a jungle survival course offered by Bushmasters; the isolation period is not for the meek. Also, while in Guyana, visitors have three main modes of transportation to choose from; each should be experienced. An interior flight is the best way to see the seemingly endless and uninterrupted rainforest stretch out beneath you and, as you head south, the land's sudden transformation into open savannas.
Driving into the interior provides a completely different perspective. A journey down Guyana's main (and unpaved) interior highway gives a true sense of just how much unpopulated land there is in Guyana. And there aren't many international roads that have primary rainforest towering over them.
Whether it's to rent a house, stay at a resort or just for a day trip, take a boat trip on the Essequibo River. South America's third-largest river has many moods; it's best to stay overnight and experience them all. From March to August, watch four of the world's eight endangered marine turtle species nest at Shell. This rustic camping trip isn't for everyone, but those who can hack it will reap great rewards (note that at the time of writing a new lodge was under construction). It's best combined with an overland river trip through Guyana's northwest.
Whether or not you see Georgetown as a highlight depends on your frame of mind. It's a different world from the interior, but it has its charms. Markets are a lively place to experience the culture and see the amazing selection of fruits and vegetables grown in Guyana; two must-sees include the historic Stabroek Market and Bourda Market.
Take a stroll through Georgetown to admire the wooden colonial architecture (in all states of repair); perhaps the most celebrated is St George's Cathedral. History buffs should visit the often-overlooked Guyanese Heritage Museum. The combination of owner Gary Serrao's private collection and personal passion trumps any other museum in Guyana.
Other museums to visit include the Roy Geddes Steel Pan Museum, where you'll receive a personal historical tour and mini-concert from steel pan pioneer Roy Geddes, and the El Dorado Rum Museum, which is the culmination of a Demerara Distillery tour, where you can see how some of the world's finest rum is made.
Suggested itineraries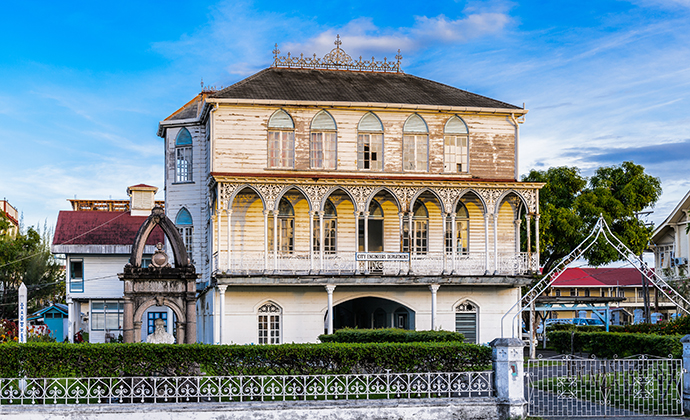 Begin your itinerary in Georgetown and explore its wooden colonial architecture © Anton Ivanov, Shutterstock
Be it birdwatching, jungle trekking, wildlife spotting, Amerindian heritage, relaxation, rustic isolation or something a lot more adventurous, each destination in Guyana offers something a little bit different, and specific itineraries will likely revolve around the desired activities of each visitor.
One week
Georgetown – Iwokrama – Surama – Rock View, with area day trip – Karanambu – Georgetown
Ten days
Georgetown – Iwokrama – Rock View – Karanambu – Lethem – Dadanawa – Lethem – Georgetown – Kaieteur Falls – Baganara – Georgetown
Two weeks
Nature Georgetown – Iwokrama – Surama – Rock View, with area day trip – Karanambu – Lethem – Dadanawa – Lethem – Georgetown – Kaieteur Falls – Baganara and Essequibo River – Georgetown
Amerindian Culture Iwokrama – Surama – Rewa – Rock View, with day trip to Wowetta – Karanambu – Yupukari – Nappi – Lethem – Georgetown – Kaieteur and Orinduik Falls
Three weeks
Georgetown – Iwokrama – Surama – Rock View, with area day trip – Rewa – Rock View – Karanambu – Yupukari – Lethem – Nappi – Dadanawa – Lethem – Georgetown – Kaieteur Falls – Essequibo – Georgetown
Four weeks
If you're lucky enough to have four weeks to spend exploring Guyana, either extend the time spent at places in the above itineraries or add on the following one-week suggestion: Georgetown – Essequibo River – Georgetown– Mabaruma – Shell Beach – Mabaruma – Georgetown.
Also consider spending two weeks of your holiday on a specialised trip offered by Bushmasters, Ashley Holland or Rupununi Trails.