Visas
Getting there and away
Getting around
Visas
Visas are required for all visitors except for nationals of the following countries: Commonwealth countries, Belgium, Denmark, Finland, France, Germany, Greece, Ireland, Italy, Japan, Korea, Luxembourg, the Netherlands, Norway, Portugal, Spain, Sweden and the USA. Visitors from these countries will receive a stamped visa upon entry that is good for up to three months (depending on your length of stay). If you will be staying for more than three months and need to extend or renew your stamp, take your passport to the Ministry of Home Affairs and be prepared to wait. Visitors arriving by air are required to have an onward ticket. If you plan on hiring a car, it is compulsory for overseas visitors to obtain a local driver's permit issued by the Guyanese Revenue Authorities. Permits are valid for a month and can be obtained at Cheddi Jagan International Office or at the License Revenue Office at Smythe and Princess streets, Werk-en-Rust for approximately US$10 on presentation of a valid international driving licence.
Getting there and away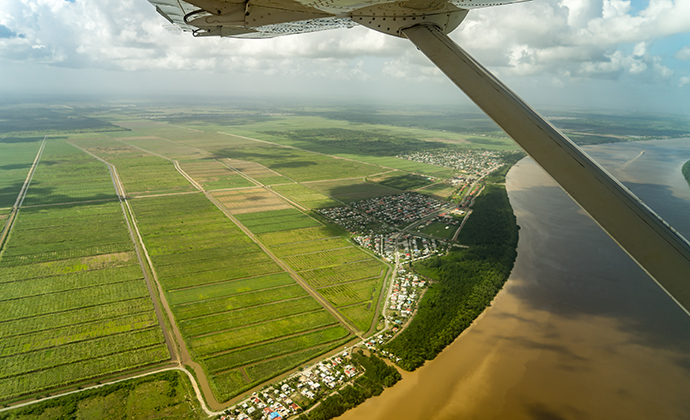 Internal flights in Guyana are costly, but many prove their money's worth in the scenery views alone © Gail Johnson, Shutterstock
By air
From Europe
There are no direct flights to Guyana; all flights from Europe are routed through the Caribbean, Suriname or the USA. It's possible to fly from Europe to a number of the Caribbean islands but all flights to Guyana are eventually routed through Trinidad or Barbados. Options are numerous and many choose to combine a Caribbean stay with their trip to Guyana.
From the USA
There are daily direct (via Trinidad) and from December 2018, American Airlines will have non-stop flights from Miami to Georgetown. It's also possible to plan your route through the Caribbean from the USA. It is easier to fly to Guyana from the west coast of the United States now that Copa have introduced a handy service from Los Angeles to Georgetown via Panama three times a week.
From Canada
There are direct flights from Toronto to Georgetown, with a stop to pick up and drop off passengers in Trinidad.
From South America
Simply put, outside of Suriname and northern Brazil, travel is difficult to or from other South American countries. As strange as it sounds, barring a long journey of short interior flights and overland buses, the easiest flight plan to/from most South American countries often entails transferring through Trinidad, Barbados or the USA.
From the Caribbean
As mentioned above, most flights to and from Georgetown are routed through Trinidad or Barbados, making the island nations to the north very accessible. Depending on the plane (propeller or jet) flying time is 1 to 2 hours.
Airports
Most international flights leave from and arrive at Cheddi Jagan International Airport, which is located at Timehri, 41km (1 hour) south of Georgetown. The recently renamed Eugene F Correia International Airport, formerly known as Ogle and still often called this by locals, now handles many flights from Suriname and LIAT flights from Barbados, as well as domestic flights into the interior. When going to or from the airport with luggage, visitors are advised to forgo the cheap minibuses and hire a taxi.
By land
From Suriname
The (contested) border between Suriname and Guyana is the Corentyne River. The legal crossing point is in Moleson Creek, where the Canawaima Ferry makes the return trip from Suriname twice per day (leaving Guyana around 10.00 and 12.00). Customs and immigration is handled at the ferry stelling (landing stage); most countries outside of CARICOM countries need a visa to enter Suriname.
In Village 78, near Moleson Creek, there are many speedboats that shuttle passengers across the river, but note that backtracking is illegal, as it entails leaving or entering Guyana without going through the proper immigration requirements. The often overloaded boats are also not the safest passage to or from Suriname.
The ferry stellings on both the Guyana and Suriname sides are well serviced by minibuses and taxis that can provide transportation to the capital cities, Georgetown and Paramaribo. The total travel time between the two cities, including two ferry crossings, is roughly 10 hours. Guyana and Suriname are also exploring options for building a bridge connecting the two countries while drastically cutting the travel time from one capital to another (especially with the new Berbice bridge). Although both sides are in basic agreement to build the bridge, and the EU, China and Brazil have all indicated an interest in the project, there is still a lot to be discussed and funding to be secured before the project can move forward.
From Brazil
The only official border crossing connecting Guyana and Brazil is along the Takatu River, between Bonfim, Brazil and Lethem, Guyana. In the past, the border crossing involved taking a pontoon (vehicles and passengers), small boat or simply walking, swimming or driving during the dry season, but in 2009 the long-delayed Takatu Bridge was officially open.
The bridge, which was funded by Brazil (their first step in what is largely expected to culminate with the paving of the Linden–Lethem road and digging of a deep-sea port in Georgetown) incorporates a unique design that actually transfers drivers to the opposite side of the road while crossing over the Takatu River, which forms the border as in Guyana you drive on the left; in Brazil you drive on the right.
In Guyana, the immigration office is very near the entrance/exit of the bridge and in Bonfim, immigration is located just outside of town. Visits to both are required upon leaving and entering either country, even if it is just for the day.
To travel between Georgetown and Lethem takes roughly 10–15 hours depending on your mode of transport (4×4 vehicle or bus) and the time of year (rainy or dry). From Bonfim there are regular buses to Boa Vista, which provides further access to Manaus and Venezuela.
From Venezuela
Because of the long-standing border dispute between Venezuela and Guyana, there is no legal border crossing between the two countries. The only way to access Venezuela by road, and the route to take when going to or coming from Mount Roraima, is through Boa Vista, Brazil.
By sea
Outside of those arriving on commercial boats, very few enter Guyana by way of sea.
From Venezuela
Just because there are no legal border crossings between Venezuela and Guyana doesn't mean that you can't move from one country to the other. From Kumaka, in the northwestern region of Guyana, there are boats that travel to the Venezuelan city of Curiago, which is an official port of entry.
While you can legally enter Venezuela at this point, there are no immigration offices in this area of Guyana, meaning that it's not possible to enter or leave legally. Unless you are able to hire your own boat in Guyana, this trip isn't recommended. If you must, choose your boat and captain wisely and be aware that many are also involved in the even riskier illegal ventures of transporting drugs and fuel from Venezuela into Guyana. In 2017, the worsening Venezuelan hunger crisis and three-digit inflation meant very few people were travelling into Venezuela but Venezuelans and Venezuelan-based Guyanese were making their way illegally across the Amacuro River to Guyana to barter for food.
Yachting
In recent years, certain bodies of the local tourism sector have been marketing Guyana as an upcoming yachting destination in the Caribbean. Guyana is being billed as a safe haven for yachters looking to escape the hurricane belt during the hurricane season. Guyana lacks the infrastructure many boaters are used to in the Caribbean, but a semblance of it is offered at the resorts along the Essequibo River, which has been pinpointed as the destination within the destination. To facilitate the expected increase of yachting traffic, new immigration services have been established in Bartica. The yachting boom is yet to arrive.
Cruise ships
Cruise ships are not big business in Guyana. On average, there are maybe three per year that dock at Georgetown. The boats, which are much smaller than the oversized beasts that ply the Caribbean waters to the north, are often part of specialised nature tours or exploratory trips that travel along the coast of South America or the Guianas.
Getting around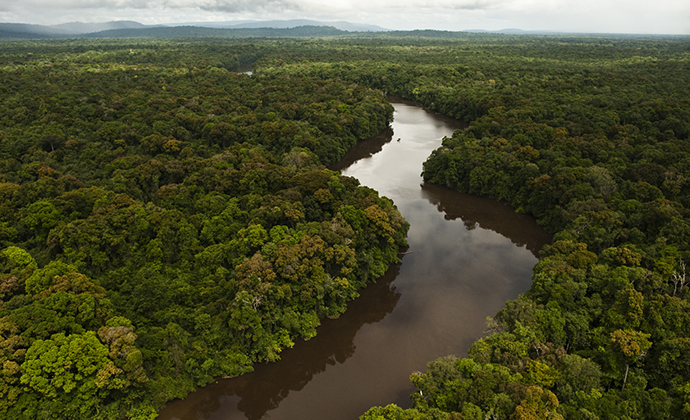 In many areas of Guyana, rivers are the only way of getting around © Guyana Tourism Authority
Travel in Guyana involves utilising a variety of transportation modes, including walking, taxi, minibuses, buses, 4×4 vehicles, speedboats, ferries, dugout canoes and small aircraft. With paved roads along most of the coastal belt and into Linden, travel is fairly straightforward, but transportation can get progressively more interesting as you move further into the interior. Roads there are unpaved dirt trails and their condition varies wildly throughout the year. In the rainy season many become impassable and rivers and creeks become the preferred 'roadways'. In many areas of Guyana, rivers are the only way of getting around. Where there are established public boat services, be it on speedboats or ferries, the prices are often affordable. But if you need to hire a boat, prepare to pay. The fastest and most convenient way of getting to interior locations is by flying. There are regularly scheduled passenger flights that go to many main tourism destinations, but once you arrive you will have to rely on other forms of transportation to get around.
Most resorts and lodges are destinations in themselves and any getting around is inherent in your travels to arrive or depart. For the small villages, walking is the main means of getting around, and any necessary transportation will be covered under the taxis, minibuses, boats, etc used to arrive and depart.
By air
In Georgetown, scheduled and chartered domestic flights leave from and arrive at Eugene F Correia International Airport (7km east of town). There are several local airlines that offer charter flights within Guyana; at the time of writing, Trans Guyana Airways (TGA) still had the most extensive offering of scheduled passenger flights, but Roraima Airways and Air Services Ltd were beginning to respond to increasing demand with more scheduled services, particularly to Lethem.
Internal flights within Guyana aren't cheap (about US$150 depending on the location) but when considering the time saved and the ease of travel, the value for money increases. Many prove their money's worth in the scenery alone. For a truly panoramic view, ask if the co-pilot seat is available for your flight. Flying in Guyana may not be for everyone. Aircraft used are small prop planes that hold up to 12 passengers; and airstrips are often precarious-looking dirt runways. Checking in involves stepping onto scales, sometimes small bathroom scales or an ancient contraption of heavy metal weights, so that the plane can be properly balanced. It's bush flying, but the airlines also operate with stringent safety standards, so all in all, the flying isn't as risky as it may sometimes seem.
It isn't uncommon for interior flights to be booked weeks in advance – especially the Georgetown–Lethem flight – so if you're planning on flying during your trip, it can be difficult to spontaneously choose dates. To plan ahead, TGA takes reservations over the phone and tickets can be purchased once you arrive in Guyana.
Most domestic flights have a baggage weight limit of 20lb per passenger. Charge for excess baggage is US$0.50–1 per pound, but there is no guarantee that space is available. TGA sometimes allows passengers to book excess weight in advance, but its best to travel light into the interior (many lodges have laundry services).
By land
Along the coast, most people rely on public transportation (buses, minibuses, ferries, speedboats and taxis), which keeps prices affordable. But start branching out from the populated areas and transportation becomes more complicated and rather expensive. Driving conditions are rough on vehicles and those using interior transportation often feel the high cost of upkeep, maintenance and fuel. Most interior lodges provide transportation but it can be prohibitively expensive for solo and smaller groups of passengers.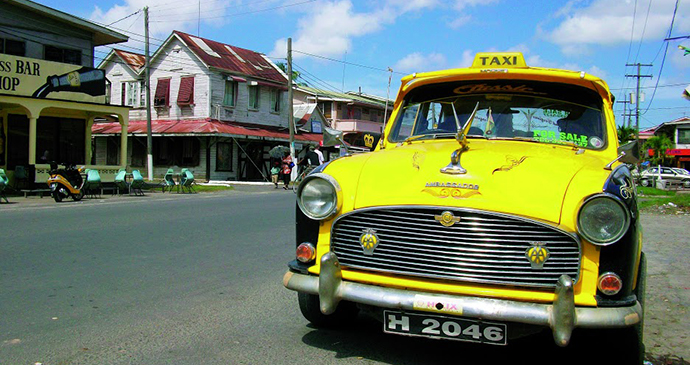 Look out for the bright yellow taxis in Georgetown © Courtesy of Wilderness Explorers
Vehicle hire
It's possible to hire a vehicle in Guyana, but it's recommended to leave the driving up to somebody else. Along the coast, and especially in Georgetown, driving conditions are largely anarchic. Many of the roads are in a bad state of repair and when combined with speeding minibuses accidents are frequent. If you do hire a car, remember that traffic drives on the left in Guyana. In the interior, the off-road conditions are best handled by an experienced driver. Many of the areas are remote and if you find yourself stuck or have an accident or car troubles, the nearest help could be kilometres, and hours, away.
To legally drive any vehicle or motorbike in Guyana, you need to have a local licence. Visitors can apply for and receive a local driving permit at Cheddi Jagan International Airport or at the Licence Revenue Office at 200–1 Camp Street, Georgetown; you will need to bring a valid driver's licence from home. Permits cost US$10 and are valid for a month. Police roadblocks are common and if you are found driving without a licence it will likely entail paying an on-the-spot fee (read: bribe) or dealing with a fine and court date.
Bicycle hire
Besides the chaotic transportation, bicycles are a great way to get around Georgetown. Unfortunately, at the time of writing no companies hired them. In the interior, Rock View Lodge and Bina Hill rent bicycles, as does New Kanuku Bar in Lethem. Arrowpoint Resort also has mountain bikes available for use on their trails. Personal hire is also an option; just ask around.
By taxi
Where there are paved roads in Guyana, there are taxis in plenitude and they are reasonably priced and always easy to hail one, especially now that a new law states they must be painted bright yellow (also look for a licence plate beginning with 'H'). For longer distances minibuses are always much cheaper, but when a taxi driver is driving too fast, they usually listen when you ask them to slow down. Hiring a taxi can also be a wonderful time to chat about life in Guyana. Most drivers are more than happy to launch into conversations on everything from local politics to overseas relatives.
By bus and minibus
Public buses are not common in Guyana and are normally only used to cover longer distances. A public bus runs between Georgetown and Linden, and while this is slower than taking a minibus, it is often a safer and more comfortable option.
The most common form of public transportation in Guyana is minibus. Locals rely on them because they are cheap, not because they are preferred. In many cases the drivers of the highly personalised vehicles use their vans as a way to express their machismo. They overload their vehicles, have the music entirely too loud, honk with abandon, suck at women and drive recklessly fast. Accidents are all too common on the highways.
For trips of any distance (around Georgetown is usually OK), unless you are on a very tight budget or really want the experience, you should hail a taxi before a minibus. If for any reason you don't feel safe while travelling in a minibus don't be afraid to ask the conductor to stop the bus so you can exit. It has saved lives in the past. Minibuses are privately owned but they operate along specific routes and their fares are regulated. Minibus routes will get you almost anywhere in Guyana accessed by roads. In Georgetown, the main bus park, where most buses officially begin and end their route, is scattered around Stabroek Market, mainly in the area of the Croal St Demico House. Routes can be confusing, especially within Georgetown, but almost any local will be able to provide assistance with information on which bus goes where. Minibuses follow no set schedule. For longer trips (Georgetown to Linden, for example) they often won't leave until the bus is full, hence the reason for the battle over customers at bus parks. At night the number of buses on the road decreases greatly, but visitors should be using a taxi at this time of day for safety. Minibuses are the cheapest (although not the safest) form of transportation. Fares around Georgetown are between US$0.40 and US$1; for destinations throughout the country, fares run up to US$5 (Lethem is US$60–75).
By 4×4
When getting from place to place in the interior, if you're not using a boat then you'll likely be in a 4×4 vehicle. There are a few places in Georgetown that rent 4×4 vehicles but this isn't always recommended unless you are used to the driving conditions and are able to inspect the vehicle to make sure it will withstand interior roads. Many resorts have their own 4×4 vehicles to provide transportation within the interior. It's not cheap, but the drivers are experienced and know the roads well. Some of the vehicles have seen better days, and seatbelts or even properly closing doors aren't always in order, but it's often still the safest option and part of the experience.
Hitchhiking
Hitching in Guyana is not a normal practice. Along the coast where there are paved roads, if you stand at the side of the road with your thumb up, the only vehicles likely to stop are taxis and minibuses. And unless you find yourself completely out of money, you should be able to afford at least the latter. Away from main roads and along the Linden–Lethem road, where traffic is less frequent, it would likely be possible to get a lift from passing vehicles. But relying on hitchhiking, as a way to get from one destination to another, is unreliable and not your safest option.
By river
Outside of the coastal belt, Guyana is a land of many waterways and few well-maintained roadways. As a result, it is nearly impossible to travel around Guyana without using a boat of some sort, be it a large transport ferry or a traditional dugout canoe, a wooden speedboat or a jet boat. During the rainy season when many interior roads disappear under metres of water, boats become even more prevalent. Sometimes using a boat is your only option of getting from point A to point B. The boat rides are essential in more than just practical ways; they also offer some of the best glimpses into daily life in Guyana and are excellent vessels for nature watching.