Author's take
Because Guyana has never experienced the droves of tourists common to other South American countries, everything is done on a smaller, and more intimate scale here.
Guyana's tourism offerings are largely nature-based and ideal for discerning visitors who like a sense of adventure with their travels © Guyana Tourism Authority
Guyana is South America's little-known curiosity that lies far off the well-trodden tourist path. It's bordered by Venezuela, Brazil, Suriname and the Atlantic Ocean, but is a continental anomaly. The lively English-speaking locals – a melting pot of East Indian and African descendants, peppered with indigenous Amerindians, Europeans and Chinese – and a history of British colonialism create a culture decidedly more Caribbean than Latin.
With 215,000km² (83,000 square miles), Guyana has plenty of space, but 90% of the roughly 750,000 inhabitants live along the developed coastlands, which is only about 5% of the total landmass. The remaining 95% is relatively unpopulated outside of small interior villages, Amerindian communities and migrant mining and forestry camps. Some 80% of Guyana is still covered in rainforests.
A lack of interior development (the main road running north–south through Guyana remains unpaved) has allowed Guyana's unique geography – coastal waters, mangroves, marshes, savannas, mountains and tropical rainforests – to support a range of ecosystems that widely remain in a pristine natural state. Within the interior, the Guiana Shield (one of four largely intact pristine tropical rainforests left in the world) converges with the Amazon Basin, providing a home to a dizzying array and number of flora and fauna.
To date, research in Guyana has identified more than 225 species of mammals, over 300 species of reptiles and amphibians, more than 810 species of birds and some 6,500 species of plants. Within these numbers are some of South America's, and the world's largest species, including black caiman (alligator), capybara (rodent), arapaima (scaled freshwater fish), green anaconda (snake), giant anteater, giant river otter, giant river turtle, false vampire bat, harpy eagle and jaguar. The research is far from conclusive.
Guyana's tourism offerings are largely nature-based and ideal for discerning visitors who like a sense of adventure with their travels. Northwestern Guyana offers miles of undeveloped coast, nesting sea turtles, dense forests and meandering rivers that double as the area's main roads; the easily accessible lower Essequibo River has several resorts and private house rentals from which to experience the many moods of South America's third-largest river.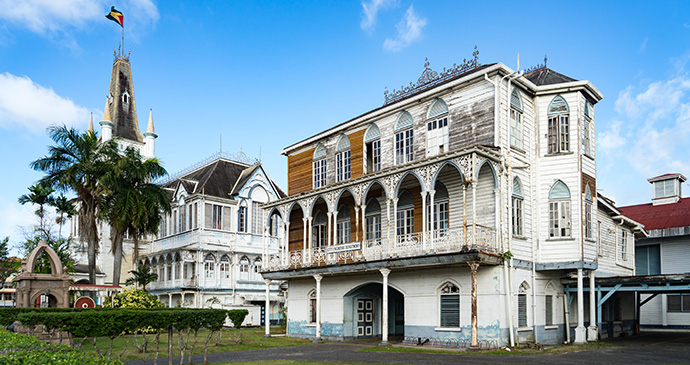 Guyana's bustling colonial capital showcases Dutch and British heritage © Gail Johnson, Shutterstock
Georgetown, the capital city, is home to more than 200 species of birds and beautiful colonial architecture; Berbice, in the northeastern part of the country, is covered in sugarcane fields and fruit and vegetable farms. Within the central rainforests you'll find one of the world's most powerful waterfalls and a million acre rainforest reserve; in the Rupununi savannas of southwestern Guyana you can visit welcoming Amerindian communities, functioning cattle ranches and a handful of lodges that provide plenty of opportunities to immerse yourself in the natural surroundings.
The options for visitors are as varied as the terrain and throughout Guyana tourism is still developing. Because Guyana has never experienced the droves of tourists common to other South American countries, everything is done on a smaller, and more intimate scale here. Most lodges are small, family- or community-run affairs that welcome visitors as old friends. Expect to be called by your first name, often upon arrival, and to be remembered should you ever return. Tourism in Guyana is different from most places; it's far from polished and can entail hiccups. Guyana is not for the fussy. But it's exactly this unpolished and unpretentious tourism that creates a unique experience that often leaves visitors feeling as though they have stumbled upon a rare, nearly undiscovered tourism gem.
Since the second edition of this guidebook, Guyana's tourism industry has seen some welcome developments. Birders, nature enthusiasts and fishermen are starting to come in greater numbers, lodges have upgraded their facilities and added new rooms, guides have received additional training, little-known Amerindian communities have opened their doors to international travellers, and tourism is being regarded as a feasible means of conserving and preserving the country's natural riches. The government, through its Department of Tourism and the Guyana Tourism Authority, is supporting tourism development in all ten of Guyana's administrative regions. The two main airports in Georgetown have been recently expanded, comfortable hotels are springing up in the towns and communities in the hinterland are opening their doors to tourism.
However, an increase in visitors to Guyana is relative and you'll likely only feel crowded by the forest. Here you will not find hordes of tourists on a nature trail or in a cluster of boats on a river trip. Here you may be the only people standing at the edge of Kaieteur Falls, one of the most beautiful but least-known waterfalls in the world despite being nearly five times the height of Niagara Falls. Here you can sit quietly at dusk sipping rum punch on a boat on an oxbow lake near Karanambu and watch the giant waterlilies open up as the sun sets before drifting back down the river under a starlit sky. There are few places left that feel so pristine and remote as this undiscovered corner of South America where nature is largely raw and unaltered and where indigenous communities are genuinely keen to share their country and culture with you.
Kirk, while travelling to Shell Beach to research the book towards the end of his trip noted that he was on the northern coast of South America, waves of the Atlantic lapping at his feet, a wall of coconut palms to his back and the tracks left from a nesting green sea turtle on his right. There was no sign of civilisation in any direction and for the umpteenth time during his travels in Guyana he felt as though he had stepped into something larger than the present, something that diminishes all that mankind has created in this world, both good and bad. It was nature, in a raw, unaltered, almost timeless state that made him feel insignificant. It was a welcome and humbling feeling for him and one that I have shared frequently since my first trip to the country in 2004.
It's this sense of experiencing a rare natural world that I myself associate with travelling in Guyana today. Every trip I take into the interior involves my own feeling of amazement to be so privileged to travel widely in this region, revisiting old friends and savouring the dramatic scenery and wildlife, be it a harpy eagle on a nest in Iwokrama or a giant anteater swimming in a pond in the savannahs. Pristine nature, rich biodiversity, endangered species and incredibly varied ecosystems are all here, and thankfully the welcoming locals see the benefits of marrying conservation with development.
Many Amerindian communities are turning away from the wildlife trade, mining and forestry and looking at tourism as a means of bringing income to their villages while preserving their resources for future generations. Lodges are built, trails are cut and guides are trained, but visitors do not magically show up.
Guyana remains a virtual unknown. Villages and people can't depend on tourism without enough visitors to make it possible. I hope that this updated edition of the book will generate interest in Guyana and encourage travellers to explore this undiscovered world at the crossroads of South America and the Caribbean that receives fewer tourists in a year than Machu Picchu receives in a day.
Author's story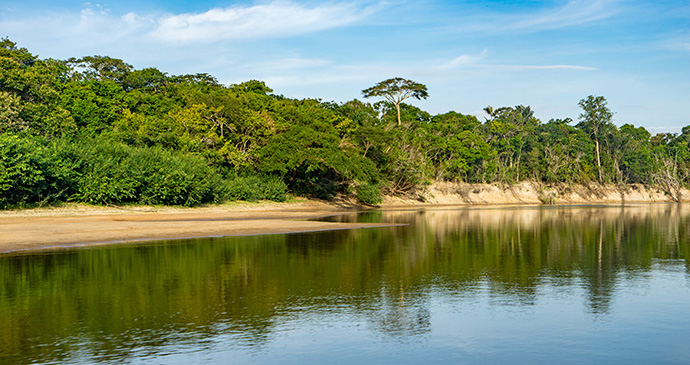 Guyana contains some of the most pristine environments on the planet, and is home to a world-class array of wildlife © Gail Johnson, Shutterstock
When my wife and I moved to Guyana in 2005, we knew very little about the country. Before packing our bags and boxes we paged through guidebooks and searched the internet for any information that would provide a clue about what life would hold. Websites of local newspapers seemed obsessed with bad news and some guidebooks were less than encouraging. But we did come across some stunningly beautiful photographs and heard enough positive accounts to eventually decide we'd have to come to our own conclusions.
Shortly after moving to Guyana it was easy to see that the typical economic hardships and social ills experienced by developing countries were offset by a rich natural history and vibrant culture. During my early travels through Guyana – whether it was trekking through primeval jungles or exploring the seemingly neverending savannahs by 4×4 – I was awe-struck by the beauty and pristine nature of the country. I filled pocket notebooks with scribbled notes about river trips that seemed to take us backwards in time and wrote about rainforests that were surely too archetypal to be real. I quickly recognised that information on Guyana as a tourism destination was extremely limited.
After living in Guyana for more than a year, my job took me to the British Birdwatching Fair to market Guyana as an emerging destination for birdwatchers. While trying to drum up interest within the media, I spoke with Hilary Bradt. Most magazines didn't seem interested in dedicating pages to an unknown destination, so I thought a book publisher was a real long shot. I couldn't believe it when Hilary told me they had long been looking for an author to write a Guyana guidebook. I immediately recognised that Bradt is truly a company that understands travel and the rewards of getting off the beaten path, and that they are willing to take risks to help promote tourism in countries with very low tourism numbers.
We ended up living in Guyana for three years and I worked on a sustainable tourism project that helped to promote, expand and improve Guyana's nascent tourism industry for seven years. During this time, it was an honour to research and write two editions of Guyana's first dedicated guidebook, and to work closely with Bradt to promote Guyana as a destination. Since 2007, when the first edition of this guidebook was published, I have seen the positive impact a Bradt title has had on Guyana's tourism development and visitor numbers.
It was not easy for me to consider relinquishing updating duties of my book to another writer, but present life circumstances meant that I knew I wouldn't have the time needed to dedicate to the task. It wasn't an easy thought until Claire Antell, a friend and past colleague, expressed interest in taking on the monumental job. Her knowledge of, and experience in, Guyana runs deep; she has done an amazing job producing a third edition of this book that will continue to do its part in bringing Guyana more recognition as a tourism destination while bringing new benefits to all of those who work so hard to make tourism in Guyana a reality.