Eating and drinking
Accommodation
Eating and drinking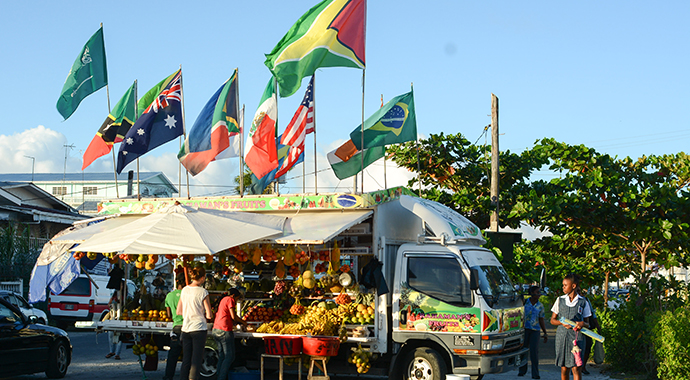 Sample a wide array of fresh fruits and vegetables grown in the country © M M, Wikimedia Commons
A range of cultures, including East Indian, African, Amerindian, Brazilian and Chinese, influence Guyanese cuisine. Perhaps the best thing about Guyanese cuisine is that it's almost always made with fresh ingredients from the farm, tree, river or sea. As should be expected, Guyanese cuisine is more Caribbean than Latin. Staple dishes include various curries, often eaten with roti, a fried flatbread, and dhal; cookup rice (rice cooked with coconut milk and whatever is on hand: peas, okra, beans, plantains) that is often served with fried chicken or fish; fried rice; Caribbeanstyle chow mein (stir-fried soft noodles often topped with fried chicken); and all meals are accompanied with excellent fiery pepper sauces. Mango achar also makes wonderful complement for most meals. Speciality dishes include pepperpot, an Amerindian stew made with meat, peppers and cassareep, an extract of cassava that has long been valued for its preservative qualities, allowing pepperpot to last indefinitely (it's widely available to buy in Guyana); and metemgie, a thick coconut-based soup filled with dumplings, fish or chicken and a host of provisions including eddoes, yams, cassava and plantains. Garlic pork, which is a form of pickled pork, is a Portuguese dish traditionally served for Christmas. Breakfasts often mirror lunch, with many eating hearty curries and rotis. Bakes, which are most often fried pieces of dough, are often served with salt fish; pepperpot is also popular for breakfast.
Homemade breads are popular in the interior where Amerindian populations have perfected the craft over the years. Favourite pastries with a British influence include cheese flaps, pine (pineapple) tart and solara, a cake rolled around a red coconut filling. The densely-moist and savoury-sweet cassava pone is also a popular dessert featuring coconut. Adventurous eaters can also sample a range of wild meats while in Guyana; they are commonly found on menus in many smaller villages. Labba, agouti, peccary and paca are just a few.
Sampling
Any eating tour should start with street snacks. Fried plantain chips topped with mango sour (boiled green mangos and peppers) provide a good salty backdrop to a superb selection of fresh fruit; the pineapples are not to be missed. A good lunch option (besides chicken and rice) is a bowl of curry eaten with roti. Curried ingredients range from mutton to shrimp, pumpkin to eggplant, and all are worth sampling. Come dinner, sample the seafood, which is plentiful and cheap. Usually the freshest options are snapper, trout, and prawns. Have the prawns marinated in garlic and butter, the trout served with a tropical salsa or the snapper lightly fried. And don't be afraid to accompany any meal with the always present homemade and quite hot pepper sauces.
Restaurants
In Georgetown
There are a handful of good restaurants that cater to the well-established expat scene, well-off Guyanese and the occasional tourists. Most have varied menus of different meats (chicken, beef, pork) and seafood (prawns, fish) cooked in a variety of ways. Meals in Georgetown's nicer restaurants cost between US$10 and 25, for food only. By eating at small establishments favoured by locals you can get very large portions for around US$2–4. The only thing lacking is a wide variety and ambience (which can be relative).
Outside of Georgetown
Options grow slimmer here. Most restaurants and smaller places that serve food are geared towards local tastes. Variety is limited, but the portions are often huge, the food good and the prices low (US$3–5). Expect variable service wherever you eat. Even the nicest restaurants can sometimes take more than an hour to bring the wrong plate to your table. The mystery of the service you'll receive is part of the experience.
Cafés and bars
In Guyana most restaurants also double as a place to have a drink. For a quieter atmosphere it's best to seek out a hotel bar or higher-class restaurant. For a bit more of a local experience, often accompanied by blaring music, visit a rum shop. Rum shops are the cheapest options and it's where most head to do some serious drinking. Prices for drinks vary according to the establishment you are at. The cheapest option is to drink local beer (Banks) and rum (El Dorado); the beer is good and the rum is world-renowned. Local bars will charge around US$1.50 for a local bottle of beer, but this can be doubled at restaurants. Nicer restaurants will have a stocked bar full of local and imported spirits, a few red and white wines and a limited selection of local and imported beer. Most international brands of sodas, soft drinks and other such sugar or fizz-laden beverages are widely available.
Self-catering
Preparing your own meals is not a problem in much of the coastal areas, provided you have cooking facilities. Georgetown and most other towns have grocery stores stocked with local and imported products. There are also very good markets throughout the country where you can buy fresh fruits, vegetables, meats and fish. Buying local food is much cheaper than purchasing imported goods. In smaller interior locations it can be harder to come by fresh vegetables but most shops stock basic tinned foods.
Accommodation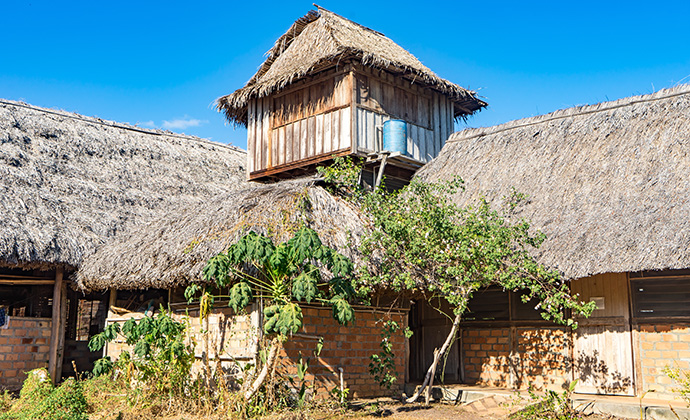 A stay at the bustling Caiman House in a remote Amerindian village is a surreal experience © Gail Johnson, Shutterstock
In Georgetown the accommodation options are quite varied. Lodging options outside of Georgetown become more limited and this section will give you an idea of what to expect.
Hotels and guesthouses
Georgetown
From dingy and unsafe to over the top and overpriced, the capital city has the widest range of accommodation options. At the very top end, you can expect to pay US$140–300 a night to enjoy spacious, international-standard rooms and facilities like an outdoor swimming pool and spa; thankfully, large chain hotels aren't your only option in this price bracket and more intimate options are available, too.
Most hotels fall into the mid-range category. For between US$50 and US$100 for a double, the rooms are self-contained, clean, air-conditioned and perfectly comfortable. Room furnishings, from garish to quality, locally made furniture, vary wildly. At the lower end, roughly US$30–50 per double, there are some comfortable guesthouses where the service is friendly and personalised and the rooms are basic but clean. It's also possible to find some hotel rooms in this range that have most amenities, including air conditioning.
Other towns
Most established towns outside of Georgetown have a few lodging options and some are surprisingly nice. None could be considered upmarket, but it's possible to get a perfectly comfortable room with all amenities – television, air conditioning, en-suite bathroom – for around US$40–60 for a double. More basic rooms with fans and mosquito nets are US$20–30, and are clean and comfortable enough. Don't overlook the government guesthouses recommended in this book, as they are often good value. Take note that many of the rock-bottom hotels and guesthouses in small towns have a chance of being frequented by short-term customers and may not be the cleanest places to stay.
Interior lodges and resorts
Guyana's lodges are where travellers will be spending most of their time and the accommodation ranges from rustic to very comfortable, but don't expect any upmarket all-inclusive resorts similar to those of the Caribbean islands. Most lodges are equipped only for small groups of, on average, eight to 20 guests at a time. This is done on purpose as the proprietors like to keep operations small and intimate so that they can welcome their guests as friends. Expect to be called by your first name during your stay and it also isn't uncommon for your party to be the only guests at a lodge. Meals, usually served family-style, are often very good and plentiful.
Self-catering
Throughout Guyana there is a range of hotels and lodges that have facilities that allow guests to self-cater. As buying food from local markets is quite cheap, this can be a way to save money on any trip. Places that do allow, or have the facilities for, self-catering are covered under hotel and lodge listings.
Camping
There are no official campsites in Guyana, but camping is still common. Most camping is done with hammocks as tents place you on wet ground full of insects and other creatures.
In the interior some locations have very basic shelters and hammock benabs (a traditional Amerindian shelter, usually open sided and with a roof made from palm thatch) to provide a cheaper form of accommodation to travellers. Bathroom facilities range from pit to flush toilets and bathing can be in a river, from a bucket or under a pipe. At any interior location it never hurts to enquire about the possibility of hanging a hammock for the night; for those who don't mind roughing it, this is the cheapest way to travel.
Payments and reservations
Most major hotels in Georgetown will accept credit card payments and some will also accept travellers' cheques although there is a surcharge. Smaller hotels and interior lodges (when paying direct) accept only hard currency, either Guyana or US dollars. If you prefer to pay for interior lodges with a credit card (or in advance with cash, to limit the amount you must carry), this can be done with most tour operators.
As tourism in Guyana begins to grow, lodges are seeing peak bookings in the dry season and much lower occupancy rates over the holidays and during the interior rainy season (May–August). To lure travellers during their slow months, many are now offering special rates and it never hurts to enquire when making a booking during these times. Most places offer lower rates to Guyanese residents and people in the country working for volunteer organisations. Enquire at individual lodges or hotels.
Overall occupancy rates in Guyana are still relatively low, but growing; reservations are never a bad idea especially when the maximum number of rooms may only be eight. Reservations are especially recommended for any interior locations, not always because they are likely to fill up but because advance notice allows them to make sure they have everything required by visitors, including enough food. Always advise at the time of booking if you have any dietary requirements so that the lodges can plan their menus and supplies accordingly.