Climate
When to visit
Highlights
Climate
Colombia lies almost entirely in the so-called Torrid Zone: a part of the earth's surface between the tropics of Cancer and Capricorn characterised by hot weather. However, Colombia's climate varies as a result of the differences in altitude with seasons defined by periods of lesser or greater rainfall, with little or no temperature change. Weatherwise, the country can be divided vertically into four regions with the hot country (tierra caliente) stretching from sea level to roughly 1,100m. In the temperate zone (tierra templada) elevations reach 3,000m while the remaining land is dubbed 'the cold country' (tierra fría) as it exceeds 3,000m. The cold zone's upper area marks the treeline and roughly denotes the limit of human habitation. Adjacent to the tierra fría are Colombia's treeless regions. These can reach 4,500m and are bleak areas referred to as the páramos, usually with permanent snow (nevado). Expect an average of 24–27°C in the hot low-lying regions along the Caribbean coastline and outlying islands, but don't be surprised if they rarely exceed 22°C in lofty Bogotá. Medellín is known as 'La Ciudad de la Eterna Primavera' (or 'City of the Eternal Spring') throughout Colombia for its pleasant year-round climate with minimal temperature variations.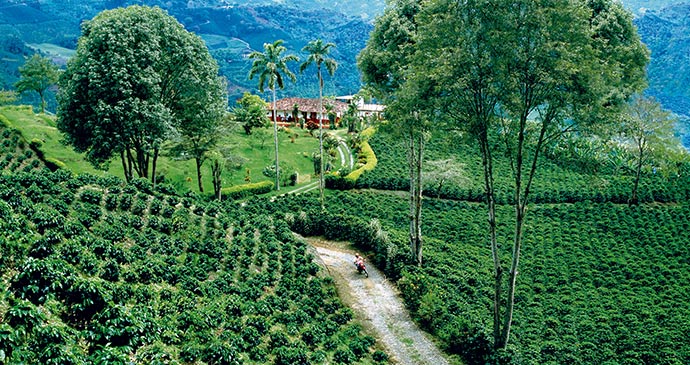 These picturesque coffee fields are enhanced by the magnificent Colombian lanscape surrounding them © Proexport CBT
When to visit
Like many countries, Colombia is experiencing a blurring of the seasons and unpredictable and atypical weather patterns have flummoxed meteorologists in recent years. However, generally speaking, Colombia's verano (summer) is from December to March. These months and those from mid-June to mid-August tend to be the best times to visit, with the exception of the northern plains where the wet season continues. Some 90% of Colombia's territory is below 915m, tropical and warm with temperatures averaging around 25°C. The Caribbean coast and the Amazon are extremely humid and rain is sporadic and unpredictable even in the dry season. As you ascend Colombia's Andes the temperature will drop around 6% per 1,000m. And, at an altitude of 1,980m, you'll find yourself amongst glaciers, where temperatures can be as low as –17°C.
This range of climate and scenery is one of Colombia's best assets and the country offers visitors the full spectrum of travel opportunities. Adventurous travellers can hop between the snow-capped peaks of the Colombian Andes and the Caribbean's tropical turquoise waters and golden sands. Those looking for a more relaxed break can simply pick their preferred holiday – mountain hike, Caribbean beach, city jaunt or jungle trek are just some of the many, many choices available. High season in Colombia can be busy with hordes of domestic vacationers. Visit during the celebratory months of Carnaval (in Barranquilla, Feb/Mar), Semana Santa (Holy Week, Mar/Apr) or Navidad (Christmas) and plans should be made well in advance with hotels and transport booked. In addition, check for regional celebrations, when towns, villages and even roads close entirely to enable locals to enjoy the fiesta. Unless you dislike big or lively crowds, these regional and national festivals are a great way to become immersed in Colombia's different cultures. Witness colourful rituals, dancing and the relaxed side of local life, as businesses close for the holiday and people revel in a party atmosphere that can last several days – at least.
Highlights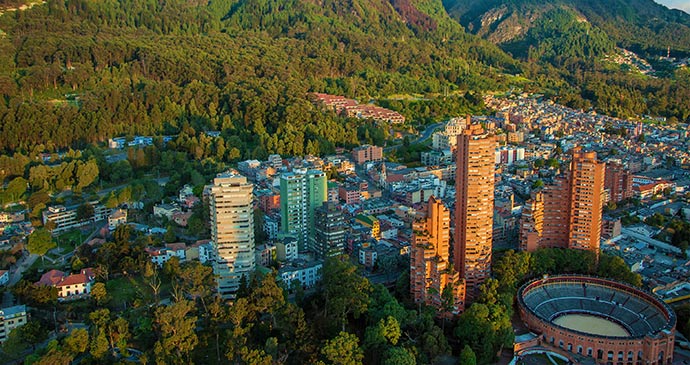 Gleaming, futuristic cities such as Bogotá rank among Latin America's most impressive © Jess Kraft, Shutterstock
Raft the fast-flowing rapids on the Rio Fonce
Colombia's adventure sports Mecca, San Gil, is home to kayaking, climbing, rappelling, paragliding and pot-holing on a dramatic mountainous terrain dotted with rocky, gushing streams. Less radical pursuits include horseriding and fishing with craggy ravines, canyons and gorges crossed by a riddle of fine hiking trails.
Head to the UNESCO Seaflower Biosphere Reserve
Located in the reggae-drenched San Andrés archipelago; dive amidst sunken galleons home to 57 species of coral, 24 species of sponge and over 270 fish species. Octopus, dolphin, nurse shark and spotted eagle ray are commonly sighted in warm, tropical waters frequented by migrating whales.
Cycle, rollerblade or stroll
Bogotá has 121km car-free roads and 300km ciclovías (cycle paths) open on Sundays and public holidays, or you can stroll through over 4,500 leafy public parks in South America's third-highest capital city, a dizzying 2,630m above sea level and edged by rivers and mountain peaks.
Journey along the vine-tangled inky-green depths of the Amazon River
It's home to at least 7,500 species of butterfly, 1,800 birds, 800 insect species, almost 2,000 species of reptile and amphibian, 3,200 species of fish – a staggering 10% of all species found on the planet. The watershed is also home to several hundred indigenous tribes who speak more than 100 languages and dialects, with thick swathes of impenetrable jungle covering almost one-third of the Colombian territory.
Explore the rolling savannas of Los Llanos on horseback
Ride with cattle-roping cowboys across undulating prairies dotted with ranches and corals. Learn lassoing skills from the gaucho-like Llaneros (plainspeople) in a hard-working region rich in provincial culture that is home to folklore, legends and heartfelt música llanera – lilting cowboy music played with a cuatro guitar or harp.
Climb the snow-capped Nevado del Ruiz
The 5,400m (17,717ft) peak is one of five permanently white-tipped volcanoes in Los Nevados National Park (www.parquesnacionales.gov.co). Guided treks are available from Manizales.