The author's take
Colombia must surely be one of the world's most bewildering paradoxes, a nation blessed with jaw-dropping natural beauty and some of the most damning headlines on the planet. Yet delve beneath the front-page drama and Colombia differs from the common perception, a country that has so much more to offer than turmoil and strife.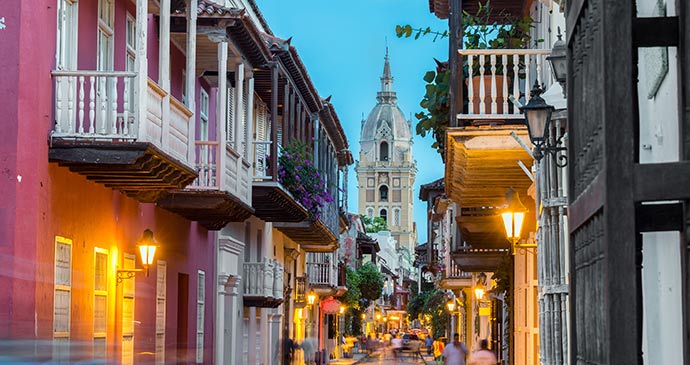 Cartagena is an enchanting puzzle of cobbled paths and fine colonial buildings painted in a dazzling array of bold hues © Jess Kraft, Shutterstock
Spanning an area twice the size of France and about twice the size of California, Colombia is also the only South American nation with coastlines on both the Atlantic and Pacific oceans. Few countries in Latin America boast such ecological riches with an abundance of natural resources on a dramatically contrasting terrain. Rolling, dusty plains edge snow-capped mountain peaks; lunar-like craterous deserts lead to lush, vine-tangled rainforests; flower-filled meadows and coffee plantations lie dotted with pretty red-and-white fincas; palm-scattered idyllic white-sand beaches stretch out beyond fine colonial settlements in bubblegum hues. Dozens of indigenous cultures speak more than 60 languages in a land that is home to the greatest number of bird species on earth. Colombia is also the setting of Gabriel García Márquez's massively popular novel One Hundred Years of Solitude – a story as entrancing as the country itself. Fertile waters are rich in marine life; resplendent swathes of dense jungle teem with flora and fauna. Mighty rivers, vast canyons, magnificent waterfalls and bubbling thermal springs dot a landscape of mud-and-thatch villages, in contrast to gleaming, futuristic cities that rank amongst Latin America's most progressive. Explore creeper-clad ancient civilisations dating back to 500bc, reggae-drenched Caribbean islands and flamingo-covered mangrove thickets. Discover pre-Colombian gold and sacred sites that spawned the myth of El Dorado. Delve into forests that are home to armadillo, jaguar, tapir, ocelot, monkey and spear-hunting tribes. Journey along the inky-green might of the Amazon River amongst 1,500 butterfly species, 1,800 bird species, 800 insect species, 2,000 species of reptile and amphibian, 3,200 species of fish, 51,220 plant species – in a region that is home to a staggering 10% of all species found on the planet.
Yet this enigmatic nation isn't all about good news, as more than 40 years of horror stories will bear out. A legacy of civil war has left Colombia with something of an image problem, even though the country has left the mess of 15 years ago behind. Once inextricably linked with drug lords, gang violence and guerrilla warfare, Colombia has achieved notable success in dismantling cartels and demobilising more than 30,000 left -wing and paramilitary fighters. The widespread common delinquency of the 1990s has given way to fierce national pride. Today a thriving forward-thinking society has a rising middle class with modern cities that boast some of the finest healthcare facilities and universities in the region. Peace talks have brought tranquillity to large areas of the country and today Colombia is a safer place to visit than much of the US and Mexico. Poised on the cusp of a promising future, Colombia is entering a brand new era, bolstered by a wave of national confidence that has the country in a buoyant mood. Colombian citizens and foreign and national companies alike have ploughed signifi cant amounts of investment into the country, while much-improved infrastructure has encouraged millions of vehicles to drive across a once-deserted road system. In 2007 American magazine BusinessWeek named Colombia 'the most extreme emerging market on earth', with tour operators reporting a roaring trade in ecotourism where people once feared to tread. Today, travellers in Colombia are unlikely to encounter anything more dangerous than a hungry mosquito – not bad for a country that once had the tourist appeal of a camping trip in central Baghdad.
Over 4 million visitors explored Colombia in 2014 with annual tourism growing at around 10.7%. In 2010, readers of Wanderlust magazine voted it their favourite emerging destination worldwide. Soccer-mad Colombia even made a serious bid to host the 2014 World Cup – prompting a state of near-delirium and parties nationwide. Cruise ships sail into Cartagena, one of the most important colonial cities in the Americas, and the country attracts the third-largest market share of tourism in South America – a clear sign of things to come.
So, it just leaves me to say 'enjoy Colombia', have a great trip, buen viaje. I'm certain that a few myths regarding this rather fine country will be dispelled along the way. I'm also sure you'll meet some of the friendliest, most genuine people in Latin America and will be dazzled by the trademark Colombian smile. One word of advice: try not to make the all-too-common mistake of spelling Colombia with a 'u' (as in Columbia). Few things are as likely to turn a smile into a scowl!