Eating and drinking
In the last decade Colombia has experienced a gastronomic explosion, attracting world-class chefs to its thousands of restaurants to create a culinary scene that is one of Latin America's best-kept secrets. Much of this modern gastronomic ID is found in Bogotá's über-cosmopolitan restaurant districts, where Colombian Creole classics and champagne and oyster bars rub shoulders with pan-Asian fusion diners and stylish French brasseries. Yet Colombia's sophisticated international culinary triumphs aren't just confined to the swish bistros of the capital city. Mini-gastronomic circles are springing up in cities such as Cali and Medellín and the resort areas in Cartagena, creating an exciting alternative to Colombia's traditional culinary staples. Yet, fear not – typical Colombian fare (comida criolla) remains very much in evidence on every street corner, from the sidewalk vendors selling paper-wrapped tamales to the hearty plates of chicken, rice, fried plantains and red beans served as comida corriente (set meal) in cantinas nationwide. Expect to find plenty of variations on comida criolla during a journey across Colombia, each with its own distinct twist. On the Caribbean coastline the focus is seafood, especially lobster, while in the Andes a guinea pig dish is a regional delicacy. In Bogotá, ajiaco (a stew of chicken and potatoes) promises to keep citydwellers warm during seasonal frosts, while generous helpings of sancocho soup are served using at least a hundred different recipes in every town from Leticia to El Cabo.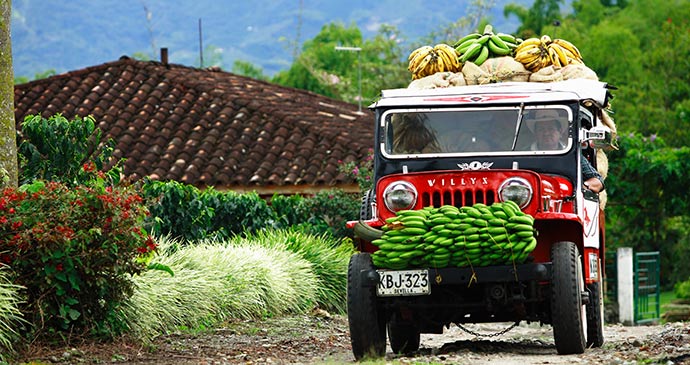 © Proexport CBT
Vegetarian food
Colombia has a growing number of good vegetarian restaurants, although these are confined to the larger cities. Most are in Bogotá, Cali and Medellín, but there are a few surprises in Buenaventura, Meta and Barranquilla to name just a few. Juice bars, organic food shops, health stores and delicatessens are also found throughout the capital. Some of Colombia's vegetarian diners feature on the international listing www.happycow.net. Entries also state if the menu is vegan, lacto, organic, eat-in or take-away.
Accommodation
Colombia's hotels range from simple, sparse, cut-price rooms to grand, city, no-expense-spared hotels. Backpackers will find plenty of cheap options in the most touristy areas of the country with plenty of hotels in the major towns, resorts and cities to suit most budgets and tastes. However, most visitors to Colombia balance their personal preference with a need for good security, and this is generally the key deciding factor when it comes to finding a decent place to stay. Costs vary, but expect to pay up to around 60,000COP for a double room in a budget hotel, less in many backpacker hostels. Mid-range options generally range from 90,000COP to 150,000COP, with anything costing more categorised as high-end.