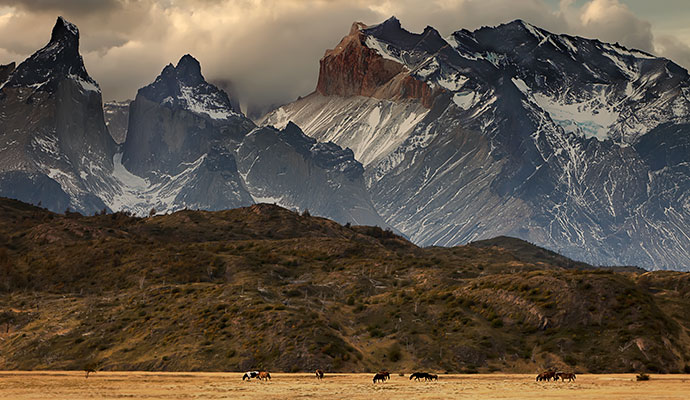 © Jeremy Thompson, Flickr
For most visitors, the only reason to visit the far south of Chile is the fabulous scenery of the Torres del Paine.
The Paine massif is one of the high points of any trip to South America. The granite Towers of Paine thrust up like giant fingers behind the Cuernos (Horns of Paine) while the monolithic Paine Grande, covered in snow and ice, rises to the west. These mountains appear suddenly on the horizon after miles of dry windswept plain – an astonishing sight. Twelve million years ago a mass of lava welled up into earlier marine sediments and was then eroded by glaciers. The area of lakes to the south is the bed of one huge lake which emptied into the Atlantic.
The area was settled from 1892, mainly by sheep-farmers, and today's landscape is in many ways the product of this activity. In particular they used fire to clear the land; this is still a a constant hazard so when cooking you must use a stove, and make sure cigarettes are completely extinguished. The national park was established in 1959 and currently covers 242,242ha, and a range of altitudes from 20m to 3,248m. Some 115 bird species can be seen here, and 25 mammal species; the guanaco population has recovered from around 100 in 1975 to over 3,000 today.
Various hikes can be done on the park's 250km of well-marked trails, the most famous being the circuit which in eight days will take you right round the massif past Lagos Paine, Dickson and Grey. The most amazing view is the close-up of the Towers of Paine from the glacial lake below, a day-walk from the Hostería Las Torres. You will never forget it. There are also fine walks to Glaciar Grey and the Valle del Francés, which can be combined with the hike to the Towers to form the 'W', now the most popular route (four to six days in total).