Climate
When to visit
Highlights and itineraries
Climate
Argentina's climate is classified as temperate; indeed it's the largest temperate country in South America. However, climate obviously varies with geography, from north to south in the case of temperature and from east to west in the case of humidity; the seasons, however, differ only in their variations of temperature, precipitation and duration. Argentina is in the southern hemisphere, thus the seasons occur during the opposite months from Europe and North America. Spring arrives around November; January and February mark the peak summer months and March is the end of summer when children return to school.
The autumn months are April and May and winter can be perceived as early as June in the southern regions near the mountains where snow often settles and temperatures frequently drop below freezing. However, in the north winter rarely means snow – if it occurs it will not stay on the ground – but it does mean rain. The wet season here is from November to March (the wettest month in Mesopotamia is September), and the driest time of year is from May to October. The northwest is generally hot but high-altitude deserts cool off substantially in the evenings and combined with wind the perceived temperature can be close to freezing.
Moving south, average temperatures fall and summers become somewhat shorter. In the far north average temperatures are in the 30s in summer and the high teens in winter, with freezing temperatures in the desert overnight. The central region is relatively warm all year, with hot summers (25–35°C) and winter temperatures always above zero. Summers are cooler and windier in Patagonia and the winters are mild, except in the far south and in the high mountains where temperatures drop below freezing. In Tierra del Fuego summer temperatures are mild, rarely reaching 20˚C, with long hours of daylight.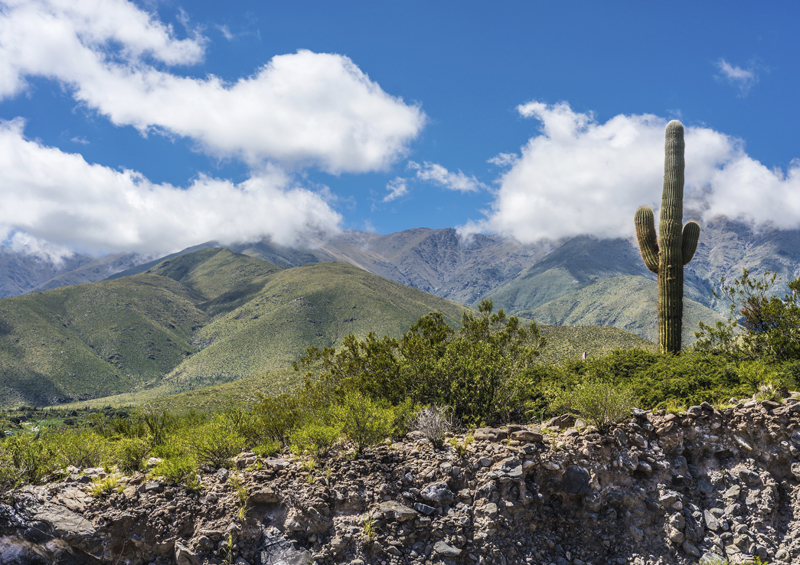 The Ruta Provincial 307 takes a winding and precipitous route; atop one of the passes on the way to Tafi de Valle is a sculpture of the Tafí Indian and the condor, representing the strength of nature © Anibel Trejo, Shutterstock
When to visit
The opportunities for entertainment and adventure are boundless in Argentina and there is something for everyone to enjoy. It is also a large country and unless you have copious amounts of time to see it all, you will have to make some choices that will partly be based upon season. Areas that are far apart geographically may in fact have contemporary seasons, while the places in between are definitely out of season. For example, winter is the time for snow-sports in the Patagonian Andes but not so great for visiting the coast to see wildlife or enjoy the water, while in the far north of the country, it is a good time to visit to avoid the sweltering summer temperatures. To save time you may choose to fly across the country and thus find yourself in a subtropical jungle one day and atop a glacier the next. The downside is that you will miss the landscapes and little towns in between.
The opportunities for entertainment and adventure are boundless in Argentina and there is something for everyone to enjoy.
Argentina's distinctly different regions offer diverse experiences at different times of the year. The northern beaches fill with foreign tourists as well as Argentines on summer vacation in December and January. This is the best time of year for the beach but not for avoiding crowds and inflated prices. Patagonia is best for coastal wildlife-watching from September to November: the right whales are in their calving grounds until November, the elephant seals give birth in early September, and the penguins start nesting in September, with hatching beginning in late October. The other time to visit Patagonia is the ski season, in the southern hemisphere winter, from mid-June to October, with July being the peak season (with busier slopes and more expensive ski passes).
The northeast, with its waterfalls, wetlands, jungles, subtropical wildlife, Jesuit missions and archaeological ruins, should be avoided in the rainy season, with frequent flooding around September followed by scorching temperatures in the subsequent months; however, October is one of the best times to see butterflies at Iguazú Falls. The northwest is known for stunning desert landscapes in the mineral-rich colourful mountains, cardón cactus and ancient cultural sites, high plateaux with vicuñas, a vibrantly alive culture of music and dance, crafts and cuisine; midsummer (January–February) is extremely hot but spring and autumn are great. The beautiful Central Sierras offer more stunning mountain landscapes to enjoy. The missions are scattered throughout this region, which is also popular for adventure sports such as rock climbing and paragliding. The best time of year to visit is early or late summer (midsummer is quite hot).
Highlights and suggested itineraries
Highlights
Quebrada de Humahuaca
The long and mighty valley, stretching dustily north from Jujuy to the Bolivian border, is colourful in every sense. Its lively ethnic market villages and small towns offer vibrant-hued clothes and handicrafts, as well as traditional local dishes such as llama. Thanks to mineral deposits, even the mountainsides here are often striped in paint-box colours, and you can explore it all by very inexpensive local buses.
Quilmes and Tafí del Valle
In the remote lands between Cafayate and Tucumán stand the remarkable ruins of the Quilmes Indians' civilisation, which resisted both Incas and Spaniards. The hillside outpost of Tafí del Valle offers a huge range of hiking and horseriding opportunities in the awesome surrounding mountains, that take you up to 3,000m. No grid-street system here, but there are many estancias at which to visit or stay dotted around the town itself.
Jesuit cultural and archaeological sites
From the 1600s Jesuit pioneers built entire self-sufficient towns from nothing in the middle of jungle, home to ordered religious societies of native converts. Visiting their remains is an eerie glimpse into the everyday life of four centuries ago. The friendly village of San Ignacio Miní, not far from Iguazú Falls, has the most easily visited and intact – along with a 21st-century light show – but there are many more to explore by bus, car or hire bike.
Iguazú Falls
The sheer power, size and spectacle of these vast waterfalls, by the point where Argentina, Brazil and Paraguay meet, has to be seen to be believed: it's one of the world's must-sees. The visitor park on the Argentine side is very well set out, offering beautiful jungle walks and boat rides around, over, and even underneath, the dozens of cascades. It's a long way from Buenos Aires, geographically and culturally, but the trip's well worthwhile.
Iberá del Estero Wetlands
Argentina's great hidden gem: a unique marshland world of floating islands, big skies, and gorgeous wildlife. Drift around by boat, foot or kayak, and get within touching distance of capybara, caiman, marsh deer, howler monkeys, armadillos, fabulous birds, and more. Though relatively close to Iguazú, this quiet, remote reserve is three hours by dirt road from the nearest town. 'Getting away from it all' doesn't get better than this; visit now before the roads are paved and mass tourism moves in.
Wine country
Argentina's western expanses, in the foothills of the Andes, are home to some of the world's great wines. The rich Malbec is the country's signature variety, and bustling Mendoza, the best-known base for visiting wineries and vineyards, by car, organised tour, or hire bike. But there are many more types to explore, and many more wine towns, such as San Rafael. Connoisseurs and bon viveurs can spoil themselves with luxury rural accommodation and cuisine, too.
(Photo: In the past decade, Argentina has become recognised as one of the 'New World' wine producers © Argentinean Tourist Office)
Lakes district, Lago Nahuel Huapi
A little bit of Europe is to be found in the quaint towns that surround this lake, with a huge draw in winter being the excellent skiing; in summer, the lakes offer endless outdoor experiences, namely fishing, swimming or boating. The ancient beech forests that surround the lakes are back-dropped by the Andes Mountains and offer habitat to endangered species including Magellanic woodpeckers, huemel deer and Darwin's frog but also many other animals and the Arrayan, Llao-llao and coihue trees are spectacular.
Península Valdés
Known worldwide for its wildlife, this small peninsula is an absolute must-see on any nature-buff's itinerary. Whale watching and penguin colonies are the highlights with guaranteed sightings. Take a camera with extra batteries and plenty of film/memory card space as you will be endlessly shooting the celebrity wildlife sightings to brag about when you are home.
Los Glaciares National Park
With the current concern over the melting of the planet's glaciers, the icefields in this national park will strike you as even more poignant. The Patagonian glaciers are found in the most temperate climate of any others in the world and most are retreating. The largest of the 13 great glaciers here include Upsala (595km²) considered to be the largest in South America. If you have never seen a massive bright blue glacier, the ones in Patagonia are among the world's most impressive and accessible, particularly the Perito Moreno Glacier with its impressive 50–60m front rising from the Lago Argentina and frequently damming the tributary causing impressive ruptures when it breaks. The mountains here are those of legends with a long history of success and tragedy as people still strive to be among the few in the world to summit their peaks.
Tierra del Fuego National Park
Come here to experience the furthest southern tip of the continent. The park protects the large almost uniform forests of Nothofagus (beech) trees with plenty of walking trails around the many lakes and to mountain vistas. You can camp but Ushuaia is a convenient 10km away to access the comforts of town.
Suggested itineraries
However long you have, it won't be enough – but here are a few suggestions to get the best out of the time you have available.
Weekend
A hectic, but invigorating, blur in Buenos Aires. Fill one afternoon with a city tour, by bus or bike, the other with a taxi trip to Caminito via lunch in the square in San Telmo – and don't miss its Sunday afternoon market. After a coffee-and-croissants breakfast at the film set-like Café Tortoni, squeeze in a morning walk, skate or cycle round the Rose Garden, then a stroll along Florida's pedestrian lane. Spend one evening at a steak restaurant such as La Cabrera, another at a tango show – and expect late nights!
One week
As above, but add a lively day out at a ranch with a horseride, and a chillout day trip to Tigre. Spend a couple of evenings by taxi or bus exploring the restaurants of Palermo, or a touch more adventurously, Cañitas – and see if you can face scoffing intestines or sweetbreads. Experience the raw passion of the football crowd at a La Boca or River Plate match. With a tango show under your belt, try dancing yourself at a milonga. Cycle or walk round the tranquil eco-park behind Puerto Madero for bit of bird-spotting and picnicking, and compare it with a walk alongside the 16-lane Avenida 9 de Julio to the Obelisk. Visit the MALBA modern art museum to see Frida Kahlo, Diego Rivera et al, and go to the Evita Museum.
Ride the Subte and use it to explore squares such as the Plaza de Mayo and Plaza San Martín. Spend a morning in Recoleta Cemetery looking for Eva Perón's tomb, and hopefully finding it, followed by lunch al fresco in one of the cafés opposite. If you've energy and time left over, you can go for a fast-boat day trip to Uruguay, or just possibly shoehorn in a pricey return flight up to see the falls at Iguazú – if not, relax in or outside San Telmo's historic bars.
Two weeks
A week in Buenos Aires as above, plus a week doing the Iberá Wetlands and falls at Iguazú. By trimming a couple of days off Buenos Aires, or if you're flying everywhere and your connections go well, you might be able to fit in a final day or two in Salta.
Three weeks
As above, but at a more leisurely pace, and with economical buses rather than flights. Between Iberá and Iguazú, spend a day and night at San Ignacio, with its Jesuit mission and riverside rainforest. After Iguazú, spend a couple of days in laid-back Salta, possibly squashing in a day trip up the Humahuaca valley. Alternatively, spend the third week scratching the surface of Patagonia, taking in Puerto Madryn, Bariloche and maybe flying down to Ushuaia.