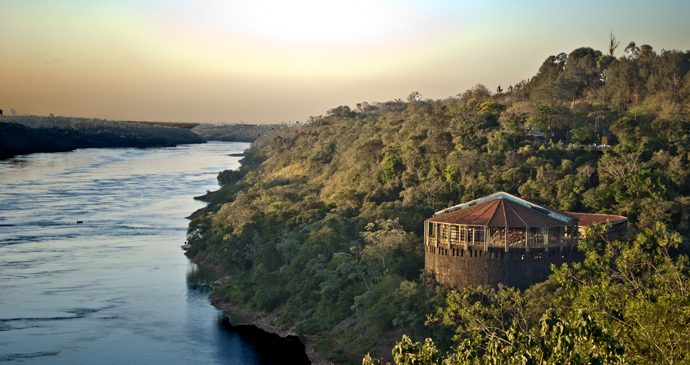 The northern province of Misiones, a small thumb of Argentina protruding into Brazil and Paraguay, is a hilly and densely forested area where the subtropical climate is hot and humid with plentiful rainfall © Norberto Mario Lauria, Shutterstock
Visas
Getting there and away
Getting around
Visas
A valid passport is necessary for all tourists entering Argentina. A tourist visa is not required by EU, US, Canadian, Australian, South African or New Zealand citizens.
On arrival, their passports will be given a stamp valid for a 90-day stay. Going over a border and re-entering – even for a day trip to Uruguay, say – will result in a new 90-day stamp with no fuss. Upon arrival in Argentina you will be given a tourist card which must be handed in when leaving the country; if you have lost it, you will be fined. However, note that American, Australian and Canadian citizens arriving in Argentina by air (at Ezeiza or Jorge Newbery) have to pay a one-off fee (on arrival, payable by cash or card) of US$140, US$100 and US$75 respectively.
The US payment is valid for multiple entries for ten years; the Australian, multiple entries for a year; and the Canadian, for a single entry, although a multi-entry version for five years is available for US$150. These nationalities don't have to pay an entry fee if they arrive any other way.
Getting there and away
An unprecedented surge in tourism was brought about by the devaluation of the Argentine peso in 2001, climbing by about 40% the subsequent year and continuing to rise since then. Though the country's improved economic situation no longer makes it feel cheap for visitors, tourism has become one of the most important economic activities in the country. Argentina is relatively easy to get around but expect certain inconveniences at times, such as late buses or lax business hours (this varies region to region and with the size of the city or town).
In poorer areas you may not find convenient transport connections or strict adherence to opening hours. That said, Argentina has a higher standard of service than other South American countries. This is largely due to the strong history of tourism and cosmopolitan attitudes in Buenos Aires and the enormous increase in ecotourism in Patagonia. I use the term ecotourism loosely, since it seems to be used for a normal style of tourism offering wildlife-watching and wilderness settings; it rarely, however, implies any environmental impact awareness such as innovative waste disposal, energy conservation or minimal water use. You will have to take it upon yourself to be as low impact as you can and make polite suggestions to hotels and restaurants as to what you would like to see in the future.
Argentina has a higher standard of service than other South American countries. This is largely due to the strong history of tourism and cosmopolitan attitudes in Buenos Aires and the enormous increase in ecotourism in Patagonia.
In relation to transportation, oil and gas are big business in Patagonia and fuel prices are low compared with North America and Europe, and the only way to move freely to remote areas is with a car. Buses provide frequent service to almost any decent-sized town, but if you want to move beyond the towns you will need your own wheels. Argentina is a big country and to cover larger distances you may need to take bus rides of over 24 hours (sample distances: Buenos Aires to Ushuaia, 3,200km; Salta to Ushuaia, 4,700km). Thus you may want to consider using both flights and buses for an efficient use of your time.
By air
Book international flights at least a month in advance for the best fares. If you intend to take two or more domestic flights in Argentina during your trip, you would be wise to purchase a Visit Argentina airpass from Aerolíneas Argentinas (www.aerolineas.com.ar), typically sold as two internal flight coupons per international flight. Domestic flights are reasonably priced but the airpass effectively lets you take any internal flight for US$100–150, a discount of up to 50% (with lower discounts if it is not bought in conjunction with an international ticket).
Airpasses must be booked in advance and purchased in the traveller's country of residence (not in Argentina). All coupons must be fully paid for together with the international ticket; the first flight must be booked then, while the remaining coupons may be booked at any time with rebooking permitted (usually at a cost of about US$20), but not rerouting. The entire journey must be completed within the validity of the international ticket. Stopovers are not permitted. Discounts are available only for children under the age of two years.
Getting around
By air
Most cities have airports with daily connections to Buenos Aires, although not necessarily any direct flights to geographically closer cities; often you will have to go via the hub of Buenos Aires and backtrack. There are frequent flights between Buenos Aires and major cities such as Córdoba, Bariloche and Mendoza.
Córdoba is becoming more of a hub with direct flights to popular destinations such as Salta and Iguazú; flights from Ushuaia in particular may call at cities such as El Calafate or Trelew, owing to its isolation and tourist demand.
As mentioned above, it may be better to buy an airpass for internal travel; both Aerolíneas Argentinas and LAN Argentina try to restrict foreigners to their more expensive (and flexible) fares, but if you book online claiming to be resident in Argentina and request airport pickup of tickets (or e-tickets), or use an Argentine-based travel agency, it's possible to get around this.
By bus
Buses are the most popular and economical mode of long-distance travel in Argentina and the quality of the major operators and their vehicles are comparable to those in North America (particularly Mexico), and better than many in Europe. The trip from Buenos Aires to Bariloche, for example, costs 460 pesos, about two-thirds of the airfare, but takes 22 hours.
Regular buses have reclining seats, small toilets, screens showing subtitled action films or romantic comedies, and machines dispensing a coffee-coloured liquid and water. For not much more money you can have a lot more comfort with a level of service referred to as semicama, cama, or cama ejecutivo. The higher the price, the larger your seat and the further it reclines. These seats fold down almost into a bed allowing a comfortable night's sleep, and also saving on accommodation costs.
Bus terminals are bewildering places. There will almost certainly be no noticeboard with arrivals or departures, and definitely no information board with timetables. Several different, rival firms will operate buses to your chosen destinations, all with their own ticket offices. But there'll be a general information desk somewhere; so find that and ask about your destination. They'll tell you times and companies, and which ticket office to try. In practice, many companies operate alliances on various routes, so you may well find company A selling you a ticket for company B's bus. You can get a list of services and prices to your destination from the websites www.omnilineas.com (from Buenos Aires) and www.plataforma10.com (for all routes). But they're by no means comprehensive, with many services (especially local ones) not shown. The only sure way to find out when, or if, there are buses between places X and Y is to phone a likely company; or better still, turn up at the station and ask at the information desk.
Buses are late surprisingly rarely; nine out of ten trips they're pretty much on time. If you have a wait, bus stations are usually good places in which to do so, with bars, basic restaurants and internet access. Even in the early hours of the morning, there will be people around, some friendly and well-fed stray dogs, and probably even an open snack bar. Most bus terminals are walkable from their town centres.
In January and February, the main holiday period, buses may be booked up weeks in advance. Conversely, at low-season times there is a lot of competition, so you should always ask for a student discount or a promoción, which close to departure time may be as much as a third off. Buses may not run on backroads or to national parks in winter.
Your baggage should be loaded for you and when you reclaim it, a tip of a peso or two is expected. You will usually be given a baggage tag in order to reclaim your belongings.
By train
A cheap and civilised (if very slow) way to travel, though rarely possible beyond the commuter lines and tourist trips, is by train. Argentina has an extensive railway system, but unfortunately it is largely defunct. In 1993, the federal government withdrew funding for the railways, leaving it to provinces to decide on subsidies. As a result there is limited passenger service in Buenos Aires province (with certain routes that are actually recommended for visiting the small towns outside Buenos Aires city, such as Tigre), and far more limited service elsewhere.
The extreme sparsity of settlements in the vast pampas of the south meant that railways were never an economic proposition there, except for a few special lines such as that from the Río Turbío coal mines to the sea, and the Viejo Expreso Patagónico to Esquel, La Trochita, made famous through Paul Theroux's The Old Patagonian Express. Nostalgia for the old trains is what has saved the last few lines now catering mostly to sightseers: La Trochita, as well as the Tren a las Nubes (Train to the Clouds) in Salta, Tren de las Sierras in the Central Sierras, and Tren del Fin del Mundo in Tierra del Fuego. Indeed a journey by these trains is a beautiful way to see the passing scenery.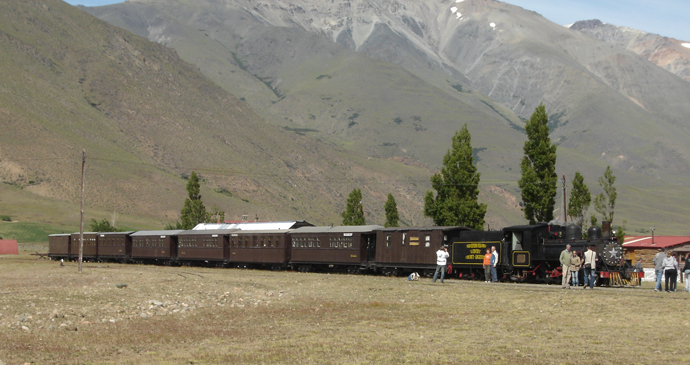 The Viejo Expreso Patagónico to Esquel, La Trochita, was made famous through Paul Theroux's The Old Patagonian Express © PatagoniaArgentina, Wikipedia
By car
Although much more expensive than taking buses, the freedom of movement a car gives is often necessary to get where you want to go efficiently, especially in Patagonia. That said, the distances are great and many roads are in poor condition, with service stations few and far between. The roads in Argentina are reputedly dangerous, and signs marking one-way streets are often discreet with just a small arrow on a wall. In the extreme reaches of the country, that is in the far northwest, the depths of the central pampas or in remote areas of Patagonia, a car may not be a wise idea at all.
The best option may be to use the bus for longer journeys and rent a car for a day or two to make short excursions in areas that buses reach rarely or not at all. For example, take the bus to the Lakes District from Mendoza or Córdoba (or Buenos Aires, although there are frequent and affordable flights for this journey) and then hire a car to tour around the scenic areas and small towns throughout the area. You may prefer to hire a pick-up (camioneta) if you are intending to spend a lot of time on unsurfaced (ripio) backroads. There are car-rental companies in every major city or town, often with offices at the airports and bus stations, and international companies such as Avis and Hertz are both commonly found.
In order to drive in Argentina you will need an International Driving Permit, available at a low cost from your home automobile association. If you plan to take the car into a bordering country, be prepared for a lot of additional expense and bureaucracy. Specific insurance for taking a car across international borders is required.