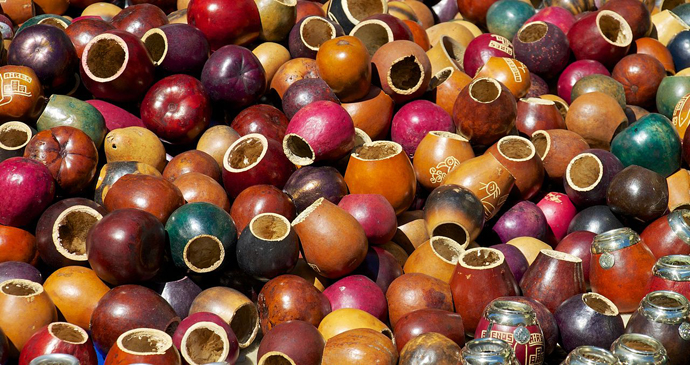 Many Argentines can be seen carrying around their hot-water thermos and maté bombilla (a cup made of a hollowed gourd with a silver straw) © McKay Savage, Wikipedia
Eating and drinking
Accommodation
Eating and drinking
Subtle differences and regional specialities are found in Argentine cuisine. Patagonian lamb, trout in the Lakes District or river fish in the northeast cannot be beaten in other parts of the country. Here is a general breakdown of what to eat when:
Breakfast
Between dawn and late morning your day would probably commence at a neighbourhood café. With time, this café would recognise your loyalty and know your particular taste in coffee, which can be drunk con leche (with milk) or without, and accompanied by a couple of medialunas or fattorias (the local terms for croissants, often filled with jam or chocolate or other sweet options). Other variations on the coffee theme are cafecito (short and strong), café cortado (short with milk), café lagrima (hot milk with a teardrop of espresso), café doble (double shot) or cappuccino (espresso with steamed milk).
There is also a lovely form of hot chocolate called a submarino, which is hot milk with a bar of chocolate to melt in it. Though tourists are excused with varying degrees of exasperation, it would not be generally considered acceptable to have milk in your coffee following any other meal than breakfast, especially a meal that includes meat, which is usually the case.
Maté, a strong bitter tea, can be drunk at any time but can be prepared in different ways according to the time of day. For example, it can be had with hot milk or even with coffee in the morning, or with sugar or fruit to make it sweeter or more flavourful. In its pure form, however, it can be drunk all day long and much as a coffee mug is carried about by many North Americans. Hot-water dispensers are often conveniently and considerately set up in public areas either as a free service or with a minimal fee to allow people to refill their thermos or top up their maté. Obviously the whole business of sucking warm feel-good juice from a breast-shaped vessel is highly suspect, and Argentines generally see drinking maté as a perfectly normal alternative to doing some work.
Lunchtime
One o'clock is the start of the lunch hour, a loose term since it can last up to two or three hours, siesta time included. Do not expect stores or services to be available to you between one and four o'clock unless you are in the tourist centre of a larger city. Lunch is often the largest meal of the day and most restaurants offer asado and a salad buffet. The most famous and undoubtedly traditional Argentine cuisine is grilled meat. Argentine meat is world-acclaimed.
The animals are free-range and breed naturally (the breeds include the Holando Argentina, Aberdeen Angus, Charolais, Shorthorns and Herefords). The expansive pastures of the pampas offer grazing that is rich and natural resulting in meat that is flavourful and clean (no herbicides, pesticides, growth hormones, etc). The same can be said for Patagonian lamb, which is also free-range.
In ordering your meat dishes, getting some basic terminology straight is your first priority. Laid out on a parrilla or grill, a parrillada is a spread of meats that will include almost every imaginable part of the cow as well as a few chunks of pig, mutton or chicken thrown in for good measure. Asado is the style of cooking and/or often the kind of cut (eg: asado de tira). The asador is the man (it is very unusual and against tradition for a woman to work the parrilla) who grills the meat and prides himself on his skill at keeping the coals at the perfect red-hot degree without the flame ever licking at the meat (tubes are set to carry the fat away so it doesn't fall into the fire and flare up). Lamb is typically grilled whole and splayed al asador (on the cross). Asado should be served with spicy chimichurri sauce and salad.
If you are able to indulge in two full Argentine meals as well as breakfast, tea and a happy hour, you will definitely be well fed, will probably need to participate in the tradition of siesta and are hopefully not expecting to partake in any strenuous tourist activity such as climbing Mount Aconcagua!
Apart from asado, Italian influences are the most common, such as pizza and pasta, most commonly ñoci (ie: gnocchi), tallarines (plain noodles), ravioli, cappeletis (ravioli of a different shape, looking more like empanadas), sorrentinos (larger ravioli), and milanesa (veal grilled in breadcrumbs). Stews are also popular, including carbonada, made with oxtail, potatoes, carrots, corn and various meats, or a stomach stew called mondongo. Churrasco is another form of barbecue. Pescados y mariscos are fish and seafood. In northern Argentina, empanadas are standard fare. These baked or fried savoury pastries are most commonly stuffed with beef mixed with egg, olives, herbs and spices, or cheese and onion, creamed corn and ham.
Any dish with the term choclo means 'stuffed'. Tamales and humitas are wonderful northern specialities; tamales are corn and meat wrapped in a corn leaf and steam cooked, and humitas are very similar but lack the meat. Locro is a popular sopa (soup) dish in the north made from meat, tripe, sausage, corn, potato and bean; puchero is a thick soup made with chickpeas, corn and meat. Cazuela (de ternera, de cerdo or de gallina) is a hotpot of stew made of veal, pork or chicken. Fruit pies may be offered as a dessert but usually a coffee (cortado, without milk) would be the cap on your meal.
Teatime
Sweets are abundant a few hours later, at teatime. In the Chubut Valley, owing to the strong Welsh influence, teatime is taken much more seriously and includes breads and jams, cheese, cakes, pies and cookies. Elsewhere, more typically between five and seven o'clock, a simple cup of tea and an alfajor (biscuit filled with dulce de leche and covered in chocolate or icing sugar) would be in order. Dulce de leche is a sweet gooey caramel-like spread and a staple of any Argentine diet.
There is also dulce de batata, a sweet potato preserve; dulce de zapallo, sweet pumpkin preserve; and dulce de membrillo, quince jelly. Churro is a deep-fried pastry stick that may be filled with dulce de leche or chocolate. Chocolate is another famous Argentine delight mainly produced in the Lakes District. One cannot miss the large chocolate shops lined up on the main street of Bariloche. Many of the chocolates and truffles are made with other Argentine sweets such as dulce de leche. Ambrosia is a wonderful dessert similar to zabaglione made with egg yolks, milk and sugar.
Apertif and dinner
In the early evening before dinner (which offers the same options as lunchtime, but is eaten much later than in many other countries – perhaps as late as 22.00) you might fit in a happy hour, when your drink is accompanied with picadas – finger foods, often cold cuts (fiambres), olives, goat cheese (queso de cabra) and fresh cheese (quesillo) among other delicacies. The most common drinks enjoyed in Argentina are wine, cider and beer; hard spirits are less common.
Argentine wine, grown in the Cuyo region, is becoming more refined and internationally recognised; Merlot and Cabernet go especially well with steak. If you are able to indulge in two full Argentine meals as well as breakfast, tea and a happy hour, you will definitely be well fed, will probably need to participate in the tradition of siesta and are hopefully not expecting to partake in any strenuous tourist activity such as climbing Mount Aconcagua!
Beer is usually served in 'litre' bottles (actually 970ml). It's pretty inexpensive, about 12–20 pesos. The large size isn't because Argentines like drinking in quantity: it's intended, like a bottle of wine, to be shared (although no-one will bat an eyelid if you swig a whole bottle yourself). Virtually all Argentine beer is lager-style, fairly strong (rarely specified on the label, but about 5%), and you'll see the same brand names popping up in bars everywhere, mostly Quilmes and Brahma. Many cities have their own breweries, such as Santa Fe and Salta, though you'd be hard pushed to tell the difference between beers. Artisan beers are available, but they're few and far between.
Note that if you buy a bottle of beer from a shop or supermarket (about 5–7 pesos for a 'litre'), there'll be a deposit (about 2–4 pesos) to pay extra on the bottle. If you take the empty back, with your receipt, the deposit is refunded. Or you can buy another bottle of beer, using the empty to pay for the new one's deposit.
Accommodation
Hotels
Hotels in Argentina are graded on a star system but the standards are lower than in the US and Europe. A five-star hotel may not necessarily be very luxurious, especially in smaller cities. On the other hand, a two-star hotel is humble but quaint and clean. A better way of interpreting the quality of a hotel is not by how many stars but by what it charges. A basic hotel will average 150 pesos for a double whereas a deluxe hotel can run into the upper hundreds. The presidential suites at the Alvear Palace in Buenos Aires, indeed, run into the thousands.
Many hotels do not list their prices on their websites because they fluctuate with demand and the rate of the US dollar was so unstable for a long time. You can expect at least a 20% variation between high and low season, and at peak seasons rates often double. In low season you can try to haggle, especially if the rates are not posted and you suspect that you are being quoted a 'foreigner's' rate. It would be unfair to state that tourists get overcharged since most proprietors are very honest, but it does happen, so follow your instincts when a quote is not being provided in a quick and straightforward manner.
Bed and breakfast, guesthouses, hospedajes
The B&B is a fairly new concept in Argentina; more common is the guesthouse, or hospedaje, which is not very different. They are like small hotels, usually only half-a-dozen rooms, with breakfast served in a communal dining room. Staying in a guesthouse is like staying in somebody's home. Your room is private and usually you can lock it; the bathroom is typically shared and there is communal space throughout the house, such as a living room, kitchen, dining room, patio, etc. Single and double rooms average about 60–100 pesos per person.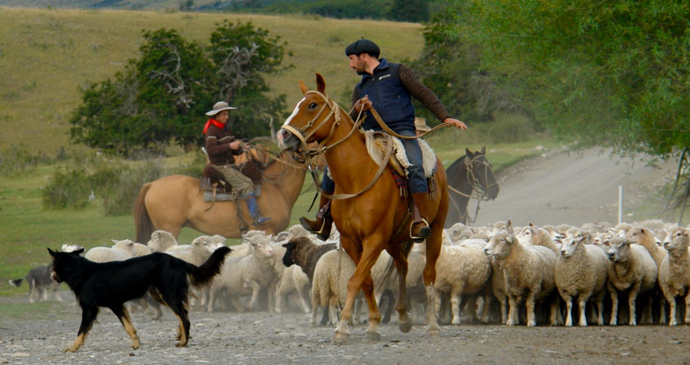 Estancias are still true working cattle ranches on the vast rolling plains of the pampas or sheep ranches in the rough wilds of Patagonia (pictured), with the large estancia houses either converted or with annexes built to accommodate guests coming here to see authentic Argentina © Evelyn Proimos, Wikipedia
Estancias and lodges
Staying at an estancia or at a fishing lodge, typically for a week or just a weekend, is a real 'getaway' for those wanting an escape into a country or wilderness setting to experience nature and culture. Most ranches struggle to make a living on agriculture alone and have moved their business activities towards cultural tourism, although it would be naïve to believe that Argentine estancias have all moved beyond the colonial decadence of wealthy landowners exploiting poor workers and gauchos. They are still true working cattle ranches on the vast rolling plains of the pampas or sheep ranches in the rough wilds of Patagonia, with the large estancia houses either converted or with annexes built to accommodate guests coming here to see authentic Argentina (though with gauchos in traditional clothing providing some fake nostalgia) and thus provide new lifeblood to a bygone era.
Guests can watch the day-to-day activities or actually participate in certain activities such as sheep-shearing or feeding livestock; outings to explore the surroundings and sites of interest are often programmed. Prices start at around US$100 per person per night for full board (with traditional to gourmet menu options) and typically the rates of Patagonian estancias are double those in the pampas. Nevertheless these places are not necessarily overly fancy or formal; in fact, they are typically elegantly rustic, beautiful but natural and traditional, and guests are expected to dress casually and practically for the setting, dressing up for dinner only if it suits your style.
In the Lakes District and the wetlands of northeast Mesopotamia, fishing and wilderness lodges offer stunning settings for escapes into nature. They range in style from rustic to luxury and can be set close to other amenities or deep in the wilds and far off the beaten track. Your meals will usually be provided, possibly basic local fare or fabulously gourmet, with a chef preparing regional meals. Successful fishermen can have their catch cooked for dinner. Lodges may have rigid programmes to keep you busy sightseeing or fishing (fishing equipment is generally provided), or may cater to their guests' pace and have guides for hire for whenever it is convenient or allow you to explore certain areas on your own. Your intentions and therefore any potential restrictions to your plans should be discussed between you and the lodge prior to your booking and arrival.