Suggested places to base yourself
Getting there and around
Suggested places to base yourself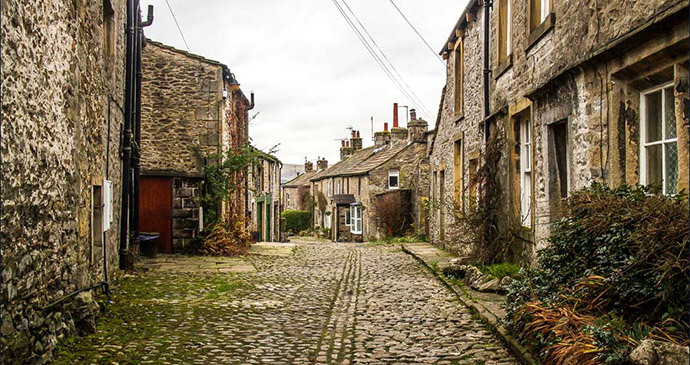 The little town of Grassington epitomises what a Dales town is all about © Andrew Locking/www.andrewswalks.co.uk
These bases make ideal starting points for exploring localities the Slow way.
Hawes
There's lots going on in the capital of upper Wensleydale itself but it's also at a handy crossroads with easy access to Swaledale, Garsdale and Ribblesdale.
Clapham
Rail links to Skipton and Lancaster and a gentle bike ride to the busier Ingleton. As for walking – you've got a show cave, a Three Peak and classic limestone pavements, all a short stroll away.
Skipton
It calls itself the 'Gateway to the Dales', which aptly describes its good bus and train links to Three Peaks Country, Craven and Wharfedale. Don't just travel from here though – Skipton itself has lots to offer with canals, a steam railway and one of the best castles in the country.
Sedbergh
This historic home of Quakerism and modern Book Town sits comfortably at the foot of the Howgill Fells and within sight of the Three Peaks.
Keld/Thwaite/Muker
If it's rural isolation you want then upper Swaledale is the place. Empty fells all around but a surprising range of accommodation available.
Kirkby Stephen
One of the few towns in the Dales accessible by rail, this northern gateway to the national park is a great base from which to explore its new Cumbrian corner.
Richmond
Stay put in town for fascinating history and culture or hop on a bus for the rural delights up Swaledale or over into Wensleydale.
Masham
The beer capital of North Yorkshire (sorry, Tadcaster) and another classic Dales market town. Local riverside and woodland walks are a speciality.
Pateley Bridge
The rural delights of upper Nidderdale are just a walk or bike ride away, while a short bus trip can take you to the bright lights of Harrogate and historic Knaresborough.
Grassington
This little place epitomises what a Dales town is all about – a market square, old limestone pubs, waterfalls and a lead-mining history. It's all celebrated annually in June during a two-week music and arts festival.
Getting there and around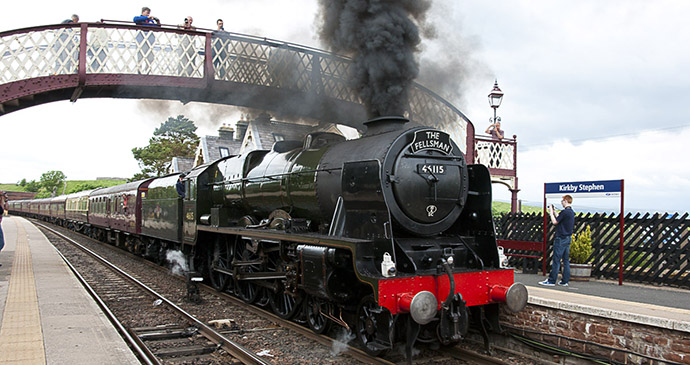 Stainmore Railway Company still runs heritage trains through Kirkby Stephen © Sower Pow
Below is a brief overview and suggestions of how to reach the Yorkshire Dales from other parts of the country.
Car-free travel
Most people get here and travel around within the area by car. However, a growing number of visitors to the Dales are doing it without their cars. Car-free travel is at the root of the Slow mindset. And, planned well and done properly, can be a really liberating experience. The national park authority are very supportive of this idea – not surprisingly, they want more people in the park but fewer cars, so they have a whole section of their website devoted to encouraging this.
By train
As you would expect from a mountainous region, railways tend to skirt the edges, getting you to outlying towns and villages like Skipton, Settle, Clapham, Richmond, Northallerton, Harrogate and Knaresborough, but not into the interior. The one glorious exception is the Settle to Carlisle line, which ploughs straight through the middle of the Dales, giving access to Horton in Ribblesdale, Dentdale, Garsdale/Wensleydale heads and Kirkby Stephen.
A couple of short, private railways add to the picture, but because they are not fully linked to the National Rail system, they are not of huge use to car-free travellers. To be fair though, the operators of the Embsay line are working hard to join it up to Skipton, as are the Wensleydale Railway Association to Northallerton.
We could moan at length about the inadequacies of our National Rail system (and I often do) but one aspect they need hearty congratulations for is the free transport of bikes rule. This facility opens up so many doors for cyclists, who either don't own a car or are tired of doing circular routes back to the hire shop. Using the train to gain altitude and save your legs is a good ploy; you could for instance, take your bike on the train to Ribblehead and freewheel back to Settle or Clapham via Ingleton. Likewise, Dent Station gives a nice quiet run down to Sedbergh and Oxenhome Station beyond. Garsdale Station allows a similar downhill trip to Kirby Stephen.
By bus
Without a bike in tow you also have the bus network at your disposal (some buses advertise bike transport but as there is a limit of three per bus you can't rely on it).There's a handy summary of services under 'Visit the Dales' on www.yorkshiredales.org.uk. Peripheral towns usually have very good bus links to the outside, especially if they have no railway station.
All the other smaller places up the Dales are served by the Dales Explorer Bus. Almost every hamlet gets a visit at some time, even if it is just once a week in summer, like poor old Scar House in Nidderdale. Many routes operate weekdays, and all year round, but quite a few extra leisure services are put on for the summer months (Easter to October). And these are usually only Sundays and bank holidays.
Various fare concessions are out there, and probably the best on offer is the Dales Rover Ticket, giving you unlimited bus journeys for the day within the Dales, and deals from many local businesses like cafés, pubs, B&Bs and attractions. If they display a 'Dales Bus Discount Scheme' sticker you will get some freebee or other, even if it's only a cup of tea.
By boat
Unless you count the rowing boats on the River Nidd at Knaresborough, the Leeds and Liverpool Canal at Skipton is the one and only boating venue in the Dales, but it does offer a variety of options. You can join half-hour or one-hour trips in and around town, or hire a boat for a day, weekend or entire week. Westwards is the more rural and unspoilt direction to sail from Skipton, but even this choice turns away from the Dales and into the lowlands on its journey towards Lancashire; a tour of farm country – nice and certainly Slow, if tame.
By bike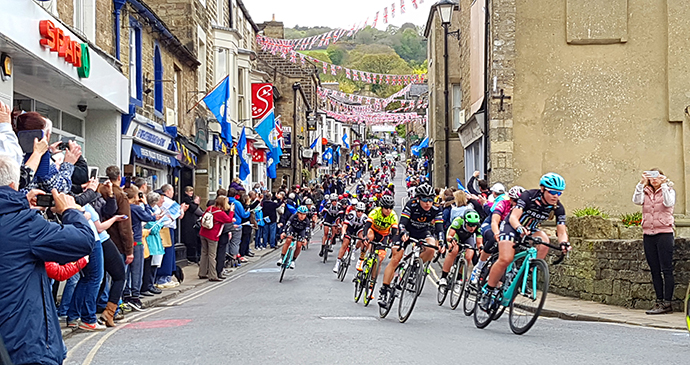 Hundreds of cyclists take part in the extremely successful Tour de Yorkshire every year © Nidderdale Chamber of Trade/Kirsty Shepherd
The Yorkshire Dales has always been a popular destination for road cyclists, many pedalling along the two well-established touring routes that pass through the region. The Way of the Roses route, coast to coast from Morecambe to Bridlington, traverses the region from west to east, while the Pennine Cycleway does the same from south to north on its way between Derby and Berwick-upon-Tweed (the routes cross at Settle). Another very popular loop entirely within the area is the Yorkshire Dales Cycleway. It is designed to be started and finished at Skipton but as it is circular it can, of course, be initiated anywhere along its length. An optional extra 20-mile section was added in 2016 to sample the new part of the national park in the west. The Park has produced a handy little pamphlet, Cycling in the Yorkshire Dales National Park, to introduce these routes but by far the best source of information is their website.
Since 2014 there has been something of a cycling revolution in Yorkshire which has boosted participation even more. It all stems from the massively successful leg of the Tour de France which took place in the county during two mad days in July 2014. The first 'Yorkshire' day was a 110-mile pedal starting in Leeds, travelling up most of Wharfedale and down most of Wensleydale, with a brief visit to Swaledale before finishing at Harrogate. Many die-hard amateur bikers have ridden the whole of the original route but the 'Cycle the Dales' people at the national park have come up with a great 80-mile circular route from Grassington, called Tour de France in the Dales, which includes the best of the original without its long 'A' road sections.
Such was the impact of 'Le Grand Depart' that Welcome to Yorkshire have been inspired to recreate it every year since, but over three or four days in late spring. The original two-day Tour was restricted to the Dales and Pennines but the new 'Tour de Yorkshire' zooms along different Yorkshire routes every year. The long-term impact of all this has been astounding, with hundreds more people taking to their bikes to go to work, keep fit or just have fun with the family. This is great news for the cycling visitor to the region because bike-hire venues and cycle shops are popping up all over the place. Not only that, other providers like B&Bs, cafés and pubs have realised that it's worth their while to be as bike-friendly as possible. Everyone's a winner!