Savouring the taste
Agriculturally, the Yorkshire Dales is primarily a pastoral region, so it's no surprise that the best-known local produce originates from cattle or sheep. Milk from local dairy herds that isn't drunk (by calves or humans) has, for hundreds of years, been the main ingredient of a variety of local cheeses that often take the name of their valley of production. Wensleydale is by far the most well known but Coverdale, Swaledale and Ribblesdale all have their own distinct recipes, and a trio of artisan dairies are still making the proper stuff.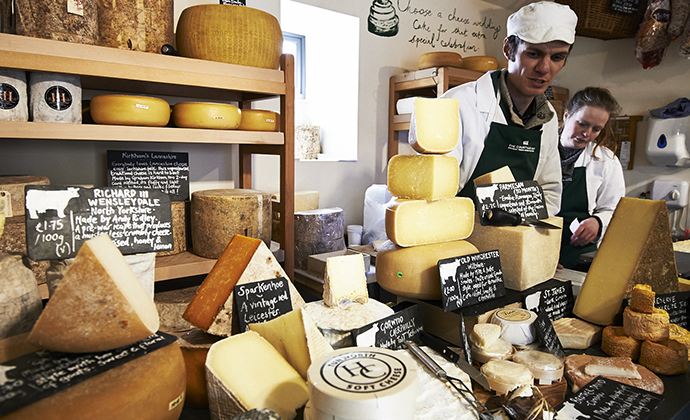 The Wensleydale Creamery is in Hawes, as is the much smaller Ribblesdale Cheese Company, while Reeth in Swaledale is the home of Lacey's Cheese. Beginners courses in cheesemaking can be done at Ribblesdale and Lacey's and also at the Courtyard Dairy near Austwick, which also boasts a wonderful cheese shop and museum. One other excellent cheese shop deserving a mention is the Churchmouse at Barbon.
A local Dales dairy product less traditional Yorkshire than cheese, but just as popular, is ice cream. Delicious farm-produced ice cream can be slurped at Sedbergh, Bolton Abbey, Richmond and Risplith.
Not all the cattle in the Dales belong to dairy herds; higher up the fellsides beef cattle predominate and the best limestone beef can be bought direct from the producers at Town End Farm in Malhamdale, Whaitber Farm near Ingleton and Springhill Farm near Masham. When it comes to meat though, it's lamb and mutton for which this part of the country is famed – there are nearly half a million sheep here, after all. Every Dales town or village butcher will sell locally reared lamb, and maybe mutton if you're lucky, but there is something satisfying about buying it direct from the farm itself and that's just what you can do at: Gillgate Farm, Askrigg, Hazel Brow Farm, Reeth, Heber Farm, Buckden and Unthank Farm, Constable Burton.
Great quality fish can also be found in the Dales, rainbow trout from Kilnsey Trout Farm and, perhaps surprisingly so far from the coast, fresh sea fish at the Grantley Arms, Nidderdale. Notable seafood restaurants are The Fleece, Addingham, the Wensleydale Heifer, West Witton and the aforementioned Grantley Arms. For top-quality restaurant food across the board it's hard to argue with the judges at Michelin for awarding a star to the Yorke Arms at Ramsgill.
The climate of the Yorkshire Dales doesn't lend itself to wine or cider production, so beer tends to be the tipple of choice, with 16 breweries operating in the area. They range from household names like the Theakstons and Black Sheep breweries of Masham down to barn-behind-the-pub micro-breweries like the wonderful Dark Horse Brewery in Hetton.
Learning how to cook like the experts has become very popular in recent years and two venues here offer cookery schools all year round: Bettys in Harrogate and Swinton Park near Masham.
Accommodation
The Cumbrian corner
Three Peaks Country
Craven & Wharfedale
Swaledale
Wensleydale
Nidderdale, Harrogate & around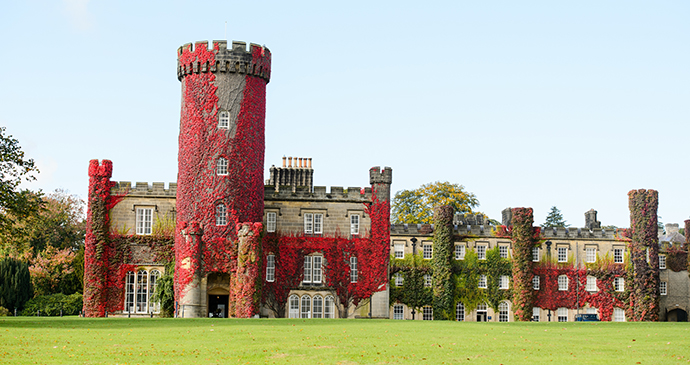 The accommodation here is of course by no means exhaustive, as there is a huge range of places to stay in the Yorkshire Dales. Those featured are my personal choice, with no charge having been made by the businesses concerned. I have tried to select a range to suit different pockets, from basic camping to outrageous luxury; and styles – some bed and breakfast, some self-catering, and some for larger groups. All, however, I feel are 'special' in some way, historically, architecturally or perhaps with a particular 'Slow' take on things.
The Cumbrian corner
Hotels & B&Bs
Brownber Hall Newbiggin on Lune CA17 4NX; 01539 623208; www.brownberhall.co.uk. Brownber Hall was originally a Victorian country house belonging to the Fothergill family – now it is a wonderful place to stay owned and run by the Jaque-Walker family. Peter and Amanda J-W like to call their place a boutique guesthouse, but with seven double/twin bedrooms and one single, it's really a small country hotel and one that is difficult to fault. Despite being very accessible from the M6 it sits in quiet tranquillity with red squirrels in the garden and great walking and cycling from the doorstep. The welcome is warm and genuine, and the food excellent (pizzas are a speciality). Dogs can stay in some of the rooms.
Garsdale B&B Garsdale LA10 5PU; 01969 667096; www.thegarsdale.com. Converted barn with three rooms (double, twin and family) attached to the owners' house and restaurant where magnificent breakfasts are served. Evening meals and residents bar available but there is a good pub (Moorcock Inn) next door anyway. If you are travelling without a car, the owners will pick you up free of charge from Garsdale station (on the Settle–Carlisle line). They also run a charged drop-off and pick-up service for walkers and, as the Pennine Bridleway goes past the door, very thoughtfully provide a field for tethering your horses. Cyclists are particularly well catered for – there's free mountain-bike hire for residents and a storage/repair service for your own bikes. Dog-friendly (one room only).
Self-catering
Bents Camping Barn Newbiggin-on-Lune; 01768 371760; www.bentscampingbarn.co.uk. Bents Farm sits right on the edge of Crosby Garrett Fell open-access land, a mile north of Newbiggin-on-Lune and the camping barn is on the farm itself – hence the no dogs rule. Like all camping barns, it's basic – you use your own sleeping bag in one of two bunk-bed dormitories – but there is electricity and a decent kitchen. The upside is the cost – just over a tenner per person per night and you can book the whole thing for a group of up to 14. Most people walk here but it is accessible by car.
A Corner of Eden Stennerskeugh; 01539 623370; www.acornerofeden.co.uk. Low Stennerskeugh was a derelict farm in 2005, which Debbie and Richard Greaves lovingly converted into three separate self-catering accommodation units. The Shepherd's Cottage (sleeps 2), Farmhouse (sleeps 8) and Angel Barn (sleeps 6) can all be booked separately, but booking the whole lot for a large group/family get-together is extremely popular. It's expensive, but you get what you pay for as the quality is high. Although the hamlet is very isolated there is a pub (The Fat Lamb) a short walk away over the fields. Dogs are welcome for a small extra fee.
Howgill Apartments Sedbergh; 0800 832 1632; www.howgillsaccommodation.co.uk. Bainbridge Road is a quiet street in the middle of Sedbergh, just behind and running parallel with Main Street. Halfway down it sits a large stone building which has been converted into five apartments of varying size, sleeping from four to 12. Dogs can stay by arrangement. The facilities are basic but comfortable and very good value. This place's main advantage is its central position in town.
Riverbank Cottage Kirkby Stephen; www.cumbrian-cottages.co.uk. The ex-brewery building, attached to Frank's Bridge over the River Eden now constitutes a bijou one-bedroomed cottage. This very photogenic building attracts a lot of attention so be prepared to have passing walkers peering in the windows. Sleeps two, no dogs or Wi-Fi.
Smardale Hall Smardale; www.sykescottages.co.uk. Smardale Hall sits next to the disused Stainmore railway line, at the northern end of Smardale Gill Nature Reserve. It is a magnificent four-towered, mediaeval, fortified house attached to a working farm with self-catering accommodation for up to eight people in three bedrooms. The cosy living room with wood-burning stove is a big plus but Wi-Fi is a bit dodgy and dogs can't be catered for. Expect a little noise from the Settle–Carlisle railway which also passes close by.
Camping
Holme Farm Sedbergh LA10 5ET; 01539 620654; www.holmeopenfarm.co.uk. One of David and Angela Metcalfe's farm fields doubles as a quiet, cheap and cheerful family-friendly campsite between March and September. As this is an open farm there are lots of children's activities involving contact with the farm animals. The on-site café also sells basic camping supplies. The owners are quite strict on the 'quiet after dark' rule, which suits me as I hate noisy campsites. Consequently, rowdy adult groups are not welcome and, as this is a working farm, neither are dogs. Very reasonable camping fees.
Howgills Hideaway Sedbergh LA8 0BT; 07866 448748; www.howgillshideaway.co.uk. Beck House is a farm in the tiny hamlet of Howgill, nearly 5 miles north of Sedbergh. It is run by the Stainton family who have diversified the business to provide self-catering accommodation in two static caravans and three glamping pods (mini log cabins). The caravans sleep six and the pods four. Thoughtful little extras like welcome cakes and breakfast packs to cook are impressive and, unusually for a working farm, dogs are welcome.
Three Peaks Country
Hotels
The Orange Tree Kirkby Lonsdale; 01524 271716; www.theorangetreehotel.co.uk. Why is it that many 'posh' hotels seem incapable of running a decent bar? Pubs are a lottery as well – some serve great beer but no meals, others have rooms but poor food and drink. Every now and then you'll find a place that gets everything right; a warm welcome, comfortable but reasonably priced accommodation and really good food and drink in a characterful building. The Orange Tree is one of a select band that I think has this balance almost spot-on. My only gripe would be the lack of any reference to rugby league in amongst the wealth of rugby union memorabilia about the place. Incidentally, the pub's name is as a result of the landlord's love for the 15-man game. It was originally called The Fleece but he changed it to the name of his favourite match-day pub near Twickenham. You'll find Kirby Lonsdale's version at the top end of town, just beyond the church and away from the hustle and bustle. Dogs are welcome for a small extra fee.
Self-catering
Bower Bank EcoBarn Gawthrop, Dent LA10 5QQ; 01539 62570. This is a self-catering venue with gilt-edged 'eco' credentials: all hot water and under-floor heating comes from a ground-source heat pump, a wood-burning stove keeps you toasty on extra-cold nights and rain water flushes the toilets. The address may be Gawthrop, Dent, but in reality Bower Bank sits in splendid isolation halfway up the hillside, with extensive views down the dale and up to Combe Scar behind. This beautiful old stone building was once the recording studio of musician/comedian/rambler and general good egg Mike Harding. Sleeps up to ten with an extra two in the farm annex if required. Dogs can be accommodated for an extra fee, but can't roam free outside because of grazing alpacas!
Clapham Bunkhouse Clapham; 01524 251144; www.claphambunk.com. This characterful old stone building in the middle of Clapham village started life in the late 1600s as a manor house and the name has stuck throughout its various reincarnations over the subsequent 300 years. It has been a farmhouse, reading room, billiard hall and National Park Information Centre before its current use as café/bar downstairs and bunkhouse upstairs. £18 a night gets you a bunkbed in one of two ten-bed dormitories and there is also a family room for three. Wi-Fi is free throughout the building but breakfast is extra. No dogs.
Dalesbridge Centre Austwick; 01524 251051; www.dalesbridge.co.uk. There's a wide range of accommodation options here, including very popular and affordable walkers' cabins, sleeping four or six people. Comfortable B&B rooms can be found in The Lodge and there are also good-quality camping pitches, with or without electric hook up. The complex has a bar, small shop, games room, bike storage and drying room and Wi-Fi in the main building. Dogs are welcome throughout.
Deeside House Dentdale LA10 5RN; 01539 625251; www.deesidehouse.co.uk. I remember this is as a youth hostel back in the 1980s and before that it was a shooting lodge. Now it's a self-catering venue ideal for large groups, as it sleeps up to 32 in seven en-suite rooms. All the old youth-hostel facilities are still there (15 bathrooms and a games room) but comfort levels have dramatically improved. The isolated riverside location is idyllic but civilisation (The Sportsman's Inn) is less than a mile's stroll away. Dog friendly.
Tryst Cottage Ingleton; 07516 770799; www.trystcottageingleton.co.uk. A cosy cottage, handy for all the amenities of Ingleton town centre but situated in a relatively quiet corner. It sleeps four in two bedrooms (double with four-poster bed and twin). Hire fees are very reasonable and short breaks are available. Dogs welcome.
Camping & glamping
Meadow Falls Campsite Thornton in Lonsdale; 07894 596523; www.meadowfalls.co.uk. This is another venue with a choice of accommodation. It is primarily a camping and caravan site but also has glamping pods of various sizes (to sleep four, five or six people) for hire. The site is open from March to September and welcomes dogs (on leads). Just to clear up any confusion, the site advertises itself as being in Ingleton but it is not. It is a mile up the road in the hamlet of Thornton in Lonsdale, where a great pub, the Marton Arms, is a short stroll away.
Craven & Wharfedale
Hotel & B&Bs
Grassington House Grassington; 01756 752406; www.grassingtonhouse.co.uk. As its name suggests, this elegant Georgian building was originally the townhouse belonging to a local businessman but has been a hotel for over 100 years. It has a well-earned reputation for luxurious living and eating and prices are justifiably quite high. It's nine double bedrooms are all tastefully decorated in the Georgian style.
Linton Laithe B&B Linton; 01756 752255; www.lintonlaithe.co.uk. In Yorkshire dialect a 'laithe' is a barn and that's exactly what this building is – a barn expertly converted into five comfortable double bedrooms with a spacious breakfast room downstairs. It's located next to Grange Farm at the end of a track in the quiet hamlet of Linton. The Fountaine Inn is a short stroll away. Rooms average around £100 per night and dogs are welcome.
Littlebank Country Hotel Settle; 01729 822330. Despite being a stone's-throw from Giggleswick railway station and the busy A65, Littlebeck is an oasis of tranquillity, nestled in its own little patch of woodland – the owners even provide binoculars so you can birdwatch from the lounge windows. All four double rooms are large and en suite with lots of thoughtful extras and the house itself, dating from the 1600s, is full of character. Excellent breakfasts feature eggs from the chickens wandering around the grounds.
North Barn Hebden; 01756 752816; www.northbarnhebden.com. B&B accommodation in a small and very tastefully renovated barn in the middle of the village. Two en-suite double rooms are available, one on the ground floor and the other upstairs – the larger downstairs room can be converted to a twin or triple if required. Joint host Colin is a qualified chef so breakfasts are special, and he can also do you reasonably priced evening meals on request. No dogs.
Rendezvous Hotel Skipton; 01756 700100; www.rendezvous-skipton.co.uk. Unusually for a large hotel (96 bedrooms), this place is not part of a big chain, but is family-run. That, and its lovely canal-side location, is what sells the Rendezvous for me. Despite it being a relatively modern purpose-built hotel there is a certain quirky old-fashionedness about it, with weekly old-time dancing in the large ballroom and piano accompaniment to Sunday lunch. A wide variety of room styles starts at very reasonably priced doubles and family rooms and ranges up to hot-tub luxury in the 'Best Room in the House'. The hotel has a gym, swimming pool and direct access to the Leeds–Liverpool Canal tow-path for walking and cycling.
Self-catering
Airton Meeting House Aireton BD23 4AE; 01729 830263; http://airtonbarn.org.uk. This 17th-century Friends' Meeting House, possibly the oldest in the world still used for worship, has an old stable block converted into a six-bed bunkroom. For larger groups other rooms can be made available to sleep up to 18 and there is also space outside for two tents. There are kitchen facilities, storage space for up to five bikes and bedding can be hired if you don't have your own sleeping bag. No dogs.
The Bailey Skipton; 01756 799237; www.thebaileyskipton.co.uk. In a surprisingly green and quiet corner of Skipton town centre The Bailey (named after the adjacent castle) offers two self-catering choices; The Cottage or Shepherds' Hut in the garden. Both sleep two; dogs are only welcome in the cottage.
Barden Bunkbarn Barden BD23 6AS; 01756 720616; www.bardenbunkbarn.co.uk. A sole-use, very comfortable bunk barn sleeping up to 24 people in four rooms. The building is part of the Grade 1 listed Barden Tower complex. Many groups stay here after dining at the Priest's House Restaurant next door but it's also ideal for cycling/walking parties or extended families. No dogs.
Beamsley Hospital Almshouse Beamsley, near Bolton Abbey BD23 6HQ; 01628 825925; www.landmarktrust.org.uk. The Landmark Trust specialises in unusual buildings, and this one is certainly that. It is circular and all on one storey with seven rooms, three of which are bedrooms (double, twin and single). What makes it unique is that these rooms all radiate out from a central chapel that has to be crossed on any journey from room to room. Originally built in Elizabethan times by the famous Lady Ann Clifford's mother, it was lived in by nuns right up until the 1970s – they may have gone but the chapel bell remains. Very expensive; dog-friendly.
Cowside Langstrothdale, BD23 5JE; 01628 825925; www.landmarktrust.org.uk. This 16th-century farmstead was taken on by the National Trust to preserve its historic value – in particular a monumental inglenook fireplace and rare wall painting in the parlour. The Landmark Trust lease the building and offer it as a self-catering cottage to sleep five people in three bedrooms. This is the place for you if you value isolation, as the nearest hamlet of Hubberholme is four miles away and the house is only accessible by foot (150 yards from the road). Expensive, but special and dog-friendly too.
Craven Shepherds Huts Appletreewick; 01756 720270; www.craven-cruckbarn.mobi. The Craven Arms is a fabulous pub in Appletreewick. To avoid having to drive after an evening there why not stay in one of their 3 shepherds' huts in the back garden (sleeping two or three). Quirky but comfortable. The pub doesn't do breakfasts so either bring your own continental one or travel down the road to Burnsall for a fry up.
Hostel
Malham Youth Hostel Malham; 0345 371 9529; www.yha.org.uk. Not the prettiest building in the world but fabulously situated at the quiet end of Malham village. The YHA seems to have a random pricing strategy which means that, if you're not limited to set dates, you can find very cheap mid-week deals on private rooms for two to sixpeople … or stay in the traditional dormitory of course. Dogs aren't allowed in the hostel itself, but they are in two camping pods (sleeping two) in the grounds.
Camping
Gordale Scar Campsite BD23 4DL; 01729 830333. My favourite campsites are basic ones in inspiring places and this ticks both boxes. It's not much more than a field with a tap, toilets and one shower in an old, small barn but its position, 400 yards from the base of Gordale Scar, is fabulous. It can feel crowded with passing walkers during the day, but first thing in the morning and during the evening you'll have the place to yourself. As you would expect for something so rudimentary, it's very cheap.
Heber Farm Buckden; 01756 760304; www.buckdencamping.co.uk. Buckden Camping is a small and very pleasant campsite run by the tenants of Heber Farm on National Trust land. It has meadow pitches for tents and camper vans, hard standing for caravans, electric hookup if needed and toilet/shower facilities. Three camping pods are also available. Dogs are welcome throughout.
Kettlewell Camping Kettlewell; 07930 379079; www.kettlewellcamping.co.uk. A quiet single-field site, out of the way but handy for the village. The rates are very reasonable and the new facilities building, with green-energy underfloor heating, is very impressive. Dogs welcome.
Swaledale
B&B
Burgoyne Hotel Reeth; 01748 884292; www.theburgoyne.co.uk. This attractive Georgian building sits above Reeth village green with stunning views across Swaledale. For more than 40 years it has operated as a luxury country house hotel and has earned an enviable reputation for the quality of its accommodation and food – this is reflected in the prices. Visitors have a choice of 11 double/twin rooms, most but not all en suite. Dogs are accepted in some rooms.
Self-catering
Culloden Tower Richmond DL10 4XL; 01628 825925; www.landmarktrust.org.uk. Holidaying in this incredibly ornate 16th-century building, rented out by the Landmark Trust, was described by one visitor as like 'staying in a giant Wedgewood vase'. Its parkland location overlooking the River Swale is both magnificent and convenient as the facilities of the town are only 5 minutes' walk away. The building consists of four floors with just one octagonal room on each, all linked by a spiral staircase. Two of the rooms are bedrooms sleeping four people in total (double and twin). Extremely expensive but unique. Dog-friendly.
Farmers Arms Muker; 01748 886297; www.farmersarmsmuker.co.uk. Want to stay in a good pub but uneasy about the noise from the bar? This could be the perfect solution – a self-catered flat for two opposite the Farmers Arms in the middle of Muker village. The apartment has fee Wi-Fi, storage space for bikes and dogs are welcome – minimum stay two nights. The pub doesn't do breakfasts but if you fancy the luxury of a fry-up made by someone else, the café in the Village Store does a good one.
Old Cello Workshop The Green, Richmond DL10 4RG; 01748 825525; www.yorkshirecountryholiday.co.uk. This former cello-makers' premises is now a self-catering cottage sleeping six in three bedrooms (two doubles and a twin) for a reasonable price. It has a perfect location, in a quiet corner of town by the river and with views of Culloden Tower out back, but less than 5 minutes' walk from the Market Square. Children and dogs welcome.
Hostel
Grinton Lodge Youth Hostel Grinton; 01571 590289; www.yha.org.uk. Fabulous old shooting lodge up on the fellside. Accommodation choices are a bed in a single-sex dormitory, private rooms for between two and six people or camping pods outside. The village pub by the river is a short (but steep) walk away.
Camping
Keld Bunkbarn and Yurts Park House, Keld DL11 6DZ; 01748 886549; www.keldbunkbarnandyurts.com. A variety of accommodation is on offer here, from cheap-and-cheerful bunk rooms for two, three or four to traditional bring-your-own tent camping. What has become their most popular summer option is one of two 19-foot Mongolian-style yurts, described by one visitor as 'adventurous like camping but luxurious like a hotel.' Each is heated by a wood-burning stove and can comfortably accommodate four people on real beds – you even have the option of a continental breakfast and/or evening meal delivered to your door. Dogs welcome.
Rukins Campsite Keld DL11 6LJ; 01748 886274; www.rukins-keld.co.uk. Basic camping but on a glorious riverside site, with Catrake Force waterfall on the premises and Kisdon Force just downstream. The River Swale here is a wild-swimmers' delight with deep plunge pools galore but also gentle pebbly sections where the children can paddle. The campsite has a toilet block with free showers and a provisions-store-cum-café. Dog-friendly.
Wensleydale
Hotels & B&Bs
Stone House Hotel Sedbusk; 01969 667571; www.stonehousehotel.co.uk. A place can be expensive and good value at the same time and the Stone House Hotel is just that. Originally an Edwardian country house it was converted into a hotel in 1981 by Peter and Jane Taplin and the next generation of the family still manage it. Of the eight en-suite bedrooms, seven are doubles or twins with the smallest offered as a single. For me, the Stone House's location is a huge plus – it sits in splendid isolation with open-access fellside behind, but the busy town of Hawes is a mere 2 minutes' drive or pleasant riverside stroll away. Cyclists (push and motor) are particularly well catered for in the Bike Barn – a purpose-built store/workshop on site. Dogs welcome.
Stoney End Worton (near Askrigg); 01969 650652; www.stoneyend.co.uk. Although very close to the busy A684, most of Worton village, including Stoney End, is down a minor road towards the River Ure. There are two accommodation choices here, B&B in one of three double rooms in the owners' house (a converted barn) or self-catering in the adjacent cottage. Either way, you are assured of a comfortable stay with thoughtful extras and access to excellent riverside walking from the door. Dogs are welcome in the cottage but not the B&B.
Self-catering
Gill Edge Cottages Gill Edge, Bainbridge DL8 3DB; 01969 650367. A mile up the hill from Bainbridge village, the old farm of Gill Edge has three basic, but very affordable, self-catering cottages on site, each to sleep four people in two bedrooms. The Wensleydale Equestrian Centre also operates from Gill Head – if you were planning to go horseriding during your visit then why not have it on your doorstep? Extensive grounds are open for guests to enjoy, including a summer house and woods sloping down to the River Bain. Two of the cottages are dog-friendly.
Temple Folly Swinithwaite DL8 4UH; 01969 663377; www.wensleydale-experience.com. This singular little Georgian building has been a hunting lodge and summer house in its past, but the name refers to a nearby 11th-century Knights Templar chapel. Part of the Swinithwaite Hall Estate, it has been renovated recently to become a self-catering cottage for two. The building comprises two octagonal rooms only (one above the other) and a balcony. Its location is just off the A684 but hidden in its own copse of trees a stone's throw from the River Ure – trout fly-fishing is available to residents. Staying in Temple Folly is not cheap but then you are paying for a very unusual experience. No dogs allowed.
Hostel
Hawes Youth Hostel Hawes; 0345 371 9120; www.yha.org.uk. This large, modern building at the quiet, western end of town has 52 beds available. As usual with the YHA, there is a choice of rooms – single-sex dormitory or private room for two to four people. All the options are good value. The hostel has a garden where red squirrels are sometimes seen, free Wi-Fi and a bar. Breakfasts are particularly good.
Camping
Aysgarth Falls Hotel Aysgarth; 01969 663775. The field behind the pub is one of my favourite campsites in the Dales – basic but rustic and peaceful, especially at the bottom end near the woods. Aysgarth Upper Falls is so close you can hear it and a footpath across the fields leads to Aysgarth village.
Glamping
Wensleydale Yurts Swinithwaite; 01969 663377; www.wensleydale-experience.com. As yurts go these are luxurious as you have basic cooking facilities, and your own private shower, toilet and hot tub. This is more like a self-catering cottage with canvas walls than camping and the prices reflect that. The four yurts are scattered around wooded fields towards the river, with inquisitive farm animals as neighbours. Each houses up to five people – ideally a family as it's just one room. No dogs.
Nidderdale, Harrogate & around
Hotels & B&Bs
Goldsborough Hall Nr Knaresborough; 01423 867321; www.goldsboroughhall.com. Unashamed luxury at an unexpectedly reasonable price, especially if you search out off-peak deals including dinner (the food is excellent by the way). The building itself is magnificent – a Jacobean stately home that has hosted royalty. Dogs are welcome for an extra fee.
Mallard Grange Nr Ripon; 01765 620242; www.mallardgrange.co.uk. If you're looking for proper Yorkshire hospitality, then look no further. The 'Grange' part of the name tells you that this is a very old farm with links to the monks of nearby Fountains Abbey. The Johnson family have farmed here for nearly 100 years and Maggie, who is responsible for the B&B side of things, makes sure that 'local' and 'traditional' are at the core of the business. You won't get flash, flat-screen tellies or trouser presses but you will get eggs and honey from the farm, home-made jam and a magnificent Yorkshire breakfast (choice of fry-up or Whitby kippers). There are four en-suite double bedrooms on offer, two upstairs in the farmhouse and two ground-floor rooms in the old blacksmith's shop next door.
The Old Swan Harrogate; 01423 500055; www.classiclodges.co.uk. It could be argued that the circumstances of the Old Swan Hotel mirror those of the town of Harrogate itself grandeur of a slightly faded variety. The heyday of both was during Victorian and Edwardian times, when the Old Swan was known as the Swan Hydropathic Hotel. There are undoubtedly more comfortable and better-value hotels in Harrogate, but I would happily stay here to absorb some of its fascinating history, not least the Agatha Christie incident. The hotel runs regular murder-mystery evenings in homage to the event.
Swinton Park Swinton, nr Masham HG4 4JH; 01765 680900; www.swintonestate.com. This is a country house hotel specialising in unashamed opulence. The cheapest room is nearly £200 for B&B (I had to smile at the charge for having your dog in your room – more than I paid for B&B for myself recently). Having said that, everything about the place – the restaurant, grounds, rooms and service – is top-class. Added extras to your experience when staying could be taking part in one of the many events here like food fairs, garden design days or falconry displays. Alternatively, you could sign up for golf, fishing, shooting or one of the famous cookery school courses.
Self-catering
Bewerley Hall Cottage Bewerley HG3 5JA; 01765 688210; www.cottageinbewerley.com. Rustic, snug and homely are the three words that most spring to mind, especially on cold days when the wood-burning stove is roaring away. Self-catering cottages for just two people are few and far between and all-too-often you end up paying for bedrooms you don't use. This ex-Bewerley Hall gardener's cottage offers quality at a fair price and in a handy position – a short walk into Pateley Bridge town or out into the local woods and fells. One double bedroom. Dogs welcome.
The Ruin Grewelthorpe HG4 3DE; 01628 825925; www.landmarktrust.org.uk. Don't be put off by the name of the building or village – this is a brilliant place owned by the Landmark Trust, in a great location and available to rent self-catered for two people in one double bedroom. The building was always designed to be two things at once, a lavish Georgian garden pavilion in the Gothic style at the front, and a mock Roman ruin at the back. And it is the back that I feel has The Ruin's best feature – its spectacular view over the wooded gorge of Hackfall below and the hills beyond. Great walking is to be had from the door and Grewelthorpe's fine pub is a strollable mile away. Landmark Trust properties are never cheap, and this is no exception. No dogs.
Camping
The Old Station Holiday Park Masham HG4 4DF; 01765 689659; www.oldstationholidayparkmasham.co.uk. What was the old town railway station is now a basic caravan/campsite but also that rarity in the genre – quiet, friendly, clean, efficient and good value. The old goods shed is now reception, tea room, shop and railway museum while the former engine shed is the immaculate toilet and shower block. The Old Station Yard is actually in the hamlet of Low Burton but the bright lights of Masham town are only half a mile's footpath stroll away. Dogs are welcome but must be kept on leads on-site.
Glamping
Bivouac Near Masham HG4 4JY; 01765 535020; www.swintonestate.com. I hate the term 'glamping', but I love this place. This is not glamorous camping (no electricity in the shacks and yurts) but is, as the operators put it, 'rustic, luxurious, sustainable and thoughtful'. The accommodation choices are Tree Lodge (sleeps seven in five rooms), Meadow Yurt (sleeps five in four rooms) or, for those wanting a little more comfort, the Loft (bunk beds for eight) and Snug (sleeps two). Eco-ethos is taken very seriously with wood-burning stoves and boilers the only heating. Waste and grey water gets recycled – even the décor isn't immune from the re-use and restore policy and has been described as 'shabby chic'. There's a definite overall feel of hippiness, in the nicest possible way. Prices are reasonable and the site, near the Druid's Temple, has its own café.