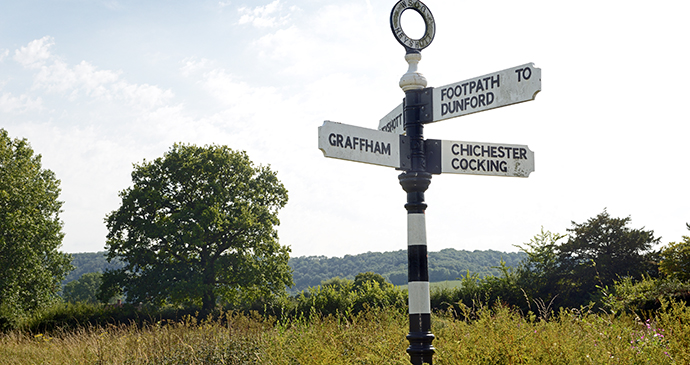 Heyshott in West Sussex © South Downs National Park Authority
Slow tourism is about changing down a gear and enjoying the essence of a place, rather than a headlong, high-carbon, non-sustainable, superficial dash around.
Going Slow in Sussex
A couple of things about the title of this guide need explaining at the outset. First, this book covers my favourite parts of Sussex and not the whole of it; it's more an anthology of handpicked favourites than an exhaustive guidebook. Then there's that word 'Slow'. This is one of a series of Slow guides written by local authors. It's more than Slow food or Slow cities – it's more an attitude, taking time to ponder, savour, explore and reflect. Slow tourism is about changing down a gear and enjoying the essence of a place, rather than a headlong, high-carbon, non-sustainable, superficial dash around. Ultimately it's a realisation that one can often get a fuller picture by immersing oneself in a small area.
I have attempted a Slow, sideways look at the familiar as well as the little known, celebrating the present as much as the past. I hope it goes beyond the obvious and will appeal to seasoned residents as well as newcomers. It is very much a selection of aspects that make the region special and I apologise to those places that haven't made it into these pages. I have lingered in a scattering of locales that struck me for their sense of place. The Slow concept tunes in to a reaction against 'clone-town' Britain in an age of increasing standardisation, with the realisation that it makes no sense to travel without an awareness of one's surroundings. I feel that personal contact is one of the most rewarding aspects of travel, so I've chatted to local people including garden owners, craftsmen, curators of rural museums, shopkeepers and wildlife experts – among many others. I do hope this book inspires you to encounter some of those special qualities of Sussex and the South Downs National Park. Perhaps to mingle among locals at a farmers' market and nibble a few samples of Sussex cheese, to become a volunteer at the likes of the Weald and Downland Open Air Museum or the Bluebell Railway, to take a guided walk with a naturalist to find wildflowers or butterflies on the grasslands of the Downs, to drink a pint of Harvey's bitter after a walk on the heathy heights of the Ashdown Forest, to munch a fresh crab sandwich on the beach amid Brighton's wonderful seaside paraphernalia, or to forage for mushrooms in the woodlands of the Weald. There are endless ways to make the most of pottering around in the Slow lane.
I have lived in Lewes for over 20 years, and while researching this book realised that this wonderfully diverse corner of southeast England seems to expand as you get to know it. For all its centuries of civilisation this mere smudge at the bottom of the map of Britain is quite extraordinarily hard to know in its entirety. For me Sussex and the South Downs have no equal among lowland landscapes – seemingly made for savouring slowly and returning to again and again.
The author's story
As a child living in London, Sussex and the South Downs seemed to me a far-flung, exotic destination, less accessible than Kent or Surrey for our car-free family. Occasionally we ventured by train or bus and picnicked on Beachy Head, steamed along on the Bluebell Railway to Sheffield Park or got extremely but happily lost in the wilds of the Ashdown Forest. At the age of 14 I decided to devise my own Michelin Green Guide to our own house, with star ratings for everything including the cat; such measurements of quality evidently must have gripped my imagination, as I urged my parents to take us on the train to Lewes, for the simple reason that it got a glowing write-up in the Shell Guide to Britain. The book didn't let us down in that respect, and some years down the line I joined the ranks of the DFLs ('Down From London') in that very town.
I do think living in a place from where you can see straight into the hills is very special, and the relationship between Lewes and the South Downs that surround it is very much cherished by both residents and visitors. The area covered by this book is simply made for seeing with a Slow attitude. I'm still nosing out new places within a cycle ride of my house, and as far as walking goes the landscape has such variety and perfect sense of scale that there's a freakishly wide range of exceptional walks.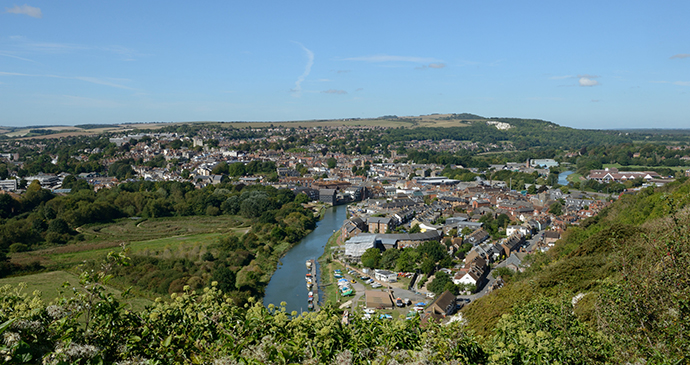 Lewes and its surrounding landscape © South Downs National Park Authority
The last research trip for this book took me to the eco-friendly Secret Campsite, all of five miles from home, where my wife and I found walks I'd never known about, and wandered nocturnally back from the pub through moonlit woods, with owls for company, then lit up a campfire and sat under the stars. This seems to sum up the essence of Slow travel: taking time to enjoy the details, and experiencing the pleasure of being immersed in a landscape. It is very much what I feel 21st-century travel should be about.