Savouring the tastes of Sussex
It's not hard to find high-quality locally produced food and drink in Sussex. On the coast, Hastings Old Town, for instance, has become a byword for fresh fish, and for fish and chips, and recent proliferation of farmers' markets in virtually every town in Sussex and farm shops on nearly every other country lane has brought local food and its producers to the people. Food festivals have sprung up all over Sussex and there's something food or drink-related somewhere in Sussex in every month of the year, including the Rye Bay Scallop Week in February and the Chilli Fiesta at West Dean College in early August, as well as various events in Brighton and Hove, Ardingly College, Lewes, Horsham and many other places.
A hundred years ago, pretty much every town in Sussex would have produced beer, with at least one brewery in operation, but things declined rapidly with takeovers by big breweries in the 1960s and 1970s. Harvey's Brewery in Lewes managed to weather that particular storm and is very much flourishing. The head brewer, Miles Jenner Miles confesses to giving a daily prayer of thanks to the existence of the Campaign for Real Ale, without which many small breweries like this might have disappeared. And happily numerous other breweries have opened in recent decades, including Dark Star in Partridge Green and the Long Man Brewery based in Church Farm at Litlington in the Cuckmere Valley. Cider is produced in Sussex too, though not on the scale of the West Country; the best selection is found at Middle Farm, near Firle – where barrels are laid out in rows, according to sweetness.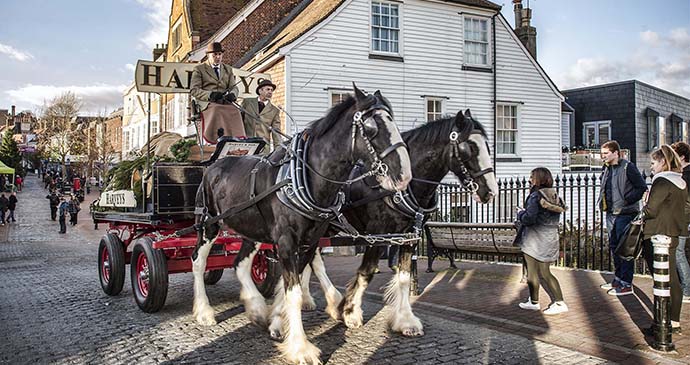 Shire horses delivering beer in Lewes © Xavier_Dom_Buendia
A bigger story is Sussex's upward surge as a wine producer, with a great number of vineyards appearing in the last couple of decades. The soil in places, particularly by the Downs, is similar to that of the Champagne region in France. And the Sussex vineyards such as Ridgeview and Bolney are producing some exceptionally classy stuff, winning the major awards and, as one wine seller told me 'trouncing the French at their own game'. Rathfinny Wine Estate, just outside Alfriston, is set to become the biggest wine producer in Britain, but it's all very much in its infancy at the time of writing.
Accommodation
Chichester Harbour to the Arun
Brighton & its Hinterland
Lewes Down to Beachy Head
The Western High Weald
Eastbourne, Hastings & 1066 Country
The accommodation recommended is just a snapshot of places to stay within Sussex. Those featured are my personal choice – the kinds of places I'd like to stay when visiting the region. I have tried to select a range to suit different pockets and tastes, from basic camping in a hideaway meadow to unashamed luxury, whether bed and breakfast, the ultimate glamping experience or self-catering cottage. All, I feel, are 'special' in some way, whether historically, architecturally, the location or simply the owner's approach to Slow tourism.
Chichester Harbour to the Arun
During the Goodwood events (the Revival, Festival of Speed and Glorious Goodwood) accommodation gets booked up far in advance, and prices are often increased.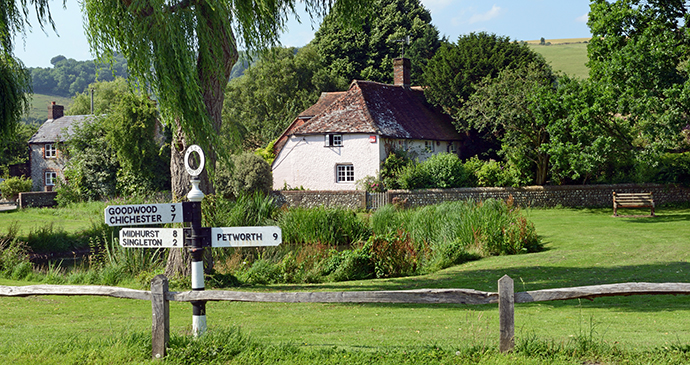 The village of East Dean © South Downs National Park Authority
Adsdean Farm Funtington PO18 9DN; 01243 575464; www.adsdean.co.uk. Two self-catering units on a farm a few miles northwest of Chichester, very well placed for walks and cycle rides, with Kingley Vale and the Downs in walking distance, and good cycling to Chichester Harbour. The Courtyard sleeps four in a converted stable, with an open-plan living area and a utility room; the smaller Annexe sleeps two. No pets. The farm shop on site sells own-cured bacon and ham, and nearby Funtington, with its shop and pick-your-own fruit farm, is within a mile.
Canute Cottages Cobnor House, Chidham PO18 8TE; 01243 572123; www.canutecottages.co.uk. Four self-catering cottages (the largest sleeping six) on the Chidham peninsula imbued with a great sense of peace and space, with own private water frontage on Chichester Harbour. Excellent disabled access. The prices reflect the good standard of facilities.
Castle Cottage Coates Castle, Fittleworth RH20 1EU; 01798 865001; www.castlecottage.info. In a super-tranquil setting in the trees close to the Strawberry Hill Gothic mansion of Coates Castle, this B&B is a highly distinctive place to stay. The three imaginatively done rooms are all in separate buildings and comprise a room upstairs in the weatherboarded cottage, a high-ceilinged converted barn with spiral steps ascending to the bedroom and a treehouse with the trunks of the chestnut tree on which it perches going straight up through the room either side of the bed, and with hammock chairs on a veranda; owners Alison and Ron have lived in Africa, and took the African game lodges as an inspiration. Breakfast is in a conservatory – the former stable and pens – and two very friendly cats and an equally amicable dog welcome guests. Moderately expensive, but quite a treat.
4 Canon Lane Chichester PO19 1PX; 01243 813586; www.chichestercathedral.org.uk. Eight-bedroom guesthouse (the former archdeaconry) in a fine, peaceful location in the Cathedral Close, owned by the cathedral and refurbished to a high standard, offering moderately priced B&B. Rooms look out variously over the Deanery, Bishop's Palace Garden and cathedral. All ensuite.
Gumber Bothy Nr Slindon BN18 0RN; 01243 814484; gumberbothy@nationaltrust.org.uk. A traditional flint-built barn adapted for budget-price camping, this is owned by the National Trust, and is on a wonderfully remote site close to Stane Street Roman road and the South Downs Way. It has a kitchen, drying room, barbecue and camping field; no power points or fridge, though.
Martins Cottages Martins Lane, Birdham, near Chichester PO20 7AU; 01243 512222; www.martinscottages.co.uk. Two very well equipped five-star self-catering cottages in a building set away from the owners' house, sleeping four each, which can be joined together by opening up a soundproofed locked door for a party of up to eight. It is as quiet as could be, on a back lane in a bypassed village overlooking a three-acre meadow (which you are welcome to use), near the eastern side of Chichester Harbour. A stroll up the lane takes you over Birdham Pool; the Salterns Way passes by, and boat trips from West Itchenor are not far away.
Old Railway Station Station Rd, Petworth GU28 0JF; 01798 342346; www.old-station.co.uk. Just over a mile south of Petworth and tucked away from the A285, this surprisingly grand country station has a colonial feeling with its internal shutters and high ceilings, and has been sympathetically adapted into a very comfortable, high-class B&B, with two bedrooms in the main building and eight in the four historic Pullman carriages alongside the old platform. Erected in 1892, this was where the future Edward VII arrived when he went to the races at Goodwood – hence the opulence of the building. The line closed to passengers in 1955 but continued to be used by freight up to 1966; a model of the last steam engine to come through stands on the mantelpiece in the former waiting room – now a spacious breakfast room and sitting room with leather armchairs and sofas. If it's sunny, you might like to take breakfast out on the platform. Morning coffee and afternoon tea served to non-residents. Not cheap, but highly memorable.
Rose Cottage Charlton Rd, Singleton PO18 0HP; 01243 811607; https://rose-cottage-b-b.business.site. Roses figure everywhere at this neatly kept, reasonably priced B&B in a flint 18th-century cottage: real roses around the front door and in a vase on the window sill, and pictorial ones in the décor. It has just one well-appointed double, with its own bathroom, nicely separate from the rest of the cottage, so there's plenty of privacy. The sheltered garden is tempting for breakfasting out if it's fine, or eat in the breakfast room by the antique dresser. Very usefully located in a downland valley on the edge of Singleton village, and just a stroll from the Partridge pub, which has a walled garden and log fires. West Dean Gardens and the Weald and Downland Open Air Museum are within walking distance too.
Rubens Barn Droke Lane, East Dean PO18 0JJ; 01243 818187; www.rubensbarn.co.uk. On a lane east of East Dean and the Weald and Downland Open Air Museum. Luxurious (and priced accordingly) contemporary conversion of a 17th-century flint barn for self-catering, very well positioned on a little-frequented lane in the Goodwood Estate right in the midst of the Downs, with walks through the deer-populated woods from the door and use of a tennis court; the spacious back garden has a barbecue. Minimum stay two nights. Open-plan kitchen and living room area, garden.
Thatched House Hog Lane, Amberley BN18 9HQ; 01798 831329; www.thatchedhouseamberley.co.uk. Not actually thatched, but in the much-thatched village, this former alehouse has choice views from the tranquil garden and from the back of the house over the Wild Brooks. Bedrooms are cottagey and beamed: a twin room or double with private bathroom, and second bedroom possibly available for a family group. Moderate prices.
Brighton & its Hinterland
Note that many Brighton hotels require a two-night minimum stay at weekends.
Blackberry Wood Streat Lane, Streat, near Ditchling BN6 8RS; 01273 890 035; www.blackberrywood.com. Gorgeous little family-oriented campsite in a wooded area just below the South Downs, with 27 tent pitches with basic washing facilities, plus some highly distinctive glamping accommodation (including an eco perch, a gypsy caravan, a retro caravan, a London double-decker bus, a Royal Navy rescue helicopter (aka 'holicopter') and a retro cabin – and perhaps the most spectacular of all, a gorgeously wonky, family-sized treehouse. An assortment of sheds house solar-powered showers and a copper turret contains the Tower Shower. Kids can whiz through a glade on the zip wire. The curvy cabin, bus, treehouse and helicopter are the priciest options but camping and the caravans are cheaper than an inexpensive B&B.
Blanch House 17 Atlingworth St, Brighton BN2 1PL; 01273 603504; www.blanchhouse.co.uk. Medium-priced chic boutique 12-bedroom B&B in a quiet side street in Kemp Town, a pebble's throw from the seafront. Individually designed rooms from Moroccan-inspired to the signature Perrier Jouët suite. A relaxing cocktail and champagne lounge on the ground floor. Breakfasts feature smoked salmon and homemade muesli and preserves.
Cavalaire 34 Upper Rock Gardens, Brighton BN2 1QF; 01273 696899; www.brighton.cavalaire.co.uk. A five-storey Victorian terraced house (originally a home for retired clergy) with a contemporary edge: strong splashes of colour nicely offset the neutral tones. Owners Derek and Garry have set up ten thoughtfully equipped rooms in a mixture of superior and deluxe; breakfasts feature smoked salmon, omelettes, fresh fruit salad and pancakes.
The Dodge Lower Beach Rd, Shoreham BN43 5RR. Enjoyably bonkers and definitely not to everyone's taste, this could rank as one of the most eccentric places to stay in all Sussex. It's a houseboat on the Adur: 'sleep within a boat within a boat within a boat', explained Hamish, as it's actually a torpedo boat beneath an upturned lifeboat with more boats incorporated inside, plus a remnant of an ancient Dodge fire engine at the far end, where sleeping quarters look out over the estuarine river. You enter through via another boat, Clive (with the cockpit of an aircraft tacked on the landward end), adjacent to the crazily oddball Verda (the boat with two halves of a coach slapped on each side) and into a cosily set-up sitting room with floorboards and a rug, plus a harmonium ('most of the keys work'). It can sleep five at a pinch, though it would be cramped, with a double bed beneath a platform where three more could lay out. Self-catering (two nights minimum), with a tiny kitchen area and a bathroom. It can't claim to be luxurious but the prices are reasonable and it's the stuff memories are made of.
Paskins Town House 18/19 Charlotte St, Brighton BN2 1AG; 01273 601203; www.paskins.co.uk. Run by the Marlowe family, this is two Victorian houses knocked into one in a quiet corner of Kemp Town, a short walk from the sea. They pride themselves on organic breakfasts, with most food sourced locally, and some from exotic recipes picked up on their travels. The 19 rooms are in Art Deco style, and the reception area is Art Nouveau. Good value. Dog-friendly; children welcome.
Lewes Down to Beachy Head
For the Lewes area in general, click here; there's also a useful list of B&Bs of a good general standard here. Another camping possibility is Housedean Farm near Falmer and the A27.
Beachy Head Holiday Cottages East Dean BN20 0AA; 01323 423878; www.beachyhead.org.uk. Eight different beautifully updated and quietly located traditional flint-and-oak 18th-century self-catering cottages in the old part of East Dean village, a stroll away from the village green, delicatessen and the Tiger Inn (the latter run by the same owner, who also owns the village's Beachy Head Brewery), and within walking distance of the Seven Sisters, Beachy Head and Friston Forest. You could easily spend a long weekend here without using the car, exploring local walks. They sleep from two to six and are all furnished and equipped to a high standard (hence moderately expensive).
Belle Tout Lighthouse Beachy Head BN20 0AE; 01323 423185; www.belletout.co.uk. Not cheap, but an utterly dreamlike location right on the cliffs between Beachy Head and Birling Gap, with unrivalled views of the sea or downs from each of its six characterful rooms, and one of the six bedrooms is situated in the tower. The smallest room, Keeper's Loft, is the former lighthouse keeper's bunk room. Worth it for a splurge; minimum stay two nights. No children under 15 or pets.
Danny Cottage Winton St, Alfriston BN26 5UJ; 01323 870406; www.dannycottage.co.uk. Quaint thatched and beamed self-catering cottage (formerly owned by the National Trust) quietly located on the very edge of the village, ideal for walks on to the Downs, and a ten-minute stroll from the shops and pubs. Three bedrooms, sleeping six, two bathrooms, lots of antiques and far from a standard rental cottage in character. Central heating and a log-burning stove make it snug for winter visits. Large, well maintained garden edged by woods populated by badgers. Dogs welcome. Good value for its size and location.
English Wine Centre Lodge Alfriston Rd, Berwick BN26 5QS; 01323 870164; www.englishwinecentre.co.uk/lodge. Opened in 2013 in the grounds of the English Wine Centre, this beautifully attired contemporary-style lodge stands by gorgeous, totally secluded gardens landscaped by a former Chelsea Flower Show gold winner, and with only five rooms (all ensuite) it's feasible for a whole group to take it over. Bedrooms are immaculate and well-appointed, not huge but unfussy in a cottagey idiom, each with contemporary fabrics and a garden view. Breakfast is served in your own room or in the half-timbered Green Oak Barn. The spacious sitting room downstairs has a grand piano used for recitals. The A27 runs close by but you wouldn't notice it from inside. B&B, plus excellent lunch (Michelin recommended) across the garden in the Wine Centre itself.
Flint Barns Rathfinny Wine Estate, Nr Alfriston BN26 5TU; 01323 874030; www.rathfinnyestate.com. In an imaginatively converted barn originally created for vineyard workers (just one barn, despite the plural name), the medium-price B&B accommodation is all by itself, high up in the valley, with Downs and vines for views, and utter peace all around apart from the sound of skylarks. The ten bedrooms are uncluttered and simple but high-spec, with quality linens, white or rough flint walls and reclaimed oak floorboards, and partly with a contemporary-style industrial aesthetic (metal chairs and shades, and a ceiling extending into the roofspace in the canteen-like breakfast area). Smallish and medium-sized bedrooms, plus some family suites with doubles and bunks, and there's a fine selection of board games and local books in the generously sized lounge; dogs welcome. Breakfast features quality local ingredients, sourced from the local butcher and nearby farms.
Netherwood Lodge Muddles Green, Chiddingly BN8 6HS; 01825 872512; www.netherwoodlodge.co.uk. 'You should be hailed as a national treasure' wrote one visitor in an appreciative card to Margaret Clarke, the friendly and enthusiastic owner of this B&B, tucked away in a little hamlet next to Farley Farm House and within walking distance of the excellent Six Bells pub at Chiddingly. Her single-storey house makes a relaxing retreat; its double room overlooks her meticulously tended English garden, with its roses, scented flowers, lavender hedge and fuchsias (open as part of the National Garden Scheme). Breakfast features items like fresh blueberries or apricots, home-made preserves and organic eggs. Reasonably priced.
Old Whyly London Rd, East Hoathly BN8 6EL; 01825 840216; www.oldwhyly.co.uk. As soon as you turn off the road, you are into ancient parkland, as you near the house along a gravel drive lined with venerable oaks. This is a superior and elegant B&B (with dinner and Glyndebourne picnics available on request) in a fine country house, squared off in Georgian times but with medieval parts too. Rooms are restrained, immaculately presented, well proportioned and light, and furnished with thoughtfully chosen antiques; family portraits adorn the imposing hall around the staircase. Sash windows look out on to quintessentially English grounds, with lawns, herbaceous borders and a pergola, and there's a hedge-sheltered heated swimming pool as well as a tennis court. The Wealdway passes directly by along the driveway just outside. Top-end B&B prices, as you might expect.
The Secret Campsite Brickyard Farm, Town Littleworth Rd, Barcombe BN8 4TD; 01273 401100; www.thesecretcampsite.co.uk. Back-to-nature camping in rural bliss, where you can sit by the campfire in a meadow surrounded by ancient woodland. They make a virtue of 'nothing much' here: no play areas, no power, just nature and night skies. No cars or dogs are allowed in: just 18 pitches for your own tent, charged per person, or more expensive 'secret shelters' – one being the 'tree tent' (a sphere suspended between trees and accessed by wooden steps, sleeps two adults and a child) the other the airy, spacious 'gridshell' (sleeps four adults and two children). Owner Tim Bullen says 'We have wildlife very much in mind. We get snakes, lizards, newts, barn owls, stoats and glow worms, as well as lots of butterflies. It's real camping – not going to a housing estate in the middle of a field.' Within walking distance are a farm shop and pubs at Barcombe (accessed along a defunct section of the former Bluebell Railway) and Horns Lodge (reached by a pleasant wander through woods).
Tiger Inn East Dean BN20 0DA; 01323 423209; www.beachyhead.org.uk. Four doubles and a twin room above a well-run village pub, right on the traffic-free village green. The rooms have been tastefully refurbished to a high standard in a blend of traditional and contemporary and are all en suite and average price; three of them overlook the green itself. Excellent location for exploring the Seven Sisters and Beachy Head.
Wilmington Priory The Street, Long Man, Wilmington BN26 5SW; 01628 825925; www.landmarktrust.org.uk. Apart from annual open days, this is not open to the public and distinctly pricey, but what a place to splash out on a self-catering escape (sleeping six). Next to the car park for the Long Man, this was a Benedictine foundation belonging to an abbey at Grestain in Normandy, then became a farmhouse and is now let by the Landmark Trust as holiday accommodation. It's a wonderful mishmash of periods and styles, and bits of it are in ruins, including the former Great Chamber.
The Western High Weald
The High Weald AONB website has a selection of places to stay, including camping, glamping, self-catering and B&B. Simple camping fields are available at Plaw Hatch at Sharpthorne near West Hoathly and The Old Dairy and Heaven Farm, both near Furners Green near Uckfield.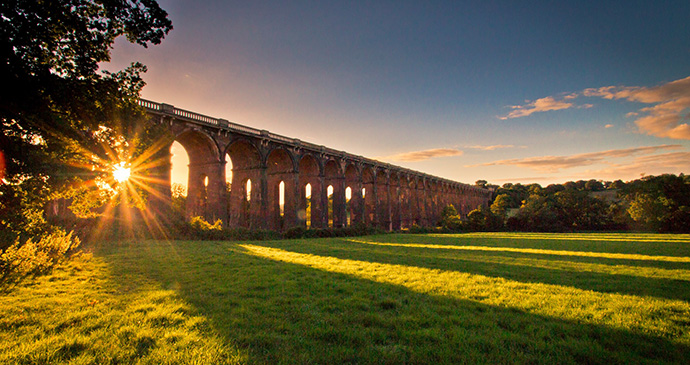 The Ouse Valley Viaduct at Balcombe © Nick Sharpin
Beech Estate and Wild Boar Wood campsites 0800 612 7390; www.ecocampuk.co.uk. Set up with eco-friendly principles in harmony with the natural surroundings; the owners don't publicise the precise locations but send you details once you book. Beech Estate (northwest of Battle) and Wild Boar Wood (1½ miles from Horsted Keynes) are a couple of notches up from wild camping – in the 'glamping' category, with prices akin to the lower end of B&B, and wardens permanently on site; there's a 'no amplified music' rule and a low-noise policy after 22.00; no dogs. Pre-erected bell tents – plus more secluded 'faraway tents' – in a blissfully peaceful setting in woods teeming with wildlife. Beech Estate is in a woodland within a private estate, with fine scope for walks and mountain biking – great for children to run (or cycle) wild, and also has 20 pitches for those who want to bring their own tent. Wild Boar Wood lies within tooting range of the Bluebell Railway and there's an equestrian stables riding school very close by.
Dernwood Farm Dern Lane, Heathfield (west of Horam) TN21 0PN; 01435 812726; www.dernwoodfarm.co.uk. A very special eco-friendly, low-impact, wild camping experience, in a field surrounded by ancient, semi-natural woodland, coppiced to create bio-diversity. You leave your car at the farm and take your belongings in a wheelbarrow or on a trolley. The woods are full of interest: bluebells, primroses, anemones and orchids, and a fallow deer herd is often at large. Camp fires are encouraged (logs for sale), but no amplified music or bongos, so the owls may be the only sound at night. Amanda, who runs the camping business, is fascinated with the woodland archaeology and will help you spot the appreciable remains of the iron-making activity that existed here in Tudor times, including charcoal-burning platforms and sawpits. Luxurious accommodation in The Cabin (sleeps five), lit by oil lamps and solar lights and warmed by a woodburning stove, and three-bedroom Safari Tent. The on-site farm shop sells meat from the farm's own pedigree Sussex beef herd and pigs. The Vanguard Way runs close, and the Six Bells at Chiddingly is not far away. If you're coming without a car, get the bus from Lewes, Berwick or Uckfield to Horam or Golden Cross and they'll pick you up from there.
Wilderness Wood Hadlow Down TN22 4HJ; 01825 830509; www.wildernesswood.org. 'Wow, that's like what we have in Canada!' exclaimed a Canadian guest of this close-to-nature woodland that's more than just a campsite. The owners of the child-friendly, dog-friendly 62-acre wood have enthusiastically embraced the Slow, sustainable approach. At various times of year you can join in with activities. Children might join bug hunts and courses on survival skills, while adults can learn willow weaving or in October take a fungi identification walk led by an expert. Camping is in several areas, with a small number of pitches in each, plus more luxurious accommodation for up to eight in the tipi, bell tent and yurt. Some barbecues take place on warmer weekends.
Wowo Wapsbourne Manor, Sheffield Park TN22 3QT; 01825 723414; www.wowo.co.uk. Oodles of space on the Cragg family's farm here, within walking distance of Sheffield Park station (so you could arrive in true Slow style via the Bluebell Railway): you can bring your own tent or opt for more expensive and luxurious glamping options – a Mongolian yurt, shepherd's hut or pop-up bell tent (the latter can be erected where you like). They don't allow motor homes or caravans (apart from camper vans) or amplified music, radios or bongo drums. There are flushable compost loos. For an extra fee you can join activities like bushcraft – where you learn such skills as tracking animals, knifecraft and building a simple shelter – and wild food foraging and building living willow structures. It can be noisy at times, but never rowdy – 'just kids laughing and having fun' said Alice Cragg. On Saturday evenings there's free soup for all, and they have acoustic music – for kids and then adults. Note if you want to stay in a bell tent, you need to book through Maxabell at maxabelltent@gmail.com. Minimum stay two nights at weekends and during high season; glamping two nights minimum all year.
Eastbourne, Hastings & 1066 Country
Hastings Old Town and Rye both make appealing historic town destinations for a stay, though accommodation in their old centres is not in vast supply; there's a much wider array in Eastbourne and the resort part of Hastings. For a selection of self-catering cottages in Rye, try here. There's also a campsite by Bodiam Boating Station, Newenden.
Smugglers Cottage East St, Rye; 07720 753369; www.smugglerscottages.com. A self-catering cottage right in the centre of this delightful town; Smugglers Cottage, with three bedrooms, sleeps six. It has an open fire and plenty of books and games, and a small courtyard garden. Moderately priced.
Jeakes House Mermaid St, Rye TN31 7ET; 01797 222828; www.jeakeshouse.com. Former Quaker Meeting House, then Baptist Chapel, now a supremely comfortable B&B in a house visited by numerous literary figures in times past. The bedrooms are gorgeously old-fashioned with lots of soft furnishings, and the breakfasts sumptuous. Cheap, but much acclaimed over many years thanks to the care and thought that the owner puts into it.
Strand House Tanyards Lane, Winchelsea TN36 4JT; 01797 226276; www.thestrandhouse.co.uk. Just below the town, this 600-year-old former Wealden hall has neck-craningly low ceilings and delightfully wonky rooms, lots of timbering and character – all much cosier than its former days as the town's workhouse, later knocked through to take in a neighbouring building. They've won a Green Tourism Silver Award for their composting, energy and water-saving arrangements. 13 bedrooms, each different, with tiny bathrooms ingeniously fitted in. Dogs welcome. Moderate rates.
Swallowtail Hill Hobbs Lane, Beckley TN31 6TT; 01797 260890; www.swallowtailhill.com. Luxurious eco camping five miles north of Rye, on a small scale: ideal if you have a large party and want to take over the whole site. They have two wooden cabins and two cottages on wheels, each sleeping four, and each with kitchenette and woodburner, and with running water outside. The farm is run purely for sustainability and ecodiversity. There are free-range livestock, two wildflower meadows and semi-ancient woodland. As well as feeding the farm animals, you could learn bushcrafts or book a kids' session. Minimum stay two nights. No pets, but children of any age are welcome.