Suggested places to base yourself
Suggested places to base yourself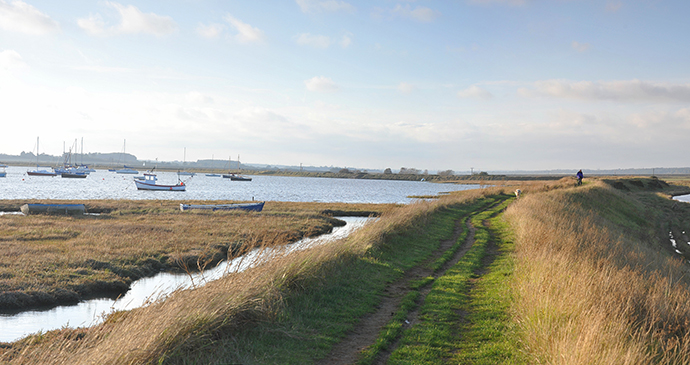 Aldeburgh is great place to base yourself on the Suffolk coast for visiting Thorpeness and Snape Maltings © John Miller, Landmark Trust
The places listed below make ideal bases for exploring Suffolk.
Lavenham
A picture-perfect Tudor wool town in south Suffolk, Lavenham has a wide choice of atmospheric and quite luxurious accommodation as well as easy access to the Stour Valley and central Suffolk.
Bury St Edmunds
Swathed in history, this mysterious, ancient town is the perfect urban base for exploring the west of Suffolk.
Clare
One of the most attractive yet little-visited of the former wool towns in this region, and a convenient base for the Stour Valley, Bury St Edmunds and the far west of the county.
Halesworth
In northeast Suffolk, with a station on the coastal train line, this quiet but charming market town is perfectly placed for exploring both the Waveney Valley and the north Suffolk coast
Stoke-by-Nayland
One of the slightly less well-known of the Stour Valley villages, attractive Suffolk-pink Stoke-by-Nayland makes a good central base for exploring the Constable Country of the Suffolk-Essex border.
Beccles
One of the larger market towns in north Suffolk, Beccles has everything that you might expect of a historic riverside town and makes the perfect base for exploring the Waveney Valley.
Southwold
A small but perfectly formed seaside town with an old-fashioned, well-heeled resort feel to it, Southwold seems still to belong to the 1950s.
Aldeburgh
A smart, slightly upmarket seaside resort that gives Southwold a run for its money, Aldeburgh is also a convenient base on the Suffolk coast for visiting Thorpeness and
Snape Maltings.
Orford
Far enough away from other settlements on the Suffolk coast to feel rather isolated, this picturesque seaside village has good places to eat and stay and provides convenient access to Orford Ness.
Woodbridge
Close to Suffolk's county town, stylish Woodbridge has a wealth of excellent independent shops and places to eat as well as good transport connections to Ipswich and the coast.
Dunwich Heath is an excellent place to enjoy a day of leisurely cycling © dedhamvalestourvalley.org
Getting there and around
Cycling and walking make the ideal methods of Slow travel. I'd like to encourage people to visit without a car wherever possible but I appreciate that this can be difficult in some parts of Suffolk, particularly if attempting to travel up and down the coast where progress is impeded by river estuaries that need to be circumnavigated (it is the same for cars too).
Details of how best to get around are given in detail at the beginning of each chapter. Below is a brief overview with suggestions of how to reach Suffolk from other parts of the country.
This is a useful website for planning journeys by bus or train, or a combination of the two.
By train
You have several options for getting around by train within the county, with regular Greater Anglia rail services between Ipswich, Stowmarket and Norwich, Ipswich and Felixstowe, Ipswich and Lowestoft, and between Ipswich, Stowmarket, Bury St Edmunds and Newmarket. Ipswich is connected to London by frequent direct trains from Liverpool Street station and to the Midlands and North by means of a change at Ely or Peterborough. Lowestoft can also be reached by direct trains from Norwich. Greater Anglia has timetables online.
Greater Anglia offer a range of Anglia Plus tickets valid throughout Suffolk, Norfolk and parts of Cambridgeshire. These include One Day Rangers and 'Three Days in Seven' Flexi Rover tickets, both allowing travel for up to four accompanied children for a little extra payment. Duo tickets are another option, which save 25% on weekend travel for two travelling together.
By bus & coach
Ipswich and Bury St Edmunds both have long-distance coach services with National Express that connect the country with London. Ipswich also has daily services to and from Liverpool via Birmingham, and a coach service to Stansted and Heathrow airports. Bury St Edmunds has coach connections with Cambridge and Stansted Airport. Newmarket has fairly regular coach connections with London and Norwich. Several different bus companies provide routes within the county, most notably First in Norfolk & Suffolk, Anglian Bus, Suffolk Norse, Galloway, Stephensons of Essex, Beestons and Simonds. Bus travel details for a locality are given at the beginning of each chapter. Suffolk County Council produces booklets of bus timetables that helpfully combine all the various routes in each locality and come in useful for planning; they are widely available in shops, pubs and tourist centres and can be downloaded from here.
By bike
Suffolk has plenty to offer cyclists, from quiet country lanes and disused railway lines to off-road routes that follow bridleways and forest tracks. Details of suggested routes and areas with good potential for cycling are outlined at the start of each chapter, as are local outlets for cycle hire. This website has many good suggestions for routes in the county, as does this one. For off-road cycling probably the best part of the county to head for is Breckland where a large number of routes criss-cross Thetford Forest.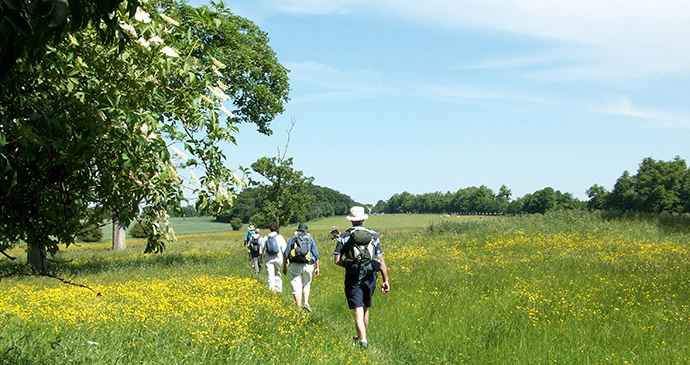 An idyllic 60-mile route for walkers along The Stour Valley Path © dedhamvalestourvalley.org
On foot
Suffolk abounds with walking potential, from windswept coastal strolls to circular walks through forest and open farmland. As well as walking suggestions made at the beginning of each chapter, a number of personal favourites are offered throughout the book together with a sketch map and directions for the walk. Walking in Suffolk is rarely very demanding thanks to the reasonably flat topography. The going is mostly easy and so walkers just need to decide how far they are prepared to walk if attempting a route. Any obstacles, such as they are, are limited to nuisances like overgrown nettles, hungry mosquitoes, obstructing herds of cows or the occasional cropped field that bears no trace of the footpath marked on the OS map. Otherwise, it's ideal, especially when a walk takes in a country pub and/or an interesting village church to explore en route.
Several notable long-distance paths run through the county. Longest of all is the Suffolk Way, a 113-mile route that begins at Flatford and crosses central Suffolk to finish at Lowestoft. The best known though is probably the Suffolk Coast Path between Lowestoft and Landguard Fort at Felixstowe. This route connects with the Stour and Orwell Walk to continue around the Orwell and Stour estuaries to reach Cattawade near Manningtree. This, in turn, is the starting point of the Stour Valley Path that threads through the Constable Country of the Stour Valley to end at Newmarket. Another long-distance route in the coastal region that follows a route a little way inland from the coast itself is the Sandlings Walk between Ipswich and Southwold. Away from the coast, the Mid Suffolk Footpath runs for 20 miles between Hoxne and Stowmarket. In west Suffolk, the St Edmunds Way connects Bury St Edmunds with Manningtree in Essex via the Stour Valley. In the Waveney Valley of north Suffolk, the Angles Way that runs between Great Yarmouth and Thetford uses paths on both sides of the River Waveney and the Norfolk–Suffolk border.
John Harris's Walking in Suffolk website features a wealth of links to downloadable maps and walk guides.