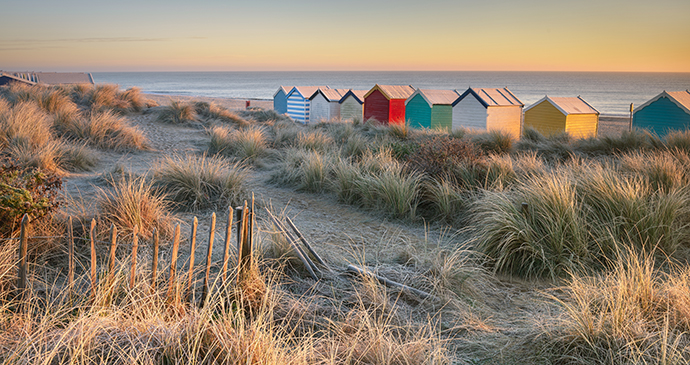 These colourful beach huts are famous along Southwold's coast along with the lighthouse that stands right in the middle of town © Philip Ellard, Shutterstock
The Suffolk coast is mostly rural and peaceful, with a couple of old-fashioned resorts interspersed by tiny villages up against the shingle.
It may be tempting to think that the workaday town of Lowestoft typifies this coastline. This couldn't be further from the truth, as the port is an exception and, from Kessingland all the way down to Bawdsey, the Suffolk coast is mostly rural and peaceful, with a couple of old-fashioned resorts interspersed by tiny villages up against the shingle. It is not an undiscovered coastline – far from it – but somehow Suffolk's unhurried, gentle pace of life has managed to persist without too much intrusion from the 21st century. Some things have changed quite dramatically over the past half century, of course, particularly the economy of the region and the incomers who have come to live here, but overall its character has survived without it ever becoming too much of a museum piece.
This coast has always attracted outsiders. The Scottish Art Nouveau architect and designer Charles Rennie Mackintosh came here to paint flowers when his architectural career was in the dumps. Benjamin Britten, having taken leave of his home town of Lowestoft, made his home at Aldeburgh and wrote an opera about a fisherman, Peter Grimes. Southwold and Walberswick have always been popular with BBC television producers, authors and politicians, and you might even catch a glimpse of a vacationing rock star or Hollywood royalty at Aldeburgh's better hotels and restaurants. There is no doubt about it: the Suffolk coast exudes a certain type of understated glamour – classy and comfortable, like a pair of old but expensive shoes.
Between Lowestoft and Felixstowe, various inlets and estuaries punctuate the coastline. The rivers Blyth, Dunwich, Minsmere, Alde, Ore, Deben, Orwell and Stour all flow into the North Sea along this stretch, and the larger of these once brought trade and prosperity to the wool villages of the Suffolk hinterland. These rivers were once far more important than they are today, and far more navigable too. Look at the River Ore that flows through Framlingham – a mere brook these days – and shake your head in disbelief that stone for building the town's castle was once shipped here all the way from the coast.
As well as the coast itself, this chapter also covers the immediate hinterland, roughly east of the A12 Lowestoft to Ipswich road. A good chunk of that terrain constitutes what's known as The Sandlings, which has light sandy soil akin to that of the Brecks in the west of the region. The Sandlings has a similar history to the Brecks too: early settlement by Neolithic peoples thanks to easily workable soil; medieval overgrazing by sheep; widespread gamekeeping and forestry in the first part of the 20th century; arable crops in the second half. Today, it is an area characterised by sandy heaths, forestry plantations and wide fields of grain.
The urban centre, Lowestoft, by far the biggest place along this stretch of coast, gets a mention but is hardly representative of the rest. However, if you are at all interested in Southwold sailors, bedevilled Blythburgh or disappearing Dunwich, or are curious to experience the sensation of 'orfordness', then read on. I start by working down the coast north to south, detouring inland as seems appropriate. Away from the comfortable respectability of resorts like Southwold and Aldeburgh are some real oddities. Dunwich, now little more than a pub, café and car park, was one of England's great ports back in the 12th century. Orford Ness was a top-secret military research site that was firmly off-limits until the National Trust bought it in 1993, while Snape Maltings, now an extensive arts and music complex, was a working maltings until not so very long ago.