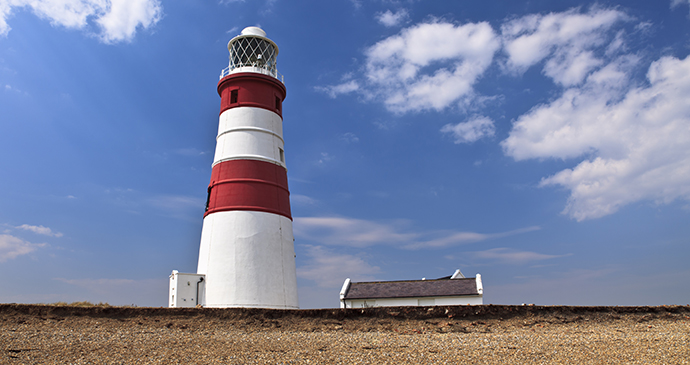 The Orford Ness lighthouse was completed in 1792. To get to the town of Orford Ness you must take a National Trust boat © Richard Bowden, Shutterstock
Going Slow in Suffolk
Slow Suffolk? What does that mean exactly? Well, it's not a slur on the character of the people of that county for a start. Sometimes referred to as 'Silly Suffolk', it is easy to assume that the term is just a mild pejorative that refers to the natives of the county as being a bit slow on the uptake. It doesn't mean anything of the sort of course: 'Silly Suffolk' is simply a corruption of the expression 'Selig' Suffolk, selig meaning 'holy' or 'blessed' in Old English, on account of the vast number of churches in the county. The majority of the churches that stand today were erected at a time when Suffolk was one of the richest counties in England thanks to profits from the wool trade. It was this wool wealth that paid for both the construction of the churches and the fine timber-framed houses that still stand proud, if sometimes a little crookedly, in Suffolk towns like Lavenham today.
Like Norfolk, its neighbour to the north, Suffolk was largely bypassed by the Industrial Revolution. And like Norfolk, the county's heyday was not in the 19th century but much earlier, in the medieval period. Suffolk's medieval history is second to none, and the material evidence is still there to be seen – an abundance of fine Tudor buildings in many towns and villages, an enormous wealth of medieval churches and a good showing of castles too.
The county is distinguished in terms of geography too. The landscape is low-lying but rarely flat, and it is surprisingly varied. Take a transect across the county and you'll find sand and shingle beaches, saltings, spits, estuaries, muddy tidal creeks and reedbeds, Sandling heaths, river valleys and the sandy wastes of the Brecks. Among these landscapes is a countryside filled with rolling farmland, tracts of ancient woodland, stands of modern forestry, a handful of market towns and countless small villages, each with its church. More than anything, it is the villages that make the county what it is and Suffolk has villages in spades. With the exception of Ipswich, which is by far the largest urban area though not a city, there are only a few towns of any size in the county. Suffolk has no motorways either and, despite being home to a number of bomber bases during World War II, there is also no airport to speak of.
The way I see it, the essence of Slow is to find the extraordinary in the commonplace. It is to identify the unique patina created by history, landscape and custom that makes a place a bit special. Everywhere has these qualities to some extent; it is just that Suffolk probably has more than its fair share.
But Slow is about slowing down too; it's taking the time to look closely and savour something, to not hurry too much, to not get too caught up with the need for instant gratification that seems to dominate the current zeitgeist. As the Welsh poet (and tramp) William Henry Davies (1871–1940) once put it:
What is this life if, full of care,
We have no time to stand and stare.
No time to stand beneath the boughs
And stare as long as sheep or cows.
There's plenty of scope for staring in Suffolk.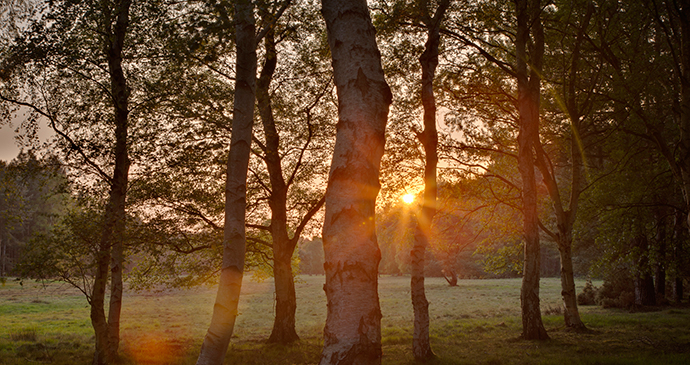 Thetford Forest, a large expanse of mostly conifer forest, stretches across both sides of the Norfolk-Suffolk border in the Brecks © Rod Edwards, Visit Britain
Author's story
Give or take a year here or there, I have lived in East Anglia for over four decades now. Admittedly my home has always been over the border in Norfolk, but Suffolk has long been a feature of my life too. As an incomer originating from the West Midlands, I like to think I can view either county with equal magnanimity. I do not have any particular tribal loyalty or county allegiance to affect my judgement and so hopefully I am able to be fair-minded about what lies on either side of the River Waveney.
The Suffolk coast always was a draw, especially back in the days when I was a keen birdwatcher. The Waveney Valley with its lovely countryside became a natural magnet too. In the Waveney Valley, no-one really seemed to bother too much about which side of the county border they were on. I liked that: identifying with a region rather than an artificial political entity – surely that is what 'sense of place' is all about? And 'sense of place' is really what Slow Suffolk is all about.
In Slow Suffolk I have tried to seek out those places that make Suffolk special – towns, villages and hamlets that have a uniqueness about them, an identity forged by the people who live there and the landscape that shapes them. Researching this book, as well as revisiting old familiar haunts, I have discovered many places that hitherto had just been names on the map. Villages especially – wonderful little places that I hardly knew existed like Boulge, Middleton, Mendham and Harkest, to name just a few. I am happy in the knowledge that there are still plenty more such places waiting to be discovered.