Savouring the tastes of Suffolk
Suffolk is primarily an agricultural county and it prides itself on the foodstuffs it produces – directly or indirectly – from its fertile soil. As well as the obvious cereal, sugar beet and oilseed rape crops there are plenty of fresh seasonal vegetables to be had from smallholdings throughout the county. Suffolk also has its fair share of orchards and a large number of varieties of apple, pear and plum, some of which are rare and hard to find or absent elsewhere in the country. A good example of this is the sweet black cherry variety found at Polstead. Apple varieties are prolific and a number of Apple Day celebrations are held at several locations throughout the county in October. Fruit can be purchased either directly from the orchard, such as at High House Fruit Farm at Sudbourne near Orford, or at one of the many farmers' markets held regularly in towns and villages throughout Suffolk.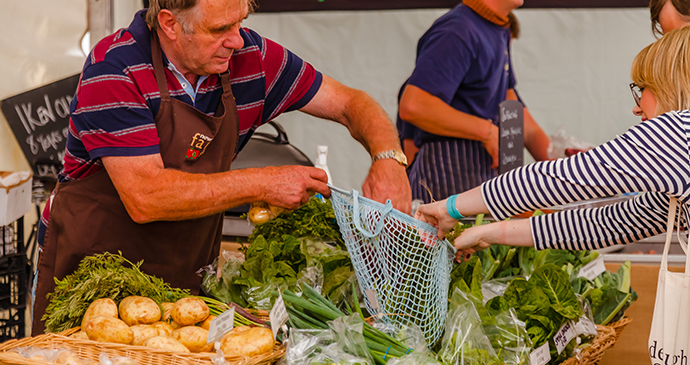 There is plenty of grazing too and the county has a number of rare breed farms that stock specialties like Red Poll cattle. Many of the better pubs and restaurants have locally reared meat on the menu and it can also be bought for home consumption at butchers, delis and farmers' markets all over Suffolk. There's also game and venison aplenty available from large estates like Elveden. Good places for food shopping are the Suffolk Food Hall near Ipswich, which as well as meat products has an excellent selection of breads, cheese and fish, and Emmett's of Peasenhall, a deli and smokehouse that has a variety of smoked meat products that include sweet-cured Suffolk hams and bacon from free-range pigs.
While Lowestoft is not the fishing port it once was, the waters of the North Sea off the Suffolk coast continue to provide plenty of fish. The former ports of Southwold and Aldeburgh still have a small number of fishermen who make their living from the sea. To buy bright-eyed ultra-fresh fish direct from a fisherman's hut next to the water is a pleasure that outdoes supermarket shopping any day. To eat locally caught fish and chips next to the sea is an even greater delight: the Aldeburgh Fish & Chip Shop is considered by many to be the best in the country … just be aware that its popularity always means that there's a queue.
Suffolk supping
The county is well known for the beer it produces: Greene King from Bury St Edmunds is pretty ubiquitous, and Adnams from Southwold can be found more or less throughout the county (and even in Norfolk and beyond). Suffolk also boasts a number of smaller-scale breweries like those at St Peter's in the Waveney Valley, Brandon Brewery in the Brecks and Old Cannon Brewery in Bury St Edmunds. Hardly surprising considering the number of orchards in the county, it is good to discover that cider – or rather, cyder – is not just a product from the West Country. One fairly large producer in the county is Aspall Hall near Debenham, which makes delicious apple juices too. Last but not least, there's also Suffolk-produced wine to be savoured. A number of quite select whites are produced from a handful of vineyards in the county, such as those at Wyken near Ixworth and Giffords Hall near Hartest.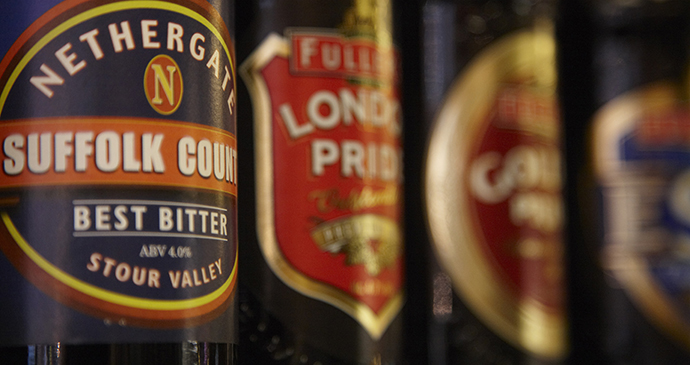 Accommodation
The places to stay listed below have been selected for their good location and because they embrace the Slow mindset, either in terms of their overall feel or because they embody a 'green' approach. Prices for hotels vary considerably, but two people sharing a room in a B&B can usually expect to spend around £70–90 per night. Holiday cottage prices also cover a wide range, depending on capacity, season and location. Of course, school holidays and especially August mean peak prices. There is plenty to be said for visiting out of season in order to save money. Campsites run the gamut from no-frills to luxurious 'glamping' options.
The accommodation selection here is just a small assortment of selected places. These have been ordered according to geographical area. The list is not meant to be in the least bit exhaustive but rather just a small personal selection.
The Suffolk Heritage Coast
Hotels
The Crown and Castle Market Hill, Orford IP12 2LJ; 01394 450205; crownandcastle.co.uk. A smart and stylish place to stay with a gorgeous location in Orford, this is probably best known for its excellent restaurant. Indeed, the Crown and Castle describes itself as a 'restaurant with rooms' rather than the other way around. There are 21 very comfortable rooms with plenty of style; the ten luxurious garden rooms each have their own terrace.
The Found Bawdsey; 01637 881183; uniquehomestays.com. Very expensive but undoubtedly a unique experience, this converted Martello tower on the coast at Bawdsey is completely refurbished and comes with all mod cons. Sleeps up to six.
The Ship St James St, Dunwich IP17 3DT; 01728 648219; theshipatdunwich.co.uk. A nice old pub with rooms close to the beach at this fascinating seaside village, The Ship has 15 comfortable rooms; some are newly converted, all come with traditional furniture and old-fashioned iron bedsteads.
The Swan Market Pl, Southwold IP18 6EG; 01502 722186; adnams.co.uk. Right in the heart of the Suffolk coast's most elegant resort close to the seafront, this has tastefully decorated guest rooms. The Swan was refurbished with a more 'contemporary, coastal' look in autumn 2017.
B&Bs
Home@21 21 North Parade, Southwold IP18 6LT; 01502 722573; homeat21.co.uk. A little more expensive than most B&Bs, but this is Southwold and two of the three rooms are large and beautifully decorated, have sweeping sea views and come with either a four-poster or king-size bed. Breakfast is taken in a ground-floor room with a view of the seafront and pier.
Self-catering
Admiral Cottage Rectory Rd, Blaxhall IP12 2DP; 07802 878172; snapecottages.co.uk. In a village close to Snape Maltings, this fully refurbished and well-equipped cottage sleeps four. The steep stairs may not suit the less mobile.
Aldeburgh Cottage High St, Aldeburgh IP15 5DQ; 01728 638962; aldeburghcottage.co.uk. Stylish self-catering close to the beach in a restored Victorian cottage that combines period features with clutter-free contemporary style.
Martello Tower Aldeburgh; 01628 825925; landmarktrust.co.uk. A converted Martello tower, this one near Aldeburgh, the most northerly in England, sleeps four.
The Balancing Barn Near Walberswick; living-architecture.co.uk. A highly unusual modern building that appears to defy gravity. Accommodating up to eight people, this has ultra-modern interior decoration and a top-of-the-range kitchen.
The Dune House Near Thorpeness; living-architecture.co.uk. Another very unusual modern dwelling in the Living Architecture collection, this beautiful Norwegian-designed house is right on the edge of the sea nestled among dunes. It sleeps nine.
Campsites
Harbour Camping & Caravan Park Ferry Rd, Southwold IP18 6ND; 01502 722486; southwoldcamping.com. Right by the beach and Southwold harbour just south of the town, this council-owned site with a basic but adequate toilet and shower block has straightforward family camping at a moderate price.
Mill Hill Farm Caravan & Campsite Westleton Rd, Darsham, Saxmundham IP17 3BS; 01728 668555; suffolkcamping.webs.com. Good-value with 70 pitches in two fields reasonably close to the coast.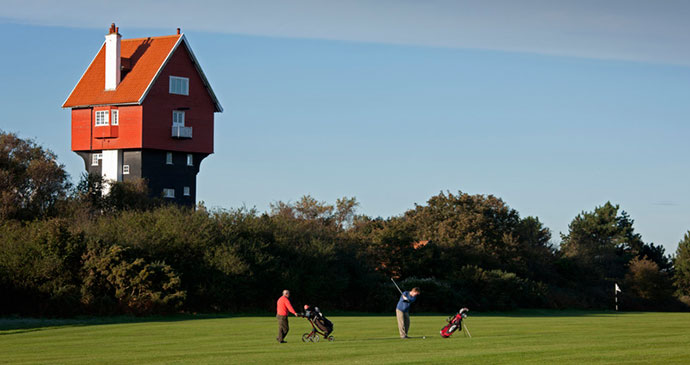 The Waveney Valley
Hotel
Waveney House Hotel Puddingmoor, Beccles NR34 9PL; 01502 712270; www.waveneyhousehotel.co.uk. In a lovely position overlooking the River Waveney close to the town centre in Beccles, this attractive riverside hotel has 12 tastefully furnished, comfortable rooms and suites.
B&B
Buckland House Halesworth Rd, Ilketshall St Lawrence NR34 8LB; 01986 781413. A homely B&B hidden away in the Saints country south of Bungay, this 18th-century cottage was once a Methodist meeting room. Modern, individually styled rooms and an extensive breakfast menu made with local produce.
Self-catering
Fritton Lake Woodland Lodges Church Lane, Fritton NR31 9HA; 0345 4986060; hoseasons.co.uk/lodges. A choice of eco-friendly lodges scattered around the mature woodland and lake of the Somerleyton Estate in northeast Suffolk. There's a choice of sizes but all come with great views, open-plan living area and fully fitted kitchens.
Campsite
Outney Meadow Touring & Camping Park Outney Meadow, Bungay NR35 1HG; 01986 892338; outneymeadow.co.uk. Very close to Bungay in the Waveney Valley, this campsite with 45 pitches, some with electric hook ups, is part-sheltered by trees and has canoe and bike hire available.
Southeast Suffolk
Hotels
The Crown Thoroughfare, Woodbridge IP12 1AD; 01394 384242; thecrownatwoodbridge.co.uk. Thoroughly refurbished, with ten stylishly modern yet comfortable bedrooms, this chic boutique-style hotel is now the smartest place in town.
Kesgrave Hall Hall Rd, Kesgrave, Ipswich IP5 2PU; 01473 333741; milsomhotels.com/kesgrave-hall. A little way east of Ipswich and convenient for visits to that town, this boutique hotel has a choice of 23 rooms that range from standard to super-deluxe.
B&Bs
Church Farm Church Rd, Kettleburgh, Woodbridge IP13 7LF; 01728 723532; churchfarmkettleburgh.co.uk. This 450-year-old farmhouse in an idyllic setting overlooking the Deben Valley has just four rooms. Excellent breakfasts include local honey, sausages and fish and home-produced eggs.
Dorincourt Guesthouse 41 Undercliffe Rd West, Felixstowe IP11 2AH; 01394 270447. This large Victorian villa overlooking Felixstowe's promenade has four good-value rooms, some with a sea view.
Self-catering
Teachers House Shottisham Rd, Alterton, Woodbridge IP12 3DE; 01728 638962; https://www.bestofsuffolk.co.uk/cottage/Suffolk-Alderton/Teachers-House-Alderton-1116877.html. Once the teacher's house for the former village school, this is near Woodbridge on the Bawdsey Peninsula close to the River Deben and the sea. It sleeps up to four.
Freston Tower Near Ipswich; 01628 825925; landmarktrust.co.uk. This six-storey Tudor folly is available for rent through the Landmark Trust if you fancy living vertically for a while. It sleeps four and the sitting room at the top offers wonderful views over the River Orwell.
Juniper Cottage Woodbridge; 01394 382240; suffolkcottageholidays.com. This refurbished cottage is located just seconds from The Thoroughfare, Woodbridge's principal pedestrian street. Close to all that Woodbridge has to offer but without a dedicated parking space. Sleeps four.
Campsites
Forest Camping Limited Tangham Campsite, Butley, Woodbridge IP12 3NF; 01394 450707; forestcamping.co.uk. In the heart of Rendlesham Forest, this 90-pitch site is ideal for UFO spotters, cyclists and forest walkers. It is also convenient for the coast just a few miles away.
Mill House Camping Mill Hill, Earl Soham, Woodbridge IP13 7RP; 01728 684312; themillhouse.net. This small family-run site is on an eight-acre rare breed smallholding in east Suffolk, five miles from Framlingham. Basic facilities and no electricity but there's a campfire circle and cooking fires and barbecues are permitted.
Secret Meadows White House Farm, Hasketon, Woodbridge IP13 6JP; 01394 382992; secretmeadows.co.uk. Secret Meadows offers expensive boutique-style camping in luxury lodge tents with four-poster beds, Gypsy caravans or a 'Hobbit box' – a wooden horsebox truck with a Middle Earth theme. Organic towels, complimentary handmade soap and a welcome basket are all part of the package.
Suffolk Yurt Holidays Ufford Rd, Bredfield, Woodbridge IP13 6AR; 0790 7964890; suffolkyurtholidays.co.uk. Five spacious hand-crafted yurts set in wildflower meadows surrounded by ancient trees. Each yurt has a fridge and wood stove and can accommodate either four adults or two adults and up to four children. Separate eco-friendly shower block, kitchen and safari-style eating area.
Central & East Suffolk
B&Bs
Boundary Farm Framlingham IP13 9NU; 01728 723401; boundaryfarmcottages.co.uk This 17th- century farmhouse set in open countryside east of Framlingham has five rooms furnished in period style and a cosy guest room with woodburner stove.
Self-catering
The Barns at Belle Grove Bell Grove Farm, Halesworth IP19 8QU; 01986 873124; belle-grove.com. Five converted barns, each with a different character, fitted out with sumptuous textiles, rugs and reclaimed wooden fixtures. With wood-burning stoves and under-floor heating powered by solar panels, each barn has its own private garden area.
Brights Farm Bramfield, Halesworth IP19 9AG; 01394 389189; suffolkcottageholidays.com. Self-catering property on a 250-acre working organic farm close to Halesworth with homely, nicely furnished rooms. Sleeps up to six.
School Cottage Yoxford IP17 3EU; 01728 638962; bestofsuffolk.co.uk. A cosy mid-terrace cottage sleeping just two. The small sitting room has a wood-burning stove and there's a raised decked sitting area in the garden
Sheep Cottages Bruisyard Rd, Peasenhall IP17 2HP; 07768 693548; sheepcottages.co.uk. Two 16th-century cottages – Black Sheep and White Sheep – that have been refurbished in a simple, modern style to create a contemporary uncluttered feel.
The Round House Station Rd, Framlingham; 01728 723779; theroundhousesuffolk.co.uk. Tucked away in a quiet half-acre of lovely gardens close to the centre of Framlingham, this 18th-century thatched accommodation was formerly a windmill. It sleeps six, with three en-suite double rooms, a sitting room with woodburner, dining room and farmhouse kitchen.
Gypsy Hollow Valley farm, Butts Rd, Westhall, Halesworth IP19 8RN; 01986 780995; gypsyhollow.co.uk. B&B in a Gypsy caravan in the peaceful grounds of a farmhouse, with a separate summerhouse, spa and kitchen area.
Campsites
Ivy Grange Farm Yurts Butts Rd, Westhall, Halesworth IP19 8RN; 07802 456087; ivygrangefarm.co.uk. A glamping site that has yurts with double beds, fairy lights, wood-burners and hand-painted furniture. Facilities include woodland showers, a safari-style kitchen and a communal barn with table tennis and table football. There's also a shepherd's hut.
The Orchard Campsite 28 Spring Lane, Wickham Market IP13 0SJ; 017818 034729/746170; orchardcampsite.co.uk. A friendly family campsite with a relaxed atmosphere and a good choice of tent pitches – in woodland, next to a pond or in a meadow. There's a landscaped barbecue area and a campsite shop with an off-licence. Open fires are encouraged and firewood can be provided. Pre-erected tents are also available, and there's a Gypsy caravan for hire too.
Swattesfield Campsite Gislingham Rd, Thornham Magna IP23 8HH; 01379 788668; swattesfieldcampsite.co.uk. A small, low-impact campsite in the Waveney Valley where you can either bring your own tent to pitch or rent a boutique bell tent or log cabin.
South Suffolk & The Stour Valley
Hotel
The Swan Lavenham CO10 9QA; 01787 247477; theswanatlavenham.co.uk. This timber-framed 15th-century inn with rooms is in the heart of the celebrated wool town of Lavenham. Expect luxurious surroundings, oak beams, open fires and 45 well-appointed bedrooms, each one individual and slightly different from the others.
B&Bs
Cobbles 26 Nethergate St, Clare CO10 8NP; 01787 277539; www.cobblesinclare.co.uk A cosy B&B in a listed 14th-century cottage close to the centre of historic Clare. Breakfasts cooked using local produce are served in an oak-beamed dining room.
Milden Hall Milden, Lavenham CO10 9NY; 01787 247235; thehall-milden.co.uk. In a grand 16th-century hall farmhouse near Lavenham, this has elegant, old-fashioned large rooms with tapestries, wall hangings and characterful furniture. There's also self-catering accommodation in a 16th-century barn conversion.
Mill House Cross St, Sudbury CO10 2DS; 01787 881173; millhouse-sudbury.co.uk. Close to Sudbury town centre with views to the River Stour, this 500-year-old listed house offers two large comfortable rooms, one with a balcony, and a very small single suitable for a child.
Self-catering
Gilly Parva Gillyflower Cottage, Butt Rd, Stoke by Nayland CO6 4RD; 01206 263237 (no website). Self-catering in a modern, timber-clad house in Constable country. There's a well-equipped kitchen and lake views from the outside terrace. The extensive gardens have exotic plants from all over the world.
Lavenham Priory Water St, Lavenham CO10 9RW; 01787 247404; lavenhampriory.co.uk. Stylish luxury self-catering accommodation in a medieval Lavenham house with four-poster beds, beamed ceilings and period-piece fittings. There are three separate wings accommodating two, four and up to six guests. Bookings may be made for two or three nights or for a whole week. Guests are provided with a welcome hamper on arrival.
West Suffolk & The Brecks
Hotels
Angel Hotel 3 Angel Hill, Bury St Edmunds IP33 1LT; 01284 714007; theangel.co.uk. Bury's best-known hotel – both Charles Dickens and Angelina Jolie have stayed here in the past. Located in the heart of the town's historic centre, this combines comfort and exotic grandeur and offers a wide range of accommodation that includes suites and family rooms as well as better-value classic rooms.
Ickworth Hotel Horringer, Bury St Edmunds IP29 5QE; 01284 735350; ickworthhotel.co.uk. Located within the Ickworth Estate at Horringer near Bury St Edmunds this elegant and well-appointed hotel has 27 rooms decorated in a variety of styles as well as 11 apartments for families. There's also a games and cinema room, crèche and swimming pool, and a wealth of country walks right on the doorstep.
Packhorse Inn Bridge St, Moulton CB8 8SP; 01638 751818; thepackhorseinn.com. Close to Newmarket, next to a medieval packhorse bridge in the village of Moulton, this well-regarded dining inn has a range of elegant rooms of different styles and sizes, two of them come with standalone bath as well as en-suite shower.
B&B
Appleby Cottage The Green, Hartest IP29 4DH; clickbedandbreakfast.co.uk. Right on the village green in a beautiful west Suffolk village, this relaxed informal B&B is perfectly located for walking in the area.