Suggested places to base yourself
Getting there and around
Suggested places to base yourself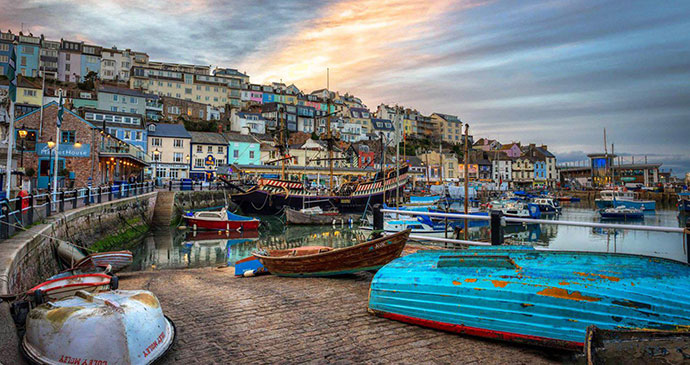 Brixham is rich in martime history © Golden Hind Museum Ship
The places listed below make ideal bases for exploring South Devon & Dartmoor.
Okehampton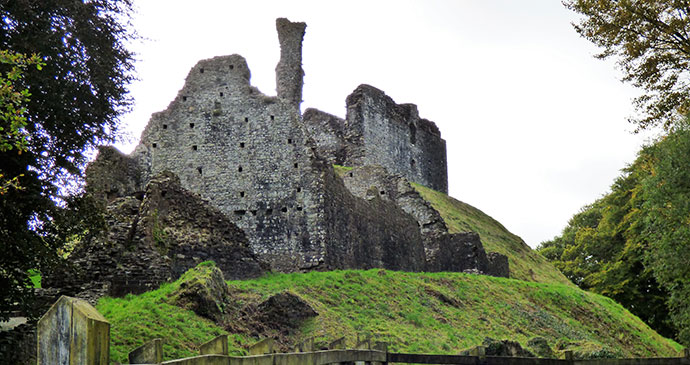 Marvel at the stunning views from Okehampton Castle © Leigh (Bella) St John
Its dramatic 11th-century castle overlooks the Okement River. Nearby are unspoilt villages and the nostalgic Dartmoor Railway.
Chagford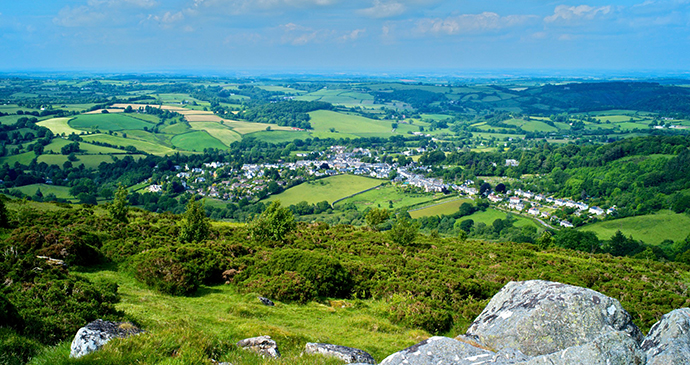 Wander through Chagford's wooded valleys © Visit Chagford
The perfect base for exploring northern Dartmoor, with its rich prehistory and scenic mix of wooded valleys and high moor.
Tavistock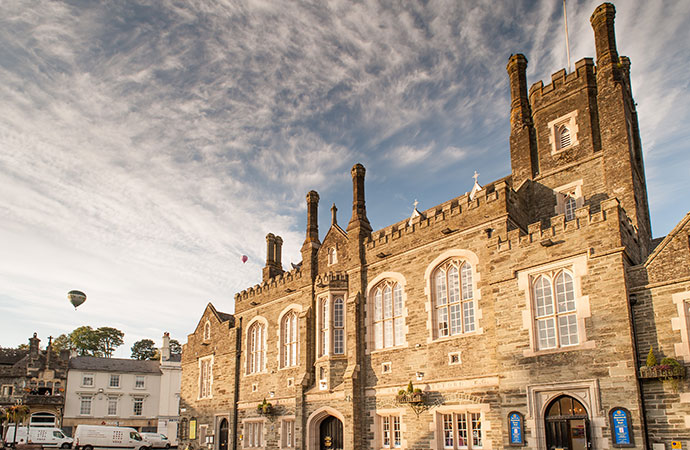 Tavistock is the western gateway to Dartmoor © Tavistock Town Council
This gracious town with its historic market is at one end of Drake's Trail for cyclists (Plymouth is the other end) and is the western gateway to Dartmoor.
Wembury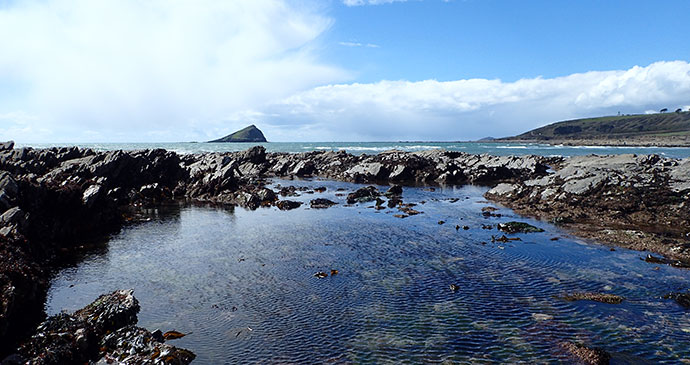 See what you can find in these rock pools! © Devon Wildlife Trust
Handy for Plymouth but very unspoilt, this is one of the best beaches in the region; it has excellent rock pools as well as sand, good coastal walks and surfing.
Kingsbridge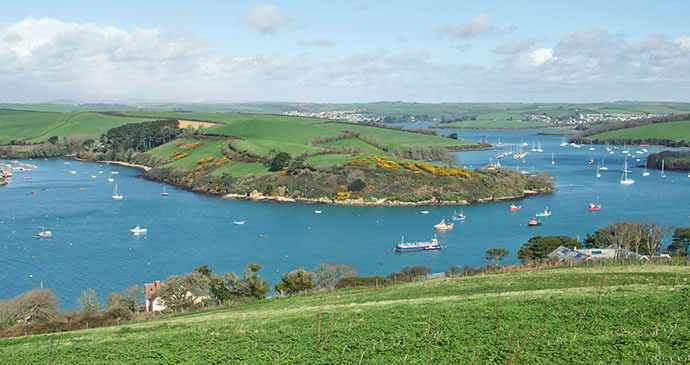 Enjoy the coastal beauty that is Kingsbridge Estuary © Unique Devon Tours
This very pleasant small town, only a short ferry trip from Salcombe, has a wide selection of inland footpaths and easy access to the coast path.
Bigbury Bay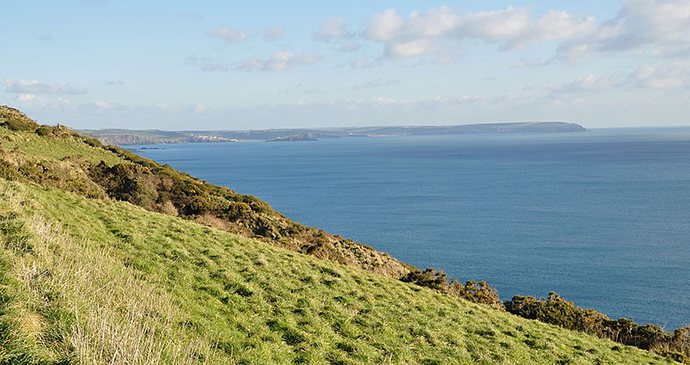 Spend some time relaxing at scenic Bigbury Bay © Nilfanion, Wikimedia Commons
The best combination of sandy beach, pretty villages and the coast path. You can surf at nearby Bantham, or take the 'sea tractor' to Burgh Island.
Bovey Tracey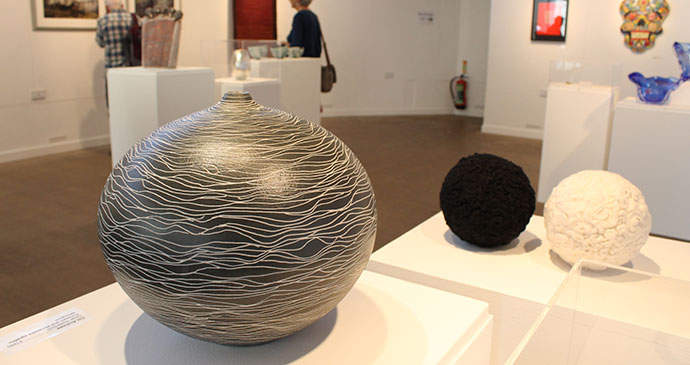 Bovey Tracey's key attraction, the Devon Guild of Craftsmen, showcases work from some of Devon's best artists and crafts people © Simon Williams
If you're into crafts this is the perfect centre. Apart from the craft gallery there are some unusual independent shops, and Dartmoor is on your doorstep.
The Exe Estuary
Its tidal flats, marshes and nature reserves are a haven for waterbirds, particularly winter migrants, and other wildlife.
Shaldon
Top choice if you want to escape the more commercial aspect of the beach scene. The excellent Shaldon Wildlife Trust is nearby and there's boating on the Teign estuary.
Torquay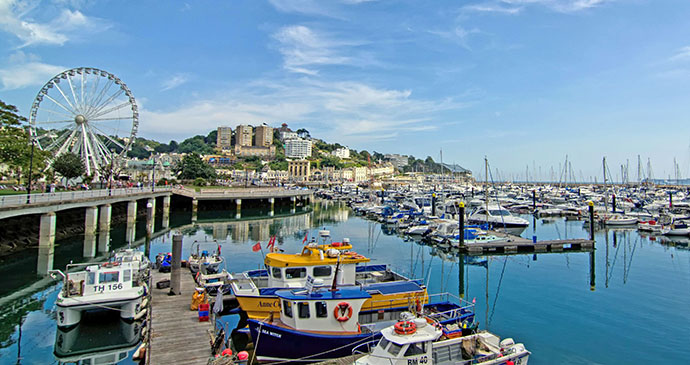 Explore the Torquay Marina © Unique Devon Tours
The place for grand hotels, with some surprisingly quick escapes into the countryside and coastal walks. Don't miss Living Coasts.
Totnes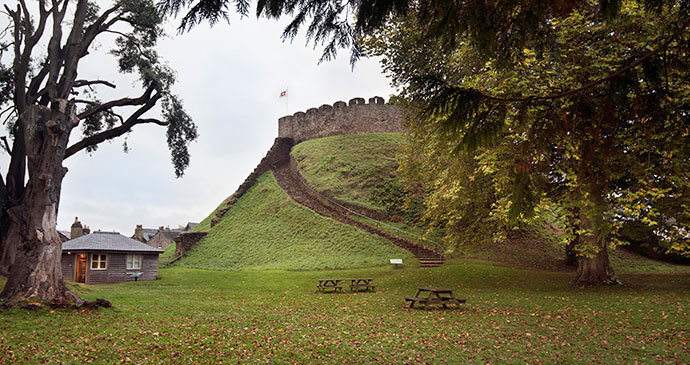 Totnes' Norman castle sits on a hill overlooking the town © English Heritage

A unique town, full of character, with a variety of accommodation and eateries; the many nearby attractions include Dartington Hall.
The River Dart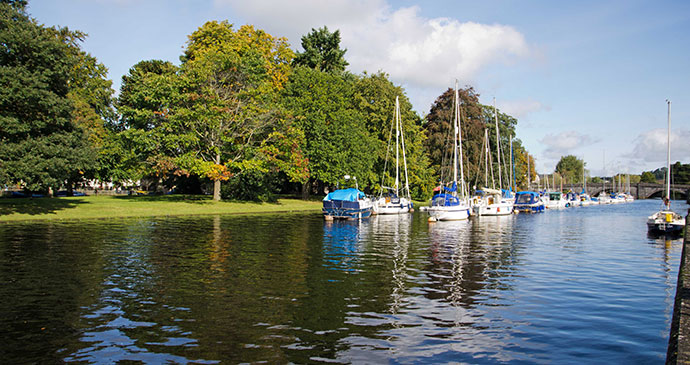 Enjoy a day out on the Dart River © Unique Devon Tours
The Dart river valley caters for adventurous visitors of all ages, with crabbing for kids, boating or kayaking for teenagers and adults, and walking for everyone. Or enjoy its tranquil hideaways and picture-perfect views.
Dartmouth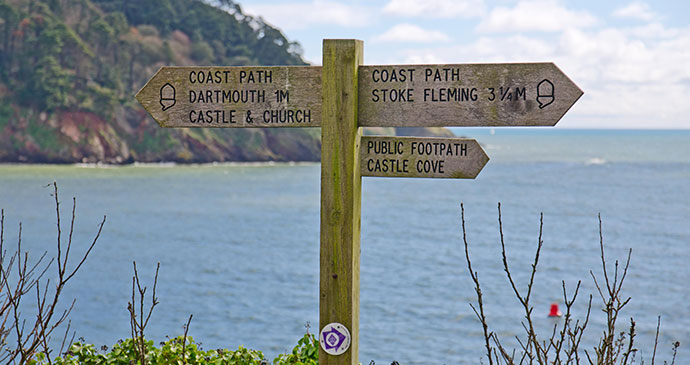 Walk along the South West Coast Path to see stunning views © Unique Devon Tours
To the east and west of this appealing town with its rich maritime heritage are some of the coast path's finest stretches.
Getting there and around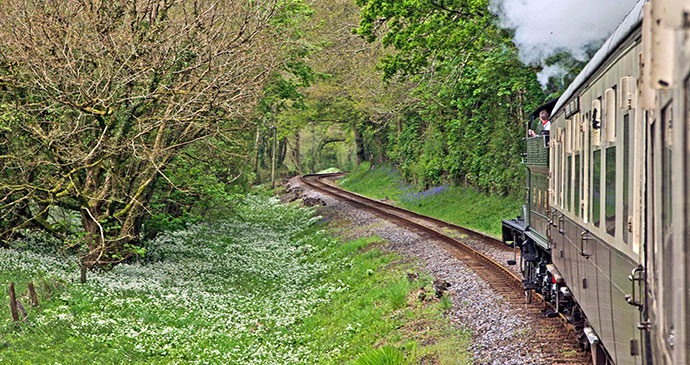 Hop on a steam train to see stunning views of South Devon © Unique Devon Tours
It goes without saying that Slow Travel favours public transport above the car, and in Devon this isn't just because it's better for the environment. Although Devon actually has more miles of road than the whole of Belgium, many of these are car-unfriendly single-track lanes with high banks and hedges where you rely on intuition rather than eyesight to deal with oncoming cars. S P B Mais recognised the problem for drivers: 'If you keep to the road you will not see Devon at all, only a succession of whitewashed thatched cottages red with fuchsia clustered round a tall grey granite church tower at three- or five-mile intervals as you bore your way through green tunnel after green tunnel.'
It is entirely possible to enjoy a holiday in Devon without a car. Transport to the area is good, and there are usually local buses to get you to the places of interest. A useful organisation for planning journeys by bus and/or train is Traveline.
If you are stuck at a bus stop with no bus and only an unsmart mobile phone, you can phone the number (which is also shown on most bus stops) for help and advice. Another excellent website for all forms of travel – bus, train, cycle, walking – is Travel Devon. Its interactive bus map is particularly useful.
Local buses are a boon for bus-pass holders, but even for paying passengers there are often special deals such as the DevonDay bus ticket which gives unlimited bus travel throughout Devon. Praiseworthy community-run buses such as Tavistock Country Buses are an extra bonus. Devon County Council publishes a series of regional bus timetables as well as a bus map of the county.
Cycling & walking
This part of Devon has a good range of dedicated cycle paths as well as the 99-mile Coast-to-Coast Route 27 from Ilfracombe to Plymouth. A Croydecycle map covers the whole route. Others are being developed by Sustrans. Among the most popular cycle trails are Drake's Trail, the Dart Valley Cycle Way, the Granite Way, the Stover Trail, and the Dartmoor Way.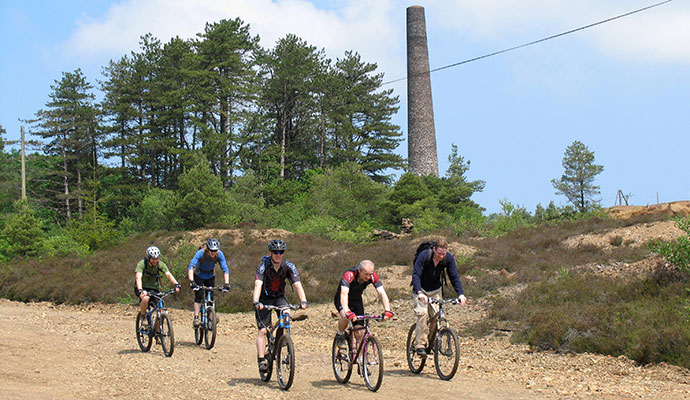 Cycle along one of many bike trails to explore the heart of South Devon © Tamar Valley AONB
For walkers, there's the South West Coast Path from Starcross to Plymouth, a distance of almost exactly 100 miles. Some of the best walks in all of Devon are here, with the most rewarding short stretches. Those tackling the whole trail, or planning to walk for several days, would do well to use the services of a luggage transfer company so they can walk unencumbered. Luggage Transfers will also arrange walker-friendly accommodation for you. Likewise, Dartmoor is the starting/finishing point for the Two Moors Way, a stiff but hugely rewarding challenge linking Dartmoor and Exmoor, which can now be extended to Wembury to make coast-to-coast trail.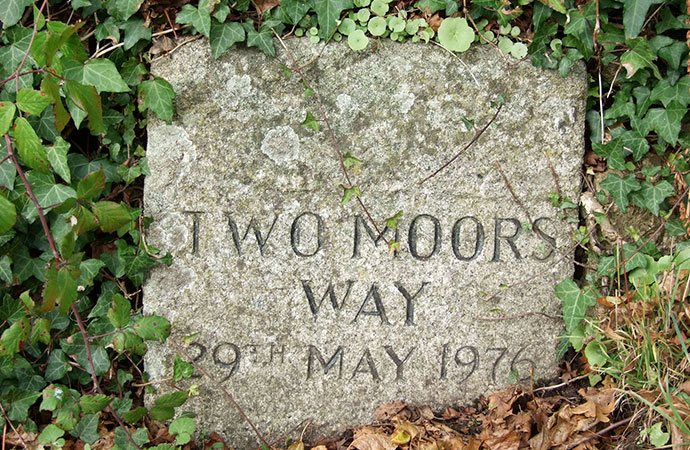 The Two Moors Way is one of South Devon's most rewarding walking trails © Sue Viccars, twomoorsway.org
If you fancy the idea of letting someone else do all the planning and organisation and luggage transfer, the tour operator On Foot Holidays, which specialises in self-guided walking holidays in Europe, has an appealing six-day inn-to-inn walk, A tale of two rivers, taking you from Dunsford on the River Teign to Dartmouth. The longest days are about 20km but these can usually be shortened.