Going Slow in South Devon & Dartmoor
[The holidaymaker] comes to Devon for what he cannot get anywhere else, clotted cream the colour of cowslips for breakfast, lunch, tea and dinner, scenery as rich as the cream, contact with a glorious past history and a very pleasant type of modern people. The way, and I think the only way, to see Devon, is to go slowly in and about her, to keep moving, but to keep moving at snail's pace.
S P B Mais, 1928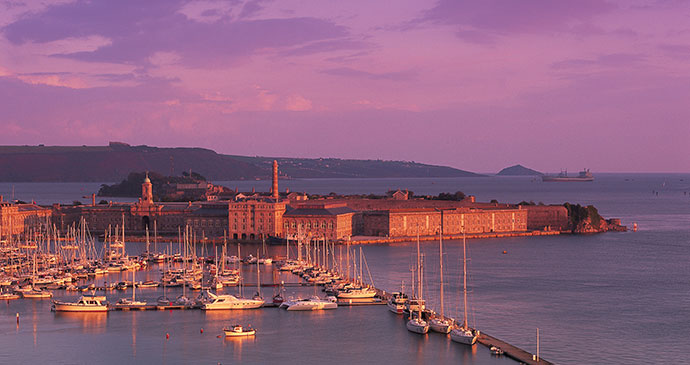 Watch the sun set at Plymouth's Royal William Yard © Visit Plymouth
One thing that has been a constant pleasure when researching our three Slow guides to Devon is the way that early guidebook writers like S P B Mais anticipated our current appreciation of the Slow movement. Indeed, there's nothing new in Slow; it's a rediscovery of the perfect way to enjoy the most beautiful and intriguing parts of our country. It's about taking the time to visit a church, or watch the scenery unfold from a bus window, or observe a peacock butterfly fluttering from flower to flower, or sit gazing out to sea from the coastal path, or plunging from the moor into one of those deep, wooded valleys we call combes. Indeed, that's where the county gets its name: Dyfnaint was the Celtic name for Devon, and means 'dark and deep valleys'.
Author
's

story

Hilary Bradt

I bought my little house in Devon in 2005, but it was a while before I could tear myself away from my roots in Buckinghamshire. Now I wonder why on earth it took me so long. It's always fascinating to look back at the process of getting to know a new place; I've done it often enough. It begins with your immediate neighbourhood then gradually radiates out, like ripples, as locals tell you about, or show you, their favourite places. Devon has been different.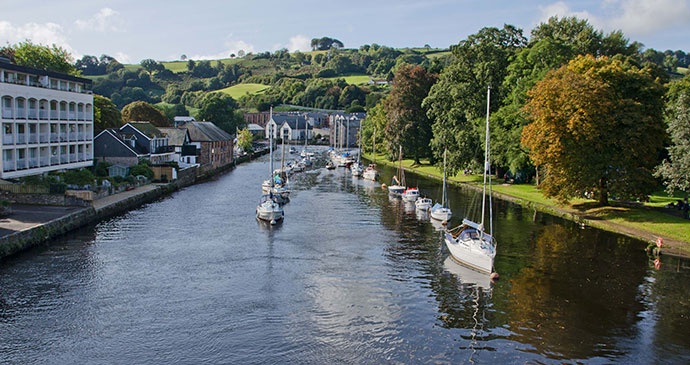 Cruise down the River Dart © Unique Devon Tours
Because the predecessor of this book, Slow Devon and Exmoor, was researched within a year of moving here, the process has been more like one of those speeded up nature films where the greening of my knowledge has quickly spread from one point to cover the whole landscape. It's a process that never ends, nor does the excitement at finding something new ever diminish. I remember the sheer elation when we discovered Kenn and walked on a spring day down its main street past the thatched cottages and library in a phone box, marvelling that no-one seemed to know about such an enchanting village. Conversely, our pleasure at experiencing the paddle-steamer on the River Dart – a well-known tourist attraction – was just as fresh and untarnished by expectation. I feel so lucky to live here, and to have such a good reason to keep exploring.