Savouring the tastes of South Devon & Dartmoor
Cream teas and cider are the treats most associated with Devon, and indeed they're a big part of any holiday here. But foodwise there's so much more.
With Devon's high rainfall (shh!) and rich and varied grazing, meat is of exceptional quality, and restaurants take pride in sourcing it from named local farms, so that what you're eating comes directly or indirectly from our fertile soil. Seafood also is superb, as you might expect in the only English county with two separate sea coasts. Restaurants often have their own suppliers, who rush the catch to them straight from their boat. If you're self-catering look in fishmongers for the 'catch of the day'.
Local dairies offer more calorific delights. The very best clotted cream, thick, velvety and yellow, comes from Devon and Cornwall, and its taste is quite unlike that of thinner creams. It can vary according to the breed of cow and the preparation (milk is heated very slowly and then cooled, so that the cream rises to the top and can be skimmed off). A recent transatlantic visitor expected her 'Devon cream tea' to be a cup of tea with cream in it, so was surprised to receive freshly baked scones spread thickly with clotted cream and jam, accompanied by a generous pot of tea. In Devon, the jam usually goes on top of the cream, in Cornwall underneath. And to sample the cream tea nominated as the best in Devon, you'll need to visit an unpretentious outdoor eatery in Dartmouth.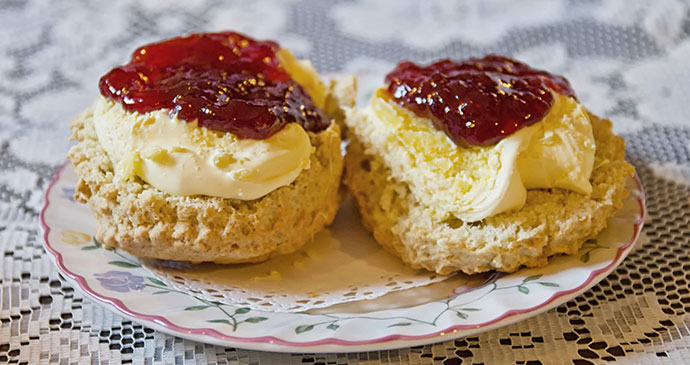 The cheeses range from hard and nutty to soft and squashy, and from raspingly strong to gently creamy; you'll find them on sale locally. They're enriched with all manner of herbs and flavours; different dairies have their own specialities, some dating back several centuries. For instance, Quicke's traditional mature cheddar comes from land near Exeter that has been farmed by the same family for over 450 years; and Curworthy Farm near Okehampton uses a 17th-century recipe.
Pasties are another temptation, and both their fillings (a mix of meat and vegetables) and their pastry vary according to the maker. You'll just have to sample a few to find your favourite! The aroma as they're taken from the baker's oven is hard to resist. In Devon, the crimp (closure) traditionally arches over the top; in Cornwall it's along the edge of the base.
Cheers!
The mild climate and south-facing slopes are also conducive to wine-making, with the Sharpham Vineyard leading the way with its wine tastings, vineyard tours, and café. At Old Walls Vineyard near Teignmouth you can 'rent' an area of vines and receive the fruits of its harvest once bottled.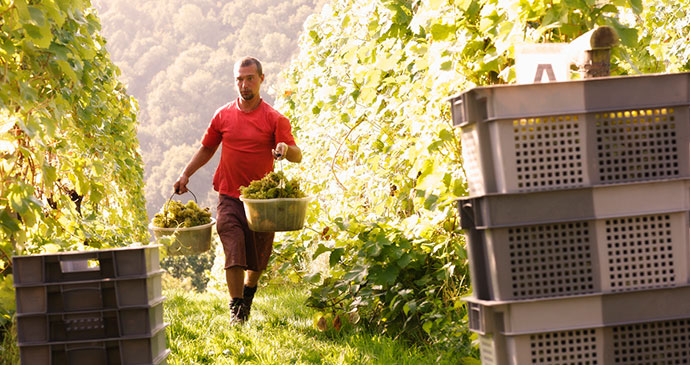 South Devon also has some internationally famous gin distilleries: Salcombe Ginhas won many awards, as has Plymouth Gin, made traditionally by one man in one Victorian copper still. Devon's first single malt whisky distillery is just getting under way in Bovey Tracey (Dartmoor Whisky Distillery), and planning permission for one in Princetown was granted in 2017. Several breweries around the county, small and larger, have their own ranges of ales: you'll find them in shops and pubs, together with plentiful local advice as to which you should try.
Cider
Two types of cider are brewed in the UK – in eastern counties, Kent and East Anglia, and in the west in Devon and Somerset. We in the West Country have a valid claim that ours is the best. True cider apples are only grown here, and most cider producers use varieties that date back hundreds of years with evocative names such as Fair Maids of Devon, Pig's Snout, Tail Sweet, Devon Crimson and Slack-Ma-Girdle.
The distinctive cloudy cider, which is unfiltered and unpasteurised, is produced in Devon, as is the famous high-alcohol scrumpy.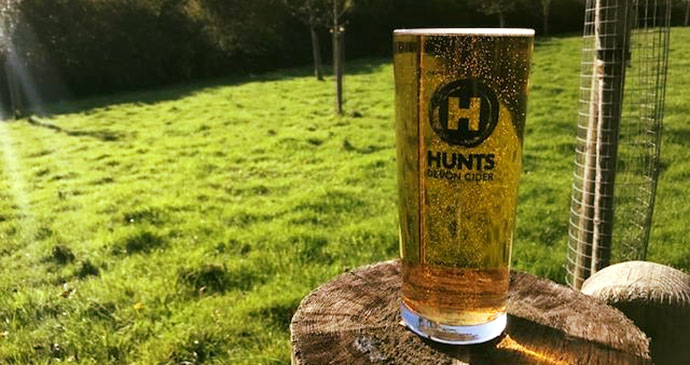 Accommodation
The following places to stay in South Devon & Dartmoor are extracted from Slow Travel: South Devon & Dartmoor. They have been selected for their good location and because they embrace the Slow mindset, either in terms of their overall feel or because they embody a 'green' approach.
The Exe & Teign estuaries
The English Riviera: Torbay
Totnes & the River Dart
South Hams & Devon's far south
Plymouth & the Tamar Valley
The eastern fringe of Dartmoor
The northwestern fringe of Dartmoor
Dartmoor National Park
The Exe & Teign estuaries
Guesthouses & B&Bs
Church Farm Haccombe, nr Newton Abbot TQ12 4SJ; 01626 872310; www.wildlink.org. Luxury B&B plus extensive wildlife viewing (including badger-watching in comfort) in TV wildlife producer Andrew Cooper's elegant Georgian farmhouse and 40-acre estate. Special breaks, guided nature walks and wildlife photography courses available. Guests can be met at Exeter airport or Newton Abbot railway station if necessary.
Lammas Park House 3 Priory Rd, Dawlish EX7 9JF; 01626 888064; lammasparkhouse.co.uk. Super-comfortable B&B, award-winning breakfasts and sea views from all rooms.
The Turf Exeter Canal, Exminster EX6 8EE; 01392 833128; turfpub.net. Closed late Nov–Mar. Cosy B&B in a traditional old pub on the edge of the Exe estuary, accessible only on foot, by boat/ferry or by cycle. The two bedrooms (double and twin, sharing a bathroom) have superb views across the water.
Self-catering
Brunel Holiday Park Beach Rd, Dawlish Warren EX7 0NF; 01626 888527; brunelholidaypark.co.uk. Near Brunel's old Atmospheric Railway line and perfect for rail buffs! Comfortable accommodation in converted railway carriages on a quiet site facing seaward, only a very short walk from Dawlish Warren's amenities, bus stop and railway station. Major upgrade during winter 2017–18; check website for current details.
Camping
The Turf Exeter (see Guesthouses & B&Bs, above). A yurt and basic camping on the pub's large lawn overlooking the Exe estuary. Breakfast toastie available.
The English Riviera: Torbay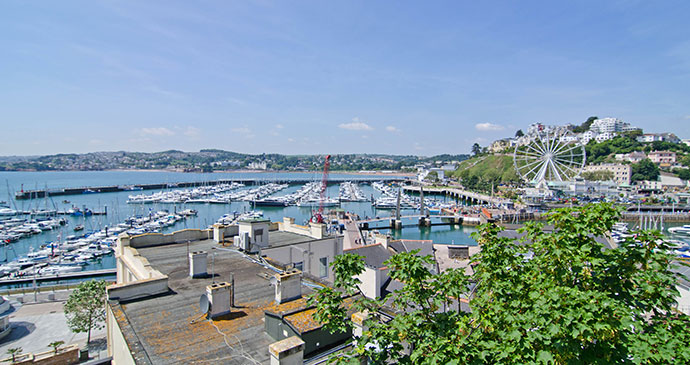 Hotels
The 25 Boutique B&B 25 Avenue Rd, Torquay TQ2 5LB; 01803 297517; the25.uk. When I discovered that The 25 Boutique B & B tries, like me, to go beyond the extra mile, I was delighted. It has established itself as the number-one bed and breakfast in Torquay, and justifiably so. An oasis of excellence in the centre of one of England's favourite resorts. (Review by Alex Graeme)
The Cary Arms & Spa Babbacombe TQ1 3LX; 01803 327110; caryarms.co.uk. Luxury seaside hotel; includes beach hut accommodation.
Orestone Manor Maidencombe TQ1 4SX; 01803 897511; orestonemanor.com. I recommend this Georgian manor for my guests as it really is a wonderful retreat, a place of understated sophistication that one can't help but relax into. The food served in their restaurant is of a very high standard, and the customer service is exceptional. (Review by Alex Graeme)
Redcliffe Hotel Marine Drive, Paignton TQ3 2NL; redcliffehotel.co.uk; 01803 526397. Large, elegant and historic, with a superb sea-front location, indoor swimming pool and attentive staff. Good-value short breaks off season. Author Dick Francis stayed here every year for almost 60 years.
Self-catering
Brownscombe Tabernacle Marldon TQ3 1TA; 01803 872532; brownscombe.co.uk. Sleeps 2. One of a range of luxury glamping options on the same site, which also include a secluded cabin and safari tents in idyllic surroundings.
Faithful Brixham. A beautifully refurbished fishing boat in Brixham harbour, sleeps 2. Booked through several agencies.
Guesthouses & B&Bs
Albaston Boutique B&B 27 St Marychurch Rd, Torquay TQ1 3JF; 01803 212100; albastonhotel.co.uk. Winner of several tourism and hospitality awards, this classy and comfortable B&B, in an elegant Victorian house with nine stylish, individually designed bedrooms, has so many innovative extras, from charging points in the driveway for electric vehicles to 20-odd different varieties of gin in a cosy bar featuring old movie memorabilia and a juke box. Kevin and Julie are delightful hosts, working non-stop to give their guests (age limit 14 years upwards) a memorable stay and constantly adding new improvements and helpful touches. And their breakfasts (which can be taken out on the terrace on fine days) are truly superb, served by Kevin with justifiable pride and including many home-made treats. The house is close to Torquay's International Language Schools and a downhill walk to the town centre.
Blue Waters Lodge Guest House 4 Leighon Rd, Paignton TQ3 2BQ; 01803 557749; bluewaterslodge.co.uk. A friendly, unpretentious, traditional B&B in a Victorian terraced house, within level walking distance of the sea and local buses; in 2018 this was a Gold Winner in the local Herald Express South Devon Tourism & Hospitality Awards. The six comfortable bedrooms have quality contemporary furnishings, there's a small but well-stocked bar and lounge, and the patio garden catches the sun in summer. Owners Jackie and Colin understand what B&B guests need and take pride in looking after them well. The food, including cream teas and Jackie's home baking, is good, particularly the generous breakfasts. Parking is on the quiet residential road in front of the house. Car-free guests can be driven to/from the railway station, and a local tour operator can arrange trips to places of interest including Dartmoor.
Haytor Hotel Meadfoot Rd, Torquay TQ1 2JP; 01803 294708; haytorhotel.com. This peaceful licensed B&B is on a leafy hill about 500m up from the town centre, with ample off-road parking space. The elegant villa dates from 1835 and retains many original features alongside more modern comforts. Its twelve comfortable bedrooms include a wheelchair-accessible suite; the attractive garden has chairs for lazing on sunny days; and for the energetic there are maps of nearby walks. Breakfasts are excellent, there's a bar and guests' lounge, and room service is available. In September 2014 the Haytor became the first hotel in the UK to be accredited by the Living Wage Foundation as a Living Wage employer. It's a relaxing place, with unobtrusively friendly and attentive service. (And the owner, Peter, makes terrific flapjacks!)
Heathcliff House 16 Newton Rd, Torquay TQ2 5BZ; 01803 211580; heathcliffhouse.co.uk. The gracious Victorian villa housing this adults-only B&B was once Torre Vicarage; Agatha Christie often took afternoon tea here with the Vicar, the Reverend Harry Petty, to whom she also turned for advice when writing Murder at the Vicarage. With ample off-road parking, it's also well placed for buses and within walking distance of the beach. Since owners Nigel and Juliette took it over they have been steadily making improvements, and are friendly and welcoming hosts. The eight bedrooms (different sizes and priced accordingly, as shown on the comprehensive website) are tastefully decorated and comfortable, and the bar/lounge has a piano that guests are welcome to use. Cream teas and seafood afternoon teas are available, and the award-winning breakfasts include home-made goodies such as home-churned butter.
Totnes & the River Dart
Hotels & pubs
Dart Marina Sandquay Rd, Dartmouth TQ6 9PH; 01803 832580; dartmarina.com. A luxury hotel and spa, the only hotel in Dartmouth with a riverside location. All the very comfortable rooms have water views; most have a balcony which is ideal for relaxing and watching the boats and ferry go by. The hotel is pricey but for peace, luxury and location it would be hard to beat, and they do offer special deals which include breakfast and dinner in the excellent restaurant. Dog-friendly. Also self-catering (see below).
The Anzac Street Bistro Anzac St, DartmouthTQ6 9DL; 01803 835515. Three large Georgian double rooms in the centre of town; special deals for two nights with an evening meal.
The Cott Inn Cott Lane, Dartington TQ9 6HE; 01803 863777; cottinn.co.uk. One of the oldest (1320) and most beautiful thatched inns in the county – perhaps the country – and the place to go for a special treat. They have five rooms. It can be noisy if there's a happy party in the bar.
Guesthouses & B&Bs
Dartington Hall Totnes TQ9 6EL; 01803 847147; dartingtonhall.com. Dartington Hall is proud of its 50 bedrooms, in all shapes and sizes, in the east and west wings around the beautiful medieval courtyard. Some overlook the courtyard, some the gardens. For meals, there's the White Hart Bar and Restaurant, just across the courtyard; and the 1,200-acre estate offers plenty of peaceful strolling. As the Dartington website says: 'We're not a hotel or a country house, we're an inspiring destination', and profits from your stay will support the charitable work of the Dartington Hall Trust.
Kilbury Manor Colston Rd, Buckfastleigh TQ11 0LN; 01364 644079; kilburymanor.co.uk. Four comfortable en-suite bedrooms and a self-catering apartment, set in four acres of garden and meadow. In peaceful countryside between Buckfastleigh and Totnes, this 17th-century Devon longhouse is a clean, cosy, peaceful and friendly place, with lots of thoughtful touches. Julia and Martin are attentive hosts – and don't miss Julia's homemade marmalade. There are good walks nearby, and safe on-site parking.
The Sea Trout Inn Staverton TQ9 6PA; 01803 762274; seatroutinn.co.uk. This 15th-century inn with an excellent restaurant has ten clean, comfortable and well-designed en-suite rooms in its annexe. Fishing packages are available, which include accommodation and daily/weekly permits for fly fishing on a nearby stretch of the Dart.
Self-catering
Dart Marina Hotel (see under Hotels, above). Luxury two-bedroom self-catering apartments and a superbly appointed villa with full use of the hotel spa facilities (indoor pool, steam room, spa bath and fitness suite).
Gurrow Point Cottage Dittisham TQ6 0JH; 01548 202020. Exquisitely located at the tip of Gurrow Point, separated from the village by fields and a long, tree-lined drive. Gurrow Point Cottage is part of a private estate and has beautiful views of the Dart estuary and surrounding countryside. Guests are free to wander the 80 acres of woodland and fields of the estate and enjoy over a mile of private river frontage. There are also pretty gardens, and a tennis court with a pavilion.
Kingswear Castle  01628 825920; landmarktrust.org.uk. Surely the most dramatic self-catering place in Devon. You can watch the stars – or ships – from the battlements and even raise or lower the Union Flag. Sleeps four.
Sandridge Boathouse Stoke Gabriel; helpfulholidays.com. Right on the River Dart. Getting there involves a half-mile field-and-woodland walk. Sleeps 4. You must travel light to stay here. When you arrive with your luggage you can be transported by 4X4 to the top of 71 steps leading down to the boathouse. Once at the house you have all comforts.
Campsites
Hemsford Yurt Camp Hemsford House, Littlehempston TQ9 6NE; 01803 762774; devon-yurts.co.uk. Four Mongolian yurts and a shepherd's hut (named Jennifer), in peaceful surroundings. Communal kitchen, hot shower and toilets in adjacent stable block. Lots of photos on website.
South Hams & Devon's far south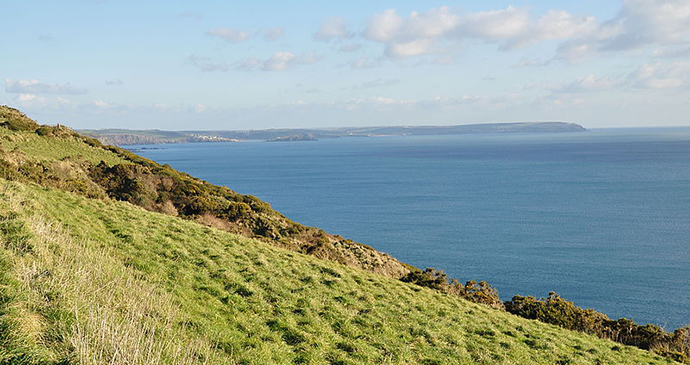 B&Bs
Avon Mill Loddiswell TQ7 4DD; 01548 550338; avonmill.com. A top-floor apartment in the picturesque Avon Mill, with views down the Avon valley. Breakfast either in the Garden Centre café or brought up to the apartment. A great base for walkers and ideal for a single person or a couple.
Self-catering
Coastguard Cottages toadhallcottages.co.uk. One of a terrace of cottages overlooking the sea and right on the South West Coast path. Both the lounge and dining room have wood-burning stoves.
Gara Rock East Portlemouth. Various agencies. Currently four apartments and two cottages, each sleeping four or five people, are available. This is all about location – if you don't like remote, don't stay here. If you love walking and want some luxury at the end of the day, this is the place. Unsurpassable cliff-top location, indoor and outdoor swimming pool, jacuzzi and sauna, and all the expected mod cons. The restaurant with its wide sea views is open to the public.
The Signal Box Loddiswell TQ7 4DE; 01548 550664; loddiswellstation.co.uk. A quirky restored railway building sleeping four in two bedrooms. Dogs welcome. Lounge/kitchen overlooking the river. Logburner, Wi-Fi, TV.
Campsites
Karrageen Caravan & Camping Park Bolberry, near Malborough TQ7 3EN; 01548 561230; karrageen.co.uk. A small, family-run place surrounded by National Trust land, with terrific views and access to the South West Coast Path. Their website reassures you that 'we do not have a club or bar or children's playground but we do offer a well-stocked shop with freshly cooked baguettes and croissants daily, and plenty of space for children to play happily and safely.' Water from their own spring.
Plymouth & the Tamar Valley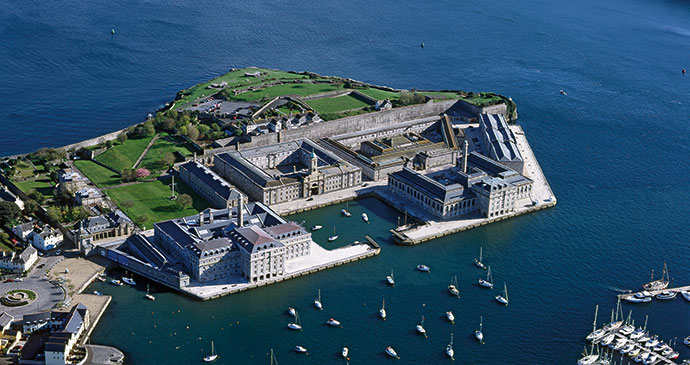 Hotels
Glazebrook House Hotel South Brent TQ10 9JE; 01364 73322; glazebrookhouse.com. A unique place in every respect. The theme of the hotel is Britain and as soon as you enter you are surrounded by our national emblems, from the silver bulldog in the lobby to the tartan carpets. The nine bedrooms are Alice in Wonderland themed, with eye-popping decorations giving each room a dream-like quality. I was in the aptly-named Mad Hatter. The beds are as comfortable as you get, and the bath, which I much prefer to a shower, almost deep enough to swim in. There's nothing like this hotel anywhere; if you have something to celebrate and want to do it in style, this is the place. The staff are wonderful and the restaurant superlative. On a sunny day you can sit out in the garden and listen to birdsong. South Brent is just inside Dartmoor National Park so the moor is on your doorstep, but the attractions of the South Hams are easily accessible so it's a prime location.
B&Bs
Barnabas House Harrowbeer Lane, Yelverton PL20 6DY; 01822 853268; www.barnabas-house.co.uk. Very comfortable B&B with six attractive and well-equipped rooms. Steve and Angela are helpful but unobtrusive hosts, providing many thoughtful extras. The house is a few minutes' level walk from Yelverton's amenities (pub, cafés, post office, butcher, delicatessen, bus stops), but a stone's throw from open countryside with good walks and cycle trails: Sustrans Cycling Route 27, Drake's Trail, the Dartmoor Way and the West Devon Way. With safe off-road parking, it's an excellent hub for exploring the surrounding area.
Tamar Belle Bere Ferrers Station PL20 7LT; 07813 360066; tamarbelle.co.uk. Live like royalty in these luxuriously converted heritage railway carriages which are heated so available year-round and include a comfortable lounge. Bere Ferrers is one of the most peaceful villages in Devon, so for a quiet walking or cycling base this can hardly be bettered. Guests have the choice of B&B or self-catering for a very reasonable price.
Self-catering
Crownhill Fort Crownhill Fort Rd, Plymouth PL6 5BX; landmarktrust.org.uk. Built in the 1860s to protect Plymouth from invasion, Crownhill Fort opens to the public for tours and other events. Accommodation is in the Officers' Quarters, which sleep eight. Buses to town centre and Hoe.
Harford Bunkhouse (see Camping, below).
Camping
Harford Bunkhouse & Camping West Combeshead, Harford, Ivybridge PL21 0JG; 01752 691883; pitchup.com. A friendly and relaxed place on a working farm, 1½ miles from Ivybridge. Bunkhouse, pods, bell tents, a cabin and a camping field, with peaceful views over the Harford valley.
The eastern fringe of Dartmoor
Guesthouses & B&Bs
Anrán Tidwell Farm Ashburton TQ13 7LY; 01803 762828; anran.co.uk. Anrán has a special feel to it. Beyond the lovely countryside location, this beautifully converted manor house (c1840) oozes style, luxury and personality. The accommodation has been designed and finished by people who evidently want their guests to be happy, comfortable and impressed, and this comes across in the level of customer service too. (Review by Alex Graeme)
Bulleigh Barton Manor Ipplepen TQ12 5UA; 01803 873411; bulleighbartonmanor.co.uk. Guests receive the ultimate home-from-home experience at Bulleigh Barton Manor where owners, Liz and Mark, provide hospitality of the highest level, as well as a beautiful house and gardens, tranquility, and gorgeous homemade cakes! (Review by Alex Graeme)
Hannah's Howton Lane, Newton Abbot TQ12 6NQ; 01626 325800; discoverhannahs.org. Built as Seale-Hayne agricultural college in 1912–14, the impressive house and range of outbuildings are now owned by the Dame Hannah Rogers Charity, which for 250 years has been working with disadvantaged children, young people and adults with a range of disabilities. It has art galleries, music studios, a gift shop, the old library (with fascinating vintage books on rural history and agriculture), a Health & Wellbeing Centre and a range of accommodation, much of it suitable for less mobile visitors: en-suite rooms, B&B, a hostel, an apartment and two comfortable safari tents. There's a friendly all-day bistro on site.
Cridford Inn Trusham TQ13 0NR; 01626 853694; thecridfordinn.co.uk. A historic thatched longhouse in the heart of the countryside. Four luxury en-suite B&B rooms plus two holiday cottages.
Nobody Inn Doddiscombsleigh EX6 7PS; 01647 252394; nobodyinn.co.uk. Five beautifully decorated B&B rooms (four en-suite, one with private bathroom) in a historic village inn with outstanding food and more varieties of gin than you'll ever drink.
Old Church House Inn Torbryan TQ12 5UR; 01803 812372; oldchurchhouseinn.co.uk. Double, twin, single and family rooms, including one adapted for less mobile guests.
Self-catering
Anrán See Guesthouses & B&Bs, above.
Rydon Trusham, Teign Valley; 01637 881183; uniquehomestays.com. A large converted barn in the delightful but untouristy Teign Valley. Heated pool (summer). Sleeps up to six. Dogs welcome.
The northwestern fringe of Dartmoor
Hotels
Lewtrenchard Manor Lewdown, near Okehampton EX20 4PN; 01566 783222; www.lewtrenchard.co.uk. A gracious Jacobean manor, dripping with history, in extensive grounds. Its 13 luxury bedrooms combine authentic period charm with modern comforts. This is a grand and gracious house, with oak panelling, ornate plasterwork, stained glass and ancestors gazing down from the walls in their heavy gilt frames, but still it's relaxed and friendly. Guests can enjoy croquet, hawk walking, clay pigeon shooting, trout fishing or just relaxing in beautiful, peaceful surroundings. Excellent restaurant.
Guesthouses & B&Bs
The Dartmoor Inn Lydford EX20 4AY; 01822 820221; dartmoorinn.com. Three very comfortable double rooms. Each has different features, including exposed beams, and a good shower over the bath. The Inn has an excellent restaurant and is conveniently located for walking the Lydford Gorge. It is on the bus route to Okehampton and Tavistock.
The Oxenham Arms South Zeal, nr Okehampton EX20 2JT; 01837 840244; theoxenhamarms.com. Said to be the oldest heritage inn in Devon and Cornwall, this visibly historic place is thought to have been built as a monastery by 12th-century lay monks – and they incorporated a 5,000-year-old standing stone into an inner wall of one of its rooms. In keeping with its history, its seven beautifully decorated en-suite rooms have hand-stitched fabrics and antique furniture.
Self catering
Twelve Penny Barn Lewdown; 01637 881183; uniquehomestays.com. A charming converted barn in the somewhat neglected area of west Dartmoor. Sleeps two and one well-behaved dog.
Camping
King's Arms South Zeal, nr Okehampton EX20 2JP; 01837 840300; thekingsarmssouthzeal.com. A simple campsite (toilets available but no showers) with a good view of the moor.
Dartmoor National Park
Hotels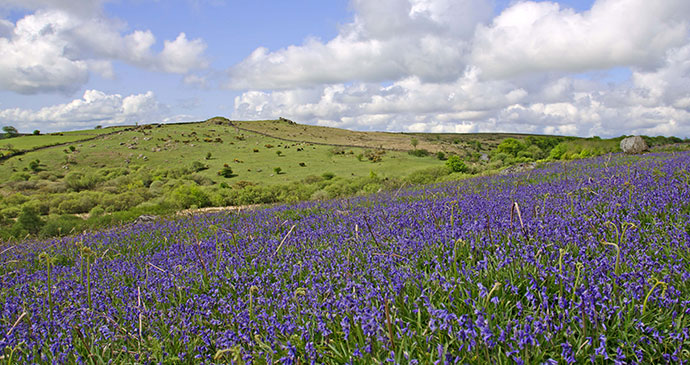 Bovey Castle North Bovey; boveycastle.com. Under new management and increasingly popular for its superb location and grounds and many family activities including birds of prey displays.
The Rock Inn Haytor TQ13 9XP; rock-inn.co.uk. The Rock Inn is a perfect example of an old English country inn, having been built originally in the 18th century as a coaching inn. It has been run by the same family for many years, and retains very high standards of customer service, comfort and cuisine. (Review by Alex Graeme)
Gidleigh Park Nr Chagford TQ13 8HH; 01647 432367; gidleigh.co.uk. Gidleigh Park changed chef in 2017 for the second time since Michael Caines left, so although reports for Chris Simpson are good, it is the hotel itself and its surroundings which are the attraction now, rather than the Michelin stars. As the Times reviewer wrote: 'Even if Gidleigh Park only offered afternoon tea it would still be a special destination… moss-covered trees and a river cascading over rocks. This is sprites and fairies stuff. I thought it the prettiest grounds of any hotel in the country.'
Ilsington Country House Hotel Ilsington (nr Bovey Tracey) TQ13 9RR; 01364 661452; ilsington.co.uk. This hotel, a place of calm where one can truly relax, perfectly sums up 'slow Devon'. The surroundings are peaceful, the hotel refined without being overly fussy, and with its award-winning new spa, a stay here is a very good way to unwind from the stresses of modern day life. (Review by Alex Graeme)
Lydgate House Hotel Postbridge PL20 6TJ; 01822 880208; lydgatehouse.co.uk. An intimate and very reasonably priced country-house hotel in the heart of Dartmoor on the Two Moors Way, with two singles and five doubles named after different birds.
The Bedford Hotel Tavistock PL19 8BB; 01822 613221; bedford-hotel.co.uk. A comfortable hotel in the centre of Tavistock with plenty of parking.
Two Bridges Hotel Two Bridges PL20 6SW; 01822 892300; twobridges.co.uk. Large hotel on the River Dart, surrounded by Dartmoor countryside. The 32 rooms, some of which have four-poster beds, include easy-access ones on the ground floor. Dog-friendly. Sister hotel to the Bedford in Tavistock (above).
B&Bs
The Priory Whitchurch PL19 9RB; 07912 498837; priorybnbtavistock-dartmoor.co.uk. (Review by Joanna Griffin) A relaxed and quirky B&B in Whitchurch, a short drive from the centre of Tavistock, The Priory is a beautiful old building at the end of a quiet close. It has a lovely old hallway with stained glass windows and doors and the whole place has a slightly Bohemian feel with lots of trinkets and statues dotted around the house and garden. The rooms are large, light and airy and one has a sun terrace. The décor is shabby chic and the bedrooms are very comfortable with plenty of storage space, seating areas and en-suite bathrooms. Breakfast is served in the rooms at a pre-arranged time from a good menu with plenty of choice. The owners are laid-back and friendly and have thought of everything. Although it is situated outside town, a taxi back on a Saturday night only costs £4–5 and there are also pubs nearby.
The Barn Scorriton, nr Buckfastleigh TQ11 0JB; 01364 631567. A traditional old barn conversion in a tiny Devon hamlet within the Dartmoor National Park. All rooms are on the ground floor and are en-suite. Set in five acres of pastureland, cider orchard and mature garden. Off-road parking and safe storage of bicycles. Handy for the Two Moors Way.
Self-catering
Holiday parks See Harford Bridge and Langstone Manor, below.
The Chapel Lettaford, North Bovey; landmarktrust.org.uk. A tiny converted chapel, where you live and sleep (maximum two) in one room although the bathroom is separate. Charming and different. Nearby is another, larger, Landmark Trust property, Sanders, a longhouse, which sleeps five.
The Secret Holt Haytor; uniquehomestays.com. Indeed secret, since this wooden chalet is well off the beaten track at the end of a dirt road, though close to Dartmoor's most popular tor. Sleeps two, plus up to two well-behaved dogs.
Campsites, etc.
Harford Bridge Holiday Park Peter Tavy, Tavistock PL19 9LS; 01822 810349; harfordbridge.co.uk. Easily accessed from the A386 and adjacent to National Cycle Route 27, this well-kept, family-run park on the very edge of Dartmoor has a peaceful, shaded camping area beside a stream, well-spaced self-catering caravans and holiday lodges, and a cosy 'shepherd's hut'.
Langstone Manor Holiday Park Moortown, Tavistock PL19 9JZ; 01822 613371; langstonemanor.co.uk. Mar–Oct/Nov. Self-catering includes cottages, an apartment, holiday homes, and dumpy little wooden 'pods' for two or four people. Camping areas are either wooded, in an open field with moorland views, or in a more sheltered walled garden. It's spotless, and very committed to 'green' tourism.
Princetown The Fox Tor Café (01822 890238; foxtorcafé.com) and the Prince of Wales (01822 890219; princeofwalesbunkhouse.co.uk) have bunkhouses and campsites.