Suggested places to base yourself
Getting there and around
Suggested places to base yourself
These bases make ideal starting points for exploring localities the Slow way.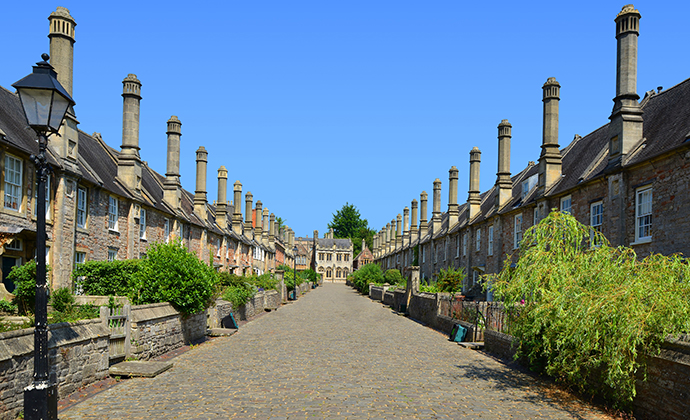 The 14th-century Vicar's Close in Wells is one of Britain's best-preserved examples of a medieval street © jaroslava V, Shutterstock
Bath
A Georgian masterpiece, Bath is the UK's only World Heritage city.
Bruton
Enjoyable small town bursting with culinary and cultural delights, including a world-class art gallery.
Exford
Surrounded by fabulous moorland scenery, pretty Exford sits at the heart of the national park.
Glastonbury
Even if you're not here for the festival, this unique place has more than enough to keep you entertained.
Nether Stowey
Home to Coleridge's cottage, this comely village is ideal for striking out into the beguiling Quantock Hills.
Porlock
Where Exmoor meets the sea; lovely cliff and inland walks, and a great little town for relaxation.
Somerton
A laid-back town that makes a good starting point for south Somerset's gorgeous hamstone villages.
Wells
Dominated by its glorious cathedral, Wells is a perfect base for walks around the Mendips.
Getting there and around
By its very nature, Slow travel favours public transport and leg power. Walking and cycling are a good idea – there's certainly no shortage of those two possibilities here in Somerset. Inevitably, it's not feasible to go everywhere using solely public transport – and this is especially true of some of the less touristed sights, which by their very nature lie well off the beaten track – hence getting to them may well necessitate a car journey.
This is no bad thing in Somerset, as many of the routes are fantastically scenic, and whether it's traversing the levels, a ride across the top of Exmoor or journeying through quiet country lanes, you'll likely find yourself constantly distracted.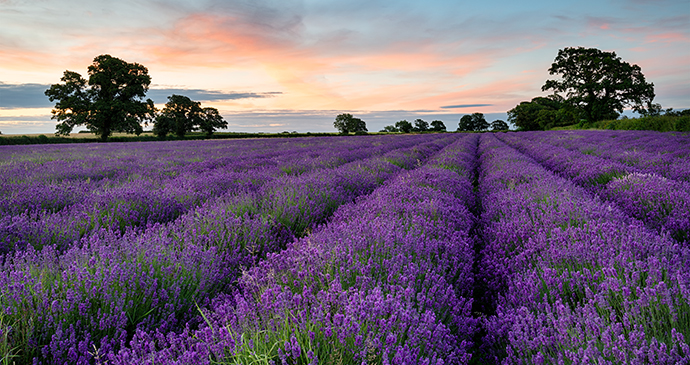 Somerset is wonderful walking country, with many fantastically scenic routes to choose from © Helen Hotson, Shutterstock
Walking
Somerset is wonderful walking country, as I have discovered repeatedly during the course of writing this book. From the breezy heights of Exmoor and the Mendips to the rounded, green hills of Blackdown and the reclaimed wetlands of the Somerset Levels, rambling opportunities are endless – and endlessly varied. The views can be sensational: Dunkery Beacon on Exmoor, Hurlstone Point on the coast, Black Down in the Mendips, Brean Down, Glastonbury Tor, Cadbury Castle – these are just a few of the county's many magnificent vantage points.
Numerous long-distance footpaths bisect the county, the best known of which is the South West Coast Path, which begins in Minehead and leaves Somerset at County Gate near Malsmead, before winding its way around the Cornish coast and finishing up in Poole in Dorset, a total of 630 miles. Less strenuous treks include the 51-mile-long Coleridge Way, from Nether Stowey in the Quantocks to Lynmouth in Devon (though still in Exmoor); the Macmillan Way West, from Castle Cary to Barnstaple; and the Mendip Way, a 50-mile jaunt through the hills, starting in Frome and finishing near Brean Down.
Of course, these are just the named trails, and, as such, does not necessarily render them the most rewarding treks. Armed with a decent map, you can of course always devise a walk of your own.
Cycling
Somerset has an abundance of shared-use walking and cycling routes, many of which have appropriated the county's numerous defunct railway lines and canal towpaths. Three such paths are the Colliers Way, the brilliantly conceived Two Tunnels Greenway (the longest cycle tunnel in the country) and the Strawberry Line. These routes are invariably incorporated within longdistance national cycle routes managed by Sustrans – for example, the Collier's Way is part of Route 24.
Elsewhere, the county offers more than sufficient diversity to keep every kind of cyclist happy, from the tough, hilly climbs around Cheddar Gorge and the Mendips, to less exerting, but no less enjoyable, rides across the Somerset Levels or through the quiet country lanes of south Somerset. Mountain biking, too, is becoming ever more popular, with Exmoor and the Mendips in particular offering ideal terrain, including plenty of single-track trails, for hardcore enthusiasts. Bike hire is readily available in those areas where cycling is a prominent activity, such as the Mendips and Exmoor.