Author's take
For me, going Slow in Shropshire isn't only about cycling, walking and using public transport, although I feel keenly the urgent environmental need for us all to burn less fuel. Slow is a mindset and one that can be adopted from whichever mode of transport you have chosen that day. From behind a steering wheel in Shropshire it means being open to the scenery around you; making time to pull over and take a picture, explore an intriguing churchyard or buy honesty-box honey from a makeshift stall. It means waving not frowning when 57 vintage tractors and their drivers of a similar vintage snarl up your route.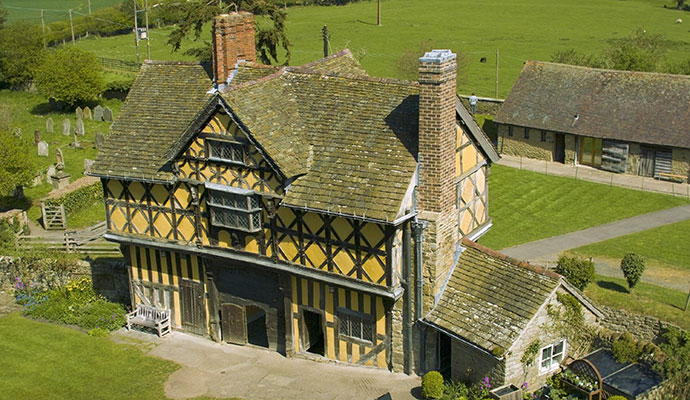 A trip to Stokesay Castle is what inspired author Marie Kreft to explore more of Shropshire © David Hughes, Shutterstock
Going Slow gives you time and space to appreciate how Shropshire's history has been determined and defined by its varied landscape: how the hills brought defence, the rivers (and later canals) brought prosperity; how the raw materials of Ironbridge Gorge enabled engineers and ironmasters to realise innovations that would change the path of industry and indeed the world.It allows us to understand how Shropshire's liminality and identity are entwined, particularly at the county's Welsh borders, where we find the legacy of the Marches.
I hope you'll enjoy walking in the striding footsteps of those landed barons, reading about their skirmishes, and experiencing for yourself, in places where the landscape remains largely unchanged, the ease at which you can reach back and touch the past. Conversely, going Slow in Shropshire rewards you with a stronger connection to the here and now; an ability to live completely in the moment. Sometimes, I admit, this state may be imposed upon you: Shropshire's mobile phone and Wi-Fi coverage lag behind the times; some country lanes feel impassable; often you won't find a supermarket for miles. Embrace it all, I say. Take your time to stop and smell the David Austin roses, pick the whinberries, savour a pint or two from one of Shropshire's many breweries.
And that brings me back to the other vital aspect of Slow travel. By embracing Slow joys – eating local and seasonal food, supporting sustainable businesses, buying from artisan producers and craftspeople – we begin, without even trying, to tread more lightly on the planet. I hope you will enjoy your Slow journeys in Shropshire every bit as much I do.
Author's story
I fell in love with Shropshire one October when my husband drove us from our apartment in Birmingham to Stokesay Castle for my birthday. Just an hour from our city life was a revelation: dramatic hills, verdant hedgerows, the scent of woodsmoke in the autumn air. Amid this tranquillity, I discovered, was a county with a history that had changed the world. The Industrial Revolution. The modern Olympics. Clive of India, Charles Darwin, Wilfred Owen. Before them, Bronze Age people, Iron Age tribes, Romans, Saxons and Normans had left their marks in hillforts, earthworks, roads, churches, place names, castles and legends. And long before them, seismic changes in the earth shifted and shaped the landscape: the flat, fertile plains of the north and the hills, valleys and woodland of the south. To think, until that weekend, Shropshire for me had been a rural patch of central England, a farmland vagueness one might hurry through on the way to Wales. I've since discovered this in-betweenness is a vital part of Shropshire's identity.
Now even when away from the county I see its influence everywhere: in the AGA shop in the chic 7th arrondissement of Paris; in pubs called the Royal Oak; on a Shrewsbury Town T-shirt in the spoof rockumentary This is Spinal Tap. While Many Shropshire characters captured my imagination, notably the drunken Regency squire John 'Mad Jack' Mytton and poetnovelist Mary Webb. While I find the buzz, multiculturalism and convenience of Birmingham suit my young family, Shropshire is our happy place to which we escape in wellies at weekends. Having celebrated his second and third birthdays in central Shropshire my son thought for a time that the months of the year ran January, February, Shrewsbury, March …
With its fascinating history, idyllic market towns, infinite walking possibilities and exciting gourmet scene, I believe Shropshire offers everything for the discerning traveller. Except the sea. And of course, with the ocean lapping at its borders instead of four other English counties and two Welsh – and the feuds, folklore, strongholds and stories such a landlocked position produces – this quietly bewitching county wouldn't be Shropshire.