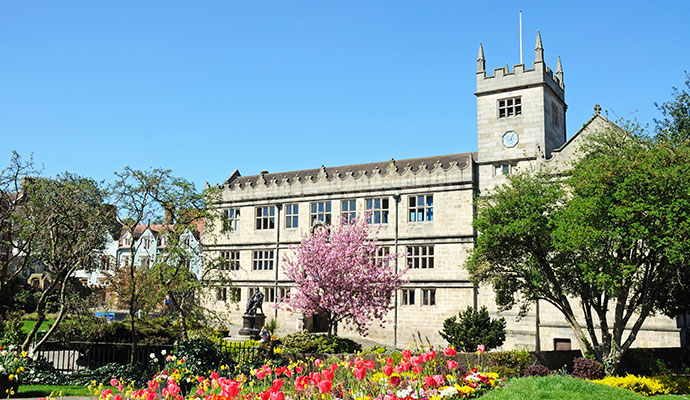 Shrewsbury Library © Arena Photo UK, Shutterstock
Shrewsbury is at the physical heart of the county and, for many, is where Shropshire's emotional heart beats, too.
As Shropshire is a land of contrasts, its centre – dominated by the genteel town of Shrewsbury – has a touch of everything great about the county: medieval architecture, ancient woodland, castle ruins and, to the south, Mary Webb country and some highly respectable hills.
Shrewsbury, declared by that famous scholar of art and architecture Nikolaus Pevsner to be a 'fine example of a Tudor town' is at the physical heart of the county and, for many, is where Shropshire's emotional heart beats too. Salop, the old word for Shropshire, is sometimes used to mean Shrewsbury; it's also the nickname of Shrewsbury Town Football Club, who play at New Meadow on the southern outskirts of the town. An old story goes that the oft-used term 'Proud Salopians' recalls the town burgesses' refusal of Charles I's (some say Henry VIII's) offer to endow Shrewsbury with the status of a cathedral city, pleased with their town the way it was. And indeed there is much to be proud of now. As well as the castle, Quarry Park and excellent museum, Shrewsbury has a lively arts scene, many independent shops, and some outstanding places to dine and drink.
In 1809 Shrewsbury was the birthplace of Charles Darwin, the naturalist whose 1859 On the Origin of Species furthered our understanding of the creation of the world and every living being in it. Several walks and landmarks, outlined in this chapter, will guide you around his boyhood haunts.
Just outside the town is the site of the 1403 Battle of Shrewsbury, now a farm shop, visitor centre and award-winning café. Elsewhere in mid Shropshire we have the estate and Palladian-style manor house of Attingham Park, the Kiwi-style Jessamine Cottage Gardens, the remains of the fourth largest Roman city in Britain at Wroxeter – with a nearby vineyard – and the ruins of a fortified mansion, near to where Edward I assembled England's first ever parliament.