Savouring the taste of Shropshire
Farmers' markets
Tasty bits in Shropshire
Shropshire fidget pie
Accommodation
Savouring the taste of Shropshire
It may not seem true when we visit supermarket chains, stocked as they are with air-flown produce and international brands, but in the past decade Britain has undergone a quiet food revolution. We're rediscovering, where practical and affordable, the importance and pleasures of the local, the seasonal and often the organic. We're more aware of the unnaturalness in eating Peru-grown asparagus with our Christmas dinner, and enjoying food and drink in the way it was grown, sold and consumed in the not too distant past.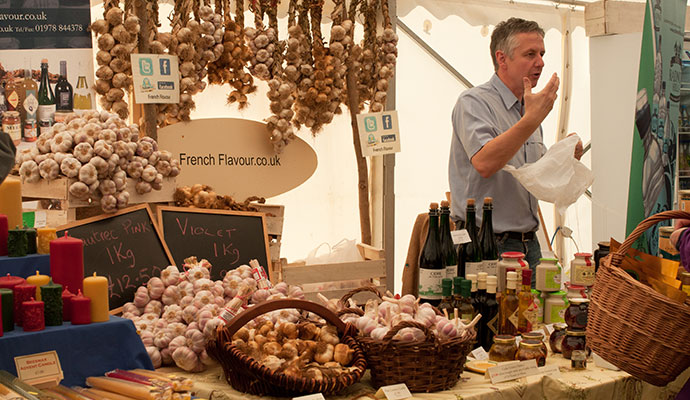 Ludlow, the Slow Food capital of Britain, is home to the country's original food festival © Christopher Elwell, Shutterstock
In parts of Shropshire, where supermarkets are few and far between, one gets the impression that local sourcing has always been the norm; that the rest of the country is simply returning to this older, yet more enlightened, way of thinking. Farmers' markets aren't just a Saturday morning treat for middle-class hipsters (although I promise you'll find some very rock'n'roll cheese in Shropshire) – rather they're reflective of the way things have always been done. And all around the county you'll find beautifully presented farm shops; food festivals (including the country's first, the Ludlow Food Festival in mid September) and innovative chefs pushing at the boundaries of what can be achieved with produce from Shropshire and its neighbouring counties.
Farmers' markets
Shopping at farmers' markets is a great way to source fresh food that hasn't racked up many miles, boost Shropshire's rural economy, help to preserve environmentally friendly small-scale production, and meet the people who made, grew or raised your lunch. Here's a guide to when and where you'll find farmers' markets (the day refers to its place in the month). Most towns have other markets, too, often selling farm produce, so please don't assume this list is exhaustive:
Bishop's Castle third Sat, 09.00–14.00, Town Hall & Market Square
Cleobury Mortimer third Sat (April to October), 09.30–12.30, in and around St Mary's Church
Craven Arms first Sat, 09.00–14.00, Shropshire Hills Discovery Centre car park
Ironbridge first Sun (May–Oct), 10.00–15.00, The Wharfage car park
Ludlow: second and fourth Thu, 09.00–14.00, Castle Square
Market Drayton: quarterly on Sun, 10.00–14.00
Much Wenlock: first and third Fri, 09.00–13.00, The Guildhall
Oswestry: last Fri, 09.00–13.00, Bailey Head
Shrewsbury: first Fri, 09.00–16.00, The Square
Wellington: first & third Sat, 09.00–13.00, High Street and Wellington Community Centre
Whitchurch: first Sat, 08.30–14.00, The Bullring
Accommodation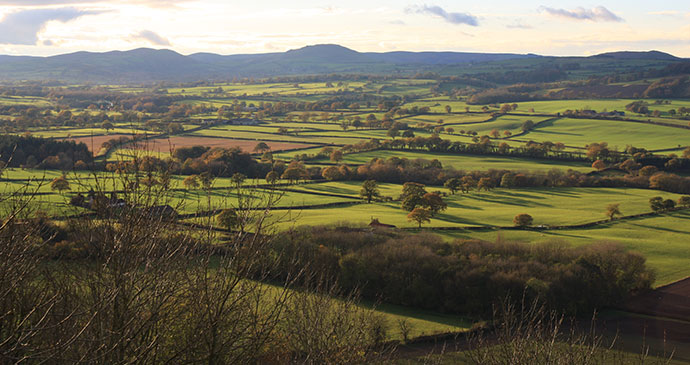 Stretton Hills © Gordon Dickens
There are many ways to holiday in Shropshire. Pitch a tent in the wilderness and indulge in some stargazing. Snuggle up with your beloved in a shepherd's hut for two – or a camping pod, fire truck, or even a former showman's wagon. Check into a cosy B&B with an honesty bar and crackling fire. Or pull up outside a country house like a lord or lady of the manor, knowing your seven-course dinner (with wine flight, naturally) and four-poster bed are waiting…
Here is just a selection of Shropshire accommodation options: welcoming, heartwarming and occasionally quirky places I've either stayed at myself, or which have been suggested to me by people in the know. It is by no means exhaustive and I'd be delighted to hear your own recommendations via www.bradtupdates.com/shropshire.
South Shropshire
Southeast Shropshire
Ironbridge Gorge & The Wrekin
Shrewsbury & mid-Shropshire
Oswestry & northwest Shropshire
North Shropshire