Maybe it's due to the county's rural farming heritage: Shropshire's calendar is illuminated with festivals and fairs, celebrating everything from flowers, steam machinery and ale to sweet peas, coracles and storytelling.
On May Day in Clun a fight on the packhorse bridge between the Green Man and the Frost Queen determines whether summer comes to the Clun Valley. Nearby Aston on Clun is thought to be the only village that still celebrates Arbor Day (or Oak Apple Day), an ancient tree-dressing custom that also commemorates the oak tree which shielded Charles II from Parliamentarians.
Slow Travel Shropshire lists many events held in Shropshire throughout the year. Here's some inspiration for things to do each month:
January
Start the new year with a scramble up Shropshire's 'little mountain'
The Wrekin is arguably Shropshire's most famous landmark, rising surprisingly from a flat plain, and being the very embodiment of home to many Salopians. Scaling steep paths through oak woods to reach The Wrekin's heathland summit is a popular activity all year round, but especially on Boxing Day and New Year's Day.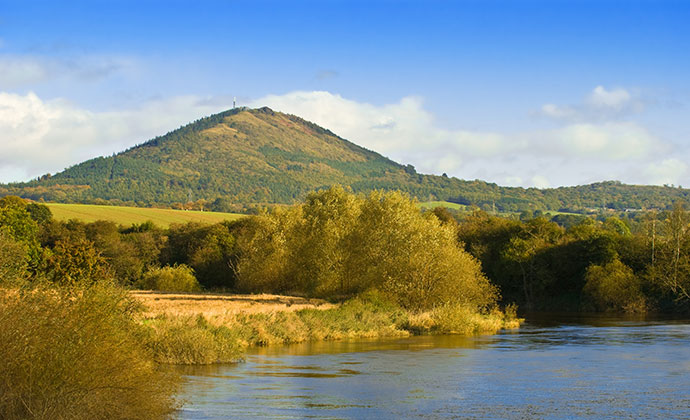 Standing on top, looking out over 15 counties on a clear day (some say 17), leaves you feeling you're at the edge of the world.
February
Celebrate the man who changed our understanding of the natural world
Charles Darwin was born in Shrewsbury in 1809. Every year on his birthday – 12 February – a toast at midday marks the beginning of the Darwin Festival, a two-day event comprising walks, lectures and children's events around the town.
March
Embark on a cinematic journey in small venues around the county
In February and March, the Borderlines Film Festival brings an exciting line-up of independent films to village halls, small cinemas and other rural venues across Shropshire, Herefordshire and the Marches.
May
Ignite a lifelong love for reading in someone small
The country's first and longest-running literary festival just for children, Shropshire Bookfest has been bringing well-loved authors and illustrators to Shropshire each May since 1999. With Jacqueline Wilson as president and Michael Morpurgo as patron, the festival never fails to meet its aim of 'enthusing, engaging and entertaining children through literature and live arts'.
June
Explore the Blue Remembered Hills with old and new friends
Shropshire hosts several walking festivals during the fair months (see also Bishop's Castle, Ironbridge and Wellington); in June it's the turn of Church Stretton Walking Festival, with walks of varying intensity and differing themes. Organised walks are an insightful way to see Shropshire at the right pace with people who understand its geology, history and wildlife – and, I find, often conducive to easy conversation.
July
See where the modern Olympic games began
In 1850 Dr William Penny Brookes founded the Wenlock Olympian Games, to 'promote the moral and physical benefits of exercise' to the people of Much Wenlock. The event then went on to inspire the revival of the world Olympics in 1896. The Wenlock Olympian Games are still going strong today, held on Much Wenlock's Gaskell Field every July.
August
Catch some of the best live folk music from the UK and beyond
The friendly, eclectic and dynamic Shrewsbury Folk Festival takes place over the August Bank Holiday weekend, attracting many of the best new and established folk artists to Shropshire's county town. Book early as tickets tend to sell out.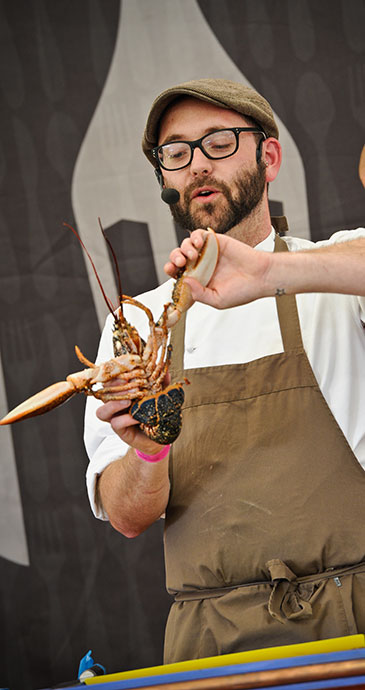 (Photo: Demonstrations from a chef at Ludlow Food Festival © Ludlow Food Festival)
September
Eat and drink the region's tastiest produce at the country's first food fair
The UK's first food festival and perhaps the most famous, Ludlow Food Festival takes over the medieval hilltop town just as autumn casts her first golden glow over south Shropshire and summer gives up her harvest. It's centred on the castle grounds, but trails take visitors into shops and pubs around Ludlow, in search of the best sausages, artisan bread and real ale.
October
Support a lively literary festival in an unsung Shropshire town
Wellington is often overlooked by the tourist trail, but with several real-ale pubs, a recently revived brewery and an abundance of walking opportunities stretching out from the town centre, it deserves more attention from visitors and Salopians alike. In October, the town council's Annual Literary Festival brings local and national writers to Wellington venues – and every event is free of charge.
November
Find the perfect excuse to eat (and drink) chocolate
In November 2014, Shrewsbury chocolatier Julia Wenlock staged the first Shrewsbury Chocolate Festival in the Church of St Mary the Virgin – a dazzling example of a complete medieval church (look for the plaque to Admiral Benbow).
The festival celebrated the finest chocolatiers from Shropshire and beyond, and looks set to grow in popularity year on year. Step in from the November cold and warm your hands (and insides!) with a cup of chocolate-infused mulled wine.
December
Get set for Christmas
There's no shortage of Christmassy events in Shropshire during the festive season, and valuable places to find out what's happening include the Shropshire Events and What's On Guide. One place you can rely on for festive spirit is the National Trust-managed Sunnycroft, near Wellington, which is dressed for a traditional Edwardian Christmas every year – there may well be twinkly tree lights, choirs, and wreath-making workshops.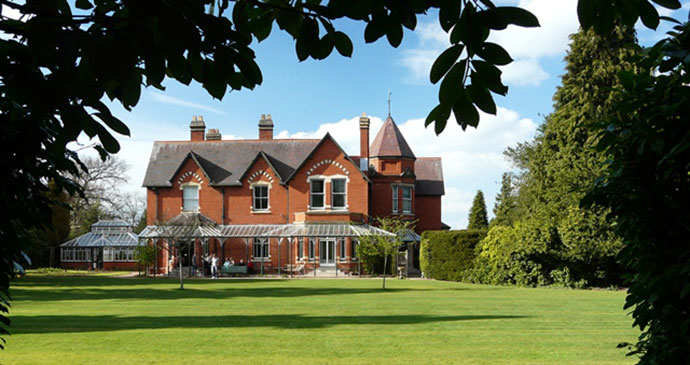 Look out also for A Christmas Carol walking tours of Shrewsbury, celebrating the production filmed in the town in 1984. Although that's over 30 years ago, it's still relevant today if you're interested in architecture, Dickens or the logistics of producing a feature-length film in narrow medieval streets.