Suggested places to base yourself
Getting there and away
Suggested places to base yourself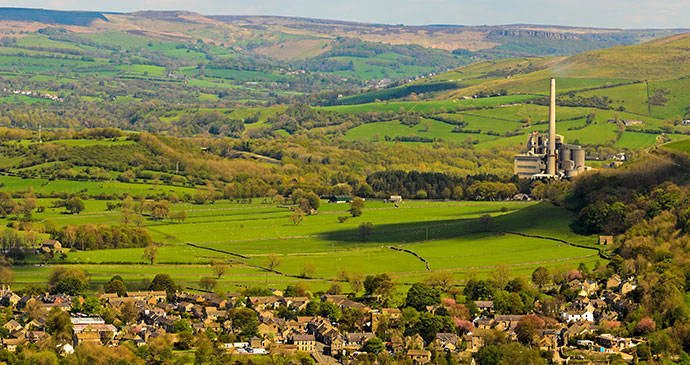 The view over Castleton from Mam Tor © Stephen Meese, Shutterstock
Castleton
At the foot of the magnificent Mam Tor, Great Ridge and Treak Cliff Hill, this village is home to the unique Blue John mineral. A great base for walking, paragliding and caving.
Hathersage
Plenty for climbers, walkers and cyclists, with dramatic rocky edges and the pastoral Derwent Valley.
Holmfirth
Last of the Summer Wine country and doorstep to some magnificent moorland wilderness.
Buxton
High-level spa town with the Buxton Opera House and Pavilion and a buzzing arts scene.
Bakewell
Genteel riverside market town with Chatsworth House and Haddon Hall nearby.
Ashbourne
Delightful Georgian town and southern gateway to Dovedale and the rest of the White Peak.
Wirksworth
Revived market town filled with characterful shops and cafés; mining cottages and quirky alleyways.
Getting there and around
While most trains stop short of the national park, or skirt around its border (the Hope Valley line being the exception), a regular bus service cuts across the Peak District along the A6, linking Derby and Manchester. To visit more isolated areas by public transport takes patience and forward planning, but it pays off. There's no better way to experience the Peak countryside than from the elevated seat of a local bus. For walkers and cyclists, the public footpaths and back lanes that connect these settlements give you a truly Slow experience. For car users, combining road journeys with walking and cycling is the best way to experience the more inaccessible, and the more beautiful parts, of the Peak District.