Climate
The Outer Hebrides are regularly exposed to the extremes of wind and rain but – relatively speaking – enjoy a mild climate, with frosts rare. Many places where you stay will helpfully print out the weather forecast for you to peruse over breakfast: it's not uncommon for such forecasts to predict winds to be 'minimum 2mph, maximum 58mph'. Not only can you experience all four seasons in one day here; stand on a headland in sunshine watching hail across the sea, and it can feel as though you can experience them all at once.
In Stornoway, winter temperatures average 7°C by day and lows of 1.8°C at night; spring time temperatures climb to 9.9°C in the afternoon with overnight lows of 3.8°C. Summer's average high temperatures are 15.2°C, though they can reach the mid-20s°C any time between April and September, with lows of 9.3°C. Come autumn, temperatures typically drop to 11.5°C during the day and lows of 6°C.
Rainfall averages 46.2 inches (1,173mm), and Harris and Lewis – with the exception of Ness – have had significantly higher rainfall over the past 30 years than the southern islands; they are also wetter than most places on the mainland, with the exception of the western Highlands, the Lake District and Snowdonia.
On average, there are 1,234 hours of sunshine per year: Stornoway sees just 50 minutes sunlight per day in December. On Midsummer's Day the islands enjoy 18 1/4 hours of daylight, the sun rising at 04.20 and setting at 22.35, though the nautical twilight continues all night, so it doesn't ever really get pitch black.
When to visit
The islands on the edge of the British Isles offer great extremes – not only of interest throughout the year but also of weather. Late April to the end of June is probably the best time to visit. The days quickly become much longer – although you are some way south of the midnight sun, it never gets completely dark in mid June – and wildlife, on a mission to breed and rear young, is at its richest. April can often be a fine month for weather. A ridge of high pressure driven by anticyclones is a recognised, if not consistent, phenomenon across the islands at the end of May and the start of June.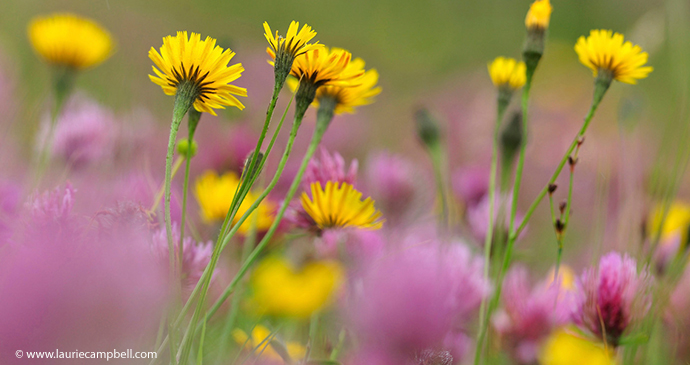 July and August herald the striking spectacle of carpets of wild flowers along the grasslands, known as the machair, along the west coast. Summer also brings many outdoor events, such as Gaelic singing festivals, agricultural shows and local versions of Highland games. It can be hard to get accommodation at short notice during the summer holidays (Scotland's school holidays run from the start of July to mid August), and there is even more pressure on car rental, with prices to match.
Autumn triggers a mass shift in the wildlife of the islands, with birds either migrating south or fleeing the approaching Arctic winter. The dark days of winter are not for the faint-hearted but bring a sporting chance of seeing the Northern Lights and are a superb time to see hardy wildlife toughing things out. At this season, time your visit for a break in the stormy weather and you may witness some of the most extraordinarily wild and battered landscapes you'll ever see. The low winter sun can also show off the distinctively corrugated appearance of undulating moors and age-old farming furrows.
February and March are the prime time to witness the territorial behaviour of golden eagles, which pair-bond at this time, soaring together and locking talons in a breathtaking display. For walkers and cyclists, the same opportunities and guidance that are relevant elsewhere in the UK apply here: check the weather whatever the season, and acknowledge that a good day out in winter can be as wonderful as anything in summer.
Events calendar
January
Northern highlights
This can be a stormy month but keep an eye out for lulls in the weather. High pressure can bring clear skies and the chance of seeing the northern lights.
February
Whisky and weather
February is the perfect month for a cosy break to the islands. Those B&Bs and hotels that keep open at this time of year will give you a warm welcome and generous servings of comfort food. Venture out to a storm-lashed beach such as Garry Beach on Lewis or Uig sands to take in the raw spectacle of elements battering the landscapes in a way you just don't see on the UK mainland – then retire for a whisky in a snug bar.
March
When the feathers fly
Early wildlife lovers can be rewarded with two magical treats at this time of year. Golden eagles pair bond ahead of breeding, locking talons, soaring and swooping in unison in a thrilling aerial tango. A magnificent starling roost takes place, meanwhile, at the lighthouse at the Butt of Lewis; the birds eventually settle on pylons and masts in a manner reminiscent of Hitchcock's The Birds.
April
Piping hot – and cold
You'll get a strong sense of the powerful island identity at the Donald Macleod Memorial Piping Competition in Stornoway, which features some of the world's leading bagpipers. Bring clothes for all weathers to watch it – the weather in April can be tospy-turvy – and it's not unusual to wake up to snow but be in shirt-sleeves by the end of the day.
May
Wildlife wonder
May is the best month for wildlife in the UK and the Outer Hebrides is the best place to see it. A Birds of Prey Trail (www.visitouterhebrides.co.uk and search for 'birds of prey trail') lists 11 locations and two ferry journeys where you have a decent chance of spotting the islands' eight birds of prey. Listen for cuckoos and look out for puffins and whales in the Minch. Spend a day as a foot passenger chugging back and forth from Leverburgh on Harris to Berneray: sit at the back watching Arctic terns and plunging gannets.
June
(Almost) the land of the midnight sun
It's not quite the 'simmir dim', but midsummer brings unforgettably long days when all but 40 winks can separate dusk from dawn. Take a late-evening walk in golden light among the lochs of North or South Uist, or settle down for a sundowner at the Westford Inn on North Uist, the Politician Inn on Eriskay or the bar at the Isle of Barra Beach Hotel.
July
Harvests and festivals
July sees many outdoor events, such as Gaelic singing festivals, agricultural shows and local versions of Highland games. Highlights include Berneray Week and Hebcelt, a celebration of Celtic music held in the grounds of Lews Castle. It is sometimes described as Lewis's answer to Glastonbury. Meanwhile, the South Uist Games and Piping Society Highland Games include classic events such as tossing the caber and tug of war.
August
Magnificent machair
The machair is in its element now – a square metre of these stunning sea meadows can contain up to 45 species of wild flowers, and summer brings millions of bright red and white clover, buttercup, eyebright and orchids. Uig in Lewis, Northton on South Harris and Balranald on North Uist are among the most glorious locations to take in this floral wonder.
September
Head for the hills
Segway tours, raft races and mountain biking are all part of the Isle of Harris Mountain Festival, which takes place this month, allowing you to explore the breathtaking paths, burns and peaks of the North Harris Hills. Expert walk leaders host hikes to suit all abilities, and there also are talks on local culture, wildlife and other points of interest.
October
The art of travel
Several outstanding artists have made the Outer Hebrides home, and autumn is a good time to pop into their galleries to see what they have been up to over the summer. Good ports of call include Anthony J Barber in Ness in Lewis, Judith Entwisle-Baker on North Uist, and Andrew John Craig at the Skoon art café on Harris.
November
Book up now
Book lovers seeking an introduction into Gaelic literature – as well as talks about English works – should head for Faclan. Marketed as the UK's most remote book festival, Faclan is held at the superb arts centre An Lanntair in Stornoway and regularly recruits household names.
December
The empty islands
This is a good month to base yourself in a cosy hotel or B&B in Stornoway and head out to the standings stones of Callanish, open all year round and even more deserted now than in summer, and experience having Luskentrye – truly one of the world's greatest beaches – all to yourself. Treat yourself to fine dining at either the Solas restaurant at the Cabarfeidh Hotel or Digby Chick.