Getting there and away
Getting around
Visas
The Outer Hebrides are part of the UK, so UK/EU nationals do not require a visa. Visitors from the United States, Canada and Australia and other countries need only fulfil the procedures required of them at any UK port of entry before freely visiting the islands. These procedures may change as and when the UK leaves the EU, so non-UK nationals should keep abreast of developments.
All major nations, including the USA, Canada, Australia and countries from Europe and Asia are fully represented by embassies or high commissions (for Commonwealth members). A full list of contact details can be found at www.gov.uk/government/publications/foreign-embassies-in-the-uk.
Getting there and away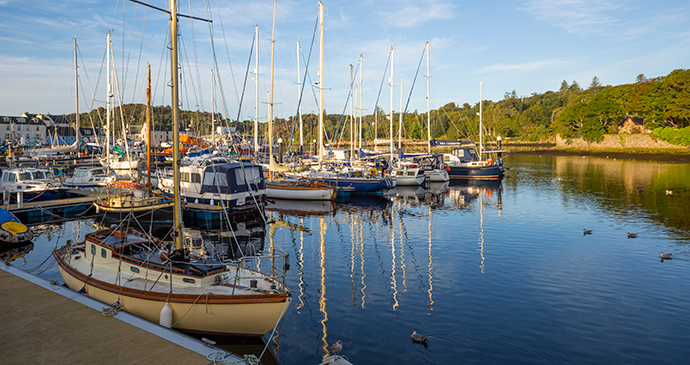 Stornoway Port harbour © Kenny Lam, Visit Scotland
A few preconceptions need to be addressed when it comes to travel to the Outer Hebrides, not least of which is the presumption that they are located beyond the back of beyond. Although the islands are one step further than Skye and Mull, the travel is not particularly onerous, and in any case the old adage of the journey being part of the experience certainly applies. The drive to the ferry ports on the mainland is extremely beautiful, especially the northerly routes to Ullapool or through Skye to the port at Uig.
By air
There are three airports on the islands: Stornoway (Lewis), Benbecula and Barra, all operated by Highlands and Islands Airports. They serve direct flights from Edinburgh, Glasgow, Inverness and Aberdeen on the Scottish mainland and inter-island flights between Barra and Benbecula. Individual services are detailed in the chapters on Lewis, Benbecula and Barra. Flights can be good value if booked in advance, but prices can quickly escalate as demand rises.
The majority of flights are operated by Loganair, which will remain a franchise of Flybe until September 2017. Typical high season fares are £102–150 for a return from Glasgow to Benbecula and £136–258 from Edinburgh to Stornoway. Eastern Airways operates a daily service between Stornoway and Aberdeen. Typical high-season costs are £189–300 return.
International flights are most likely to connect via a London airport to onward flights to Glasgow or Edinburgh, from where you travel the last leg to the islands. In such cases, your luggage should be checked all the way through to the Outer Hebrides, but it is best to confirm this when you check in at your departure airport. You can also reach the Outer Hebrides by beginning your journey at regional UK airports that connect to the main Scottish airports. These include easyJet from London Gatwick, London Stansted, Bristol and Manchester; and Flybe from Exeter and Birmingham International.
By car
Hiring a car is usually cheaper on the mainland than on the Outer Hebrides and is handy if you are flying to Inverness or arriving there or in Oban by train.
In Inverness, the most helpful company is Arnold Clark, who will collect you from the railway station and also have an office at the airport (saving you a large taxi fare into town). Others include Avis, and Hertz. In Oban (where you can join the ferry to Lochboisdale or Barra), contact Hazelbank Motors.
By train
There are no rail services on the Outer Hebrides, but travelling by train to a departure port is a wonderful way to begin your holiday. The Caledonian Sleeper departs Sunday to Friday from London Euston and splits en route to travel to Inverness (from where it is easy to travel to the ferry ports at Ullapool or Uig on Skye) and Fort William (for ferries from Mallaig and Oban). Compartments sleep two people, though families can usually arrange for adjacent cabins with adjoining doors. There are also reclining sleeper seats. The buffet car is a jolly place to launch a holiday over a glass or two, and you can order breakfast after waking up with views of the Highland glens. One-way fares from £40 for a reclining seat, £80 for a bed.
By sea
The majority of visitors to the Outer Hebrides arrive by ferry. Caledonian MacBrayne or CalMac enjoys a near monopoly of maritime services. CalMac operates five services from the mainland to the Outer Hebrides. For the latest timetables, visit the website. It's worth bearing in mind that while departure times are fixed, ferries do occasionally leave ahead of time to keep clear of incoming bad weather. Travellers with special mobility requirements or parents with young children should inform check-in staff upon arrival. Staff are extremely helpful and will arrange for you to be boarded close to a lift on the ship.
The cost of travel to and from the islands remains a running sore for locals but, for ferry journeys at least, the picture has improved since the introduction of the Road Equivalent Tariff, a distance-based fares structure that has taken the sting out of the cost of sailing with a vehicle.
Getting around
By car
Almost all roads are paved and in generally good condition. A network of main roads, known as the Western Isles spinal route, runs from Stornoway on Lewis all the way south, under different road numbers, to Lochboisdale on South Uist. The islands collectively have 439 miles of A, B and C roads and 302 miles of unclassified roads.
Driving times are listed in the individual island chapters but you should not underestimate how long even seemingly modest distances may take. If you start your day on Barra aiming to reach Stornoway – which is not recommended – you are likely to be exhausted as well as financially poorer from the sizeable cost of petrol and the two ferry journeys.
First-time visitors to the Outer Hebrides are often caught out by the single-track roads, particularly where these abruptly replace stretches of A-road with little or no warning. Single-track roads are always generously sprinkled with passing places, usually at least every 100yds. The most stress-free way to approach them is to park your ego and maintain a default disposition to yield to oncoming vehicles. Also, be sure to let vehicles overtake you on single-track roads: they may be a doctor or other key worker on call. Never use passing places as parking spaces (if you do pause in one to watch deer, eagles or look at the view, be prepared to move on if a car approaches). If you park up on the side of a road, do so with care and thought for other road users.
Camper vans Berthing your camper van overnight and waking up overlooking the machair or a vast beach to call your own is one of the great Hebridean experiences. People bring their own camper vans over from the mainland, but you can also hire locally through Harris Classic Campers; available May–Oct; high season £695 per week) based at Seilebost on Harris. Just be mindful, however, of how much diesel you'll need to get your gas-guzzling vehicle up and over the North Harris Hills.
Car hire It can be expensive to rent cars on the islands, particularly in high season, when you may not get much change out of £900 for two weeks' rental. Rentals are cheaper on the mainland, but you then need to factor in the cost of the ferry and mileage to get to Uig on Skye, Mallaig, Oban or Ullapool. Details of rental
companies can be found in the individual chapters. Some companies now offer electric vehicles, which bring significant savings on fuel.
By bus
Services are generally reliable but infrequent. They reach every nook and cranny of the islands, from the remote eastern shores of Harris to the lonely townships of Uig on Lewis or the west coast of South Uist. Almost everywhere tourists might want to visit is theoretically accessible by bus. Services are singledecker buses in and around Stornoway and often minibuses in more remote areas.
On the northern isles, buses tend to operate in and out of Stornoway. Further south, on the Uists, Benbecula and Eriskay, routes are geared around the main spinal roads and operate in two zones, from Lochmaddy on North Uist to Balivanich on Benbecula; and from Balivanich through South Uist to Eriskay. Although more intermittent outside Stornoway, services are reliable and, with careful planning, visitors can base days around them with confidence. (The same cannot really be said for locals, who find getting to a hospital appointment on a separate island by public transport is often impossible.) Many routes are tied to the start and end of the school day and so have long gaps between services; others need to be booked the day before by calling the driver or bus company – all numbers are listed in timetables on the website. You can also usually flag down buses, as long as it safe for the driver to stop. With all journeys, you are strongly advised to check with the driver the time and pick-up point for your return journey. A comprehensive summary of all routes can be found at www.cne-siar.gov.uk (use the menu to find 'bus services'). All tourist information centres provide details of bus services, as will many places where you stay.
By ferry
CalMac operates two inter-island ferry services. The Harris–Berneray ferry from Leverburgh to Ardmaree is the north–south link between Harris and the Uists. The journey through the Sound of Harris is beautiful and takes around an hour. Further south, a 40-minute ferry ride links Eriskay with Ardmore on Barra. Those connecting from one ferry to another should note that Ardmore is some 15 minutes' drive or 8 miles, about as far as it is possible to be on such a small island, from Castlebay where you will find the ferry port to Oban.
By hitchhiking
Catching a lift is perfectly feasible and, given the friendliness of local people, can be socially rewarding. The islands' reputation for safety means you should expect few issues; nevertheless, always use your judgement and talk to a driver before committing yourself. One factor to bear in mind is the remoteness of townships from one another and the intermittency of traffic off the main roads: you may end up waiting a long time for one of the very few drivers headed for a particular township, and then you have no guarantee they will want to pick you up.