Climate
When to visit
Highlights and suggested itineraries
Climate
Orkney enjoys a hyper-oceanic climate, which means that it is cool and wet all year around, with temperatures averaging 5°C in winter (but sometimes as low as –5°C) and 15°C in summer (with occasional highs in the mid-20s°C). This is largely due to the Gulf Stream, the current of equatorial warm water that travels northeast across the Atlantic Ocean then around the British Isles. North Ronaldsay for example is a good 5°C warmer than anywhere else on the same latitude, such as Newfoundland or Kamchatka in the far east of Russia. Good and bad weather can happen at any time of year. You may get a 60mph gale fly through in June; as a counterpoint, winter is frequently alleviated by a week here or there of glorious weather. The period from October to January sees the most rain and, for somewhere so far north, Orkney can produce solid tropical downpours that ping off your waterproofs like buckshot.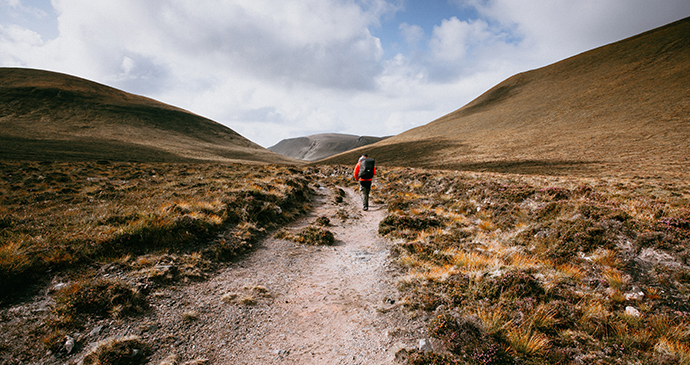 Orkney's climate is generally cool and wet all year, so bring appropriate clothing if you're planning to hike © Orkney.com
That Orkney ferries run their winter timetable from the end of September to the start of May tells you much of what you need to know about prevailing weather trends. From November through to end February nights are long. The shortest day sees the sun rise at 09.04 and set at 15.15.
March and April often bring the North Sea haar, a chilly sea mist, to the northern isles. This can sit all day or suddenly evaporate to reveal bright blue skies. May is historically the sunniest month. The pay-off for the long winter is the extended hours of summer light, with the sun rising on 21 June well before 04.00 and setting at 22.30 – though a half-light persists beyond midnight, particularly on the most northerly islands of Westray and North Ronaldsay.
Orkney has plenty of wind: the average wind speed across the islands is a remarkable 38mph; the highest recorded speed was 125mph on 31 January 1953. As with the rest of the UK, the first storms tend to arrive in late September. Unlike the rest of the country, Orkney generally just takes them in its stride.
When to visit
Orkney is a year-round destination with every season offering reasons to come here. Regardless of date, the natural world always has something for everyone – as does the manmade environment, with festivals, dances and events held throughout the calendar. And it's best not to plan around the expected weather – clement and inclement conditions can transpire at any time of year. A week in July can be damp, cold and soggy; conversely, November may bring clear skies and magical sunsets.
For good reason spring and summer are by far the most popular times to visit. By the start of May, the avian race to breed is on and the sky is full of birdlife; wildflowers are emerging in all their glory along clifftops, in fields and even on roadside verges. The weather warms up and, statistically, this is the driest time of year. High summer brings endlessly long days where, although the sun officially drops behind the horizon for 5 hours or so, there is a magical half-light that hangs on into the small hours. Summer months are also good if you are keen on archaeology, as this is the time when many researchers and students are liberated from university lecture rooms and get a chance to dig up Orkney's landscape. Regular excavations continue every summer at the Ness of Brodgar, on Rousay and Westray – but you may see similar signs of activity anywhere.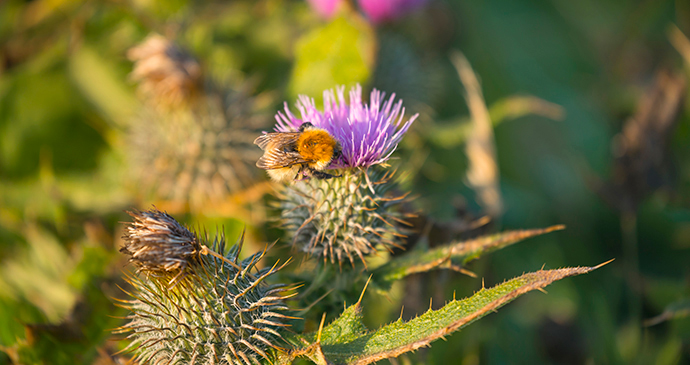 Spring and summer are undoubtedly the best time to visit Orkney © Kenny Lam, VisitScotland
By September, autumn is already firmly in place. The modest woodlands sprinkled across Orkney are turning orange and brown, while long skeins of geese cut through the skies as they retreat from the oncoming Arctic winter. The secret is slowly getting out that late autumn to early spring is as good a time as any to visit Orkney. Yes, the days are shorter and deepest February can sometimes be grim, but wandering around windswept islands and burial mounds at dusk on such days offers an unrivalled opportunity to embrace your inner Neolithic ancestry. Autumn sees an increase in storms: an Orkney hoolie (a Scottish term for a gale or storm), with 36 hours of winds that never dip below 70mph, is something to behold – but there again a period of high pressure may allow you to enjoy several successive stunningly clear, still days. Off peak, it is likely you will have the guide to Maeshowe to yourself; in July you will share the minibus that takes you to the site with 30 others. And on the wild side, October is prime pupping time for the colonies of grey seals.
Winter brings a sporting chance of catching the Merrie Dancers, or northern lights – you are more than far enough north to spot them. Stand outside on a clear December night and it can feel like you are in the middle of a planetarium. On the Mainland in particular shops, most B&Bs and hotels and major attractions stay open all year, allowing you to enjoy them without the crowds of high season. As David Loutit, owner of The Creel guesthouse in South Ronaldsay, puts it: 'Orkney is completely different in winter. Yes, it's a little colder, it's a little windier, but the storms are fantastic.'
Highlights and suggested itineraries
Highlights
Most visitors are initially drawn to Orkney by its headline attractions: the Neolithic sites of Skara Brae, Maeshowe, the Standing Stones of Stenness, the Ring of Brodgar and Ness of Brodgar – all on the West Mainland – along with the Italian Chapel, built by prisoners of war. Yet there is just so much more to see, particularly the magnificent North Isles, which are rich in archaeology, birdlife and dramatic coastal scenery, and additionally offer the chance to encounter a very different kind of island life.
The Mainland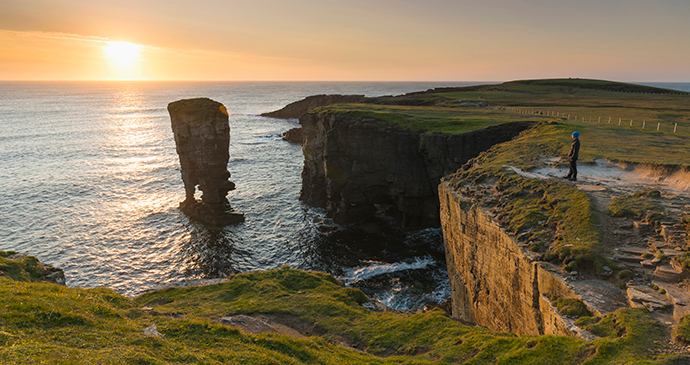 The seastacks around Yesnaby are a highlight of the Mainland © Kenny Lam, VisitScotland
It's true enough that the Neolithic sights of the West Mainland really do exceed what may already be high expectations. Without fail, they offer haunting insights into the Stone Age and the peoples who built them and lived and died there. But the glory of the Orkney Islands is that these 'blockbuster' sites are just the headline acts. Several sites located either side of Skara Brae, on the west coast of the West Mainland, should be on your list. These include the Brough of Birsay, a defensive headland reached by a causeway only passable at low tide, and the fractured cliffs and seastacks around Yesnaby. The Broch of Gurness is an extraordinarily complete Iron Age site, far less visited than Skara Brae but where you can actually walk among the remains; it is adjacent to Evie beach, one of Orkney's loveliest stretches of sand. Orkney's 'capital' Kirkwall exudes a far greater appeal than most such towns, while exploring the quaysides, higgledy-piggledy streets and art galleries of Stromness should definitely be on your list. The East Mainland is much emptier and repays exploration around the rugged headland of Deerness and the sandy isthmus of Dingieshowe.
The South Isles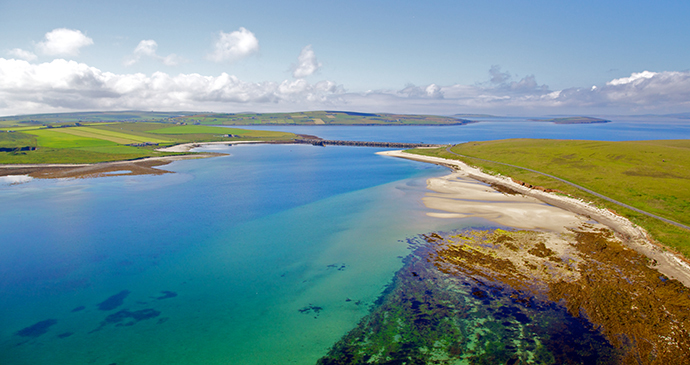 The Churchill Barriers are a truly extraordinary engineering feat © Orkney.com
South of the East Mainland you'll find the Churchill Barriers, a feat of urgent wartime engineering that links several islands. Down this way is also St Margaret's Hope, a gorgeous pint-sized port with fetching architecture and a strong arts culture. Meanwhile, be sure to walk, drive or take a bus somewhere along the lengthy shoreline of the vast natural harbour of Scapa Flow.
On the western side of Scapa Flow lies the hilly island of Hoy, whose key appeal is the beautiful walk through Rackwick Valley and along cliffs to the great sea stack known as the Old Man of Hoy. The island's 20th-century wartime history is important: the small port of Lyness is the place to learn more.
The North Isles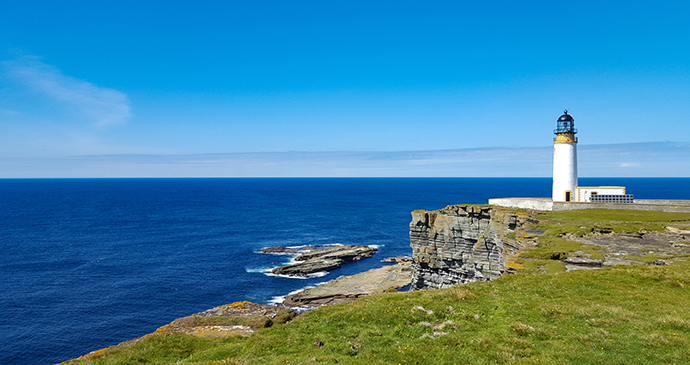 Noup Head lighthouse is an icon of Westray © Chris Noe, Shutterstock
Do consider a visit to one or two of Orkney's truly wonderful and almost entirely overlooked North Isles, a collective term for the ten inhabited islands set in the waters north of Kirkwall. On Stronsay take a walk to the spectacular sea arch known as the Vat of Kirbuster. Across the water the island of Sanday offers more than 25 graceful beaches and the alpine-like dunes of Cata Sand. There's a strong case for arguing that the Midhowe Cairn and Broch on Rousay are the equals of Skara Brae, as well as being free of crowds. Perhaps the most dramatic landscape feature of all is Noup Head lighthouse on Westray, perched above shudderingly vertical cliffs jam-packed with seabirds. On the adjacent island of Papa Westray lies the Knap of Howar, Europe's oldest house, which was built before Skara Brae and remains as fully intact. Tiny North Ronaldsay is the most remote of the islands: it offers the striking spectacle of seaweed-eating sheep that live outside a drystone wall that encircles the island.
Suggested itineraries
A week
Watch the coaches unload their punters who have booked 'Orkney-in-a-day' trips and you are left scratching your head. 'Doing' Orkney in three months would not be enough time to experience everything the islands have to offer. Certainly, you require at least a week here to get a flavour of Orkney. In seven days you should focus your attention on the Mainland, visiting the Neolithic sites at Skara Brae, Ring of Brodgar, Maeshowe and Stenness. Try and spread these out over the week, to avoid getting 'tombed out' and so that you can time visits for when crowds are thinner and the weather better. In between, Stromness is worth a day of exploration and you can visit St Magnus Cathedral and the Orkney Museum in Kirkwall. Explore the clifftops at Yesnaby, Marwick Head and the Brough of Birsay, along with the Brough of Gurness. South of Kirkwall, visit the Italian Chapel and St Margaret's Hope. Take a day trip to an island: Hoy, where ferry schedules give you time to walk to the Old Man of Hoy and back, or Rousay.
A fortnight
In two weeks, you can explore the Mainland further, perhaps walking around Mull Head in Deerness and the southwest and eastern coastlines of the adjacent (and connected) island of South Ronaldsay. If the weather looks promising, enquire about short-notice availability for a 'sightseer' flight to an outer island, such as North Ronaldsay, where you stay on the aircraft while it turns around. You'll be out there and back within the hour. You also have time to spend three or four days exploring a couple of the North Isles by ferry – perhaps Westray and Papa Westray, or Sanday and Stronsay.
Three weeks
The luxury of three weeks would allow you to stay longer on a North Isle, which is really recommended as way of seeing how island life hangs together. Westray would be a good first choice, with its superb scenery, range of shops and accommodation. If you are really looking to get away from things, head to the emptiness of Eday, which offers rugged moorland walking, or to North Ronaldsay.