Visas
Getting there and away
Getting around
Visas
Orkney is part of the UK, so entry requirements only apply to the port at which you arrive in the UK: you can freely travel between the UK mainland and Orkney. After the UK leaves the European Union, documentation requirements for EU citizens may change. Check before travelling. Whatever happens, one principle will apply: once in the UK, you are freely able to travel to Orkney.
Getting there and away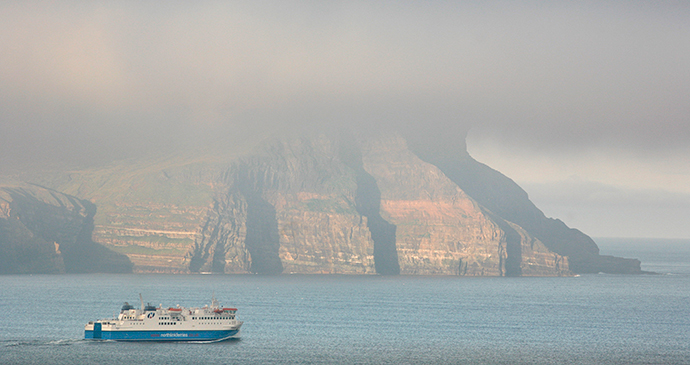 Ferry journeys to and around Orkney are experiences in themselves © Paul Tompkins, VisitScotland
For somewhere so far north, Orkney is remarkably accessible from the British mainland. Most people travel by car and ferry; train and ferry is a viable option, as is flying (albeit more expensive).
By sea
Orkney is served by three car-ferry routes and a seasonal foot-passenger ferry.
The most popular crossing is the Scrabster–Stromness service on the MV Hamnavoe, operated by NorthLink Ferries, which runs up to three times a day between Scrabster pier, 1.5 miles west of Thurso on the north coast of the Scottish mainland, and Stromness on the Mainland. The other major car-ferry route to Orkney runs from Gill's Bay, 5 miles west of John O'Groats, to St Margaret's Hope on South Ronaldsay. The service is managed by Pentland Ferries and runs up to four services per day on a catamaran. At just 1 hour this is the quickest car crossing to the islands.You can also travel the Aberdeen–Kirkwall route with the NorthLink Ferries service that sails between Aberdeen, Orkney and Shetland.
Between May and September, a seasonal foot-passenger ferry operates two to three times a day from John O'Groats to Burwick on South Ronaldsay. The journey time is 40 minutes.
By air
Flights from the UK mainland go only to Kirkwall and are provided solely by Loganair. The airline handles flights from Glasgow, Edinburgh, Aberdeen, Inverness and Manchester as well as Stornoway (Hebrides) and Lerwick (Shetland).
If flying from outside Scotland, either from the UK or internationally, you will need to transit through a Scottish airport (the sole exception is Loganair's Manchester–Kirkwall flight) to reach Orkney.
Getting around
Even how you explore the outer islands is likely to prove a memorable part of your visit. In practice, most people will bring a car simply to cover more ground more quickly; a private vehicle is comfortably the most convenient means of getting from A to B. But even if you do drive, consider complementing your travel with buses or cycling; ferries and air travel also offer unforgettable experiences. Many visitors make the mistake of travelling to the Outer Isles as foot passengers. With the exceptions of Papa Westray and North Ronaldsay, this will severely limit what you can see and do on the islands as bus services are all but non-existent, most sites are located away from the ports and very few have anything that resembles a tourist office. The reality is that most of the outer islands feel too big to take a car to but are just too small to explore on foot. Cycling is a good compromise.
By car
Orkney's roads are almost universally good. A comprehensive network of A roads with one lane in each direction reaches most parts of the Mainland and continuesall the way down South Ronaldsay via the Churchill Barriers. Be aware that thanks to the many bends, and locals zooming up behind you, motoring on the Mainland requires a good deal of concentration, so whoever sits behind the wheel may miss out on the scenery. Some roads on the Mainland and the majority on the islands are single-track roads with passing places. The latter concept can throw you if you're not familiar with it. The easiest thing is just to have a default attitude of yielding to let others come past. Smiling and waving at fellow motorists makes things all the smoother.
By bus
Bus services on the Mainland (and across the Churchill Barriers to South Ronaldsay) are good but rare to non-existent on the Outer Isles. On the Mainland, all major sites can be reached by bus and a good service links Kirkwall and Stromness. Try and get hold of Travel Times, an excellent free booklet listing summer timetables for all bus and ferry services. You should find it at the Visit Scotland information centre in Kirkwall and the adjacent Kirkwall Travel Centre. The same information is online at orkney.gov.uk/transport, though picking your way through the clicks and scrolls is a little laborious.
By ferry
All inter-island ferries are operated by the council-owned Orkney Ferries. Fares are usually paid on board. Orkney Ferries also offers an Island Explorer pass, which offers ten consecutive days of unlimited travel for foot passengers – note that bicycles are carried for free.
The South Isles of Hoy, Graemsay and Flotta can all be reached by ferry. Lyness (halfway down the east coast of Hoy) and Flotta are served by a vehicle ferry from Houton, 8 miles southwest of Kirkwall. A separate foot-passenger service runs between Stromness, Graemsay and Moaness in North Hoy.
The majority of the North Isles (Shapinsay, Stronsay, Eday, Sanday, Westray, Papa Westray and North Ronaldsay) are served from Kirkwall. The exception is Rousay, which is reached from Tingwall, 12 miles west of Kirkwall; this route also takes in Egilsay and Wyre. All these services take vehicles. A separate foot-passenger ferry connects Westray and Papa Westray. You'll sometimes hear people on the Mainland describe – tongue in cheek – the islet of Galt Skerry, just to the north of Shapinsay (the island closest to Kirkwall), as the edge of the civilised world: beyond lies the unknown, Orkney's Ultima Thule. Journey times vary from 25 minutes to Shapinsay to 90 minutes for direct sailings to most other islands.
By air
You can fly from Kirkwall to six of the North Isles, with regular services to Stronsay, Westray, Papa Westray, Sanday and North Ronaldsay, and less frequent flights to Eday. All flights to the outer islands are operated by Loganair. Some flights are direct, others call in at one or more other islands. Note that it is not possible to check through to these islands from flights originating outside Orkney: you need to leave adequate time to reclaim your bags at Kirkwall and check in again. The Westray–Papa Westray route, famously the world's shortest scheduled flight at 1 minute, is not the only flight that you can blink and miss: journey times are usually 8–15 minutes in duration.