The author's take
There's an ancient ring to the name 'Orkney'. In the mind's eye it can conjure up a timeless landscape, where, for more than 5,000 years, people have settled and then moved on. In their wake, they left their still-visible imprints, from Neolithic villages and chambered cairns to Bronze Age burial mounds, Iron Age brochs, Viking graves and medieval churches.
Yet Orkney is about so much more than its astonishing archaeological heritage. True enough, visiting the islands and not seeing the prehistoric village of Skara Brae or the burial chamber of Maeshowe would be like skipping the Pyramids of Giza in Egypt or the Great Wall in China (the Orkney structures are, incidentally, older than both those famous sites). And you should indeed explore the Mainland, as, logically enough, the main island of Orkney is called, where you will find the other key Neolithic sites of Maeshowe, the Ring and Ness of Brodgar and the Standing Stones of Stenness.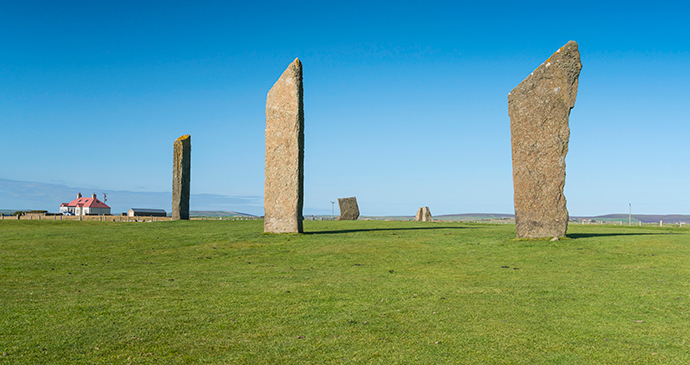 The Standing Stones of Stenness are one of Orkney's premier archaeological sites © Kenny Lam, VisitScotland
Yet in many respects these are simply a gateway into an extraordinary island chain. Stand on Ward Hill on Hoy, Orkney's highest summit, and you can see all but one of the archipelago's 70 or so islands laid out around you. Look north and, beyond the Mainland, the skyline blurs then sharpens into the solid lump that is Rousay, behind which the headland of Noup Hill on Westray pokes out westwards. Turning to the northeast, Sanday's long, spindly backbone appears as a curtain draped behind the neighbouring island of Stronsay. Everywhere, there is water: most substantially right in front of you lies the natural harbour of Scapa Flow, graveyard to many wartime ships yet nevertheless bulging with wildlife. Across this water, far to the east, more islands drill south – Burray, South Ronaldsay – tapering sharply into the ski-jump contours of Barth Head.
Each island is distinctive, often markedly, sometimes subtly, in terms of its scenery, history and way of life. Explore these and you will discover that Westray has cliffs as thrilling as any on the Orkney Mainland; that Rousay has equally ancient and impressive – but little-visited – prehistoric sites; that Papa Westray has the oldest Neolithic house of all; that Sanday boasts the greatest number of glorious beaches; and that Stronsay hosts these islands' most extraordinary natural arch. Not only does Hoy have the highest hills but also, in the Old Man of Hoy, the most iconic sea stack of them all. Not all of Orkney's appeal is either natural or beautiful, for the paraphernalia of the world wars is among the most complete you will find anywhere.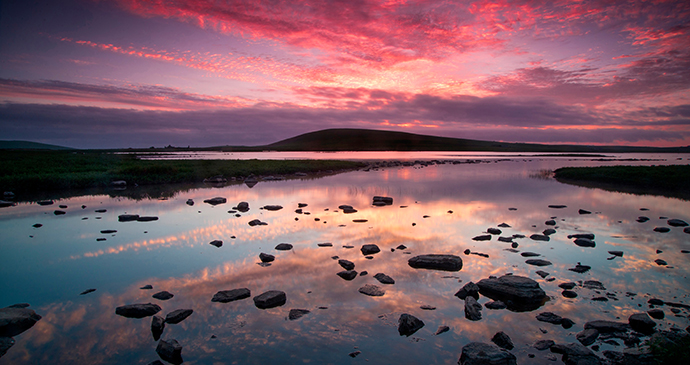 Orkney is famed for its spectacular landscapes © Ian Cooper Images, Shutterstock
Getting around these islands is likely to be a memorable part of your journey. Take the world's shortest flight, from Westray to Papa Westray, and you may be up and down in less than a minute. Yet hop on an inter-island ferry and you can take two hours or more to reach lonely North Ronaldsay, during which you may spot the heather-blether, a beautiful Orcadian term for a mirage where islands vanish as you sail between the North Isles in summer.
You may strike lucky with the weather and visit during a spell of summer warmth, when the sun barely sets and creates an unearthly twilight where dusk metamorphises into dawn. Or you may find yourself tramping along the magical dunes of Cata Sand during a thick haar or North Sea mist. Your enduring image of Orkney may well turn out to be a cloth-of-gold dawn sky seen from Papa Westray; a gull atop a wobbling sea stack; walking in Stromness in broad daylight at 22.30 with fiddle music ringing out from three different directions; or the waters of Scapa Flow, which will form a ubiquitous backdrop to your holiday. Visitors are also constantly surprised at just how good Orkney food and drink is: the emphasis on local produce is impressive, from shellfish to North Ronaldsay lamb – reared on seaweed – and whisky from the world's most northerly distilleries. Orcadians too will form part of your memories, from gentle but sharp-witted accommodation hosts to those who will altruistically go the extra mile for you.
Stare at a map of Orkney for long enough and, rather like a magic eye puzzle, the image of a stag can slowly emerge (the rump is the Mainland, Hoy forms the hind legs, Eday the nose and Westray and North Ronaldsay represent the antlers). The same applies to a visit to these islands. Much of their appeal is ancient and obvious; but just as much is timeless and will only slowly reveal itself.
The author's story
My first visit to Orkney back in 1988 was probably similar to that of many people who come to these islands. I stayed in Stromness for a couple of days and visited Skara Brae and the Ring of Brodgar. Then I went home. The main research for this guide took place over nine months in 2018 but this built upon more than 20 visits in the intervening years during which time I quickly realised there was a land to be explored beyond Orkney's Neolithic epicentre.
Towards the end of researching this book, I was waiting with my son at North Ronaldsay airfield for the tiny eight-seater aircraft to whisk us back to Kirkwall. Out of sight, along the coast, we could hear seals 'groaning'. Oscar opened the door to the airfield 'terminal' – which had the dimensions of a large garden shed – and a wren fluttered out. Then we were off. As the aircraft flew in an arc south I looked out and realised that I could now identify not just the islands but every beach and township and even pinpoint some of the less heralded of the islands' countless burial mounds. I'd also walked across just about every edge of coastline and island lanes.
My strongest impressions certainly include the archaeological sites but they range further: walking through a sea mist on Sanday to emerge on dunes at Cata Sands, watching gannets fly past at arm's length on Westray, astonishing sunsets on Stronsay and wondering if 10.00 is too early to eat a chocolate brownie from Argo's bakery in Kirkwall (it isn't).
As much as anything, I cherish Orkney for being somewhere that shows us all that human beings can live on a developed 21st-century island and still have time for others and work with the environment rather than against it.