Eating and drinking
Accommodation
Eating and drinking
Food
From local beef to salmon, shellfish, oatcakes, cheese and lamb, food in Orkney has undergone a revolution over the past 20 years. Drawing heavily on the sea and fertile soils, Orkney was promoting local and 'slow' food long before the concepts became fashionable in metropolitan areas of the UK. All local food has a kitemark, 'A taste of Orkney', and it is unusual to come across any restaurant or local shop that does not steadfastly emphasise its Orcadian credentials. Foodies will enjoy indulging in the excellent website orkneyfoodanddrink.com, which features a comprehensive listing of producers and retailers. An astonishing number of local food outlets and family producers, from bakers to butchers, go back more than 50 years – and some more than 100 years.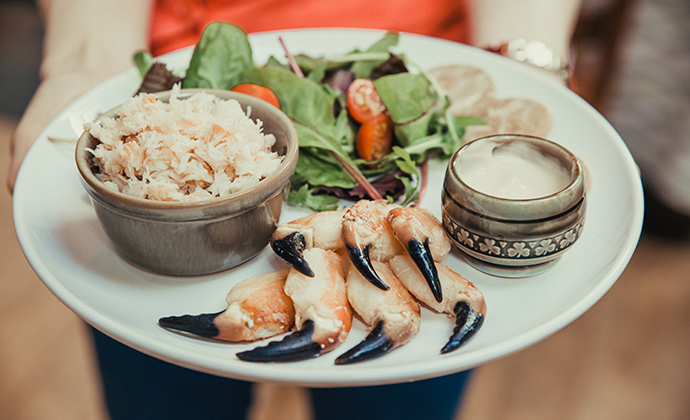 Orkney has undergone a foodie revolution in the 21st century © Orkney.com
Fish and shellfish are ubiquitous and delicious. Look out for fresh shellfish from the Stromness-based Orkney Fishermen's Society: scallops, brown crab (all edible crabs are known locally as partans) and lobster, along with langoustines from Scapa Flow plus line-caught mackerel and other fish from Westray. Cullen skink, a traditional Scottish dish of smoked fish, cream and potatoes, becomes a high art in Orkney. Another classic Orcadian dish is clapshot – potatoes and turnips cooked and mashed together, generally served with sausages or salmon.
You will find Orkney beef on just about every menu and can also buy it from venerable producers such as E Flett in Stromness and Donaldsons of Orkney in Kirkwall. Almost as common is North Ronaldsay lamb, possibly Orkney's best-known food export. The lamb is prized for its salty taste, a flavour that results from the fact the sheep enjoy a diet of seaweed.
Dairy produce is also of high quality. The only Orkney cheese you usually see in supermarkets on the UK mainland is an orange cheddar. This is a shame given that several excellent local cheesemakers are based on the islands. Varieties include crumbly cheeses originally produced by Hilda Seator at Grimbister Farm Cheese (a business now run by Hilda's daughter-in-law, Ann); her flavours include chive, garlic, whisky and walnut. The Orcadian penchant for combining refinement with lipsmacking, calorie-laden dishes probably reaches its apogee in the form of Grimbister cheese served in deep-fried wedges, which you will often encounter in restaurants. Of similarly high quality are the smoked cheddars produced by the Island Smokery in Stromness, which are flavoured with whisky or apricot or black pepper as well as green tomato chutney. You should look out for Westray Wife, a tangy cheese produced by Wilsons of Westray.
Drink
Island whisky is considered a strength, particularly the liquid distilled at Highland Park, the world's most northerly distillery. Its rival, Scapa, lies barely a mile south. Good and varied, Orkney beer was riding the craft wave some time before it became fashionable in the rest of the UK. Two local breweries will keep real-ale fans content. The players here are Swannay Brewery whose Scapa Special and IPA are perennially popular; and Orkney Brewery, whose range includes the signature Dark Island brew and the lighter, citrus-flavoured Corncrake ale. Both breweries are located on the west of the Mainland; you will see their beers sold everywhere and most pubs will have them on draft.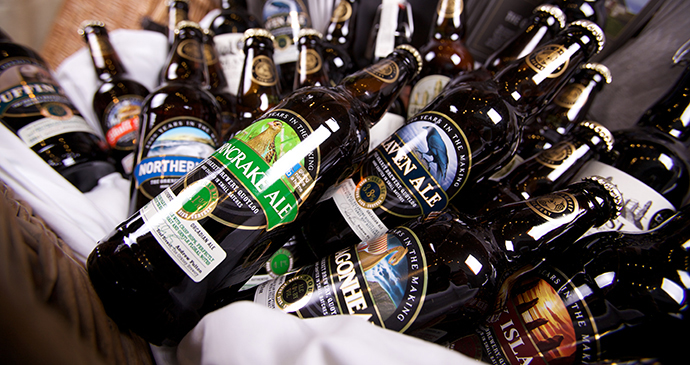 Orkney was riding the craft-beer wave some time before it became fashionable in the rest of the UK © Orkney.com
In recent years gin distilleries have popped up: Kirkjuvagr Orkney Gin on the Kirkwall waterfront; the Orkney Gin Company on Burray; and the Deerness Distillery in the southeast of the Mainland. All three have tapped into the craft gin movement, offering everything from Seville orange- to cinnamon-flavoured liver ticklers.
Accommodation
The default level of accommodation on Orkney is good and ranges from characterful older properties converted from their original function to new builds that can occasionally be stylish. There are very few places that could be described as truly high-end, and places that charge top-range prices are usually mid-range (but decent) in standards. The Mainland has a huge amount of accommodation, from hotels to B&Bs and self-catering but, even so, it is best to book ahead if you're staying between June and August. On the Outer Isles accommodation is much more limited – something that almost all are trying to address – and you should always ensure you have a bed waiting when you get off the ferry. If you are out on the North Isles and there is a sudden bottleneck – when weather halts the flight and ferries – you will not be left stranded. Someone will always ring around and find you a room.
Prices will generally seem pretty reasonable and not dissimilar to what you would pay on the UK mainland. While most places take credit cards and some can manage online bank transfers, definitely check in advance. Most places stay open all year, though many close around Christmas and New Year. Most places offer discounts for stays of more than a couple of days and all hotels and B&Bs drop their prices over winter and in the shoulder months of March/April and late September/October. You can usually negotiate quite successfully at these times of year.
Many providers on the Mainland and especially on the offshore islands offer evening meals. These can sometimes be dining experiences that verge on the epicurean and better than many restaurants will offer; more often they will be standard but filling fare. Even those providers that don't formally offer dinner will usually rustle something up if you arrive on a ferry delayed by bad weather.