Visitors to the region will be struck by how many restaurants, pubs and food stores have got behind the organic and local food revival. Many menus in good restaurants and cafés state the provenance of ingredients as standard practice; pubs serving regional ales are now too numerous to list; and I found plenty of B&B and hotel owners taking pride in serving local foods (look out for the Produced in Northumberland accreditation when booking accommodation).
Northumberland boasts many of the best salmon and trout rivers in England, extensive game moors and working fishing communities, so it makes sense. Famous names you will undoubtedly come across on your travels include Craster Kippers, Lindisfarne Oysters, Pumphrey's and Pilgrim's coffees, Chain Bridge Honey, Doddington Dairy, the Northumberland Cheese Company, and Allendale and Wylam breweries.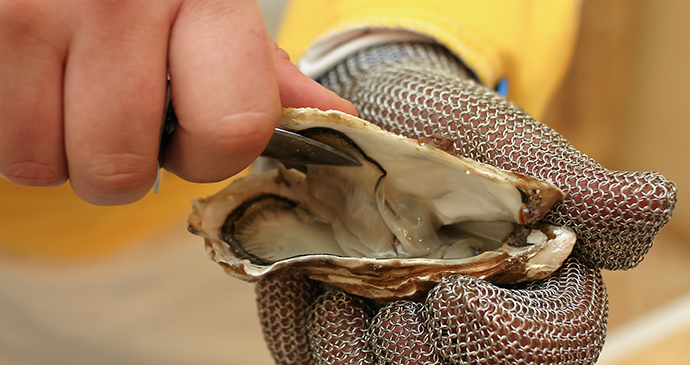 For those self-catering, you'll find thriving farmers' markets in most large towns, excellent fishmongers and/or smokeries at North Shields Fish Quay, Craster and Seahouses, and farm shops like Blagdon near Ponteland. Recommended delis include the Corbridge Larder, the Good Life Shop in Wooler, and Tully's of Rothbury.
Dishes unique to the North East include pan haggerty (a filling potato and onion side dish) and singin' hinny (a very filling kind of scone that 'sings' as it hits the bubbling butter on a griddle pan). Also look out for sandwiches made with stottie bread (flat, spongy and slightly sweet) that are fairly easy to find in take-away shops and cafés.
Local specialities
Lindisfarne oysters
Oysters have been harvested for hundreds of years on the mudflats of Lindisfarne bay. Past owners of the oyster beds include monks in the 14th century and a Victorian landowner. The industry died out but was resurrected in 1989 by a local farmer who spotted oyster shells on the sand.
Current owners, Christopher and Helen Sutherland, inherited the business in the early noughties. You can buy their oysters at Swallow Fish smokehouse in Seahouses, online, or direct from Ross Farm if ordered in advance.
Chain Bridge Honey
Chain Bridge honey is ubiquitous in Northumberland, and no doubt you will have already come across their pots of liquid gold in farm shops, B&Bs and delis across the North East.
You can buy (and try) all their different honeys and various beauty products from the friendly visitor centre on the sprawling farm. The Flower Comb Honey has a particularly strong taste and scent (I've never found a flower honey as good as this anywhere in England). In the shop you'll see a working hive with an observation glass panel next door and an exhibition room tells you everything you want to know about bees and bee-keeping.