Savouring the taste of North Devon & Exmoor
Accommodation
Savouring the tastes of North Devon & Exmoor
A Devon cream tea is a vital part of any visit to the region © JohnnyMrNinja, Wikimedia Commons
The taste of Devon is undoubtedly that of clotted cream. A Devon cream tea is as integral a part of a visit to this region as rain (indeed, the one often leads to the other). Clotted cream is quite unlike any other sort of cream, being as thick as butter and almost as yellow; it contains more fat (around 63%, while double cream is 48%), and traditionally was made by gradually heating fresh milk using steam or hot water, and allowing it to cool very slowly. The thick cream that rises to the top was then skimmed off. The original term was clouted cream, clout being the word for patch, referring to the thick crust that forms when the cream is heated.
Clotted cream is only made in Devon and Cornwall, and we Devonians are not only convinced that ours is better but that we got there first. After all, it was one of the wives of the Dartmoor giant, Blunderbus, who won her husband's affection by bringing the knowledge of clotted-cream-making to his kitchen. The story is slightly spoiled by the fact that Jennie was exiled to a cave in Cornwall at the time for being a lousy cook, and it was a Phoenician sea captain who taught her the process as a reward for saving his ship from wreckers.
Clotted cream is served with fresh scones, which should be warm from the oven not the microwave; purists prefer plain scones but others, myself included, love the fruit ones. In Devon we spread the cream on the scone first, instead of butter, and add strawberry or raspberry jam on top; in Cornwall it's the opposite: jam first, then clotted cream. Either way it's utterly delicious – and very filling. The Victorian prime minister William Gladstone was right when he called clotted cream 'the food of the gods'. Talking of jam, an Exmoor speciality is whortleberry jam. Whortleberry is the Exmoor name for bilberry, a heather relative which grows on the moor.
Back to clotted cream which is, surprisingly, the accompaniment to a traditional savoury recipe, Devon squab pie. Medieval dovecots are still found in the grounds of the great West Country estates, so it's not surprising that squab, or young pigeon, should feature in an ancient recipe. Except that it doesn't. Devon squab pie is made with mutton. The likely explanation for this misnomer is that until the 17th century, squab – a luxury food – could be consumed only by the lord of the manor and the parish priest; perhaps the mixture of fruit and mutton tasted something like the sweet meat of a real squab. Be that as it may, this is a tasty dish composed of layers of mutton or lamb alternating with apples, prunes and spices. Some recipes add onion or leek. It's easy to make and, to add the authentic Devon touch, you need to serve it with clotted cream on the side.
If clotted cream is Devon, then cider is Somerset, although western Somerset is not in the heart of cider country. For this you need to go east to flatter areas where the cider-apple orchards grow, though small cider producers flourish in our region. Secret Orchard Cider produces award-winning ciders including Exmoor Clear and Exmoor Mellow, as well as the slightly stronger Exmoor Rabbit.
North Devon has nine breweries listed by the Campaign for Real Ale (CAMRA). They are Barum (Barnstaple), Buckland (Bideford), Clearwater (Bideford), Country Life (Abbotsham), FatBelly (Lynton), Forge (Hartland), Grampus (Lee), Jolly Boot (Bideford), and Madrigal (Lynmouth), and you'll find these ales in most farm shops and stores selling local products. See northdevoncamra.org.uk for further details. Exmoor's largest brewery is Exmoor Ales in Wiveliscombe. Their best-known cask ales are Exmoor Gold and Exmoor Beast but they do a total of ten, some permanent and some seasonal. Also in Wiveliscombe is Cotleigh, whose beers are named after predatory birds: Tawny Owl, Golden Seahawk and Buzzard. They also do seasonal brews such as Rednose Reinbeer.
For our author's selection of recommended places to eat see Slow Travel North Devon & Exmoor.
Accommodation
The places to stay included here have been listed either with an eye to their location, because they are special or unusual in some way, or because they encapsulate the Slow approach. Inclusion doesn't necessarily mean they are the best in the area – just places I stayed in, visited or had recommended to me. An internet search will reveal many more. When booking a place to stay, bear in mind that most accommodation is cheaper off season or if you stay several nights, and as a rule self-catering places can only be let for four days or more. Campsites run the gamut of possibilities – from a meadow that's only open in August, to glamping in luxury. Indeed, glamping has become one of the most popular ways of enjoying a rural holiday. Suggestions vary from tree houses to gypsy caravans.
Note that satnav is often unreliable here, and in Exmoor there's rarely a mobile phone signal (indeed, the region is sometimes promoted as 'screen-free'), so always check the accommodation provider's directions in advance.
North Devon
Exmoor National Park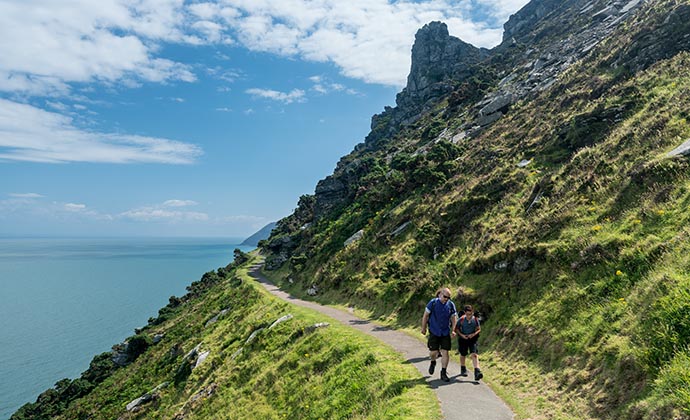 A walking trail in Lynmouth © Steve Heap, Shutterstock
North Devon
Hartland Quay Hotel Bideford EX39 6DU; 01237 441218. This is the hotel for walkers, and most of your fellow guests will come down to breakfast in their boots. 13 bedrooms: double, twin bedded & family rooms. In addition the annexe sleeps seven in three rooms for families or groups.
New Inn Hotel Clovelly EX39 5TQ; 01237 431303. 8 rooms. You don't stay here because you want a perfect hotel, you stay here because the New Inn is Clovelly. It's been here a very long time (since the 17th century), and has hosted, among others, Charles Dickens. The hotel is very comfortable, with eight en-suite rooms decorated in Arts & Crafts style.
Pack o' Cards Combe Martin EX34 0TE; 01271 882300. World-famous hotel folly has six rooms of various sizes and prices (one with a four-poster bed) and a good restaurant. Although built as a private residence it has been a pub since the 1800s. The rooms have a separate entrance from the pub and restaurant, and are quiet and comfortable. The hotel is frequently used by walkers doing the South West Coast Path so owners Chris and Debbie are used to arranging luggage transfers.
The Smugglers Rest Mortehoe EX34 7DR; 01271 870891. Will is from Britain, Stacey from South Africa, and between them they know how to make a guest feel special. The B&B and associated café was opened in 2016 and a lot of care and thought has gone into the décor. There are eight superior rooms, all different, all beautifully decorated; some have a bath as well as a shower, so perfect for tired walkers. 2018 prices: £90–£145.
Vintage Vardos Nr Atherington, Umberleigh EX37 9JA; 07977 535233. A vardo is an old-fashioned gypsy caravan with a bow top. The three vardos and one shepherd's hut are set apart in a field next to the sheltered woodland and cooking area, beautifully and individually decorated, and sleep two in comfort. There's a hot outdoor shower and a compost loo-with-a-view. The vardos can usually only be rented together, so you need to be a group of six minimum, though it's always worth checking out of season for a smaller number. The hospitable owners, Gavin and Gemma, farm rare-breed sheep (Zwartbles) and cattle (Swiss Simmental) for their exceptional meat, and grow their own vegetables. They provide guests with a welcome basket of homemade bread, free-range eggs and milk, and other farm produce can be purchased. It truly is delicious! The cooking is done outside on an open fire, though there's a bad-weather cover, and there's a magnificent rope swing for children. You can feel – and actually are – miles from anywhere here.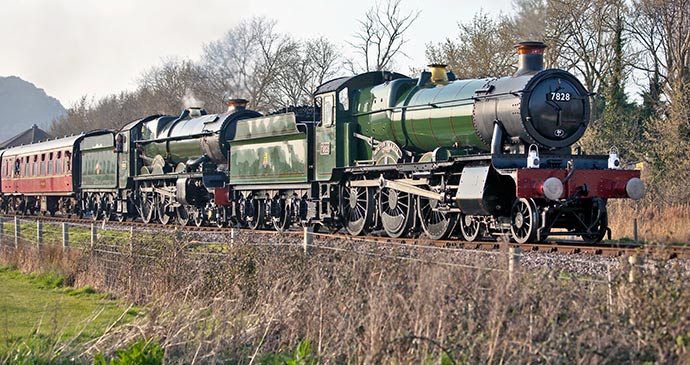 Steam train from Minehead © i4lcocl2, Shutterstock
Exmoor National Park
Exmoor Character Cottages Minehead. These four self-catering cottages in Exmoor are perfect bases for exploring the eastern part of the national park. Three are in the classy upper town of Minehead, with far-reaching views, and the fourth is in the charming medieval town of Dunster. Each is characterful in its own special way, but all have the modern comforts that visitors desire.
Exmoor House Wheddon Cross TA24 7DU; 01643 841832. Under new ownership in 2017 and striving for a high standard in sensible comfort. This is accommodation especially for walkers or cyclists, with a drying room complete with bath to rinse off boots and drying racks. The five rooms come at different prices with a choice of bath or shower, so there's something for everyone. All rooms are named after poets or writers: Coleridge, Kingsley, Corelli, with a little biography and a quotation or two on the wall.
Highcliffe House Linton EX35 6AR; 01598 752235. The perfect B&B is down to the owners. Any amount of care and attention can be lavished on the décor and fittings, but unless there is a genuine feeling of warmth and hospitality from the people who open the front door, this can be wasted. Highcliffe House is wonderful, and it's wonderful because of Neal and Jason, who moved there in 2016 and decided to create an upmarket B&B. No evening meals (there are lots of restaurants in Linton and Lynmouth, and Neal and Jason have dined in all of them), no dogs, no children. The house dates from the 1870s, originally as a private residence and then a Christian retreat after the war before becoming a hotel in the 1990s. The location is jaw-dropping. Highcliffe, as its name suggests, is perched on a steep hillside with exceptional views over Lynmouth Bay towards Foreland Point from some of the bedrooms and the dining room. Neal and Jason pride themselves on walking all the local paths of the area, so you can trust their recommendations – not only for walks but their favourite secret beaches.
Hindon Organic Farm Minehead TA24 8SH; 01643 705244. This terrific 500-acre organic farm in a quiet location between Minehead and Porlock has three bedrooms and the feeling that you are part of the family as soon as you step over the threshold. Organic farming is hard work on Exmoor, but Penny and Roger Webber have stuck with it for 20 years and you can see the benefit in the variety of flowers in the meadows and the happy livestock wandering or pecking around the yard. The home-cooked breakfasts are splendid – look out for Roger's homemade port sausages – and fruit comes from the garden. Dogs may stay for an extra charge and horses and elephants by arrangement'. There's a nature trail on the farm, the South West Coast Path is nearby, and Minehead and Porlock are a short drive away.
Stockham Farm Here are two self-catering cottages where a horse can be accommodated in the same luxury as its rider. Dogs are also welcome. The Dulverton area has some splendid walks and rides and is less busy than the coastal region (though the sea is quickly accessed), making this an ideal holiday escape for those who enjoy the outdoor life but look forward to a little pampering as well.
Westermill Farm offers the perfect get-away-from-it-all holiday. A 500-acre working farm near the untourist-y village of Exford in southern Exmoor, it has a multi-award-winning campsite by the River Exe and six self-catering cottages, complete with comforts including central heating – ideal for year-round stays. A farm shop ensures that you eat well and a warm welcome from the Edwards family is guaranteed.
West Withy Farm Taunton TA4 2JH; 01398 371322. 2 cottages sleeping 9 in total. The place to enjoy a Dark Skies experience. Ian and Lorena Mabbutt offer far more than self-catering in their two barn conversions (which sleep a total of nine). Their organic vegetable garden produces enough, in season, for each guest to receive a veg box; the welcome pack includes homemade jam, eggs and anything else that the farm has produced. Children can collect eggs from the free-range chickens, pick their own vegetables, or give the pigs a special scratch behind the ear. But what makes West Withy Farm unique is that it is the Exmoor telescope hire base for Dark Sky Telescope Hire and where Seb Jay bases himself when he's in Exmoor.
Wimbleball Lake 01398 371460. This campsite, close to the lake and its many water activities, has three bell tents with transparent roofs so you can watch the stars in this Dark Sky Reserve. £75 per night (2018). Double or twin beds, solar electricity, gas cookers. Also two pods sleeping four, with bunk beds or a double bed. Sleeping only, no cooking.