Savouring the tastes of Norfolk
Accommodation
Savouring the tastes of Norfolk
With something like 90 miles of North Sea coastline it is hardly surprising that Norfolk has a wealth of seafood to savour. Probably the most highly regarded are the Cromer crabs that are caught just off the north Norfolk coast. There are plenty of lobsters and shellfish too, the most famous being 'Stewkey Blues' – a type of cockle – and tasty fresh mussels from Brancaster. The wet fish options are also excellent; cod and haddock especially, and herring too, a nutritious and plentiful fish for which the port of Great Yarmouth was once world-famous.
Several smokehouses around the coast, like the one at Cley-next-the- Sea, make good use of such provenance and produce all manner of delicious goods like kippers and smoked mackerel. To complement your seafood you may wish to try a seasonal favourite, marsh samphire, a salty delicacy that grows in abundance in the saltmarshes of north Norfolk in the summer months.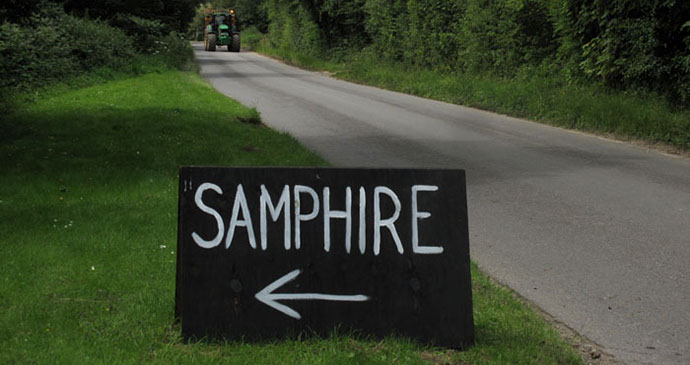 Samphire grows in abundance in the saltmarshes of north Norfolk in the summer months © Laurence Mitchell
For committed carnivores Norfolk meat is a treat too, especially that which comes from some of the county's rare breed varieties, like beef from Red Poll cattle. Many Norfolk restaurants make use of locally reared meat on their menus, but the county also has a large number of farm shops and farmers' markets where such products can be purchased for home consumption. With a relatively dry climate and a tendency towards arable, Norfolk is not really much of a place for dairy farming, but the county does produce a number of cheeses with a distinctive local flavour. Probably the best known are those made by Mrs Temple's Cheeses at Wighton in north Norfolk, especially Binham Blue, which is made with vegetarian rennet and milk from British Holstein cows.
Vegetarians are well provided for as a rule: the county has a wealth of fresh vegetables and there are a number of organic providers, too. A decent number of restaurants also specialise in, or serve only, vegetarian food. This is particularly true of Norwich, the county capital. Asparagus is one of the county's specialities, abundant in early summer, especially in those areas that have light, sandy soil.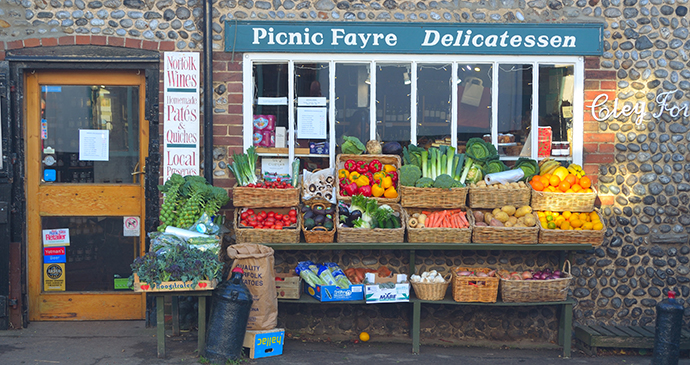 Local produce on sale at Cley-next-the-Sea © Martin Charles Hatch, Shutterstock
Contrary to expectation, Norfolk actually has a few vineyards – some of the most northerly in the country – one of which has produced prize-winning wines. Overall, however, it is probably fair to say that the county is better celebrated for its beer. Norfolk has a plethora of small-scale real ale breweries scattered around the county – Woodforde's from Woodbastwick, Wolf from Norwich, Yetman's from Holt and Humpty Dumpty from Reedham, to name just a few. If these are not enough to quench your thirst then there are always Adnam's or St Peter's Brewery ales from over the Suffolk border. Surprisingly, perhaps, the county is also a whisky producer, with the English Whisky Company distilling a range of hand-crafted whiskies conjured from Norfolk barley and deep aquifer water at its base in Roudham in the Brecks.
Accommodation
The North Norfolk Coast
Northeast Norfolk
North Central Norfolk
Northwest Norfolk & The Wash
Norwich & The Yare Valley
The Waveney Valley
The Brecks
The places to stay listed below have been selected for their good location and because they embrace the Slow mindset, either in terms of their overall feel or because they embody a 'green' approach. Prices for hotels vary considerably, but two people sharing a room in a B&B can expect to spend around £70–90 per night. Holiday cottage prices also cover a wide range, depending on capacity, season and location. Of course, school holidays and especially August mean peak prices. There is plenty to be said for visiting out of season in order to save money. Campsites run the gamut from no-frills to luxurious 'glamping' options.
The North Norfolk Coast
Hotels
Gunton Arms Cromer Rd, Thorpe Market NR11 8TZ; 01263 832101; theguntonarms.co.uk. Situated on the edge of Gunton Hall's private deer park in picturesque north Norfolk just four miles from the sea, this country inn has plenty of eccentric character. Restored by art dealer Ivor Branka in 2009, the Gunton Arms proudly displays its owner's taste for modern art. How many pubs can claim to have artwork by Tracy Emin, Lucian Freud and Damien Hirst (even in the toilets)? The surrounding parkland also has pieces of sculpture by sculptors like Sol de Witt and Dan Graham. In keeping with the inn's retro style there are no TVs in the comfortable, spacious rooms but Roberts radios instead. Room prices vary depending on size and facilities ranging from moderate to expensive.
Titchwell Manor Titchwell, near Brancaster PE31 8BB; 01485 472027; titchwellmanor.com. This elegant boutique country retreat offers fine dining and smart contemporary accommodation. A big plus here is the location, which offers spectacular uninterrupted views straight across the marshes to the North Sea. The manor's restaurants serve top-notch modern European food cooked with the finest local ingredients.
The White Horse Brancaster Staithe PE31 8BY; 01485 210262; whitehorsebrancaster.co.uk. Location counts for a lot here as The White Horse has direct access to the marshes and coast path. Of 15 bedrooms, eight of which are in a separate annex, the most desirable is the Room at the Top that is split-level and comes complete with a telescope for viewing over the marshes to Scolt Head Island.
B&Bs
Cley Windmill The Quay, Cley-next-the-Sea NR25 7RP; 01263 740209; cleywindmill.co.uk. Set in a Grade 2 listed building, one of the most photographed in north Norfolk, and with superb views across the reed beds, this is more expensive than most but the location is faultless. Home-cooked candle-lit evening meals can be booked in advance. Self-catering is also available in the converted stable building.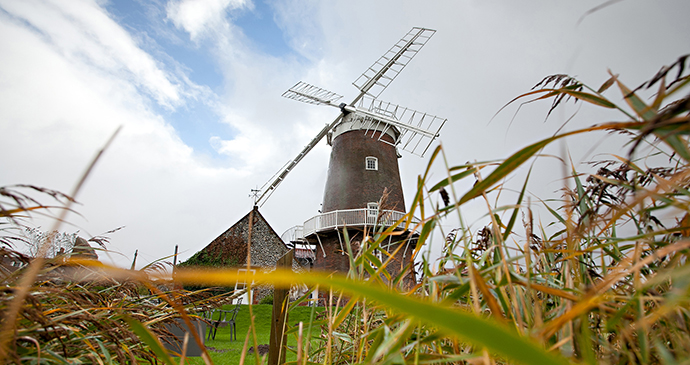 Cley Windmill also serves as a B&B © Norfolk Coast Partnership
The Merchant's House 47 Freeman St, Wells-next-the-Sea NR23 1BQ; 01328 711877; the-merchants-house.co.uk. Ideally situated in Wells, this friendly B&B is located in one of the oldest houses in town. With just two double rooms, one with a four-poster bed, this is an ideal place for cyclists and birdwatchers to stay in the area.
Pirate House 16 Priory Rd, Sheringham NR26 8EW; 01263 825943; piratehousebandb.co.uk. An eco-conscious, homely B&B in a quiet location in Sheringham close to the beach.
Self-catering
Albert's Cottage Wells-next-the-Sea. Located close to the quay of this north Norfolk coastal town, this 200-year-old fisherman's cottage has exposed two comfortable double bedrooms with iron bedsteads.
Bagthorpe Treehouse Bagthorpe Hall near Burnham Market; 0117 2047830; canopyandstars.co.uk. Rather more luxurious than it sounds, this is a comfortable wooden cabin with a veranda perched beneath an oak in the grounds of Bagthorpe Hall. With a king-size four-poster, two single bunks and a large copper bathtub, the treehouse sleeps four.
Little Orchard Cley-next-the-Sea. This chalet-style cottage sleeping six is located well away from the busy coast road but conveniently close to the village centre.
The Maltings Brancaster Staithe. An eco-friendly house with stunning views over the salt marsh and harbour, this has an open plan, split-level living area inside and a patio garden to the rear. Sleeping six, there are two en-suite bedrooms plus a 'den' in the eaves of the attic that is ideal for teenagers or adults who aren't afraid of climbing a ladder to reach it.
The Music Room Thornham. As its name suggests, this property was once used as a music studio for teaching. A fully functioning pipe organ is still in place and there's also a piano. Sleeps two.
Rhu Sila Church Lane, Cley-next-the-Sea; 01263 740304; cleyannexeblog.wordpress.com. This offers self-catering accommodation for 2–4 in the newly decorated annexe of a writer's house. With free WiFi and its own entrance, this cosy place is tucked away on a quiet lane between the church and the high street.
Sea View Barn Titchwell. This barn conversion on the north Norfolk coast has uninterrupted sea views from most of its rooms. This spacious property has five en-suite bedrooms, four separate seating areas and two wood burning stoves. The location is perfect for birders and walkers, just minutes away from the Titchwell RSPB bird reserve.
Campsites
Deepdale Backpackers & Camping Deepdale Farm, Burnham Deepdale PE31 8DD; 01485 210256; deepdalebackpackers.co.uk. This highly recommended, eco-friendly enterprise idyllically situated on the northwest Norfolk coast offers a backpackers' hostel and a campsite as well as the opportunity to overnight in more unusual accommodation like tipis and yurts. There's a helpful information centre with maps and books on site and a good café that serves breakfast. Unusually, the site is open all year.
Kelling Heath Holiday Park Weybourne, Holt NR25 7HW; 01263 588181; kellingheath.co.uk. With a good choice of tent and touring caravan pitches, as well as woodland lodges and holiday homes, this large site is ideally located for the central part of the north Norfolk coast. Set among 250 acres of woodland and open heath in an Area of Outstanding Natural Beauty, there are plenty of woodland and heath trails right on the doorstep too.
Scaldbeck Cottage Stiffkey Rd, Morston NR25 7BJ; 01263 740188. This small campsite can be found behind a flint cottage B&B on the coast road. No frills, with shared facilities at the cottage, this tranquil spot lies just five minutes' walk from Morston Quay and is ideal for Norfolk Coast Path walkers and birdwatchers.
Wild Luxury 01485 750850; wildluxury.co.uk. 'Glamping' personified, Wild Luxury has plush canvas safari lodges at three 'wild' locations on the north Norfolk coast near Thornham. These all come with kitchens with wood burning ranges, comfortable bedrooms, open air verandas and flushing loos.
Northeast Norfolk
Hotel
Norfolk Mead Hotel Coltishall NR12 7DJ; 01603 737531; norfolkmead.co.uk. On the edge of the Broads, this country house hotel is set in an acre of private grounds that extend to the banks of the River Bure. There's a variety of stylish modern rooms to choose from, ranging from standard to luxury.
Campsite
Clippesby Hall Touring and Camping Park Clippesby NR29 3BL; 01493 367800; clippesbyhall.com. A convenient base for exploring the Broads, this has a range of holiday cottages and lodges in addition to camping pitches in an attractive parkland setting.
North Central Norfolk
Hotel
Greenbanks Main Rd, Great Fransham NR19 2DA; 01362 687742; greenbankshotel.co.uk. Greenbanks has been involved with green sustainable tourism for over 20 years, pioneering the original Green Tourist Scheme back in 1999. Consisting of a main building and converted farm buildings set in delightful surroundings, there are a variety of rooms to choose from, some of which are wheelchair-accessible and able to accommodate disabled guests. Other rooms are pet-friendly, and self-catering apartments are available in the Greenbanks Barn.
B&Bs
Byfords Posh B&B 1–3 Shirehall Plain, Holt NR25 6BG; 01263 711400; byfords.org.uk/posh-bb. Byfords has a long-standing reputation for its food and it also doubles as a place to stay, with 16 stylish but cosy rooms and one self-catering apartment. Describing itself as a 'Posh B&B', this is effectively an upmarket boutique hotel given the comfort, charm and facilities on offer.
Carrick's at Castle Farm Swanton Morley, Dereham NR20 4JT; 01362 638302; carricksatcastlefarm.co.uk. At the centre of a working farm close to Swanton Morley in the heart of central Norfolk this moderately priced guesthouse has won several awards. Self-catering is also available at a cottage and converted stables. There are farm walks straight from the door, as well as the route of the Wensum Way.
Leicester Meadows 1 Leicester Meadows, London Lane, South Creake, near Fakenham NR21 9NZ; 01328 823533; leicestermeadows.com. In a quiet village close to Fakenham, this pair of restored farm workers' cottages is an excellent base for the northwest Norfolk coast. Leicester Meadows has two very reasonably priced rooms and guests are provided with delicious breakfasts that include rare-breed bacon, sausages from local farms and homemade bread and jams.
White Horse Farm Sharrington Rd, Holt NR24 2PB; 01263 860693; white-horse-farm.co.uk. This offers both B&B cottage accommodation and self-catering in a choice of four luxurious barn conversions for a minimum of three nights. Home-cooked meals are available on request for both B&B and barn guests.
Self-catering
The Fox Hat South Creake. The Fox Hat boasts an eclectic, Romany caravan-style interior decorated with vintage artefacts. Sleeping four, it has a wood-burner for cold nights.
Garden Cottage Manor House Farm, Wellingham, King's Lynn PE32 2TH; 01328 838348; manor-house-farm.co.uk. Convenient for the northwest Norfolk coast, and close to the market town of Fakenham, this property sleeping two is part of a converted barn on an award-winning conservation farm. The cottage is equipped with a four-poster bed and has a wood burning stove for chilly evenings.
The Gamekeeper's Hut Westfield Fram, Foxley Rd, Foulsham NR20 5RH; 01275 395447; canopyandstars.co.uk. This tiny shepherd's hut in a meadow at Westfield Farm, halfway between Aylsham and Fakenham, is a snug place for two to bed down. Don't imagine this as slumming it, though – the hut costs about the same as a fairly upmarket B&B. A small mattress for a child can be supplied if necessary and there's another hut – a Victorian gamekeeper's – available too.
Northwest Norfolk & The Wash
Hotels
Congham Hall Hotel Lynn Rd, Grimston PE32 1AH; 01485 600250; conghamhallhotel.co.uk. A luxurious spa hotel set in 30 acres of gardens and private parkland. With 15 rooms located in the Georgian house, and a further 11 around the spa garden with its renowned herb collection, the tariff is expensive here but includes three-course dinner and breakfast.
The Lodge Old Hunstanton Rd, Old Hunstanton PE36 6HX; 01485 532896; thelodgehunstanton.co.uk. With 16 comfortable rooms above the pub and around the courtyard this is well-placed as a base for exploring the northwest coast. Old Hunstanton beach is just a short walk away and the Coasthopper bus service passes right by the door.
Rose and Crown Old Church Rd, Snettisham PE31 7LX; 01485 543172; roseandcrownsnettisham.co.uk. A traditional inn in a west Norfolk village that, although still very much a pub and a place to eat – it won Good Pub Guide 'Pub of the Year' in 2015 – has 16 charming, simple yet stylish rooms. There's an excellent restaurant too and an authentic flagstoned bar.
Self-catering
The Summerhouse Heacham. This vintage chalet is situated on a privately owned site just ten minutes from the beach at Heacham. Sleeping four, the chalet is traditionally furnished and has carefully chosen vintage bits and bobs to create a seaside feel.
Norwich & The Yare Valley
B&B
38 St Giles St Giles St, Norwich NR2 1LL; 01603 662944; 38stgiles.co.uk. A good choice for Norwich, this very central boutique B&B in a renovated Victorian building is close to all the major sights so a car is unnecessary. Stylish rooms, all individually decorated, homemade cake on arrival and delicious breakfasts made with the freshest local ingredients. This is quite pricey for a B&B but well above average in terms of décor and attention to detail.
The Waveney Valley
Campsite
Waveney River Centre Burgh St Peter NR34 0BT; 01502 677343; waveneyrivercentre.co.uk. Located on the Norfolk bank of the River Waveney at Burgh St Peter in 'The Triangle' this has an idyllic setting across the river from Suffolk's Carlton Marshes Nature Reserve. The centre has family-oriented camping and caravan pitches, as well as yurts, boat-shaped glamping 'escape pods' and well-equipped holiday lodges and cottages. There's also a pub, a marina and boatyard, canoe hire and a ferry across to the Suffolk shore where there are delightful walking options along the river and in the nature reserve.
The Brecks
Hotel
Strattons 4 Ash Close, Swaffham PE37 7NH; 01760 723845; strattonshotel.com. It might come as a surprise to find one of the country's most eco-friendly boutique hotels tucked away just off the marketplace in Swaffham but Strattons has been flying the flag for green tourism and Slow travel for more than two decades and has the awards to prove it. This stylish but informal country house bursting with eccentric art has impeccable organic credentials and some quirkily themed rooms. It's a little on the expensive side but worth it, with excellent locally sourced food and welcoming staff. For longer stays there is also the option of self-catering in one of two spacious one-bedroom apartments in a former printing workshop.