Be cautious about sunbathing on the stones . . . Legend has it that the Devil built the bridge, so was understandably peeved when mere mortals tried to use it.
Perhaps Exmoor's best-known inland attraction, this is a beautifully preserved clapper bridge over the River Barle. Some say it's over a thousand years old but it's more likely to date from the 13th century. Either way, the feat of building it out of giant slabs of stone, which were brought in from a considerable distance, is remarkable. Some slabs are over six feet long and weigh more than a ton. Despite their size they are periodically washed away after heavy rain swells the river. All have been numbered so they can be reassembled correctly.
There's a spacious car park some way above the river, but there's disabled parking near the bridge, next to Tarr Farm with its irresistible teas and walkers' menu. Tarr Steps is perfect for a family picnic, though it can get very crowded in the summer. Children and dogs love the paddling, and there are several deep pools where you can get fully immersed if you wish.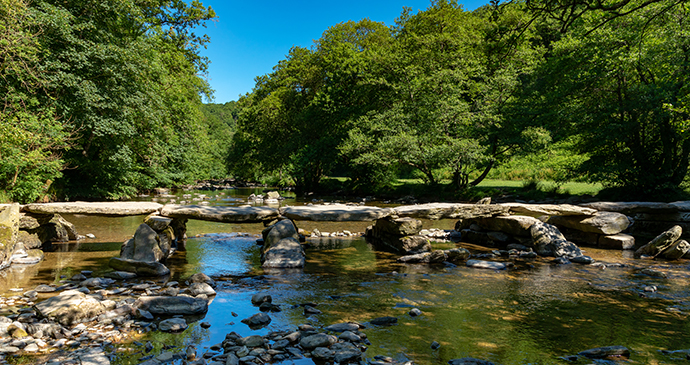 Be cautious about sunbathing on  the stones, however – that's the Devil's prerogative. Legend has it that he built the bridge, so was understandably peeved when mere mortals tried to use it.
The locals asked the vicar to help; he prudently sent a cat across first to test the waters, so to speak, but it disappeared in a puff of smoke. Undaunted, the reverend set out himself and after a heated argument the Devil agreed to let people use the bridge. Except when he wants to sunbathe.
For the energetic there's a pleasant eight-mile walk along the right-hand (eastern) bank of the river to Withypool, where you can enjoy a snack before picking up the Two Moors Way back towards Tarr Steps, turning left towards the river at the T-junction at Parsonage Farm. This, and the walk to Dulverton, are shown on the Croydecycle map Dulverton & Tarr Steps.