In a small area it seemed to contain everything I liked best about rural England: dramatic coastal scenery, lovely villages advertising cream teas, little churches full of ancient village art – and Exmoor ponies.

Hilary Bradt, author of Slow Travel Exmoor
'We came to the great River Exe … which rises in the hills on this north side of the county … The country it rises in is called Exmoor. Camden calls it a filthy barren ground, and indeed, so it is; but as soon as the Exe comes off from the moors and hilly country and descends into the lower grounds, we found the alteration; for then we saw Devonshire in its other countenance, cultivated, populous and fruitful.'

– Daniel Defoe, 1724
This is still an accurate picture of Exmoor if you change 'filthy barren ground' for something more complimentary, for it is the heathercovered moorland as much as the cultivated, populous and fruitful lower ground that draws visitors.
This is one of England's smallest national parks, a soft landscape of rounded hills, splashed yellow from gorse and purple in the late summer when the heather blooms, and of deep, wooded valleys. And Exmoor has the coast, adding pebble coves and sea views to its attractions, along with the many rivers that race to the sea from the high ground, slicing into the soft sandstone.
With so much of Exmoor managed by the National Trust, clear signposting makes walking or cycling a real pleasure. Astonishingly, for such an utterly delightful region, it's one of England's least visited national parks. You may not believe this on a sunny weekend in Lynmouth or at The Hunter's Inn when they're buzzing with visitors, but solitude is not hard to find.
Bradt on Britain – going Slow in Exmoor National Park
It's impossible not to go slow in Exmoor. From a practical point of view the lack of main-road access and narrow lanes discourage the vroom-vroom mentality, just as the lack of mobile-phone coverage discourages screen addiction. Moreover, the sheer delight of this heathery national park, where moor meets sea, means that visitors can't help but take their time to absorb what they are seeing, talk to locals, indulge in a cream tea and realise that they are in one of the loveliest places in the country. And one which, somehow, has escaped mass tourism.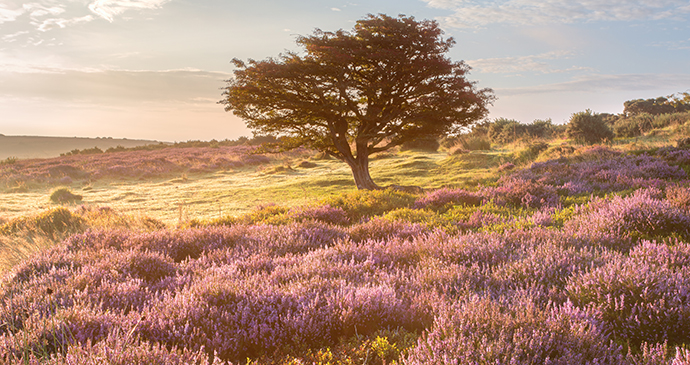 Of all the experiences I have encountered in this region, one stands out because it epitomises Exmoor. I had left scant time to do a newly discovered walk which I'd identified on the map as looking ideal in its combination of moor and coast, with one of my favourite churches, Trentishoe, thrown in and the hospitable Hunter's Inn providing a base. It also looked short. It was a late September evening and I disregarded all my own advice, setting out without my hiking pole and boots. Which meant that I had to go slowly or risk an accident.
No problem – I needed to spend time enjoying the smell of bracken, the sunlight on the heather, and the sight of the Mediterranean-blue sea below sheer indented cliffs. And to stop to look at birds and views through my binoculars. I walked back to my car through an ancient bit of woodland proclaimed by the National Trust to be a 'butterfly trail', though it was now too late to observe insect life. Indeed, it was starting to get dark and I was due to meet friends at a time already past. And, this being Exmoor, there was, of course, no mobile-phone coverage. I asked the barmaid at the busy Hunter's Inn if I could use their landline. No problem, no charge, just friendly helpfulness.
That's Exmoor for you.
Related articles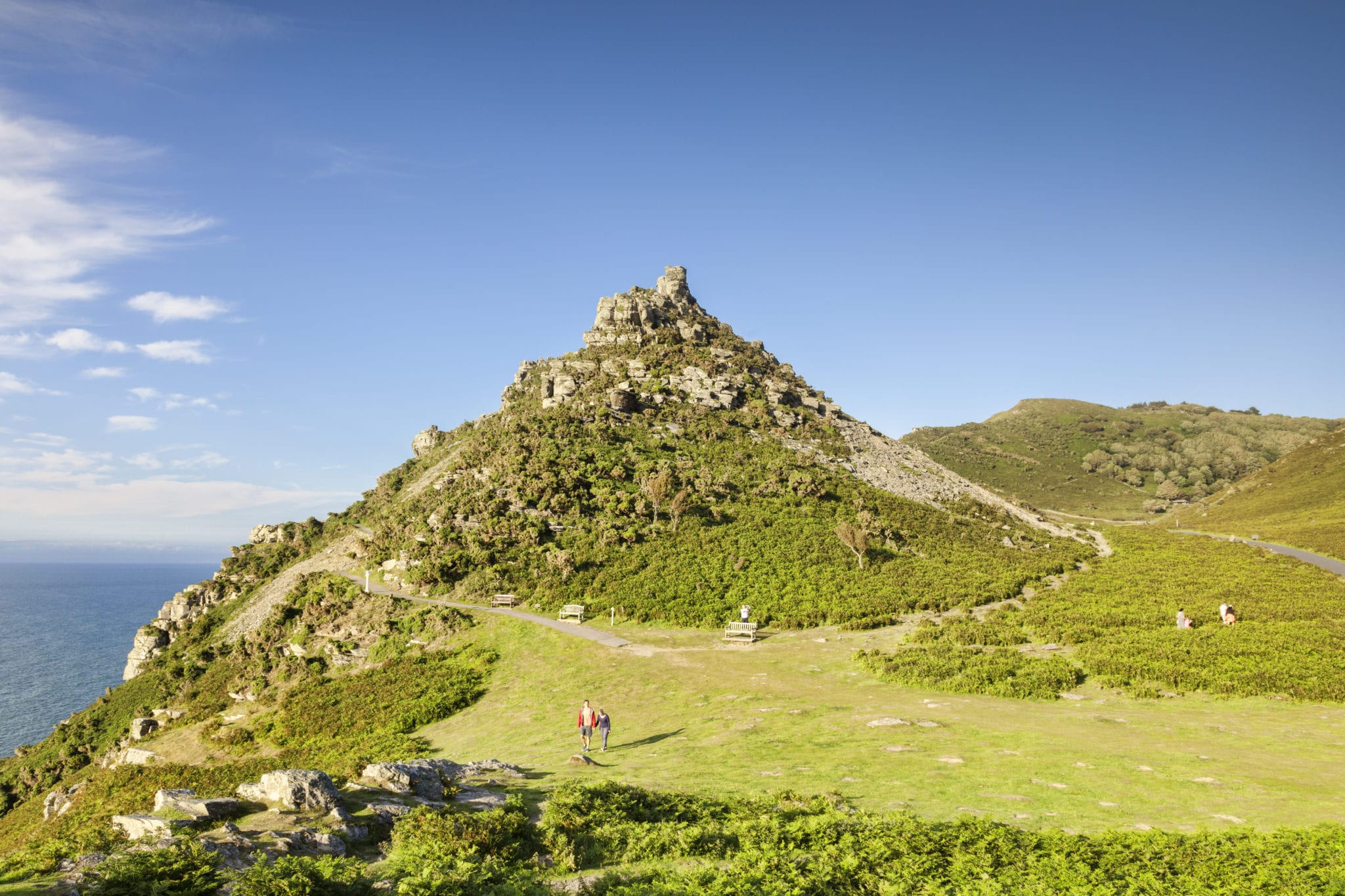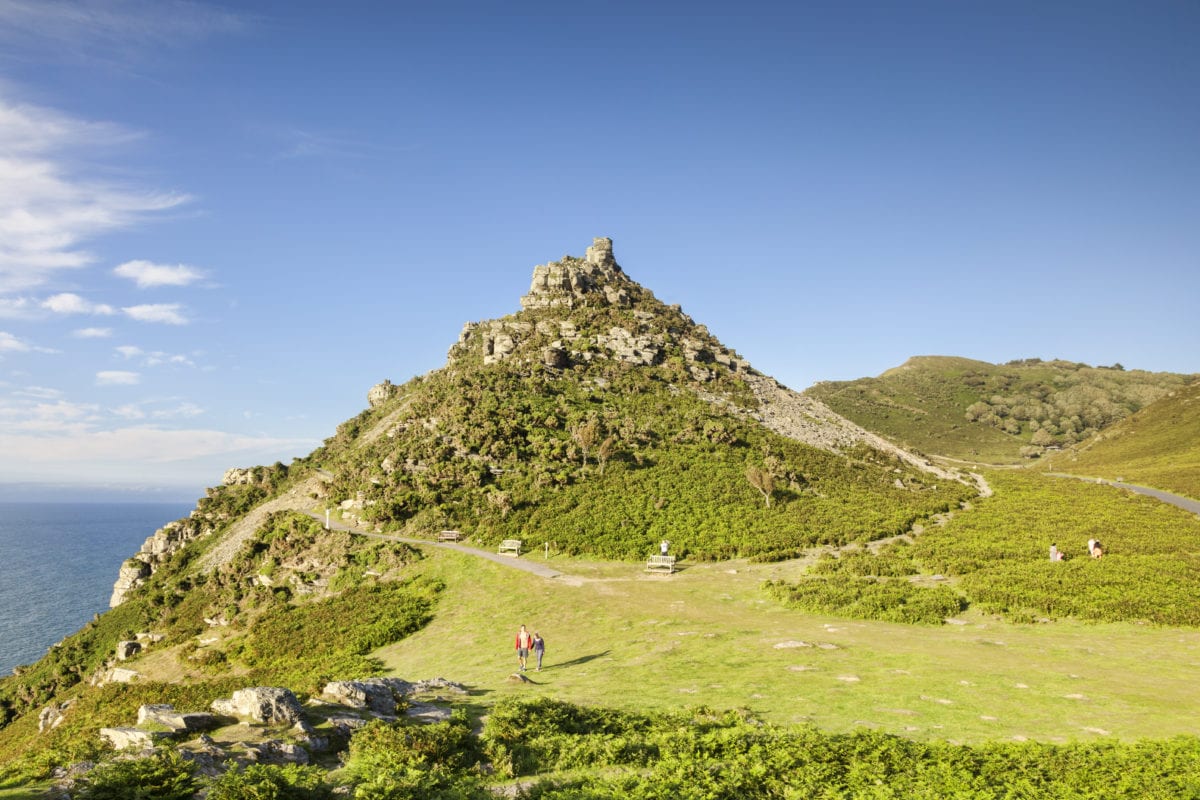 A melting pot of landscapes and history, Exmoor is ripe for outdoor exploration.