Going Slow in East Devon & The Jurassic Coast
When I first moved to Seaton, eight years ago, it felt slightly ashamed of itself. It didn't draw the trendy crowds like its neighbours Lyme Regis and Beer, but just existed contentedly and unobtrusively as a small town by the sea. Then the Jurassic Coast received World Heritage status and the whole region woke up. Things started to happen; a new feeling of pride was apparent. Hikers along the undulating South West Coast Path realised that they were walking through time in a big way, with every mile covering an average of two million years. When funding was obtained for Seaton Jurassic, the town was reborn, and there has been a ripple effect all along the coast; but inland it's a different matter. The East Devon Way meanders through the landscape to provide some gentle, pub-interrupted rambling, but few holidaymakers stay north of the A3052, despite the attractions of this Area of Outstanding Natural Beauty; small villages busy themselves with local, volunteer-run events, and cyclists or walkers on the quiet lanes are rarely disturbed by something as vexing as a car. And yet there's so much history here too, and so much for the Slow visitor to enjoy.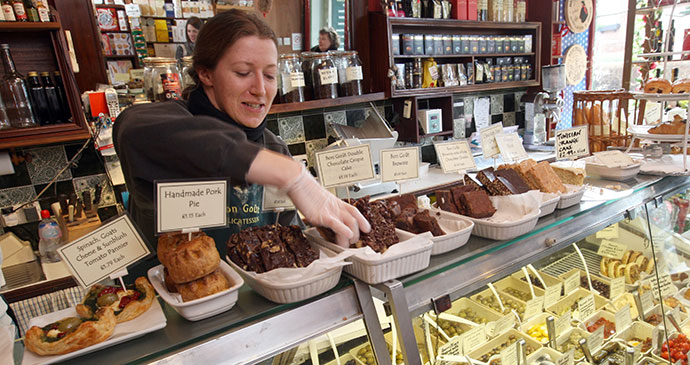 East Devon is home to many local produce shops © Richard Austin, Heart of Devon Images
The authors' stories
Hilary Bradt
Hilary Bradt's career as an occupational therapist ended when potential employers noticed that the time taken off for travel exceeded the periods of employment. With her then-husband George sheself-published the first Bradt guide in 1974 during an extended journey through Latin America. Since then she has seen Bradt Travel Guides grow to be an internationally recognised and award-winning publisher. In 2008 she was awarded an MBE and in 2009 received the Lifetime Achievement Award from the British Guild of Travel Writers. Now semi-retired, she writes regularly for the national press and travel magazines, and has recently started exhibiting as a sculptor. She lives in Seaton.
Janice Booth
Janice Booth's working life has included professional stage management, archaeology, writing, compiling puzzle magazines and travelling widely. She initiated and co-wrote Rwanda: The Bradt Guide, has edited two dozen or so Bradt guides to various far-flung places, and helps to judge Bradt's annual travel-writing competition. With Hilary Bradt she co-wrote Slow Travel: South Devon & Dartmoor, and contributed to Slow Travel: North Devon & Exmoor. Janice moved to Devon in 2001 with happy childhood memories, having lived briefly in Colyton as a toddler and tasted her first clotted cream in Sidmouth aged eight, and lives peacefully in Seaton
within earshot of the sea.