Savouring the tastes of East Devon
Devon has long been known as a county of good food. Much of its meat is home-reared in small-scale and 'happy' conditions; and the seafood is exceptional, with Exmouth mussels sold throughout the UK and the 'brown crab' said to be at its biggest and juiciest along Devon's coast. For a while East Devon lagged behind South Devon but now there's a rapidly growing enthusiasm and expertise in food; really, how could it be otherwise when Hugh Fearnley-Whittingstall and his River Cottage have made it their home?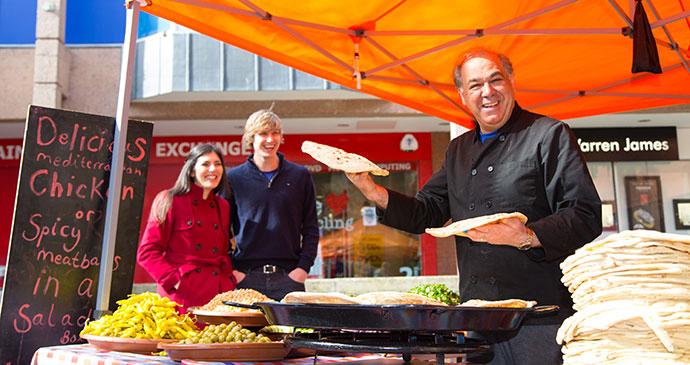 Also top chef Michael Caines, who has had such a positive impact on Devon's food scene, is now planning a luxury hotel and restaurant in Lympstone on the Exe estuary. Most seaside towns and villages have their own fish outlet, selling whatever the day's catch has provided: straight from the sea and glisteningly fresh. The region is justly proud of its fine restaurants and farm shops, and hosts several food fairs including the huge one in Exeter each April.
Drinking in Devon
The county is no laggard in its production of alcoholic drinks as an accompaniment to all that good food. Leading the field is the Otter Brewery, arguably the best-known brewery in the South West. This is still a family business, set up 25 years ago by David and Mary Ann McCaig, and leads the way in sustainability as well as popularity. Five regular brews are produced year round, with a seasonal one to add warmth to the darker months. Every pub in this book will serve Otter ales; it is the local brewery. The brewery is not generally open to the public, but group tours are occasionally given by prior arrangement. They claim that a pint of Otter is drunk every nine seconds in the UK!
There are some good local wines, also some excellent Devon cider (or cyder) and 'scrumpy' (derived from the dialect word 'scrump' meaning a small withered apple), which nowadays is the term used to describe ciders made in small quantities and using traditional methods. Several farms in this area do still press the apples through straw and use oldstyle crushers and presses. Prepared traditionally, four hundredweight of apples will make 40 gallons of scrumpy, and a good scrumpy normally has an alcohol content of at least 7% despite tasting deceptively light and refreshing. So beware: it's not just apple juice! Cider has been drunk in Britain for more than 1,000 years, and in olden times farming landowners often paid their workers in scrumpy and other foodstuffs. Today the British consume nearly half of all cider made worldwide; the West Country is our biggest producer, followed by Kent.
Accommodation
This small sample of the accommodation available in East Devon has been chosen with an eye to geography and because it is unusual, or in some ways embodies the slow philosophy. Not surprisingly, prices in all types of accommodation are at their highest during school holidays and especially in August. As well as avoiding the crowds there is much to be said for visiting out of season when real bargains can be found. Campsites range from basic but with something special about them, to luxurious 'glamping' opportunities. In Devon by far the most popular accommodation is self-catering, offered by a large number of agencies.
Exeter & the Exe Estuary
Hotels
The Globe 34 Fore St, Topsham œ www.theglobetopsham.co.uk. A former 16th-century coaching inn, the Globe now has 19 stylish en-suite rooms with comfy beds, and a good restaurant. It's just a stone's throw from the estuary, and only a ten-minute drive from Exeter (or 15 minutes by direct train).
B&Bs
Cranleigh B&B 9X Douglas Av, Exmouth www.cranleighbandb.co.uk. A conveniently situated, highly praised B&B with friendly and attentive owners. Three en-suite rooms. Guests sit around a large table for breakfast.
Salutation Inn 68 Fore St, Topshamœ www.salutationtopsham.co.uk. The Salutation has been an inn since at least 1720. It isn't a pub: the restaurant offers 'fine dining' and the six en-suite rooms (including two suites) are modern and comfortable. For a special treat you could consider a two-night 'gourmet dine & stay' package.
Reka Dom 43 The Strand, Topshamœ www.rekadom.net. This intriguingly shaped house started as a 16th-century cottage (known as 'the cottage in the field of seven lime kilns') and has been imaginatively extended through the centuries. Its three en-suite rooms are equally characterful. As its welcoming owners say, it is a family home and not a hotel.
Withall's House 2 Withall's Gdns, Lympstone www.lympstonebedandbreakfast.co.uk A modern B&B five minutes' walk from the village centre: two en-suite doubles, plus one twin with private bath. Breakfast in the conservatory, overlooking the garden.
Self-catering
Peters Tower Lympstoneœ www.landmarktrust.org.uk. Stay in a 130-year-old clock tower! One of the most eccentric of Landmark Trust's properties, bang in the middle of Lympstone with views over the estuary. Sleeps two, in bunk beds. You need strong legs to climb the spiral staircase.
Route 2 apartments 1 Monmouth Hill, Topsham œwww.route2topsham.co.uk/accommodation. Four small, practical, self-contained modern apartments, with outstanding views over the estuary, above the friendly Route 2 Café-Bar which is popular with cyclists. Three one-bedroom apartments and one with two bedrooms; each has a sitting room, a simple kitchen and an en-suite bath or shower.
East of the Exe
B&Bs
The Trout Inn Exeter Rd, Bickleigh www.thetroutinnbickleigh.co.uk. A lively thatched inn with a perfect riverside location, friendly
staff and comfortable rooms with river views. Live music some nights.
Self-catering
Killerton Estate www.nationaltrustholidays.org.uk. Three National Trust cottages on the Killerton Estate: Longmeadow (sleeps four), Killerton Park Cottage (a former estate lodge, sleeps four) and Mattress Cottage (the middle part of a medieval thatched farmhouse, sleeps five). Silverton Park Stables œ www.landmarktrust.org.uk. Silverton (between Bickleigh and Killerton). A place with a history, unlike any stable you've ever seen. Sleeps 14.
Tiverton Castle œ www.tivertoncastle.com. Three apartments sleeping two to four in the main castle. Two houses in the castle grounds sleeping four and six. No pets. Minimum of three nights.
Honiton & around
Hotels
Deer Park Country Hotel Weston, Honiton œ www.deerparkcountryhotel.co.uk. A Georgian mansion set in 80 acres, this boutique hotel specialises in romantic stays and honeymoons. For something really different try their tree house. It couldn't be further removed from the tree houses of your childhood. Total luxury.
Lakeview Manor Dunkeswell œ www.lakeviewmanor.co.uk. In a quiet location east of Dunkeswell, this old-style manor house hotel is set in 45 acres of gardens and parkland, with two ornamental ponds and two fully stocked fishing lakes. The ideal place to wind down after doing a skydive at Dunkeswell airfield.
Glamping
Grey Willow Yurts Knowle Farm, Smeatharpe EX15 3QA (Blackdown Hills) www.greywillowyurts.co.uk. Three 'Yabins' – a combination of yurt and cabin. Shared showers and toilets.
The Nest www.treeholidays.co.uk. Hidden away in Devon's northern Blackdown Hills this is as back-to-nature as you can get, but in total comfort. The Nest is a genuine tree house but kitted out with everything you could possibly need. Birdwatchers can add to their life list by sitting on the balcony!
The heart of Devon's AONB
Hotels
Tumbling Weir Hotel Canaan Way, Ottery St Mary œ www.tumblingweirhotel.com. A friendly, family-run hotel with ten en-suite bedrooms, in a converted 17th-century thatched cottage, set in almost an acre of gardens near Ottery St Mary's historic weir.
B&Bs
Burscombe Farm Sidburyœ www.burscombefarm-devon.co.uk. A beautiful old farmhouse and family-run dairy farm in completely tranquil countryside, with two good-sized comfortable bedrooms (each sleeping two or three) overlooking the garden and fields. The East Devon Way and other walks are within reach. Accessed from either Sidford of Sidbury, via about one mile of very narrow single-track lane. Good directions on website.
Self-catering
Burscombe Farm See B&B, above. A wing of the farmhouse has been modernised, making a self-contained two-bedroom self-catering cottage that sleeps up to six.
Cadhay Manor, Cadhay Stables & Coach House Nr Ottery St Mary œwww.cadhay.org.uk. Exceptional self-catering holiday accommodation for up to 22 people. Available for holiday rentals by the week or long weekend. The Stables and Coach House self-catering holiday rental properties on the Cadhay estate each sleeps six and the Cider Press sleeps two.
Higher Wiscombe Southleigh EX24 6JF œ www.higherwiscombe.com. Four dog-friendly cottages in a peaceful valley, four miles from the coast; sleeping between six and 32. Five miles from Honiton; ask for directions rather than using sat nav.
The China Tower Bicton œ www.landmarktrust.org.uk. This octagonal castellated tower was given by Lady Rolle to her husband as a surprise birthday present! Sleeps four. Strong legs needed for all those stairs.
The Dairy Loft Valley Barn, Hawkerland, Colaton Raleigh EX10 0JA www.thedairyloft.co.uk. A luxury loft studio sleeping two, overlooking fields and with its own entrance and parking. Breakfast is provided but not served: guests receive a wellstocked fridge, homemade jams and cakes and a welcome pack.
Camping & glamping
Cuckoo Down Farm Yurts West Hill EX11 1UE œ www.luxurydevonyurts.co.uk. Three luxury yurts and two safari tents in a huge field, beautifully furnished, with wood-burning stoves. Outside is a little covered kitchen, and a compost loo. The safari tents are larger, with two separate bedrooms and a living room with a large sofa bed. It's utterly peaceful, and great for children who can be as adventurous as they want, or collect eggs from the free-range hens.
Hunger Hill Yurts EX10 0B7 œ www.yurt-holidays.co.uk. Four meadow yurts plus you can book a day with a foraging expert.
Knightstone Safari Tent Knightstone Farm, Nr Ottery St Mary EX11 1PPœ www.knightstonesafaritent.co.uk. A roomy, comfortably furnished safari tent sleeping four, tucked away in a peaceful corner of a family-run dairy farm.
Oakdown Holiday Park Weston EX10 0PT œ www.oakdown.co.uk. An award-winning and 'green' caravan and camping park adjoining the Donkey Sanctuary: Leisure Lodges for rent, a nice little café and shop, and family golf at Oakmead on the other sode of the road. The free Sidmouth Hopper bus stops here.
The Seaside Towns
Hotels
Dukes Inn The Esplanade, Sidmouth EX10 8ARœ www.dukessidmouth.co.uk. One of Sidmouth's oldest seafront buildings offers 13 updated en-suite rooms of various shapes and sizes, many with stunning sea views. Busy restaurant with good food and pleasant staff.
Hunters Moon Hotel Sid Rf, Sidmouth EX10 9AA œ www.huntersmoonhotel.com. A ten-minute walk away from the seafront, in a peaceful and leafy area of Sidmouth, this elegant Georgian house has two acres of wooded gardens and a private gate to The Byes. Run by the same family since 1958, the 33-bedroom hotel retains the atmosphere of its era but with additional modern updates.
Mariners Hotel The Esplanade, Seaton EX12 2NP œ www.marinershotelseaton.co.uk. The hotel's location in the middle of the Esplanade is amazing – a panoramic view over Lyme Bay, including the Jurassic cliffs, and just across the Esplanade from the beach. This relaxed and friendly hotel has eight en-suite bedrooms (five with sea views), and two sea-facing self-catering apartments sleeping two and four.
B&Bs
Baldash Cottage B&B Branscombe EX12 3BS www.baldashcottage.co.uk. Luxury boutique accommodation (two bedrooms and one suite) in a renovated traditional thatched, stone-built cottage in its own 10-acre wooded valley. Also see Baldash Lodge below (self-catering, 100m from Cottage).
Pebbles B&B 16 Fore St, Budleigh Salterton EX9 6NG œ www.bedandbreakfastbythebeach.com. The website says it all! This delightful little B&B with three en-suite rooms is only a few feet from Budleigh's famous pebbles and the sound of the waves will lull you to sleep. It's extremely popular so book well in advance. Also see Pebbles the Apartment, under Self-catering, below. The South West Coast Path runs close by.
Stoneborough House 21A East Budleigh Rd, Budleigh Salterton EX9 6HW œ www.stoneboroughhouse.co.uk. This elegant Edwardian home, with many antiques and period features, is seven minutes' walk from the beach. It has three comfortable en-suite bedrooms, and a comfy drawing room and conservatory where guests can relax. A recent breakfast menu mentioned '15 different homemade jams'!
The Old Farmhouse Hillside Rd, Sidmouth EX10 8JG www.theoldfarmhousesidmouth.co.uk. In a leafy residential part of Sidmouth, this 16th-century farmhouse and adjoining cottage have six comfortable en-suite bedrooms that reflect the period of the house, with their charming crooked beams and nooks and crannies. Evening meals are available by arrangement.
Self-catering
Baldash Lodge (see Baldash Cottage B&B, above) Luxury self-contained self-catering accommodation for two people, in beautiful and peaceful surroundings.
Forge Cottage Branscombe œ www.nationaltrustholidays.co.uk. In the heart of picturesque Branscombe village, this traditional thatched cottage, sleeps four in two bedrooms.
Margells Branscombe œ www.landmarktrust.org.uk. A beautiful thatched 16th-century cottage with exposed oak beams in the well-preserved interior. A good example of 16thcentury architecture, it may once have been part of a larger house. Sleeps five. Mariners Hotel Seaton (see under Hotels, page 249).
Pebbles the Apartment c/o Pebbles B&B, Budleigh Salterton œwww.pebblesapartment.com. Just a few minutes away from Pebbles B&B and equally close to the beach, this is a comfortable self-catering flat sleeping two.
Rosie's & Sea House Cottages Axmouth Harbour, Seaton www.harbourdetail.com. Two cottages in a superb position on the edge of Axmouth Harbour, Rosie's (previously a fisherman's cottage) and Sea House have been refurbished to the highest eco-friendly standards. Together they can accommodate up to ten people, four in Rosie's and six in Sea House, and are inter-connected by a porch.
Camping
Coombe View Farm Branscombe EX12 3BT œ www.branscombecamping.co.uk. Peaceful camping in this lovely village. The Mason's Arms is handy for meals and the South West Coast Path is nearby. Salcombe Regis Camping & Caravan Park EX10 0JW q 01395 514303 œ www.salcombe-regis.co.uk. A green and pleasant, family-run, 16-acre site for touring caravans, motorhomes or tents (and with static caravans for hire), this is the nearest park to Sidmouth and is served by the shuttle bus between there and the Donkey Sanctuary.
Devon's Far East
Hotels
The Dower House Rousdon DT7 3RBœ www.lymeregis-hotel.com. An elegant country house with a heated outdoor pool, over two acres of gardens and ten comfortable, tastefully decorated bedrooms. A recent addition is a biomass boiler enabling the use of green energy. Cream teas are available, as are evening meals by arrangement.
Fairwater Head Hotel Scouse Lane, Hawkchurch EX13 5TX œ www.fairwaterheadhotel.co.uk. A lovely leafy hotel set in three acres of garden, with 16 comfortable, characterful rooms and an acclaimed restaurant.
B&Bs
Combe House Bed & Breakfast Queen St, Colyton EX24 6JU œ www.combehousebedandbreakfast.co.uk. Colyton has so many historic old houses, and this friendly place is a beautifully renovated, Grade-II listed, 17th-century family home with three comfortable en-suite bedrooms – and good breakfasts.
Kerrington House Musbury Rd, Axminster EX13 5JR œwww.kerringtonhouse.com. This elegant former Victorian gentleman's residence retains many period features, such as marble fireplaces and fine plasterwork ceilings. The five individually decorated en-suite bedrooms are thoughtfully equipped, and the spacious lounge overlooking the garden has comfortably relaxing armchairs and sofas.
Stables Guest House B&B Trill Farm, Trill, Musbury EX13 8TU www.trillfarm.co.uk. Three double en-suite rooms with country views, and a spacious lounge.The best treat is the organic farm-produced breakfast, and you have 300 acres to relax in.
Self-catering
Peek House Rousdon œ www.peekhouse.co.uk. The west wing of the Rousdon Mansion (page 200) with seven bedrooms and all that lovely parkland.
Rousdon Cottages œ www.holidaylettings.co.uk. Several self-catering cottages in Rousdon Estate. Include the converted St Pancras Church.
Shute Barton Gatehouse. www.landmarktrust.org.uk.Described as looking like a toy castle, complete with castellations. Huge fireplace and decorative plaster ceiling. Sleeps three.
Shute Barton House œ www.nationaltrustholidays.org.uk. Despite being listed among the National Trust's 'holiday cottages', this is massive! It's part of a stately medieval manor house and sleeps ten; the accommodation includes the medieval great hall on the top floor with its original collar-beam roof, and other historic features.
Glamping
Higher Manor Farm Combpyneœ www.highermanorfarmholidays.co.uk. Two yurts and a shepherd's hut along with a self-catering lodge in a beautiful part of East Devon close to Lyme Regis.
Dorset's Jurassic Coast
Hotels
Fernhill Hotel Charmouth DT6 6BX œwww.fernhill-hotel.co.uk. Between Lyme Regis and Charmouth. Ten pretty rooms, including a studio for families. There is an emphasis on relaxation and health, with an outdoor pool and holistic therapies. Guests also have access to 36 acres of woodland and fishing ponds.
B&Bs
Dorset House Pound Rd, Lyme Regis DT7 3HX œ www.dorsethouselyme.com. A first-class B&B in a beautifully restored Georgian house close to the town centre. The large, communal breakfast table means you can share stories with fellow travellers.
Self-catering
Montana œ www.uniquehomestays.com. Close to Lyme Regis but just the Devon side of the border. An architect-designed retreat with far-reaching woodland views. Sleeps ten. Dog-friendly.
Camping
Golden Cap Holiday Park Seatown DT6 6JX; œ www.wdlh.co.uk. A well-equipped campsite in an outstanding location around 100 yards from Seatown Beach, which is
nestled between cliffs. The views of the surrounding coastal farmland are absorbing.