January
Celebrate the Bard at the Big Burns Supper
A a seven- to ten-day musical and arts extravaganza held around Burns Night (25 January) described as 'a non-stop, head-banging modern interpretation of what a modern celebration of Robert Burns could look like.' Raise a glass or two to Scotland's national bard in the city where he spent the final years of his life, Dumfries, Dumfries & Galloway.
February
Go nuts! Red squirrel spotting and walnut racing
On the edge of Lockerbie in Dumfries & Galloway is the small, yet perfectly formed Eskrigg Nature Reserve – a place that offers an almost guaranteed sighting of red squirrels. In February each year you can also join in some eccentric fun and try your hand at a spot of walnut racing.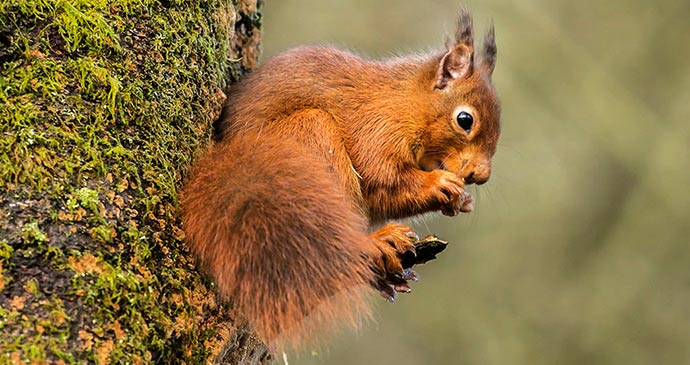 March
Snowdrops in bloom
The Scottish Snowdrops Festival runs all over the country to welcome the first signs of spring. In Dumfries and Galloway head for the Dunskey estate on the Rhins, near Portpatrick, to follow the snowdrop walks, navigate through the maze and pause for a cup of tea. Other venues include Galloway House at Garlieston; Logan Botanic Gardens on the Rhins; and Cally Woods at Gatehouse-of-Fleet.
April
Go wild in the country!
Wild Spring Festival, part of Wild Seasons, is Scotland's largest and longest running wildlife festival with over 100 family-friendly events across Dumfries & Galloway. Go wildlife canoeing on Loch Ken, spend the day birding at WWT Caerlaverock, or even take a nocturnal wildlife tour using hand-held infrared cameras. The range of activities is impressive.
May
Enjoy a Spring Fling with the region's artists
Billed as 'Scotland's Premier Art and Craft Open Studio Event', Spring Fling involves around 100 artists and makers across Dumfries & Galloway opening their studio doors to the public to showcase their work. It's a visual feast of unique talent hd between 23 and 25 May.
June
Classic and vintage entertainment at the Moffat Car Rally
The biggest classic car event in Scotland takes place in Moffat, Dumfries & Galloway, each year on 27 and 28 June, with 900 vintage motors from all over the world making their way to the north of Annandale. Includes live music, children's attractions and serious engine revving. Go to www.sre-scot.co.uk for more information.
July
Langholm Common Riding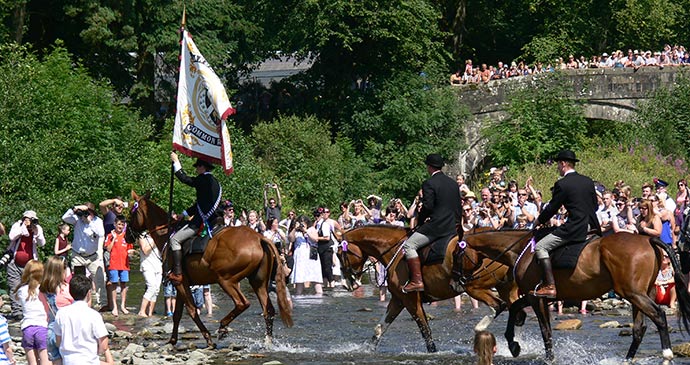 Dumfries & Galloway's oldest continuous Common Riding is a lively affair, starting with a flute band parade at 05.00 and running until the 'cornet' hands back the flag at 21.30 in front of the town hall. Dozens of riders gather in Langholm's town centre before heading out to ride the town boundaries in time-honoured tradition and then returning to parade through the town and cross the river. Last Friday in July.
August
Galloway Country Fair
A two-day event held in the grounds of Drumlanrig Castle, celebrating rural life and bringing together food and drink, country sports, entertainment, rural crafts, children's activities and much more. www.gallowaycountryfair.co.uk
September
Lockerbie Jazz Festival
Now spreading its jazz hands wider than Lockerbie the ever popular and growing Lockerbie Jazz Festival (25–28 September) is a firm fixture on the September calender in Dumfries & Galloway. Offering a wide range of jazz and blues from Trad to contemporary, plus a tempting workshops for budding singers, concerts and a whole load of community groups performing. Events also taking place in Moffat and Annan. See www.lockerbiejazz.com for more info.
October
A page turner of an event: Wigtown Booktown Festival
Now in its 16th year, Wigtown Book Festival in Dumfries & Galloway offers more than 180 events for adults, children and young people spanning literature, music, film, theatre, arts and crafts. Running from late September through to early October, the festival has welcomed speakers such as Ian Rankin, Celia Imrie, and Joanna Lumley.
November
A dash of autumn colour at the Wild Autumn Festival
From October and on into November there are over 100 family-friendly wildlife events across southwest Scotland, including Dumfries & Galloway, enjoying spectacular autumn colours and large scale wildfowl migrations from the Arctic Circle. Part of Wild Seasons.