Suggested places to base yourself
Getting there and around
Suggested places to base yourself
The places listed below make ideal bases for exploring the Cotswolds.
Chipping Campden
The starting point – and finish – of the Cotswold Way.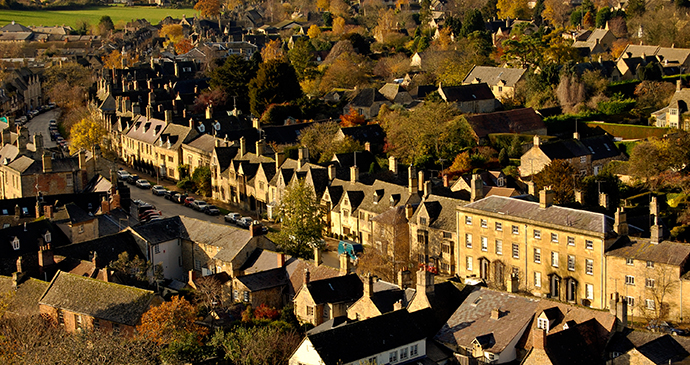 Looking down from the church tower over Chipping Campden © www.loosechippings.com
Winchcombe
Winchcombe is a must for those taking to the footpaths.
Painswick
In close proximity to nature reserves of international importance.
Chipping Norton
Perfect for exploring the eastern fringes of the Cotswolds.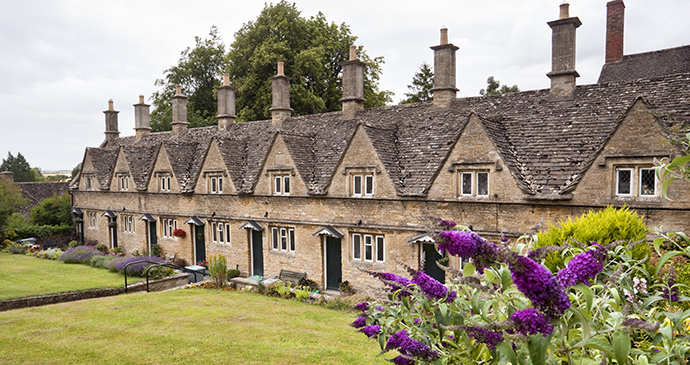 A row of almshouses in Chipping Norton © The Oxfordshire Cotswolds
Windrush Valley
A tributary of the Thames linking towns like Burford and Witney.
Thames Valley
Cricklade and Lechlade provide opportunities for canoeing and boat trips.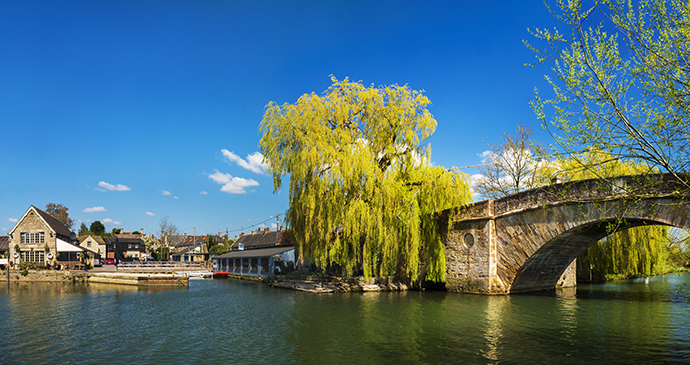 The River Thames at Lechlade © allou, Shutterstock
Leach Valley
Riverside walks through superlative villages.
Getting there and around
Slow favours public transport and leg power: not only are these methods of travel kinder to the environment but they also allow you to see and experience places at the right pace. The most rewarding journeys through the Cotswolds are those spent on foot or in the saddle to see the minutiae of a locale. You won't see the rare rufous grasshopper, localised to Cranham Common, or the gorgeous Duke of Burgundy butterfly, found on Rodborough Common, from the comfort of your car driving at 50mph. And, indeed, many of the Cotswolds' best-kept secrets are secret, because you can only reach them on foot.
Public transport
An entirely car-less holiday is possible in the Cotswolds, but it will take some planning, and while we speak of going slow, you will need to factor in significantly greater chunks of time to reach off-beat places. A relatively large rail network, with direct links to London, Birmingham, the southwest and south Wales, will get you started: one of the most useful stretches of line, particularly for the north Cotswolds, is run by Great Western Railway between Oxford and Worcester with eight small-scale stations getting you into the heart of the countryside. Otherwise, mainline stations at Oxford, Banbury, Stratford-upon-Avon, Cheltenham Spa, Gloucester, Swindon and Bath Spa will help you on your way.
Changes to bus routes, route numbers, stops and timetables are frequent so it's advisable to check local council websites for Oxfordshire, Warwickshire, Gloucestershire, Wiltshire plus Bath and North East Somerset before travelling to avoid getting stranded. Each has a dedicated web page to current bus services.
Walking
It's as if the Cotswolds were made for walking, with the option to admire the views from the hills or stick to the riverside paths in the valleys. And for solitude, there are plenty of hidden valleys and wide expanses of hilltops to escape the crowds. That said, the most popular walk – and one of the most well-loved walking routes in the British Isles – is the Cotswold Way, the 102-mile National Trail between Chipping Campden and Bath. There are many other named trails that crisscross the Cotswolds including the Monarch's Way, Macmillan Way, Thames Path, Shakespeare's Way plus more localised trails such as the Windrush Way or Kenelm's Way that will help you to explore a locale in detail.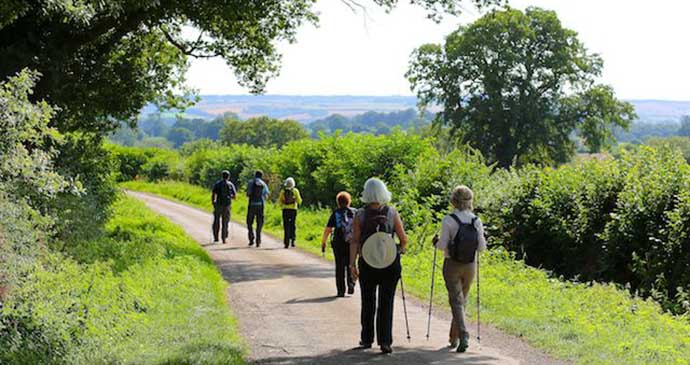 Walkers near in the Cotswolds Honeybourne © Garry Johnson
The Cotswolds has eight Walkers are Welcome towns, which means each has joined a national initiative to ensure their locales are attractive for walking, offering information on nearby walks and keeping footpaths and signposts well maintained. You'll find many pubs and cafés bearing the Walkers are Welcome window sticker: feel confident that they will not mind your muddy boots and wet-weather gear.
Cycling
For seasoned cyclists, the Cotswold hills are an exciting challenge; for those who last hopped on a bike some years ago, they can be daunting. However, there is sufficient diversity to please every type of cyclist with quiet lanes along the, relatively, flat to potter from village to village and traffic-free routes such as the Kennet and Avon Canal Path to regular inclines. Guided cycle tours are thriving in the Cotswolds.