Savouring the tastes of Stratford-upon-Avon
Accommodation
Savouring the tastes of Stratford-upon-Avon
Stratford has a wealth of dining experiences (Sheep Street is the best for independent eateries) and because of the theatres you'll get food well into the evening. Pre-theatre menus usually begin around 17.00, there's then a second sitting for those not going to the theatre followed by dinners after the show.
Restaurants, cafés & pubs
Countess of Evesham Stratford Marina, Bancroft Gardens; 07836 769499; www.countessofevesham.co.uk. This floating restaurant on a narrowboat is tastefully decorated and the food, cooked on board, is accomplished. Choose from a lunchtime cruise along the Avon or an evening dinner cruise, when the floodlit riverbanks create a really atmospheric occasion.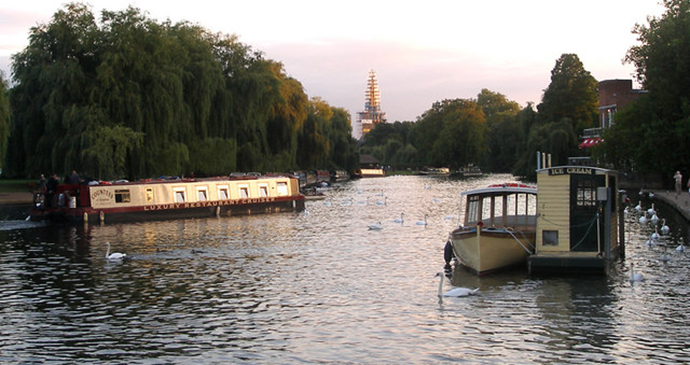 The Countess of Evesham, a floating restaurant, heads downstream © John Evans
Dirty Duck Southern Ln; 01789 297312; www.oldenglishinns.co.uk. Also, but rarely, known as the Black Swan – look at the pub sign hanging over the door. The Dirty Duck is a Stratford institution for being the place where actors from the RSC hang out after a show, it being 2 minutes' walk from the theatre. There are better places to eat in town but come here to drink in the Actors' Bar, which is covered with signed photos of past thespian customers or sit outside on the terrace overlooking the river and the theatres.
Emporium Tea Room The Antiques Centre, off Ely St. A tiny (6 tables) tearoom with a cosy ambience in a 'vintage' corner of the Antiques Centre, a useful place to pick up some knick-knacks. It serves light lunches (homemade soup, grilled goats cheese on toasted brioche), cream teas and homemade cakes.
The Fourteas Sheep St; 01789 293908; www.thefourteas.co.uk. All the fun of the Forties without the rationing; even the windows are 'wartime prepared'. Vintage furniture and crockery, posters inviting you to join the Land Army, Union Jack bunting, Vera Lynn and Glen Miller over the 'wireless' and waitresses dressed from the '40s. Opt for an Ivor Novello Afternoon Tea or sample one of 18 types of tea plus coffees, hot chocolate and light bites from breakfast, lunch and tea menus. Step out into the back garden to see the original Anderson Shelter.
The Opposition Sheep St; 01789 269980; www.theoppo.co.uk. Another Stratford institution – known as 'The Oppo' to locals – that has been serving up really tasty food for over 30 years. Great cosy ambience, superb food and, owing to its proximity to the theatre, a popular haunt for post-theatre dinners.
RSC Rooftop Restaurant & Riverside Café Royal Shakespeare Theatre; 01789 403449; www.rsc.org.uk. Restaurant on the third floor of the Royal Shakespeare Theatre providing commanding views over the river, or opt for the Riverside Café, serving snacks and drinks, on an open-air terrace by the river. Pre-theatre menus are available along with light lunches, afternoon tea, dinner, cocktails or Sunday brunch.
Vintner Sheep St; 01789 297259; www.the-vintner.co.uk. The other renowned institution on Sheep Street, the Vintner is classed more as a café and wine bar but still serves excellent food in a beautiful 15th-century half-timbered building. It serves tapas in addition to complete meals (Cornish crab and avocado tian, tandoori salmon with Bombay potatoes; grilled Cajun chicken with tomato salsa).
Accommodation
Arden Hotel Waterside, Stratford-upon-Avon CV37 6BA; 01789 298682; www.theardenhotelstratford.com. Short of bunking down in the wings, this is as close to the Royal Shakespeare Theatre as you can get to stay. It's a boutique-style hotel that's won multiple awards, with king-size beds and marble bathrooms. A brasserie, champagne bar, lounge and terrace overlooking the theatre complete the package.
Church Street Townhouse 16 Church St, Stratford-upon-Avon CV37 6HB; 01789 262222; www.churchstreettownhouse.com. In a 400-year-old Grade II-listed building, this has 12 beautifully decorated en-suite bedrooms, some overlooking the almshouses and Shakespeare's old school. Superb bistro too, and a great location for the town centre.
Cross o' th' Hill Farm Clifford Rd, Stratford-upon-Avon CV37 8HP; 01789 204738; www.cross-o-th-hill-farm.com. The best of town and country, this attractive farmhouse B&B sits in open countryside yet is a 12-minute walk across fields to the River Avon and the town centre. There are three cosy double bedrooms all overlooking the gardens and with views to Holy Trinity Church (Shakespeare's Church). Organic, Fairtrade and local produce used for breakfast.