Going Slow in Oxford
The city may be rooted in tradition, but it's not stuck in the past, the romantic scholarly buildings merely the backdrop upon which to create an exciting stay. Although, if Inspector Morse is to be believed, no-one would dare set foot in the city for the number of deadly deeds and ghastly goings-on that occur behind whispering walls and the creeping crevices of college gardens.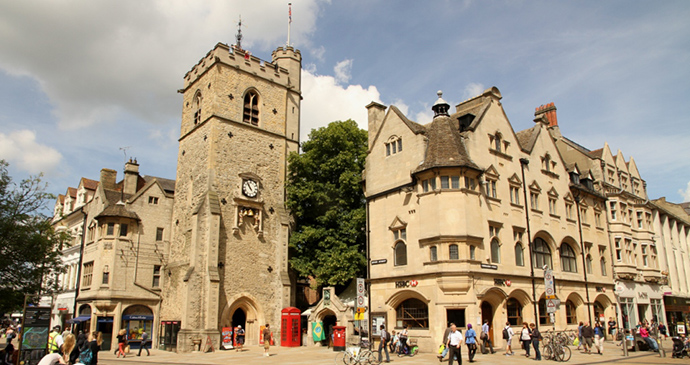 Carfax Tower © Motacilla
Oxford can easily be cut into four segments, with the Carfax Tower right in the city centre being the midpoint. Four roads, running almost due north to south and east to west, conveniently converge here – St Aldates to Cornmarket Street (running north towards St Giles) and the High Street to Queen Street. These I use as borderlines.
The author's story
I like the notion that in this university town, Arnold's 'dreaming spires' are all about the hopes and aspirations of the thousands of students that pass through the halls, passageways and courtyards every year. For there is no doubt that the architecture and the traditions embedded within the walls of the Oxford colleges make the city an inspirational place to study. Watching the scholars chatting in the cafés takes me back to my own student days, poring over reams of literary notes, a novel several inches thick open on the table, while trying to make one coffee last several hours.