Savouring the tastes of Oxford
Accommodation
Savouring the tastes of Oxford
Oxford is a cosmopolitan city and you can buy sushi or tapas just as easily as you can bangers and mash. The Cowley Road is where you'll find an eclectic mix of restaurants from many nations while small enclaves such as Summertown and Jericho each have their own collection of restaurants and bars. Afternoon tea in the Randolph, an Oxford institution, sits equally with intellectual chat in one of the many town pubs.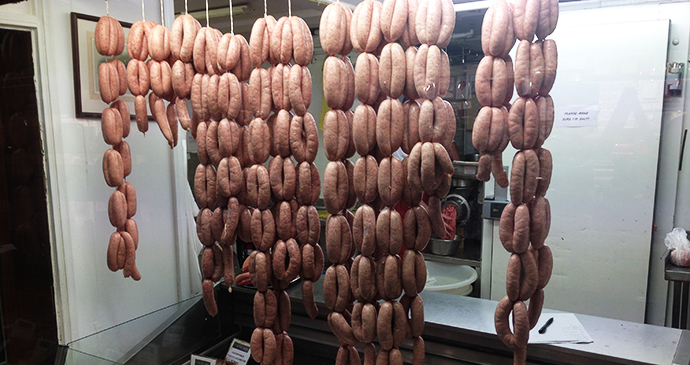 Sausages hanging in Oxford's Covered Market (where they were also produced) © Edward Alexander
Oxford's Covered Market is special. Accessed off The High, Cornmarket Street and Market Street, it's full of cosy cafés and tiny independent boutiques selling interesting things. Most of all, though, it remains a food market where the same family butchers have been trading for generations, where fruit and vegetables really are fresh and where you can buy food that has genuinely been produced in Oxford. You can find products such as the Oxford sausage with its centuries-old history, Oxford Blue cheese, Oxford Sauce with a kick that will send you flying over college roofs and Oxford Marmalade, sadly the only one now outsourced from other parts of the country. Look out for the market's famous Cake Shop too, where cake artists shape and decorate the cakes in the window.
Cafés & restaurants
Gatineau 209 Banbury Rd; www.gatineau.uk.com. My guilty pleasure in Summertown – a French pâtisserie that's better than most in France! French owned and run, you can order your 'from heaven' croissants and breakfast pastries in French if you wish. Amazing quiches, gateaux and desserts plus chocolates, all handmade (you can see them being made) on the premises.
G & D's Ice Cream www.gdcafe.com. Oxford's own small chain of boutique ice-cream parlours. George & Davis in Little Clarendon Street is where it's all made. Then there is also George & Danver in St Aldates and George & Delilah on the Cowley Road. High-quality ice cream using natural ingredients and made in Oxford.
Georgina's Coffee Shop Avenue 3, Covered Market; 01865 249527. One of my favourites. Bohemian décor – old film posters 'wallpapered' on the ceilings, rustic pine tables and chairs – nothing matches – and chalked blackboards on the walls. Enjoyably hearty food and snacks and huge vats of tea and coffee. It's a popular place but easy to miss – upstairs above 'Brothers'. Look for the bright pink staircase and powder blue windows.
Joe's Bar & Grill 260 Banbury Rd; 01865 554484; www.joesrestaurants.co.uk. My other main favourite. Inviting and very popular 'local' restaurant with cosy, circular booths, outside tables and bar stools. Fabulous, freshly prepared food from breakfast to dinner, or you can enjoy a drink and nibbles. Sizzling prawns with garlic and chillies; Joe's homemade burgers (beef, chicken, pulled pork, spiced lamb or veggie) with a choice of toppings and homemade sauces); grilled goat's cheese salad.
The Nosebag 6–8 St Michael's St; 01865 721033; www.nosebagoxford.co.uk. Then again, this might be my favourite – I can't decide! Serves a more substantial lunch than Georgina's. Large portions of hot, wholesome dishes or choose from the giant bowls of salads to create a plate, alongside enormous slabs of quiche. Very popular. Sit at long refectory-style tables with whoever else happens to be there.
Pierre Victoire Bistrot 9 Little Clarendon St; 01865 316616; www.pierrevictoire.co.uk. Tiny, authentic, French-owned bistro serving classic, hearty dishes such as moules marinière and tartiflette. Set menus are very good and inexpensive.
Vaults Garden Café University Church of St Mary the Virgin, Radcliffe Sq; 01865 279112; www.vaultsandgarden.com. Come here just for the location – a quiet garden overlooking the Radcliffe Camera, or tuck down in the vaults of the University Church. Wholesome food using organic and Fairtrade produce. Much of the food is sourced from nearby farms.
Pubs
Eagle and Child 49 St Giles; 01865 302925. Tiny, historic pub brimming with character where the Inklings writers' group, which included C S Lewis and Tolkien, used to meet. Always busy and I think there are better places to eat, so one to go for a drink and to soak up the ambience.
Lamb and Flag 12 St Giles; 01865 515787. Another literary institution that has been popular with students for decades. Thomas Hardy's Jude the Obscure was reputedly written here. Like the Eagle and Child across the road, come here for a drink but go elsewhere for food.
The Morse Bar Randolph Hotel, Beaumont St; 0844 8799132. Many an episode of Morse has the Inspector puzzling over his crossword in this bar. The cosy, wood-panelled bar with roaring log fire is more of a comfortable living room than town-centre pub. The bar still features regularly in episodes of the TV series Lewis.
Perch Inn Binsey Ln; 01865 728891; www.the-perch.co.uk. A 17th-century thatched pub in Binsey. Traditional Englishness combined with French cuisine, plus one of the best pub gardens I know. Dishes include wild rabbit, chicken and smoked bacon terrine, pea, baby spinach and wild garlic croquettes and chicken, ham, leek and suet crust pie.
Rusty Bicycle 28 Magdalen Rd; 01865 435298; www.therustybicycle.com. A quirky, sociable, community pub located between the Iffley and Cowley roads. Serves their own home brew alongside well known ales, cocktails and an extensive wine list. Specialises in homemade burgers (the best in town) and slow rise pizzas. A real find. You could also try its sister pub, The Rickety Press in Jericho, should you find yourself on the other side of town.
Trout Inn 195 Godstow Rd, Wolvercote OX2 6PN; 01865 510930; www.thetroutoxford.co.uk. It takes a little effort to get here, but it's worth it for the superb location alone, and is my pick of the pubs. Frequented by many authors over the years including Lewis Carroll, C S Lewis and Colin Dexter, it has a large terrace on the banks of the Thames. Menu highlights include sticky chicken in lemon, honey and chilli sauce, pan-fried sea bass, and lobster brioche roll and thermidor dip.
White Hart Inn Wytham OX2 8QA; 01865 244372; www.whitehartwytham.com. A very cosy pub in the tiny village of Wytham, 3 miles from Oxford, but accessed from the city centre via the Thames Path. A secret hideaway.
Accommodation
Malmaison Oxford Oxford Castle, 3 New Rd, Oxford OX1 1AY; 01865 689944; www.malmaison.com. Your chance to 'do time' in what was once the Norman castle adapted into Oxford Prison. The beds are more comfortable, the bathrooms considerably more than a bucket in the corner, but you still get to stay in the same cells. It's all a bit more chic now: the brasserie retains the original features of this prison and the al fresco terrace was once the exercise yard. Expect the food to be a good deal more pleasurable than it once was.
Old Parsonage Hotel 1 Banbury Rd, Oxford OX2 6NN; 01865 310210; www.oldparsonage-hotel.co.uk. Small privately owned boutique hotel in beautiful 17th-century building, 5 minutes' walk from the city centre. Tastefully furnished, offering individually decorated bedrooms, a restaurant, cosy bar and terraces for dining outdoors or listening to the summer jazz 'concerts'. Or cosy up in the hotel's own library for a thought-provoking read. Very good food – the place for a quiet afternoon tea.
Oxford University www.oxfordrooms.co.uk. Oxford University is made up of 38 collegiate colleges and when the students have gone home for the holidays, the colleges are open to guests. It's a unique opportunity to stay in historic surroundings, eat in grand college halls and wander college gardens without having to spend several years studying. Rooms may or may not be basic, with or without en-suite facilities, but all are booked as B&B. Many colleges offer additional privileges such as the use of sports centres or tennis courts and visits to areas not generally open to the public.