Savouring the tastes of the Cotswolds
There was a time when British food was considered lacklustre and dull, a poor relation to the gourmet cuisine of continental neighbours. Not so in the Cotswolds, whose farming traditions go back centuries. Pubs, restaurants and cafés are plentiful in the Cotswolds with many using the wealth of produce from the doorstep and, while there are still bland menus out there, I'd say that there are more places to eat with excellent food than there are with indifferent menus.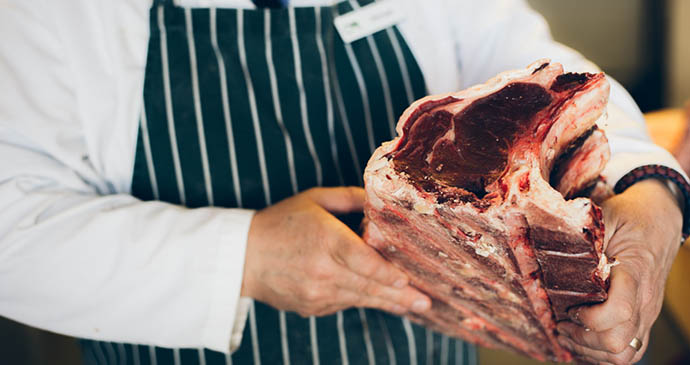 That's, perhaps, not surprising given the enormous choice of local, seasonal and organic food that is produced in the Cotswolds – and which you can also get your hands on at a plentiful supply of farmers' markets, organic farm shops or, indeed, by visiting the place where the food and drink is produced. Visit Winstones Icecream and you'll just as likely see some of the cows sat outside the icecream parlour enjoying the same view of Stroud that you can; head to Cotswold Lavender during the summer and you can sample lavender shortbread while overlooking the purple hues; or take a tour of the relatively new Cotswolds Distillery and see how its gin is made – the barley used is taken from the surrounding fields.
If you like unique, you can purchase milk that pours from a tap at Nell's Dairy or rare-breed beef from the National Trust's Ebworth Estate whose cattle are kept deliberately to maintain the look of the Cotswolds. If it's Cotswold lamb that you wish to taste, make sure that you check it is the meat of the actual Cotswold sheep rare breed and not simply meat from sheep grazed in the Cotswolds.
Accommodation
North Cotswolds
Four Shires
High Cotswolds
The Thames Tributaries
Thames Valley
The Southern Cotswold Scarp & Five Valleys
Wiltshire Cotswolds
North Cotswolds
Hotels
Three Ways House Hotel Mickleton GL55 6SB; 01386 438429; www.threewayshousehotel.com. Elegant yet cosy Cotswold house that has been a hotel for over 100 years. There are 48 individually furnished rooms but this is the home of the Pudding Club so expect some fun – seven pudding-themed bedrooms eccentrically decorated according to the traditional pud that they represent. The Sticky Toffee and Date room feels as if you're staying in a Bedouin tent; the bed in the Chocolate Suite is the base of a box of chocolates, with chocolate soap in the bathroom. The hotel has many green credentials, including the Gold Award for Green Tourism.
Farncombe Estate Broadway, WR12 7LJ; 01386 852711; www.farncombeestate.co.uk. Three private house hotels, each with its own personality and style but all quietly tucked away from the gaze of the masses. Select between Foxhill Manor, a Grade II-listed Arts and Crafts country home with just 8 bedrooms and set within 400 acres of woodland; the Fish Hotel, the 'budget' option with contemporary country rooms starting at £85 per night, set within the same estate; and Dormy House Hotel, the family-friendly option perched on a hill above Broadway.
B&Bs
Abbots Grange Guest House Church St, Broadway WR12 7AE; 02081 338698; www.abbotsgrange.com. An amazing medieval monastic manor house full of period features such as Gothic archways and cruck-framed ceilings. It's believed to be the oldest dwelling in Broadway and stands in 8 acres of gardens. Sit in the medieval 'Great Hall' for cream tea or take breakfast in the wood-panelled dining room. Past visitors to Abbots Grange apparently include Oscar Wilde, Claude Monet and William Morris.
Bell Inn Alderminster CV37 8NY; 01789 450414; www.brunningandprice.co.uk/bell/. Nine very tasteful, individually decorated bedrooms with plenty of style and panache. Breakfast is served using local supplies and jams from the village. Dinner is available in the gastro-pub restaurant. The Bell is a part of the Alscot Estate.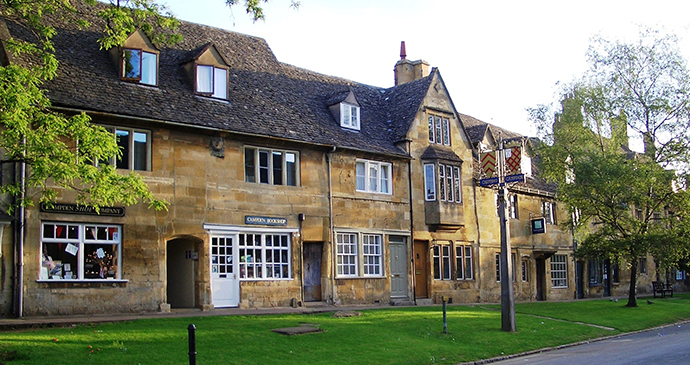 Self-catering
Letter Box Cottage Hidcote Boyce GL55; 01386 438706; www.cotswoldcountrycycles.com. A quintessentially English 18th-century Grade II-listed thatched cottage, located in the tucked-away hamlet of Hidcote Boyce, 3 miles from Chipping Campden and within walking distance of the National Trust Hidcote Manor and Gardens. The cosy two-bedroomed cottage has traditional latticed windows, old beams and a vast fireplace in the living room and lots of period features upstairs. Sleeps four.
Camping & glamping
Campden Yurts Chipping Campden GL55 6PN; 07792 624036; www.campdenyurts.co.uk. A brand new site created in 2016, there are just two comfortable 18-foot yurts here, each accommodating a family of five. The yurts are equipped with a double bed, futons, sheepskin rugs and a woodburning stove. Enjoy a campfire or cook a BBQ on the outdoor fire grill. It's a beautiful setting on the edge of the town.
Four Shires
Hotels
George Townhouse High St, Shipston-on-Stour, Warwickshire CV36 4AJ [tel] 01608 661453; www.thegeorgeshipston.co.uk. Hotel with elegant Georgian façade in the centre of Shipston. Completely renovated and refurbished recently to create 15 boutique-style rooms, each individually furnished. King-size beds in all rooms and period bathrooms, including roll-top baths. Good restaurant or for private dining, – book the cosy Carriage Room.
The Redesdale Arms Hotel High St, Moreton-in-Marsh, Gloucestershire, GL56 0AW; 01608 650308; www.redesdalearms.com. Right in the heart of this popular Cotswold town, the flower-decked hotel dates back to circa 1650 with an oak-beamed interior. The 34 rooms are individually furnished, some newly built in 2012. Several ground floor rooms, with one purpose-built for wheelchairs. Log fires, local game and directly accessible without the need for a car.
B&Bs
Old School Little Compton, Moreton-in-Marsh, Gloucestershire GL56 0SL; 01608 674588. Atmospheric B&B beautifully decorated with rich, warm colours. The Victorian schoolhouse has many quirky features and inviting places to rest and relax, including a cosy rooftop drawing room with a Gothic arched window. Delectable breakfasts, supper trays, dinners and picnic hampers are offered using local (sometimes from the garden) produce.
Self-Catering
Heath Farm Holiday Cottages Swerford, Chipping Norton OX7 4BN; 01608 683270; www.heathfarm.com. Five luxury cottages converted from old stone farm buildings set within 70 acres of meadow and woodland. Owners David and Nena Barbour converted the buildings using natural materials 25 years ago and, where possible, commissioning local craftsmen and stonemasons to do much of the work; all the furniture and fittings within the cottages was made at the small joinery they set up on the farm for the purpose. Enjoy the extensive grounds and wildlife habitats, including David's nuttery planted with hazelnuts, walnuts and chestnuts, and the small collection of livestock.
Lower Farmhouse Todenham, Moreton-in-Marsh; 01386 898279; www.ruralretreats.co.uk. A 19th-century stone farmhouse located on Todenham Manor Farm, a working farm that sells truly delicious meat that can be delivered fresh for your stay. Five en-suite bedrooms (sleeps ten), inglenook fireplace with wood-burning stove, Aga and a large garden with barbecue.
Camping & glamping
Holycombe Whichford, Warwickshire CV36 5PH; 01608 684239; www.holycombe.com. Run by Sally and Andy Birtwell, who organise retreat weekends and holistic therapies in their home; they also provide a yurt, traditional gypsy caravan, treehouse and bell tents for some luxurious camping in their extensive garden along with space for your own tent. Stunning location in the grounds of the old Norman castle, next to the moat, it's about as far removed from a campsite as you can get. A real therapeutic hideaway.
High Cotswolds
Hotel
No 131 Promenade, Cheltenham GL50 1NW; 01242 822939; www.no131.com. A phoenix from the ashes, No 131 has been transformed from a derelict wreck to an elegant Georgian Grade II-listed villa. Eleven bedrooms retain the building's Georgian heritage, though each is individually furnished and decorated with a modern twist. Antique features include traditional cast-iron radiators and roll-top baths. The Crazy Eights restaurant and bar is split over two floors, serving seasonal English food.
B&Bs
Aylworth Manor Aylworth, Naunton GL54 3AH; 01451 850850; www.aylworthmanor.co.uk. Impressive yet comfortable 3-storey manor house in its own 165-acre grounds, in a tiny hamlet close to the village of Naunton (itself on the Diamond Way footpath). The three guest rooms have wonderful views. Breakfast features homemade produce. The Granary is a two-bedroom self-catering cottage housed in a listed building in the grounds.
North Farmcote B&B North Farmcote, Winchcombe GL54 5AU; 01242 602304; www.northfarmcote.co.uk. Spectacular location. One of only six handsome properties along a lengthy no-through road. Perched on a steep escarpment with wide-ranging views over the Cotswolds and as far as Bredon Hill, the Malverns and the Welsh hills. The mellow Cotswold stone farmhouse has been lived in by David Eayrs for 60 years; it is cosy and the gardens, with superb mature walnut trees, are inspirational. There's a magnificent terrace for sunny breakfasts and afternoon tea, or you can relax in front of the log fire. The Cotswold Way passes within a few yards of the front door.
Whittington Lodge Farm Whittington GL54 4HB; 01242 820603; www.whittingtonlodgefarm.com. A 4-star, gold-award-winning B&B on an organic working farm, which has been in the same family for over 80 years., this has three bedrooms and a lounge warmed by a log fire. Ian and Cathy Boyd are well known for ethical and sustainble farming; the farm has won national wildlife and conservation awards. Guests are offered a tour of the farm. Visit Britain-recommended breakfast with home-grown fruits, homemade bread and produce from the farm. The farm has also won national wildlife and conservation awards; Ian and his wife are happy to give guests a tour. In a village close to Cheltenham.
Self-catering
Notgrove Holidays Notgrove GL54 3BT; 01451 850468; www.notgroveholidays.com. A collection of beautiful Cotswold stone cottages and barn conversions that sleep between two and 32 people. All are a part of the private 1,500-acre Notgrove Estate; some of the cottages are within the village of Notgrove, providing a communal, village vibe, while others are in more secluded locations offering greater privacy. Book a personal chef if you feel like a night of luxury, order a massage or take a walk through the estate, which is part of a wildlife conservation scheme.
Stuart House Boutique Bedrooms Stow-on-the-Wold GL54 1BN; 01451 833669; www.stuarthousebedrooms.co.uk. In the very heart of the town centre are these eight luxury en-suite bedrooms in a Grade II-listed townhouse. Accommodation is on a rooms-only basis, but breakfast can be taken at the nearby Bell Inn, owned by the same people as Stuart House, or you're free to do your own thing, with many breakfast-serving venues within a minute's walk, alongside delis where you can purchase a breakfast picnic and head out into the countryside. All the rooms were newly decorated in 2016 and are modern and comfortable.
Camping & glamping
Notgrove Holidays Notgrove GL54 3BT; 01451 850468; www.notgroveholidays.com. Five glamping pods installed in 2016 and situated on a magnificent 1,500-acre private estate but within sight of the very attractive hamlet. Pods are separated by trees, each one having its own space and small garden with outdoor seating and a firepit. Sleeps four with kitchenette, sofas and en-suite shower room. Bikes for hire, games room for rainy days and a tennis court on site. Meet the donkeys, goats and alpacas in the neighbouring paddock.
StarGlamping National Star College, Ullenwood GL53 9QU; 01242 527631; www.nationalstar.org. Four camping pods sited in a peaceful field on the grounds of the National Star College, the entrance to which is located on the Cotswold Way. Sleeps two to four people; bring your own bedding. Delicious food, including breakfast, is possible in the StarBistro while you can play a round of golf at the neighbouring 18-hole StarGolf. Your accommodation fees go towards helping the young people with physical and learning disabilities that study at the college.
The Thames Tributaries
Hotels
Barnsley House Hotel Barnsley GL7 5EE; 01285 740000; www.barnsleyhouse.com. The former home (and gardens) of celebrated garden designer Rosemary Verey. A gardening theme runs throughout the hotel, including the Potting Shed – a suite with private garden and terrace. The whole place has a special feel, as if you are stepping into a comforting country house rather than a hotel. Excellent food, with many of the fruit and vegetables grown in the hotel gardens.
The Mill and Old Swan Minster Lovell OX29 0RN; 01993 774441; www.oldswanandminstermill.com. Two beautifully restored buildings in 60 acres of countryside next to the River Windrush and in an attractive village. Both are full of character, the Old Swan particularly so. Gastro-pub food at the Old Swan in relaxing surroundings. Fishing available on the Windrush for guests. Brand new spa facilities opened in 2016.
Cowley Manor Cowley, nr Cheltenham, GL53 9NL; 01242 870900; www.cowleymanor.com. A country house hotel set within 55 acres of secluded parkland, woods and meadows. The Grade II-listed gardens feature natural springs and lakes through which the River Churn flows. With 30 bedrooms of contemporary design using handmade furniture and fabrics created by British designers, an award-winning spa including both indoor and outdoor pools and the eccentric Malt Restaurant (purists may find that the contemporary furniture jars with the period features of the room), Cowley Manor is a combination of traditional Cotswold charm with urban chic.
Self-catering
Bruern Holiday Cottages Bruern OX7 6QA; 01993 830415; www.bruern-holiday-cottages.co.uk. A collection of 12 luxurious self-catering cottages hidden on the estate of Bruern Abbey, an imposing country house built upon the foundations of a 12th-century Cistercian monastery. Admirable attention to detail in the décor, furnishings, facilities, gardens and management. The spa facilities are listed as among the top spas in the world.
The Barrel Store Brewery Court, Cirencester GL7 1JH; 01285 657181; www.newbreweryarts.org.uk. A brand new accommodation offering in Cirencester, The Barrel Store is the first public Passivhaus (low carbon building) in the UK. The 48-bedroomed eco-friendly hostel is situated in the beautifully renovated brewery right in the centre of town. Bedrooms are simple but comfortable and there's a community room with self-catering kitchen and lounge. All bedrooms are en-suite and provide great budget accommodation for families.
Camping & glamping
Abbey Home Farm Burford Rd, Cirencester GL7 5HF; 01285 640441; www.theorganicfarmshop.co.uk. Several choices: a hideaway self-catering cottage; the romantic Hut by the Pond, secluded among trees and by the water's edge; the Shepherd's Hut, on the edge of the ancient Wiggold Wood, complete with log burner and outdoor fireplace; the summer Eco-Camp comprising 4 yurts accommodating 18 people as a group, with compost loos and a 'bucket shower'; a single 5-person yurt in a secret woodland glade; and 'Greenfield Campsite', a traffic-free campsite for tents.
Thames Valley
B&Bs
Manor Farm Kelmscott GL7 3HJ; 01367 262620; www.kelmscottbandb.co.uk. A 17th-century farmhouse owned by the National Trust on a 315-acre working arable and livestock farm that is run by the Horner family. A hearty breakfast uses produce from the farm and that of their neighbours. Very friendly hosts. Children welcome.
Red Lion 74 High St, Cricklade SN6 6DD; 01793 750776; https://www.theredlioncricklade.co.uk/. Just yards from the not-very-large Thames, there's B&B accommodation in this old pub with plenty of character. Five bedrooms available are situated in an annexe, away from the bar areas. Two rooms are 'dog-friendly'. Excellent bar and restaurant food.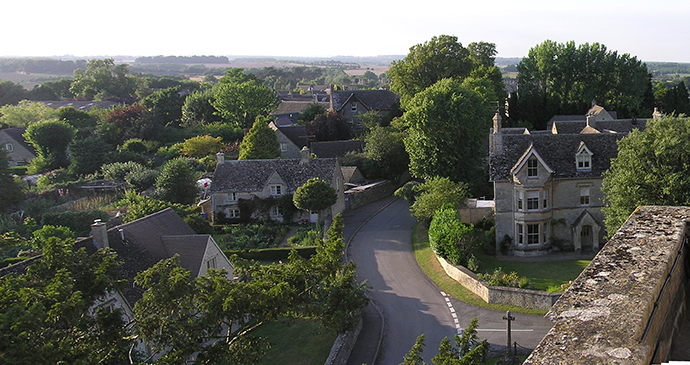 Self-catering
Log House Holidays Poole Keynes GL7 6ED; 01285 770082; www.loghouseholidays.co.uk. A choice of 8 traditional Finnish log cabins right on the shoreline of a private 100-acre lake in a 130-acre nature reserve within the Cotswold Water Park. The whole site is a designated Site of Special Scientific Interest because of its importance to wildlife conservation. Sleep from four to eight people. Each log cabin is in its own secluded location and has an outdoor hot tub. Rowing skiffs are provided for access to the lake. Wood-burning stoves for winter cosiness too, with naturally seasoned logs from the reserve.
Lock Cottage Buscot, nr Faringdon; www.nationaltrustholidays.co.uk. Owned by the National Trust, this is a very sweet one-bedroomed (sleeps two) lock-keeper's cottage right beside the River Thames at Buscot Weir and Lock in the tiny National Trust-owned village of Buscot. Wonky walls, low ceilings and latch doors all add to the character of the stone property, but it's the pretty garden overlooking the river and the walks along the Thames Path that are the lure here.
Camping & glamping
Manor Farm Kelmscott GL7 3HJ; 01367 262620; www.kelmscottbandb.co.uk. Linked to the farmhouse B&B this self-catering handmade shepherd's hut sits in a pretty meadow on a 315-acre working arable and livestock farm. Fully insulated and fitted with a log-burning stove, en suite shower and toilet, fixed double bed and kitchenette. Outside in your private garden is a BBQ and firepit. Breakfast hampers and BBQ meat packs can be provided. Available March to October.
The Southern Cotswold Scarp & Five Valleys
Hotel
Painswick Hotel Kemps Ln, Painswick Gl6 6YB; 01452 813688; www.thepainswick.co.uk. An intimate boutique hotel that's chic and stylish, totally refurbished in 2015, with something of a cult following. Sixteen rooms, many with a view of the Painswick Valley, are all individually furnished. Organic and local ingredients are used in the restaurant.
B&B
The Close B&B Well Hill, Minchinhampton GL6 9JE; 01453 883338; www.theclosebnb.co.uk. A Georgian town house with a large walled garden close to the centre of the beautiful but less tourist-oriented Minchinhampton. Three en-suite bedrooms with breakfast served in the very elegant dining room. Breakfast produce is bought mostly from the butcher's and country market in the town.
Self-catering
Owlpen Manor Holiday Cottages Nr Uley, Glos GL11 5BZ; 01453 860261; www.owlpen.com. A collection of nine holiday cottages on the Owlpen Manor Estate, tucked into the secluded Ewelme Valley, which provides total peace and tranquillity amid ancient beech woods. Each property offers something unique; some are listed buildings, sleeping from two to nine people. Choose from an old watermill, a Victorian cottage, a former court house or a tithe barn. Ideal for romantic hideaways or gentle family breaks.
Camping & glamping
Cotswold Yurts Westley Farm, Chalford GL6 8HP; 07847 517905; www.cotswoldyurts.co.uk. Four yurts tucked into sunny glades amid ancient beech woods on a 75-acre farm that uses sustainable methods of agriculture. Traditional hay meadows and ancient woodlands lie all around and are there for guests to explore. Cosy rugs, full double beds, wood-burning stoves and even a roll-top bath make this far from camping. Each has its own compost loo too, although there is a flushing loo and showers in the nearby barn. All of the yurts have been handcrafted on the farm. Very romantic and secluded hideaways.
Thistledown Farm Nympsfield GL10 3UH; 01453 860420; www.thistledown.org.uk. An organically managed farm tucked into a secret, secluded valley bordering Woodchester Park. Tent and campervan camping in three picturesque pastures, two of which are car-free. Campfires and toasted marshmallows encouraged, though this is a quiet campsite so rowdy behaviour is frowned upon. If you don't own a tent, you can hire a luxury bell tent from Cotswold Bells, who will erect it for you on site ready for your arrival.
Wiltshire Cotswolds
Hotel
Castle Inn Castle Combe SN14 7HN; 01249 783030; www.castle-combe.com. Buildings don't get much prettier than this, and it's in arguably one of the most idyllic locations next to the ancient Market Place, with views running down the main street. Full of charm, with little inglenooks and snugs in which to enjoy a drink or afternoon tea and an elegant restaurant for dinner. Eleven beautifully decorated rooms, all with personal character and added touches.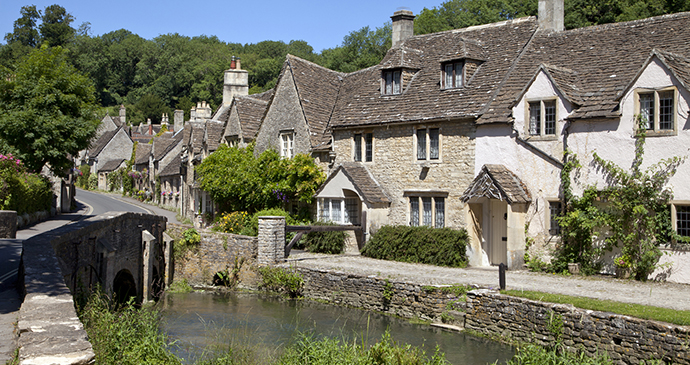 Camping & glamping
Stowford Manor Farm Wingfield, Trowbridge BA14 9LH; 01225 752253; www.stowfordmanorfarm.co.uk. Although on the limits of the locale, and indeed the Cotswolds, it's too good a place to miss and is perfect for visiting the more southerly attractions; you can walk to the Peto Garden at Iford or across the fields to Bradford-on-Avon. Right on the banks of the River Frome, you can choose between B&B in the farmhouse or camping in one of their riverside meadows. Breakfasts for guests staying in the farmhouse usually include produce from the farm. In summer you can sit in the garden and indulge with a cream tea; the scones are made in the farm kitchen and there's Jersey cream from their own cows. You can join the Farleigh and District Swimming Club for a dip in the river or support the local craftsmen and women in the studio workshops on site.
The Blackberries Camping Park Monkton Farleigh BA15 2DY; 07842 710595; www.theblackberriescampingpark.co.uk. Created, owned and run by Beryl and Adrian Orchard, Blackberries is a restful slice of hidden tranquillity, yet situated close to both Bradford-on-Avon and Bath. The couple created the park from scratch in 2014; it is thoughtfully landscaped with natural wilderness areas and semi-woodland, and Adrian can often be seen hedgelaying, planting bulbs or tending to the goats and chickens that reside in the centre of the site. There are separate areas for caravans and campervans, grass lawns for tents and, available for hire, bell tents, camping pods and a pretty shepherd's hut, each within its own private space. All pitches have a built-in firepit.