January
Cosy up in a North Cotswold pub
Use the excuse that it's chilly outside to sit beside a roaring log fire with a pint of local ale. With more than a dozen breweries in the Cotswolds, you're sure to find a 'native' brew.
February
Snowdrop weekends
Brush away the winter blues and walk through a floral carpet at one of Colesbourne Park's Snowdrop Weekends.
March
Discover the Cotswolds' best-kept secrets
Take a trip to Wiltshire and discover Malmesbury and Corsham, two of the Cotswolds' oft-forgotten (by tourists) towns. You're in for a treat with Malmesbury Abbey and Corsham Court.
April
See the fritillaries bloom
Be amazed at the wonder of North Meadow in Cricklade, where the fritillaries are in full bloom. It's truly a magnificent sight; one that you'll never forget.
May
See in the May Day dawn
Watch the sun rise over Ilmington Downs as the Ilmington Morris Men welcome in May Day with a dance. Alternatively, bring on the dawn listening to the Magdalen College choristers in Oxford.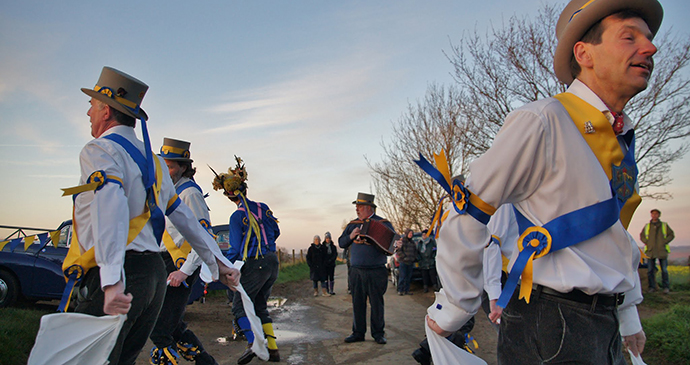 The Ilmington Morris Men on May Day © Julia Lindrop
June
Train whistle blowing
Step aboard a steam train on the Gloucestershire Warwickshire Steam Railway and experience a thrilling ride through the Cotswold countryside from Toddington to Cheltenham.
July
Indulge with an ice cream
Fly a kite, play golf, watch for butterflies, appreciate the views; whatever you get up to on Minchinhampton and Rodborough Commons, you have to eat Winstones Ice Cream.
August
Woodland walk through beech woods
Escape the heat by sheltering beneath the cool, shady beech woods synonymous with the Cotswolds. The woods around Cranham, in particular, are considered amongst the finest in the world.
September
Moreton Show
Explore rural life at the Moreton Show, where locals vie to win a rosette for the best potato or dahlia alongside farmers showing their prize cows. And you're sure to find out what a Cotswold Lion is.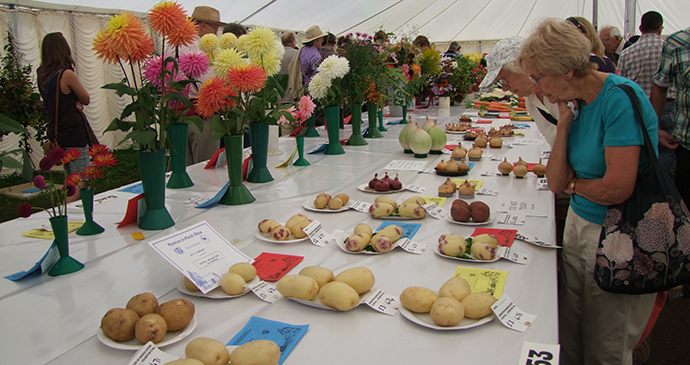 Who will win at this year's Moreton Show? © Caroline Mills
October
Catch a play by the RSC
Step into another world and check out a tale from the Bard with a performance from the Royal Shakespeare Company in Stratford-upon-Avon.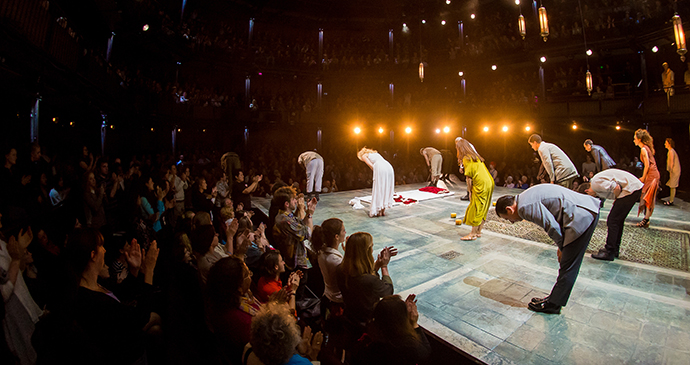 The performers take a bow © Royal Shakespeare Company
November
Frosty walk besides a Thames Tributary
Pop on a hat and mittens and appreciate the beauty of a frosty day with a walk beside a Cotswold river – choose between the Churn, the Windrush, the Leach, the Coln or the Evenlode.
December
Christmas markets
Pick up a pressie at one of the many Christmas markets held throughout the Cotswolds. Bath has one of the largest and prettiest in the country, but you'll find equally attractive local festive markets elsewhere; look out for the Victorian Christmas Weekend in Chipping Norton and Shipston-on-Stour.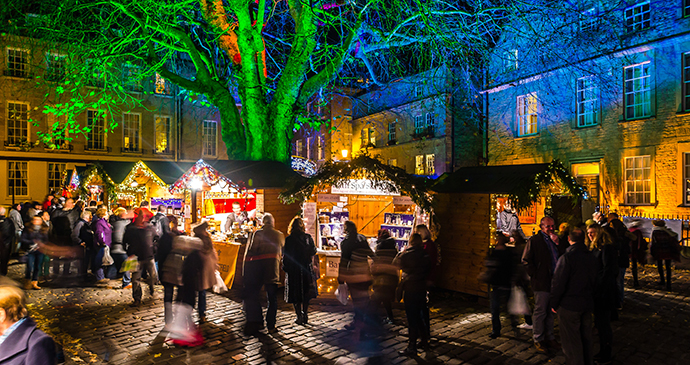 Part of Bath's Christmas market on the Abbey Green © Paolo Ferla, visitbath.co.uk